Great story in the Times-Picayune about the role that Darren Sharper is playing in not only picking off quarterbacks but also leading the Saints' relatively young secondary.
Love this part: Saints defensive backs speak of Sharper in reverential tones. They say his infectious swagger has bolstered their own confidence and his attention to detail has helped them make more plays on the ball. Sharper has scheduled extra half-hour meetings for the defensive back group on Friday mornings to conduct film study on the upcoming opponent.
http://www.nola.com/saints/index.ssf/2009/10/new_orleans_saints_playing_sha.html
Previous Comments
ID

152443

Comment

While they did play well against one of the better defenses in the NFL, I'm still not buying stock in the Saints yet.

Author

golden eagle

Date

2009-10-05T15:19:42-06:00
ID

152448

Comment

Saints look great! What about the Dallas Honeyboys (aka Cowboys) though? The Pittsburg Steelers will still win it all again this year. Count on it. When will Todd, Queen and Golden Eagle find a real pro football team to follow? You can put lipstick on a pig, but you just will have an uglier pig with lipstick. That new honeyboy stadium won't do the Honeyboys any good. They're still sorry.

Author

Walt

Date

2009-10-05T16:46:44-06:00
ID

152451

Comment

By the way, both Manning boys will be at home watching the Super Bowl this year and every other year they play pro football. Their daddy's genes have pre-emptied those of their mother's. The mother's genes of the family has won each boy one Super Bowl ring. Now their daddy's genes will do for them what they did for ole Archie.

Author

Walt

Date

2009-10-05T16:55:41-06:00
ID

152454

Comment

Walt, you may just be proving the point that the more one posts, the less one has to say. ;-) Your Steelers are gonna need to be a *bit* more convincing than they were last night for you to be putting it to Indy and NY -- not to mention NO -- the way you are right now. Let's take a quick look at the tape: Indianapolis: 4-0 NY Giants: 4-0 New Orleans: 4-0 The Pittiful Steelbergs: 2-2 Does ANYTHING about those stats seem to impugn your argument at all?

Author

Todd Stauffer

Date

2009-10-05T17:23:29-06:00
ID

152470

Comment

The Pittspuke Squealers will not go to the Super Bowl this year, especially with the way their defense has been playing.

Author

golden eagle

Date

2009-10-06T12:20:55-06:00
ID

152489

Comment

That's cold, T.S. Are you trying to say I'm, more or less, talking loud but saying nothing? Congratulation on the nosedive, Todd. Your birthday that is! How many is it? Once you hit 40 years old, it's all down hill from there unless you're Walt, who gets better with time just like the finest wine. Anyway, I'm glad the Steelers lost 2 games early on and that is serving as a wake up call. Now we know we gotta give 60 minutes of hell to our opponents. Sure, the human missile (Pali-mall-him) is still out, but we should be getting him back soon. Willie Parker is out too, but we found a better running back. I have read the tape, Todd, and I note no one has won the super bowl who has won only 4 games or who is 4 and O. It takes 16 plus games and the defeat other teams vying against you. Like we did last year. Know what I'm saying. I bet you don't know. When was the last time the Honeyboys been to the big dance? You think they will go this year? You and Golden Eagle can still switch and go with the Steelers and enjoy a Super Bowl victory this year. We don't need any out of this world stadium, we will settle for an out of this world performance on Super Bowl sunday. Like we did last year! The Manning boys are like a marginal or fair looking lady who dresses her best, puts on pretty makeup, and hits the clubs around 1 a.m. Practically everybody is drunk by then and she looks real good. Unfortunately, the morning comes and you'll wake up and say how in the hell did I wind up with this lady. In other words, the boys look alright early on, but they can't run the distance. I ain't knocking fair looking ladies though. All my past girlfriends except 25 of them were fair-looking too. They were great! And Ace just reminded me I don't even make the fair looking grade. As for the Mannings and the Saints, the sun will shine on gnat's behind every once in a while if the gnat positions its hind-part just right. Those boys and the Saints will be at home watching the Super Bowl just like you and me this year. Believe that. The Saints won't win it all until they cut ties with Archie. He's a curse and I cuss everything I see his ugly face. Happy Birthday, Todd. Golden Eagle you ought to know better. I think the axiom is "be like Mike," not like Todd.

Author

Walt

Date

2009-10-07T17:01:00-06:00
ID

152491

Comment

Remember, Walt, wine only gets finer when you keep a cork in it. ...which is what any good fan of the Pitifuls should be doing at least until they break through the magic .500 barrier. (And if you don't with the mighty Lions on the schedule for next week, then you might want to at least consider grabbing a New Orleans ball cap, planting it on that debonair head of yours and trying to keep yourself hid.) Oh, also, a little advice. Maybe you could let go of the Archie thing? He. ain't. there. no. more. But good luck to you and the Pitifuls. I know some good people who are Steelers fans. Here's hoping you may yet be able to turn things around and become one of them. :-P

Author

Todd Stauffer

Date

2009-10-07T19:09:06-06:00
ID

152512

Comment

Todd, I was about to somewhat comply with your request, but then I got so many calls, emails and letters from the Steelers Nation. That's right I got emails, letters and calls from too many ex-players, current players and Steelers fans. I heard from Franco, Lynn, Terry , Ben and Chuck. Ben reads the JFP every week to see what I'm reporting about the Steelers. Terry put Chuck on the phone, who at his late age and fragile health status said to me in a somewhat gravely and retiring voice; "Walt, you're no damn good. That's right, you're no damn good whatsoever if you let a Cowboys' fan tell you to shut up and you go and comply like a wussy-boy." I know Todd you and I go way back. In fact, you're my 16th or 17th best friend. The Steelers nation is looking upon me and I can't back down. As a matter of fact, the Pittsburg Steelers do play the Detroit Lions this Sunday, who are 1 and 3. I wish we were playing the Kansas City Chiefs who are 0 and 4. Who do the Chiefs play this Sunday? If the Chiefs win Sunday over the team whose name I won't mention, I predict you will have to throw me off the JFP to have some peace and tranquility. You're right about that Saints ex-player. He doesn't play any more. I'll stop talking about him in such bad terms. I don't really dislike him all that much. I have great respect for his boys' accomplishments though, but I prefer that they be at home on Super Bowl Sundays like me and you. Let's pray the Steelers win, for my sake, and the Kansas City Chiefs lose for your sake. Otherwise, I know you're going to have to push the button and throw me off the JFP. Cheers. Good luck at the event tonight.

Author

Walt

Date

2009-10-08T17:06:14-06:00
ID

152515

Comment

I forgot to say, I like the Saints. Brees and Favre have been 2 of my favorite quarterbacks for years. I thought San Diego was crazy for trading Brees. He's proving me right. Injury or no injury, I couldn't have traded him. While I like the Saints, I love the Steelers! How can anyone not love them. Six (6) and counting.

Author

Walt

Date

2009-10-08T17:39:25-06:00
ID

152643

Comment

For a minute Sunday, the Kansas City Chiefs had me as happy as a woman about to marry the perfect man - handsome, smart, funny and great in every way. Oh yeah, rich too. If poor, he could never be perfect no matter what else he had. LOL. As soon as the Pittsburg Steelers finally put away the feisty Detroit Lions, all I needed to have a complete and overjoyed Sunday was for the Chiefs to win. But things fell apart at the last minute. At least they exposed the other team for what they are.

Author

Walt

Date

2009-10-13T16:41:40-06:00
ID

152647

Comment

I was cursing at my radio when I kept hearing the score of the Cowboys-Chiefs game. I was ready to hand out handbills to express myself in seeing Wade Phillips get fired and Tony Romo to be traded for the first pick in the draft for either Sam Bradford or Colt McCoy. All three still need to happen.

Author

golden eagle

Date

2009-10-13T17:41:34-06:00
ID

152717

Comment

I will be pulling for the Saints with much glee on Sunday. The Giants' potent offense will surely test the Saints' defense. I expect the Saints' offense to do well despite the Giants very good defense. Go Saints!

Author

Walt

Date

2009-10-16T16:19:59-06:00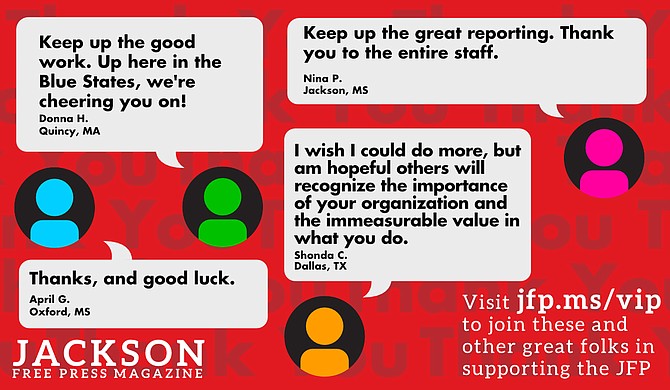 Thanks to all our new JFP VIPs!
COVID-19 has closed down the main sources of the JFP's revenue -- concerts, festivals, fundraisers, restaurants and bars. If everyone reading this article gives $5 or more, we should be able to continue publishing through the crisis. Please pay what you can to keep us reporting and publishing.