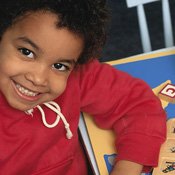 Toy safety has emerged as an important issue, especially in the last year. With fears about lead paint, choking hazards, and chemicals such as phthalates and bisphenol A, many new parents are understandably intimidated as they try to figure out what types of items are safe to purchase for their children.
• Smell the toys you are purchasing for your children. If they have a strong chemical smell, put them back on the shelf and keep looking.
• Read the fine print on the packaging to make sure that the toy is manufactured from non-toxic materials.
• Avoid toys made from #3 plastics, which have been known to contain dioxins, disrupt hormones, and cause immune system damage in children and adults.
• Look for toys that are made in the United States, Canada, Europe and Japan. Stay away from toys made in China.
• Don't buy used toys from an antique store, becausethey might contain lead paint.
• Research the Consumer Product Safety Commission Web site to stay abreast of toy and baby supply recalls.
• Avoid purchasing play cosmetics.
• Follow the manufacturer's age recommendations from the packaging of the toy. Many toys manufactured for older children pose a choking hazard for babies.
• Choose classic toys that have stood the test of time, such as blocks, crayons, books, swings, bikes, stuffed animals, puzzles and others. These are often safer than cheap, glitzy plastic toys with many small pieces.
• Do not leave batteries in toys that are not being used regularly, as old batteries can start to leach unsafe chemicals such as mercury.
• Organic and eco-friendly toys are a good place to start your search for safe toys.
Local resources:
The Toy Place
2941 Old Canton Road
601-362-6524
Old Tyme Commissary
Highland Village
4500 Interstate 55, Suite 122
601-366-1849
Play Pen
4754 Interstate 55 N.
601-977-4006
Online resources:
U.S. Consumer Product Safety Commission
http://www.cpsc.gov
Melissa & Doug Toys
http://www.melissaanddoug.com
Oompa Toys
http://www.oompa.com
More stories by this author
Support our reporting -- Follow the MFP.