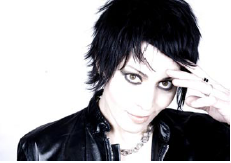 The JAM folks have announced their national/regional line-up for this year's festival -- local performers are still to come. The following is verbatim from their materials:
Joan Jett & The Blackhearts
Few artists boast a wider appeal than Joan Jett. Beloved by punks, indie rockers, pop lovers, riot grrrls, metal heads, classic rockers, radicals and conservatives, she is 1) a genuine icon and an influential, trailblazing musician, going back to when she helped break down rock's gender barriers and helped pioneer punk music with her teenage band, The Runaways; 2) a genuine star, with no less than nine Top 40 hit singles and eight Platinum and Gold LPs; 3) a renaissance woman, actress on stage and screen, and knowledgeable and entertaining host of "Joan Jett's Radio Revolution"; and 4) a continually challenging artist, not content to rest on past laurels.
Drowning Pool
Dallas-based heavy metal group Drowning Pool started their successful career in 2000. Their debut album, Sinner, was certified platinum within six weeks of its release while their first single, "Bodies," was one of the most frequently aired videos on MTV by a new band. They reached out to an ever-greater audience with dynamic performances at Wrestlemania XVIII and Ozzfest during the summers of 2001 and 2002. After the loss of lead singer Dave "Stage" Williams in 2002, the band announced the addition of singer Jason "Gong" Jones in January 2004.
Carolina Liar
At the center of Carolina Liar is Charleston, SC native Chad Wolf. A singer, songwriter, and guitarist, Wolf fell under the spell of new wave through his older sister's record collection. He located to Los Angeles at the age of 22, earning a living doing whatever odd jobs he could (which included being an extra in a Celine Dion video) and eventually landing an internship with songwriter Diane Warren. The story might have ended there if Wolf hadn't agreed to housesit for a friend who just happened to know famed Swedish record producer Max Martin. Martin heard one of Wolf's songs and soon found himself in Stockholm recording an album with one of Europe's biggest pop producers. He was also backed by an all-Swedish band of Jim Almgren Gandara on guitar, Johan Carlsson on keyboards, Rickard Goransson on guitar, Max Grahn on drums, and Erik Haager on bass. Christened Carolina Liar, the band, with Wolf handling lead vocals, released a debut album, Coming to Terms, on Atlantic Records in 2008. Carolina Liar's single Show Me What I'm Looking For is currently the number 3 song on Billboard's Heatseekers Chart, number 13 on the Top 40 Chart, and the number 3 video on VH1.
David Banner
Let's cut to the chase: David Banner is one of the most-talented rappers to emerge from below the Mason-Dixon Line. Since his debut Mississippi: The Album in 2003, many have been enthralled by Banner's obvious dedication to lyrical craft, roaring tracks and b-boy stance. With past hits like the cranked "Like a Pimp" to the electro-bounce of "Play", Banner has built a loyal fan base. With the 2008 release of The Greatest Story Ever Told, this Jackson, Mississippi native is finally connecting on a larger scale. Most recently David has had huge success with the hit singles "Shawty Say", "9mm/Speaker", and the ever-popular club anthem "Get Like Me". He's collaborated with and is well respected by his peers in the industry such as Snoop Dogg, Akon, Chris Brown and Anthony Hamilton. Jubilee!JAM is proud to welcome David Banner back home for this special performance.
Medeski, Martin & Wood
A group that effortlessly straddles the gap between avant-garde improvisation and accessible groove-based jazz, Medeski, Martin, & Wood have simultaneously earned standings as relentlessly innovative musicians and an enormously popular act. Emerging out of the New York downtown scene in the early '90s, the group soon set out on endless cross-country tours. Through all the years of touring and studio albums, the band's reputation has achieved massive proportions. As they always have, the three core bandmembers contributed to numerous other recording projects, both as sidemen and leaders. Increasingly, their word was gold and their efforts carved paths for musicians to follow. Following their rise, for example, was a renaissance in B-3-based organ trios. Though they were — and are — considered "alternative" jazz, they are drawing larger audiences than many of their mainstream counterparts.
Koko Taylor & Her Blues Machine
"Blues is my life," says Grammy Award-winning blues singer Koko Taylor, Chicago's—and the world's—undisputed Queen Of The Blues. "It's a true feeling that comes from the heart, not just something that comes out of my mouth. Blues is what I love, and singing the blues is what I always do." And, in many ways, blues is what saved Koko Taylor's life. Back in November of 2003, following emergency surgery for gastrointestinal bleeding, Taylor's condition grew even more serious. She was struggling just to breathe. Family and friends feared the worst as she was placed on a ventilator. But her forceful will to live, and to sing the blues again, brought her back. Slowly but surely she recovered, and by the following spring she was back on stage singing. Her resurgence not only led her back to the stage, but also led her back to the recording studio. With her first album in seven years, the aptly titled Old School, Taylor once again shows the world what she does so well. From foot-stomping barnburners to powerful slow blues, Koko proves in an instant that her blues are joyous and life-affirming, powerful and soul-stirring.
Tantric
Tantric was originally formed by three former members of the band Days of the New. The boys quickly absorbed fast success and MTV's praise, and with their lead singer Hugo Ferreira, eventually went platinum largely on the strength of the single "Breakdown" and the band's extensive touring with the likes of Kid Rock and Creed. However, in 2005, Tantric band mates decided to part ways. Hugo Ferreira began searching for a new band, enlisting former Fuel drummer Kevin Miller, Joe Pessia (guitarist Dramagods) through mutual friend Nuno Bettencourt, Erik Leonhardt (bassist), and Marcus Ratzenboeck (electric violin) as new members of the band. Together they recorded THE END BEGINS and are currently recording their follow up album MIND CONTROL. Tantric made their way to Jubilee!JAM in 2008, and we're proud to have them back for an encore performance.
Guster
Guster became one of the most successful bands to hit the East Coast scene in the late '90s. Through relentless touring and humorous stage banter with the crowd, the band developed a strong, grassroots fan base that spread rapidly with a strong presence on the Internet. The Boston trio developed a unique sound with two acoustic guitars and a bongo set, successfully defying the typical industry pigeonholing. They wrote short, infectiously catchy tunes about love, suicide, and absurdist rock star lifestyles. They sell out New York's fabled Radio City Music Hall one year and perform with the Boston Pops at Symphony Hall the next. They sell out a 33-date college tour, and this past spring founded the eco-friendly Campus Consciousness Tour, with buses powered by biodiesel and performances powered by wind power. It's in this overachieving band's nature to one-up itself.
Dickey Betts & Great Southern
Dickey Betts, a founding member of the Allman Brothers Band, has one of the most distinctive voices in music today. Known as one of the most influential guitar players of all time, Betts has mastered a seamless style of lyrical melody and rhythm—marrying country, jazz, blues, and rock into one unparalleled sound. In addition to matching band leader Duane Allman lick for lick, Betts also wrote such memorable songs as "Revival" and the instrumental tour de force "In Memory of Elizabeth Reed." After Duane Allman was killed in an accident, the ABB worked through their sorrow, with Betts writing and singing the group's biggest hit, "Ramblin' Man". The ABB split up in 1976, and Betts formed Dickey Betts and Great Southern. The group reformed in 1978, but soon split again. In 1989, their 20th anniversary, the Allman Brothers Band reformed. The chemistry that resulted from the unique two-guitar approach of Warren Haynes and Betts made the Allman Brothers Band once again one of the most compelling bands in the country. The ABB enjoyed continued success throughout the nineties—being inducted into the Rock & Roll Hall of Fame, winning their first Grammy, and amazing audiences with their powerful live performances. A year after the ABB celebrated their 30th anniversary, Betts and his band hit the road on his own. His guitar sound is still immediately recognizable, with soaring leads providing musical wings, and his roadseasoned vocals reflecting grit and hard-earned respect.
JJ Grey & Mofro
Like Florida's state flower, the orange blossom, musician JJ Grey's songs are fascinating, beautiful, and complex. Both are products of the same ground: the rich, fertile and ancient soil of the Sunshine State. Born and raised just outside of Jacksonville, Florida, Grey comes from a long tradition of Southern musical storytellers and, like the best of the great Southern writers, he fills his songs with details that are at once vivid and personal, political and universal. His multi-textured music overflows with dynamic rhythms and thought-provoking lyrics. From raw funk to deep soul, blues and rock, JJ and his band Mofro deliver devastating live and recorded performances.
Blue Mountain
Living and playing in Oxford, Mississippi since the late eighties, Blue Mountain has been a part of the same musical confluence that shaped a number of great American musicians, from Elvis to Tammy Wynette to Robert Johnson to Alex Chilton. The five hundred miles from Nashville to New Orleans is a fertile musical crescent with Memphis and North Mississippi firmly in the curve between the Delta and the foothills of Appalachia. Cary Hudson and Laurie Stirratt, who grew up listening to gospel, country and bluegrass, and Frank Coutch, from Utica, which is out from Vicksburg and also firmly in that magical slice of geography, began banging on a Muppets drum kit at five and honed banging skills to Keith Moon, Charlie Watts and the Replacements. They all often heard the late bluesman Son Thomas play around Oxford, and any Sunday night they could drive out to Junior Kimbrough's juke joint in Chulahoma and hear Kimbrough or R.L. Burnside play in their distinctive north Mississippi blues style. It was here, deep in the American South, that Blue Mountain learned how compelling and visceral a live show could be.
Dead Confederate
There's a new breed of dark, raw, mind-blowing psych-rock crawling from the South, and its name is Dead Confederate. The Georgia group conjured the haunting sound of their debut full-length album WRECKING BALL the old-fashioned way: by making it in the tiny concrete box of a studio in Austin, Texas, where the sound effects for The Texas Chainsaw Massacre were recorded. They've already shared the stage with R.E.M. (at a lauded 2008 SXSW appearance), Dinosaur Jr., Drive By Truckers, the Black Angels, Deerhunter and Black Lips and are looking forward to tossing aside their day jobs to get back into their live groove this summer.
Daddy (Will Kimbrough & Tommy Womack)
Will Kimbrough and Tommy Womack both boast amazing underground resumes. Kimbrough (2005 Americana Music Association Instrumentalist of the Year) and Womack (Two-time winner of the Nashville Scene Best Song Award) first came together in 1992 in the bis-quits, who made one impressive guitar-fest record for John Prine's Oh-Boy! label. They discovered a musical and personal kinship that they fought for years—in and amongst other commitments—to get back to.
Previous Comments
ID

146915

Comment

Hey y'all -- big music news, buried under all this city stuff. Check out the line-up.

Author

Todd Stauffer

Date

2009-05-06T16:17:08-06:00
ID

146921

Comment

I've heard of a couple of those bands. Might be interesting.

Author

Ironghost

Date

2009-05-06T18:42:51-06:00
ID

146924

Comment

Joan Jett always puts on a great show. I've seen her twice...including an appearance at the Jam about 10 years ago. Dickey Betts & Great Southern should be very cool as well.

Author

James Hester

Date

2009-05-06T18:54:04-06:00
ID

146925

Comment

I wanna go! I'd be happy if all I got to see were Koko Taylor and Joan Jett. Can anyone give me a clue as to what Kids Jam was like last year?

Author

Lady Havoc

Date

2009-05-06T19:03:28-06:00
ID

146937

Comment

I am actually pretty sad I will have to miss this year's Jam. I'll be out of town for work and vacation. Would love to see Joan Jett, Medeski, Martin & Wood, JJ Grey & Mofro and Daddy. And can I just say HELL YEAH to a female headliner? Good job JAM committee, you're finally on the right track.

Author

andi

Date

2009-05-06T21:54:00-06:00
ID

146989

Comment

Best line-up in years. MMW, Dead Confederate, JJ Grey & Mofro, Blue Mountain... Proper respects to the organizers of this event.

Author

jbreland

Date

2009-05-07T09:34:00-06:00
ID

147014

Comment

Great lineup! I was worried that this year might be affected by a lack of funding due to the recession, but it doesn't look that way. Looking forward to it!

Author

chip

Date

2009-05-07T11:29:28-06:00
ID

147017

Comment

Yay! I'm stoked to see female musicians on the line-up this year...with a female headliner to boot! And I've always wanted to see MMW live. Sounds like a good time...I'm there.

Author

ellen

Date

2009-05-07T11:44:32-06:00
ID

147030

Comment

Does anybody recall the title of the song in which Koko Taylor blares, "You can have my husband, but please don't mess wit' my man"? First time I heard it, I was all ROFLMAO!

Author

Kacy

Date

2009-05-07T12:28:12-06:00
ID

147044

Comment

Carolina Liar's album is fantastic. One of my favorite recent alternative albums. Dead Confederate and Guster are also bands I am very excited to see on here. I saw Joan Jett at a casino a year or two ago. Man, she is still smokin' hot.

Author

herman

Date

2009-05-07T13:24:15-06:00
ID

147127

Comment

Kacy: I actually think that is the title of that song. :D I heard Carolina Liar for the first time on XM yesterday. They are good. I was impressed with the one song I heard, and would love to hear more.

Author

Lady Havoc

Date

2009-05-08T09:34:22-06:00
ID

148010

Comment

You can listen to Carolina Liar songs here: http://www.carolinaliar.com/new/music.php

Author

herman

Date

2009-05-21T15:45:30-06:00
Support our reporting -- Follow the MFP.