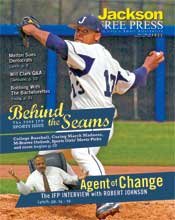 The boys of PING! (as in the sound a metal bat makes when it hits a baseball) have been on the diamond for several weeks now. The season is beginning to take shape, particularly among the smaller schools. Millsaps has been a terror, starting 22-3. Mississippi College and Belhaven have struggled at times in conference play, but both are still within striking distance of the leaders. Tougaloo … well, Tougaloo has been Tougaloo. That's not good.
As for the Big Four, the first month has just been a prologue. What they do in conference play, which is just beginning, will determine the success or failure of their seasons.
Questions abound. Is this the year Ole Miss or Southern Miss break through and make it to the College World Series in Omaha, Neb.? Can John Cohen follow a legend and make Mississippi State matter again? Will Jackson State finally win a SWAC Tournament?
Doctor S has the answers, or what passes for them, in his SWAGs (sophisticated wild-ass guesses):
MISSISSIPPI STATE
Coach: John Cohen (first season at MSU; 10th season overall, 321-197-1)
2008: 23-33, 9-21 SEC, finished sixth in SEC West
Field: Dudy Noble Field, Starkville
Radio: 620 AM
Ron Polk retired for the second time as Mississippi State coach following last season. In 29 seasons in Starkville, Polk won 1,139 games and took the Bulldogs to the College World Series six times. But his last team went 23-33, ending MSU's string of 32 consecutive winning seasons.
Polk wanted his longtime assistant Tommy Raffo to be named his replacement, but Greg Byrne, who had just been promoted to athletic director, chose John Cohen, Kentucky's head coach and a former Bulldog great. Polk fumed and said he might want his name taken off of MSU's Polk-DeMent Stadium (which houses Dudy Noble Field). Many MSU fans said, "Here's a chisel."
For his part, Cohen has never said anything negative about Polk (in public, anyway). Cohen isn't so diplomatic about his players, however.
"Frankly, at times on the baseball field we're a little short, and that's why it's a full-steam-ahead recruiting battle for us," he told the Northeast Mississippi Daily Journal before the Bulldogs' series at Georgia last weekend. "Every second we are not devoting to our players we'll devote to recruiting to get Mississippi State back to the talent level it deserves."
Critics picked the Bulldogs (13-9, 2-4) to finish last in the SEC West. And they played like the last-place team they are while being swept by Georgia.
Junior infielder Jet Butler (.381 batting average, 18 runs batted in) leads a Bulldog lineup that hits pretty well. State's pitching isn't quite as good. Reliever Chad Crosswhite, a senior from Brandon (0-2, 6.62 earned-run average) has been an effective reliever (four saves). But he took the loss (and saw his ERA soar) against Georgia in the season finale, giving up seven runs on eight hits in 3 2/3 innings.
The skinny: State just doesn't have enough talent to compete with the SEC's best this season. A winning record would be a stunning achievement. But don't bet on it.
OLE MISS
Coach: Mike Bianco (ninth season at UM, 321-183-1; 12th season overall, 421-254-1)
2008: 39-26, 15-15 SEC, finished third in SEC West, lost in NCAA Coral Gables Regional
Field: Oxford-University Stadium, Oxford
Radio: 97.3 FM
The 12th-ranked Rebels (15-5, 4-2 SEC) figure to be a contender for the SEC title. They were picked to finish second in the SEC West behind LSU. The Rebels are off to a strong start in SEC play, winning their first two series against Vanderbilt and Alabama.
Ole Miss returns seven starters including three players chosen in the 2008 Major League Baseball Draft: catcher Brett Basham, right-hander Scott Bittle and outfielder Logan Power.
"When you look at this team we had three seniors that were drafted come back to play for their senior season," Ole Miss coach Mike Bianco said in a preseason UM news release. "You are lucky if you get one, and we had three come back. This is an older, more experienced group."
Power leads the Rebels' hard-hitting lineup with a .397 average, 25 RBIs and three homers.
UM's pitching has been more problematic due to the struggles of juco transfers Aaron Barrett and Chris Corrigan. Ultimately, how well the Rebels do this season might hinge on how Bianco has to use Bittle. When he's healthy, Bittle (1-2, 5.06 ERA, three saves) has been one of the best relievers in the SEC. But if the Rebels' pitching struggles, Bianco might have to use Bittle in the weekend rotation.
For now, Bianco has named senior Brett Bukvich (3-1, 3.92 ERA) a weekend starter.
"Brett's been a weekend starter before," Bianco told the Northeast Mississippi Daily Journal. "He's pitched in big games, in regionals and in super regionals, and he's certainly pitched well this year."
The skinny: If Bianco can sort out his pitching, and there's no reason to think he can't, this could be the year the Rebels go to Omaha.
SOUTHERN MISS
Coach: Corky Palmer: 12th season at Southern Miss, 418-255; 28th season overall, 923-467
2008: 42-22, 15-9 C-USA, finished second in C-USA, lost in NCAA Baton Rouge Regional
Field: Pete Taylor Park, Hattiesburg
Web cast: http://southernmiss.cstv.com/allaccess/
Palmer has had the Golden Eagles rolling in recent seasons. They have been to six consecutive NCAA regionals and were picked to finish third in the C-USA this season.
The Eagles (13-9, 1-2 C-USA) are having a decent but not spectacular season so far. They've played just twice away from home and they won both games. The Eagles opened C-USA play last weekend against No. 7 Rice. USM rallied in the ninth inning to win Sunday's final game of the series. The good news for the Eagles: USM won't face a tougher opponent in conference play.
USM is under a little more pressure than usual, too. The Eagles will host this year's C-USA Tournament, and they don't want to disappoint the home folks.
"We've swung the bats good," Palmer told the Hattiesburg American before the Rice series. "I couldn't ask for more from (Brian) Dozier (.412, 20 RBIs) and (Bo) Davis (.453, 20 RBIs, six home runs) and what they've done as seniors. They're both hitting over .400, and they're getting big hits. Some other guys are starting to blend in with them. We're just not getting everything out of every guy. We've got guys that are having great years, but we need to get more out of the whole roster."
The Eagles' pitching staff is a work in progress. J.R. Ballinger, a former reliever, is 2-0 with a 2.92 ERA and has been named USM's Friday starter. Reliever Todd McInnis (3-1, 3.38 ERA) has been effective as a reliever and started last Sunday against Rice.
"He's just pretty consistent," Palmer said of Ballinger. "What he's done is, even when he's not on, he's given us a chance to win."
The skinny: Third place sounds about right for the Eagles. A victory in the conference tournament might give the Eagles an NCAA regional at home, too.
JACKSON STATE
Coach: Omar Johnson (second season at JSU; second overall, 70-45)
2008: 37-22, 18-5 SWAC, lost in SWAC Tournament semifinals
Field: JSU Complex, Jackson
The Tigers (13-9, 4-4 SWAC) were off to a strong start until they went to Mississippi Valley State. The most surprising thing was the Tigers' 9-4 record on the road going into that series. JSU's sweep of a two-game series at Texas-Pan American raised some eyebrows.
"We have a good nucleus of players that will step up to the plate and carry the team through the season," Johnson told Mississippi Sports Magazine.
The Tigers opened the season by spending nearly a month on the road. The schedule also includes the likes of Ole Miss and Southern Miss.
"I think that will help us get ready for conference play," Johnson said. "I want the team to be better prepared than we were last year heading into the SWAC championship."
The Tigers were the only SWAC team with an overall winning record last year. JSU was the league coaches' preseason pick to win a third consecutive SWAC East title.
JSU has seven starters back including three preseason All-SWAC choices LaDerek Camper, Cortez Cole and Jerome Tynes. Marvin McWhorter Jr. is the Tigers' top hitter with a .518 average, 27 RBIs and four homers. Aljammi Davis is the top pitcher with a 3-0 record, 2.86 ERA and 16 strikeouts.
The skinny: Despite their stumble against Valley, the Tigers appear to be the class of the SWAC this season. But it won't mean anything unless they win the SWAC Tournament.
BELHAVEN
Coach: Hill Denson (ninth season at Belhaven, 268-211; 23rd season overall, 736-594-20)
2008: 41-17, 23-10 SCAC, finished third in GCAC, lost in NAIA Region 13 Tournament
Field: Smith-Wills Stadium, Jackson
Web cast: http://blazers.belhaven.edu/sports
The skinny: The Blazers are 24-10, 16-7 GCAC and riding a nine-game winning streak after last weekend's sweep of Loyola. But that's only good enough for third place in the league. Belhaven is almost unbeatable at home, but the Blazers were swept at Smith-Wills by conference leader LSU-Shreveport and lost two of three at home to second-place William Carey. Craig Westcott (.381, 39 RBIs, five homers) and Timmy Foster (.363, 32 RBIs, eight homers) lead a powerful lineup. Westcott (6-2, 3.54 ERA, 69 strikeouts) also leads the Blazers' problematic pitching staff. Belhaven won't catch LSUS and Carey.
MILLSAPS
Coach: Jim Page (21st season at Millsaps; 21st overall, 499-298-30
2008: 29-18, 8-8 SCAC, lost SCAC Tournament championship game
Field: Twenty Field, Jackson
Web cast: http://www.atwsportscast.com
The skinny: The Majors came within one run of going to a NCAA regional last season. After losing eight starters, one might have expected the Majors to rebuild this year. Instead, Millsaps reloaded. The sixth-ranked Majors (22-3, 10-3 SCAC) are off to the best start in school history, winning 15 straight at one point. Hunter Owen (.442, 34 RBIs, eight homers) and Will Hawkins (.427, 39 RBIs, seven homers) lead a hard-hitting lineup. Aaron Williams (5-1, 3.35 ERA) is the top starting pitcher. And reliever Drew Maddox (4-1, .471) has five saves this season, giving him a school-record 12 in his career. Millsaps appears to be a lock to reach an NCAA regional for the first time since 2006.
MISSISSIPPI COLLEGE
Coach: Brian Owens (third season at MC/overall, 41-43)
2008: 24-19, 13-5 SCAC, lost in ASC Championship Round
Field: Frierson Field, Clinton
Web cast: http://www.gochoctaws.com/member/aa_signup.aspx
The skinny: MC (13-10, 6-3 ASC) is terrible on the road (2-6). Those two victories came last week at Louisiana College. Bo Bell supplies the power at the plate, hitting .417 with five homers and 31 RBIs. Brett Hinson (.295, ERA, 4-1) leads a stout pitching staff. And Tyler Seaman (4.55 ERA, 3-1) was named ASC Pitcher of the Week after throwing a seven-inning no-hitter with 10 strikeouts in a 2-0 victory over Louisiana College. If the Choctaws, who were picked to finish second in the ASC East, can figure out how to win outside of Clinton, they will make a run at the conference title.
TOUGALOO
Coach: Robert Francikato (first season at Tougaloo; first overall)
2008: 5-41-1, 0-36 GCAC, finished seventh in GCAC
Field: Coleman Complex, Jackson
The skinny: Sadly, the Bulldogs stink again this season. They were 1-24, 0-18 GCAC entering last weekend (the last time the school reported its statistics). And the victory Tougaloo claims is dubious. The school's Web site says it won a home game with Millsaps, 6-1, on Feb. 23. That would be the upset of the year, bar none. But the schedule on Millsaps' site doesn't even list a game with Tougaloo this season, much less a loss. Anyway, with a reported team batting average of .200 and a team ERA of 13.95, the Bulldogs are well on their way to another winless season in the GCAC.
In With The New
Tricked Out
Best Sports Movies of All Time
The Slate
The 'Thrill' Of The Game
Previous Comments
ID

145194

Comment

I am the parent of a Tougaloo player. I agree that Tougaloo is still struggling. They are a fairly new team and still finding their ground and so I cannot dispute that however, please don't be-little or take away from the win they are showing with Millsap's. There was a game, they did win the game. I can understand why Millsap's would not have it on the web site however, maybe you could call someone to confirm before hinting that Tougaloo is not being truthful. I agree we have a long way to go but don't belittle our small victories along the way.

Author

saratina

Date

2009-03-27T11:19:45-06:00
More like this story
More stories by this author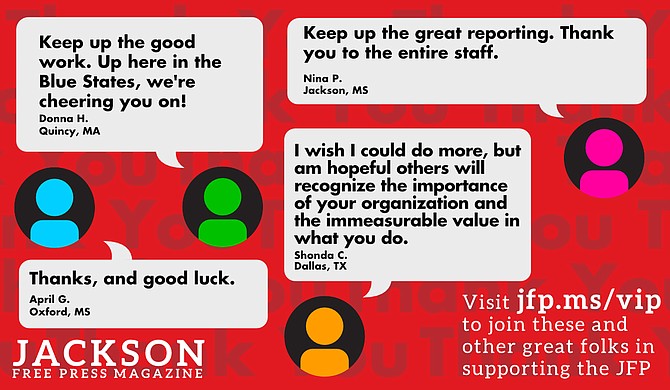 Thanks to all our new JFP VIPs!
COVID-19 has closed down the main sources of the JFP's revenue -- concerts, festivals, fundraisers, restaurants and bars. If everyone reading this article gives $5 or more, we should be able to continue publishing through the crisis. Please pay what you can to keep us reporting and publishing.