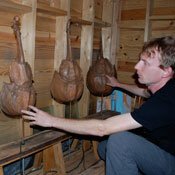 Light spills through the large windows of the open, predominantly bare room in the Commons Gallery. Brown paper covers the walls, lending a crafty, unfinished look to the space. The gallery is nowhere near completion, but it has potential for growth—for untold stories, and creative expression through canvas, clay and music. This is Jonathan Sims' playground, and he seems to relish in the endless possibilities the space provides.
Sims, 29, is the director of art events and the artist in residence at the Commons at Eudora Welty's Birthplace. Mild-mannered, soft-spoken and slight of build, Sims isn't immediately an imposing presence. But once he begins to expound on his ideas and ambitions, an energy begins to emanate from him, and you can almost imagine his mind whirring behind his eyes.
One of Sims' projects is a personal piece that has been brewing in his mind since he was a child.
"My uncle has a really rare violin that ... my first cousin and I would sneak out and look at," he recalls, although he adds that he didn't truly appreciate its beauty until later. "After I started college, I started reading about the history of the violin and just took another look at the violin, and was really moved by the intricate details of it."
Early on in college, Sims decided he wanted to build semi-hollow-body electric guitars, but he soon changed his mind. "I just realized so many people were doing that, and there wasn't as much artistic freedom in that, and I didn't want to pour all my time and energies into making something that was not very significant, culturally," he says.
He continued taking industrial-tech classes at Holmes Community College where he learned and refined his metalworking techniques. He then enrolled in the art program at Delta State, where a professor encouraged him to study sculpture to refine his form in relation to musical instruments. He became excited about sculpture itself, though, and later transferred to Mississippi College to pursue studio art. He will receive his master's degree of fine arts from Mississippi College this fall.
Eventually, Sims' skills and interests merged in his current project: a one-of-a-kind, metal violin he's building for musician Andrew Bird, self-proclaimed multi-instrumentalist, lyricist and whistler.
One of Bird's primary instruments is the violin, which he uses along with loop and tone pedals to create complex layers of sound. Sims uses similar techniques in his music, and this connection is one of the reasons he felt compelled to build his violin for Bird.
"I loop a lot of music, too. ... I remember going to a drum contest, and all I brought was a guitar and a pencil and a loop pedal. ... I came to the contest feeling like it was completely normal, but it was way off," he says with a laugh.
He hasn't turned away from such creative methods, and is now perfecting a system by which he can play a whole drum-set pattern with his feet while playing another instrument with his hands.
The scope of Sims' metal violin is ambitious. He has based the instrument on the model created by celebrated Italian violin maker Antonio Stradivari, only reinterpreted in sheet metal using the same technique by which the Statue of Liberty was constructed. However, there are intricate inner parts that give this violin uniqueness beyond its metal construction.
"(Bird) has tone pedals ... to bring out a particular tone, and it's just something I wanted to do physically with an actual instrument. ... You can harvest a sound with a lot of inner parts that I designed for the inside of the violin that vibrate at different musical pitches to give the tonal qualities of some of his tone pedals," Sims explains.
He met the musician after a show in Oxford and gave him some photographs and writings about the instrument. "He told me that he'd keep it in his violin case."
Sims says he won't stop when he completes the violin, which he plans to unveil and present to Bird in the fall. He has a vision for his own musical instrument company, and would love to play in a band using only "original and unique instruments."
The artist is also working on a variety of artistic, community-based projects for the space at the gallery and beyond. He would like to use the gallery for community-oriented artistic or musical demonstrations and to display artists' works-in-progress.
"We'd like to show some ... of the lesser-known individuals that are doing unique things with unique techniques," he says.
More like this story
More stories by this author