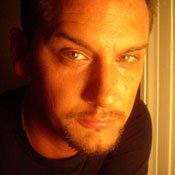 There isn't a simple way to characterize someone as complex as Frank Owen; consciousness-explorer, Celtic spirituality facilitator, travel guide and Jungian all come to mind. But to stop there would be to leave out an arm or a leg—each of the myriad facets comprising Owen's background being vital to the whole. His extraordinary vocabulary and innovative ideas leave his colleagues needing an Oxford Dictionary most days just to make sense of it all. But Owen tempers his intellect with a playful sense of discovery and humor.
In "The Celtic Way of Seeing" (New World Library, 2007, $14.95), Owen offers readers a compass to mapping spiritual energy to aid readers in meditations and help bring the Irish Spirit Wheel alive in their daily practice. I recently talked with this distinctive Jacksonian about his own mist-filled path, and the directions his writing is taking him now—transpersonal, spiritual and otherwise.
How did your education in transpersonal psychology lead you to write about Celtic spirituality?
That degree really builds upon and includes the depth psychology of C.G. Jung as well as other theorists such as Ken Wilber and Stanislav Grof. Most modern psychology has a tendency to ignore the spiritual aspects of the human psyche, but transpersonal assumes it. As a result, there's a natural inclination within it that's open to investigating the insights of a variety of spiritual traditions.
Your books touch on ways in which the reader might adapt such "Celtic ways of seeing" to a more universal approach. What application do you see such ancient ideas of spiritual mapping having in people's lives today?
I believe that many of these traditions offer the modern person an interesting set of antidotes to some of the ailments that we have in (modern) life. I think adapting is a good word, in the sense that it's essentially translating a way of life—it's just commonplace for people I've met in rural Ireland and parts of Scotland. They don't philosophize about these things; it's just deeply embedded in the way that they approach the day … and in the way they foster community.
I wrote ("The Spiral of Memory and Belonging") with the aim of exploring ways people could imbue the passage of their life with some spirit and meaning. Ultimately, I think that there are many people who feel their lives are devoid of a richer sense of being alive. And I think Celtic spirituality offers certain touchstones for growth and exploration.
It seems that the genres of writing you've gravitated toward recently are more of a direct reflection of the "inner work" you're focusing on now.
The books I wrote for New World Library were guides for people wanting to explore Celtic spirituality. I think that as my "outer work" in that world came to a close, the writing has become much more introspective. It's dealing more with my own inner images and terrain.
I feel like I'm really on the front edges of applying the shamanic "quiet way" of seeing to my writing. Certainly, it's started showing up in my poetry. And now I'm entertaining the notion of exploring fiction, but not just for fiction's sake. Possibly fiction as a way of teaching; a style in which the reader is pulled along on some kind of experience with the protagonist, and basically undergoes the same transformations.
As a writer who left the South to explore your ancestral roots, how do you feel about living in Jackson now (since 2005)?
I wrote a poem (recently) that explored the transmission of the Buddha Dharma from one land to another through different circumstances, and my uncle Hap (Owen)—who is very steeped in the music of the South—asked, "When are you going to start writing poems about Mississippi?" And I really didn't have a response for him because other than the natural world, the culture (of Mississippi) wasn't something that really hooked my spirit as a kid.
When I think back to that time, I never identified with the concept of "the South," and I certainly didn't identify myself with being a "southerner." I was always aware of something I have since come to think of as "the history beneath the history."
People think of the South and Mississippi, and there's the Civil War and there's slavery—there are many different aspects that have shaped the place. But I think even as a child I was eager to plug into something more primal that came before all of that. People forget that the energy here has always been kind of evolving, depending on who held it.
I do feel a push-pull, primarily because I've lived in so many different places. But while I'm here, perhaps I need to give some thought to exploring this place with the same lens that I've explored others.
Where do you feel most at home?
In Ireland, especially on a misty day walking through the woods of County Wicklow.
Frank Owen's Books are available through New World Library (http://www.newworldlibrary.com). His poetry blog is http://nekyia-the-descent.blogspot.com.
Previous Comments
ID

149649

Comment

sounds like a compelling work. it's great to see frank is published now. i've no doubt his books are excellent.

Author

Lindsey

Date

2009-07-16T08:15:42-06:00
More stories by this author
Support our reporting -- Follow the MFP.