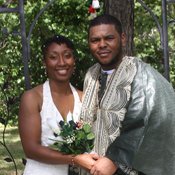 There are weddings with princess gowns, doves and long boring ceremonies ... and then there are [FLY] weddings. Your celebration can be just as unique as you are without hurting the environment, putting you in enormous debt or skimping on style. Check out the following [FLY] weddings for inspiration as you start planning your own nuptials.
Classically Unique
The [FLY] couple: Jamie Weems, IT director, and Julia Smith, social worker
Married Nov. 8, 2008
Venue: If traditional is your style, choose a local museum or old church. Jamie and Julia got married at St. Andrew's Episcopal Church in Birmingham.
Invitations: Letter-press invitations and thank-you notes were the way our grandmas got things done, but the industry has turned a corner and become a really hip way to send out your good news. Jamie and Julia were engaged in France so they used a sketch from one of their favorite local artists, Ginger Williams, of a bridge in Paris as their invitation.
Fun idea: As Julia walked down the aisle, she had eight friends each hand her a flower, which her mother bound together as her bouquet. She and Jamie also had friends stand up during the ceremony to read poetry.
What makes it [FLY]: Jamie and Julia are both musicians, so the ceremony music was really important to them. They picked out the pieces of music together. Jamie wrote arrangements for various combinations of mandolin, guitar, violin and Irish whistle, and he wrote an original composition for Julia's wedding march. All four of the ceremony musicians were friends.
Suggestions: Julia said her favorite description of her wedding was "a Cajun boogie blast of fun." If that is who you are, there is no reason why your wedding shouldn't reflect that.
Money saver: Julia's dress was originally made for her grandmother in 1935. It was in such good shape that it only a required a slight bit of alteration. Tammy's Alterations, which has experience working on heirloom gowns, did the work. Tammy also made a beautiful hairpiece for Julia to wear out of some of the lace edging of her grandma's original veil. The total cost was under $400.
We Do it How We Please

The [FLY] couple: Nikki Martin, healthy lifestyle consultant, and Skipp Coon, independent artist
Married Oct. 6, 2007
Venue: Nikki and Skipp were married at The Cedars because she wanted to get married outside instead of a church. The Cedars was the biggest cost in their wedding, but it was just the right size for the wedding and reception.
Invitations: The couple didn't want to waste money on a bunch of invitations for their friends, so they only sent proper invitations to people they knew would give gifts. Text messages and MySpace announcements invited the rest of their friends. The invitation was so open to the public that people they didn't even know showed up, but that was alright because they wanted it to be a party.
Fun idea: You can walk down the aisle to any musical arrangement you want. If the traditional wedding march isn't your style, then choose something else. Nikki chose "Orange Moon" by Erika Badu, which a friend performed on an acoustic guitar.
What makes it [FLY]: Nikki and Skipp had a simple ceremony where they wrote your own vows, and a friend married them. Nikki's dress was custom-made, and Skipp wore an African dashiki. They paid tribute to the women in their lives by having them sit in a special section with empty chairs to honor women in the family who had passed. Their friend, Mr. Nick, was the DJ for the reception, and their local artist friends brought art to hang on the walls.
Suggestions: Skipp says not to worry about anyone else "because all they are going to do is eat your food and go home." All that matters is what you want as a couple, and that should be your priority above everything else.
Money saver: The entire wedding and honeymoon budget was under $5,000 so they had to find creative ways to make a wedding. They used fake flowers to save money and borrowed tables and chairs from his mom's church.
The Modern Age
The [FLY] couple: Gillian Dicker, Web producer and editor, and Brian Burgess, Navy officer
Getting married Jan. 17, 2009
Venue: If you want a wedding with a concert theme—or rather, a rock concert with a wedding in the middle—use the Capri Theater as your venue and hire your favorite bands to play. If you want something even more over-the-top, try a circus-themed wedding with fire blowers and a ringleader like Gillian and Brian.
Invitations: Make invitations that look like concert tickets with instructions for guests to wear their favorite concert T-shirt. Or do something like Brian and Gillian, who went with a vintage carnival theme on their invites. Even though Brian was deployed in Iraq until November, he used his graphic-design background to design the save-the-date cards and invitations.
Fun idea: Rent a photo booth and have people take pictures all night long. Encourage them to add a strip of photos to their page in the guest book for an instant photo album. Or set up a circus background and have someone snap photos of your guests as they arrive to the reception. You can include copies with your thank-you notes.
What makes it [FLY]: Gillian and Brian spent a DIY afternoon smelting and shaping their own wedding rings. They will also carry their carnival theme to the reception with handmade paper pinwheels and little paper lanterns adorning each table, courtesy online Web site Etsy. Gillian brings her sense of humor and witty commentary about planning a wedding to the modern age with her blog. Follow along at no-dowry.com.
Suggestions: The most important thing for Brian and Gill was to make their wedding a real celebration, so instead of fretting over flowers, they spent their time and money making sure they had just the right venue—not too fancy, not too boring—great food and having the kind of DJ that will keep the party going all night long.
Money saver: Gill is saving a ton of money by having her dress made by a fashion designer friend. She knew she didn't want anything traditional or white, since her mom is Chinese and it is custom to wear white to funerals. Her dress will be a custom-made ivory gown with maroon layers peeking out underneath.
List of Resources
For photobooth rentals: photoboothrentalmississippi.com, adamhudsonphotography.com
For handmade goods: Etsy.com, mscraftsmensguild.org
For expert alterations: Tammy's Alterations, tammysalterations.com, 601-906-8345
For letterpress invitations: Ed Inman, home.earthlink.net/~edinman, 601-982-8792, smitteninvitations.com
For venues: The Cedars, 601-366-555, Mississippi Museum of Art, msmuseumart.org
More stories by this author
Support our reporting -- Become a JFP VIP.
The news business has changed dramatically in the past year, and we need your help more than ever to keep bringing you important stories about Jackson and the Metro. Become a JFP VIP with an annual membership or you can Sign up as a monthly supporter. Thanks for anything you can do to empower our journalism!