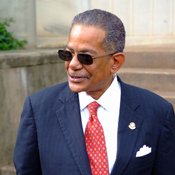 JFP Coverage of Defense Witness Christopher Walker
Full JFP Melton Blog/Archives/Tweets here
Follow JFP & Melton trial on Twitter
The defense will continue to argue its case today that a jury should find Mayor Frank Melton and ex-bodyguard Michael Recio not guilty on three counts of federal civil rights and gun charges in their trial in downtown Jackson. The defense is expected to call Christopher Walker, who is being transported from a Louisiana prison, to testify that he had bought crack in the Ridgeway Street duplex that Melton and Recio are accused of destroying. Walker previously lived at Melton's home, and was his star witness in the Albert "Batman" Donelson murder trial until it was revealed that Melton had provided him a car, an apartment, cash and a Frank E. Melton credit card to use as needed. A Mississippi Bureau of Narcotics agent also revealed that he had seen Melton allow Walker, then a paroled felon, handle weapons at his home.
Check this space throughout the day Thursday for play-by-play coverage from the courtroom.
Previous Comments
ID

143703

Comment

Twitter is showing that Melton is outside with Stephanie Parker-Weaver. How is Stephanie looking these days? I know she had been battling cancer and I hope she looks well.

Author

golden eagle

Date

2009-02-18T11:52:58-06:00
ID

143706

Comment

Speaking of Twitter, how does Lumumba propose to make crime unpopular? I totally agree that prisons aren't rehabilitating anyone but having met my fair share of criminals in prison, must of them are running around committing crimes because they think it's cool. There was an article in the NYT Magazine a few years ago about fatherhood and African-American men and the reporter interviewed one guy who was out of prison and could only get a job delivering pizza. All his friends made fun of him, called him "gay".

Author

Jennifer2

Date

2009-02-18T13:54:30-06:00
ID

143720

Comment

Interesting... I know a lot of gay men and not one of them delivers pizza :)

Author

Puck

Date

2009-02-18T15:07:34-06:00
ID

143748

Comment

Folks, Stephanie looks great, and is actually quite gorgeous with her bald head. She came over and told us that she is now cancer-free. Looks like she lost weight, too. Inside the courtroom, she was sitting with Melton sister-in-law Carolyn Redd (the only member of his family there, as far as I could tell) and City Attorney Sarah O'Reilly-Evans, and near Robert Walker. A lot of city employees in the house. I think Robert Henderson was sitting on other side of Stephanie.

Author

DonnaLadd

Date

2009-02-18T21:48:14-06:00