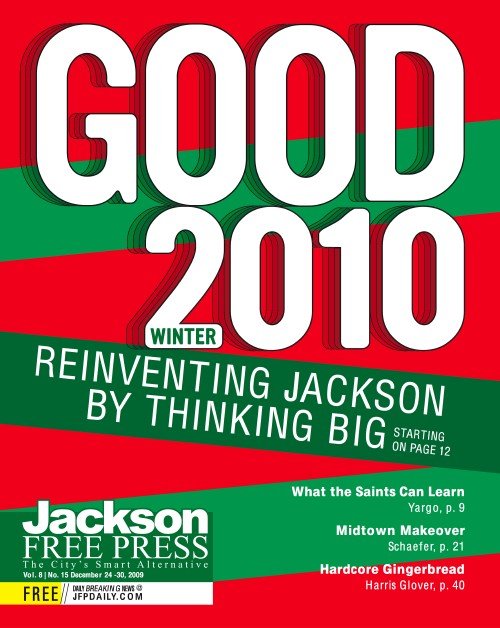 Thinking big. It is much more than a way to envision getting richer or renovating a downtown building into expensive condos. Living and taking action in a world of large ideas is the way we can transform our community into a place all residents are proud to call home and one that lures visitors and newcomers from elsewhere.
We are on the road to change in Jackson. But there is never any time better than now to pause and consider what else we can do, or do better.
Our city's change must involve all communities, not push problems into other neighborhoods. This GOOD issue is dedicated to the belief that we can all change our world of Jackson for the better—by being smart and proactive and, yes, by thinking big.
Oh, and never say: "That could never happen here." It could. The question is: How will you make it happen? What is your very next action? As Gandhi said, "Be the change you want to see in the world."
Not every wheel must be re-invented, and rushing to action isn't always the best way to effect lasting and intelligent change. As the Jackson community moves forward, we should take time to read and study successes (and failures) in other cities, and steal and adapt the best ideas for our own community. Here are a few ideas worth considering and possibly adapting for Jackson. Go to http://www.jacksonfreepress.com and add your own GOOD ideas.
Competitive Conservation
A Sacramento, Calif., power company has tapped social psychology to encourage energy conservation. For six months in 2008, the company sent 35,000 homes a monthly bill that included a comparison of how each household's consumption stacked up against its neighbors'. Energy usage dropped by 2 percent in that test group, a decrease equivalent to taking 700 homes off the grid. Utilities from 10 other cities, including Chicago and Seattle, have signed on with OPOWER, the company that provided the comparative data in Sacramento. Visit http://www.opower.com for more information.
Building Livable Neighborhoods
David Gershon's new book, "Social Change 2.0" (High Point, 2009, $27.95) may change your mind overnight about the possibilities for effecting immediate change in our city's most challenged neighborhoods. In Chapter 3, Gershon describes his experience in inner-city Philadelphia, Pa., empowering community members to take control of their block's challenges—health and safety, beautification and greening, resource sharing and neighborhood-building—and fixing them themselves, with the cooperation of the city. This model is perfect for Jackson: Identify interested facilitators, train them, call block meetings in private homes, set goals, get people to commit to next actions. This program is systemic, and easy—if you believe in possibility. Get started at http://www.empowermentinstitute.net.
Harlem Children's Zone
The Harlem Children's Zone is a concept started in 1997 by Geoffrey Canada to provide educational and support services for at-risk kids from the cradle to college in a 97-block area of Harlem in New York City. HCZ starts with baby college, a program for parents and children ages 0-3. A pipeline of education services continues for the children until they have reached college providing the children with positive mentors, afterschool programs, and charter schools. Currently, The Children's Defense Fund's Southern Regional Office in Jackson is encouraging communities in Mississippi and Louisiana to apply for federal funds to implement programs from the Harlem Children's Zone. President Obama has promised to fund HCZ programs in 20 "Promise Neighborhoods" across the country. Jackson, even without relying on external funding, could begin implementing some aspects of the HCZ model today. For inspiration, visit http://www.hcz.org
Zip City
Zipcar is a car-sharing service with locations across the U.S., with Zipcars available to rent by the hour or the day. Zipcar members can reserve a car online or through text message. Zipcars are then reserved in various off-street parking spaces in the city and can be unlocked with a card. Compared to car owners, Zipcar members save over $500 a month, and each Zipcar takes 15 to 20 personally owned vehicles off the road. The closest Zipcar cities are Tuscaloosa, Ala., and Nashville, Tenn. The company considers cost, market and demand to determine where to set up Zipcar cities. For more information, visit http://www.zipcar.com or call 866-494-7227. Meantime, figure out how to share a ride or two every week. Start somewhere.
Urban Growth Boundaries
In 1973 Oregon Gov. Tom McCall pressured the state Legislature to establish an Urban Growth Boundary in an attempt to control urban sprawl. This boundary controls the expansion of urban land into farms and forests. As a result Portland has a booming downtown and has put efforts into preserving its natural resources. UGBs create motivation for development in an urban core, revitalizing downtowns and placing emphasis on public transportation instead of sprawling highways to connect suburbs and cities. With support from Jackson Mayor Harvey Johnson Jr. and Gov. Haley Barbour, the Mississippi Legislature could adopt a state land-use plan to include an UGB. For more information, visit http://www.oregonmetro.gov.
Race to the Top
Earlier this year, the Obama administration announced a competitive grant program called "Race to the Top." The $4 billion grant rewards states for educational reform and innovation through adopting standards that prepare students to succeed in college, building data systems to measure student success, creating incentives for faculty and improving under-performing schools. While Mississippi is opting out of the first phase of the competition, it will be competing for funds in phase two in September 2010. Mississippi could even hold its own "Race to the Top," without external funding. Schools and communities would have incentive to reassess their educational programs and needs. Visit http://www.ed.gov for ideas.
Arts in Transit
In 1986, as a light-rail system was being constructed in St. Louis, Mo., a group of artists, architects and engineers collaborated on a project called Arts in Transit, which commissioned temporary public art works along the light-rail route. Since then, over 100 temporary and permanent public art works have been installed or performed at light-rail and bus stations, vehicle interiors, bus shelters and bus exteriors in the St. Louis metro. Specific projects include an annual "Poetry in Motion" contest: Winning poems are displayed on artful posters inside light-rail vehicles and buses. Even though Jackson doesn't have plans to build a light-rail system (yet), the Arts in Transit concept could be applied to JATRAN routes to draw attention to public transportation and bring art into underserved areas in our city. Visit http://www.artsintransit.org for ideas to steal.
Recycle the Suburbs
Enclosed malls, big-box stores and McMansions inundate the suburbs. Between subsidizing highways, oil, mortgages and SUVs, America today is a suburban nation. But the trend started changing with the housing bust and deepened with the financial crisis. Add to that changing demographics of smaller families and growing preferences for urban and green amenities, and suburbs as we know them could well disappear in the 15 to 20 years. What to do with all that sprawl is the subject of lots of new books, architectural design contests and discussion. Suburbs that will make it through will have "mass transit, public space and economic gravity to thrive post-recession," reported Time magazine in March. To see some of the newest ideas, visit http://www.flipastrip.org and http://www.re-burbia.com. Pick one and get started.
Metropolitan College
In Louisville, Ky., a joint public-private venture called Metropolitan College ties work-force development to education. Participants work part-time for UPS—the state's largest employer—in hard-to-staff positions like the overnight shift. In return, UPS pays full tuition for those employees at any one of the city's public universities or community colleges. Louisville has scaled the program up to serve local hospitals. Jackson could adapt the Metropolitan College model for major employers in the area, including hospitals and the Nissan manufacturing plant. Visit http://www.metro-college.com for food for thought.
The Simple Way
In Philadelphia, Pa., young "radical" evangelical Christian Shane Claiborne and friends built a self-sustaining artistic community in the rundown Kensington neighborhood of Philadelphia, Pa. The young people weren't there to gentrify the neighborhood, pushing out low-income residents. They went in to live and work with the people there, establishing a funky, caring, creative ministry. These "new monastics" share economic resources, work to overcome racial divisions, grow gardens and provide help to those in need. The group's Web site describes it this way: "The Simple Way is a web of subversive friends conspiring to spread the vision of 'Loving God, loving people, and following Jesus,' in our neighborhoods and in our world." Visit http://www.thesimpleway.org to see how to "Dream big. Live small."
High Impact Organizations
How to Start a Nonprofit
How to Be Less Obese
Midtown Makeover
How to Free an Innocent Man
How to Pass a Restitution Bill
Laws that Need to Change
Changemakers
How to Start a Movement
How a Movement Fails
Previous Comments
ID

154473

Comment

We all know how we hate traveling in public transit where we have to breathe in others people stinky arm pits. Especially if we have to breathe in when they are sneezing or coughing. So I came up with a product idea and wanted to know your feedback. I have created a survey to gauge the product's utility value and would really appreciate your input. Thank you all ! Survey Link : http://www.surveymonkey.com/s/public-transit

Author

tourdeforce321

Date

2009-12-23T19:51:22-06:00
More stories by this author
Support our reporting -- Become a JFP VIP.
The news business has changed dramatically in the past year, and we need your help more than ever to keep bringing you important stories about Jackson and the Metro. Become a JFP VIP with an annual membership or you can Sign up as a monthly supporter. Thanks for anything you can do to empower our journalism!