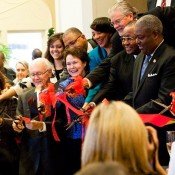 Visit our King Edward special report and gallery.
See gallery of historic and current images: King Edward: Then and Now
Long-time Jackson resident and Virden Addition Association President Jimmie Robinson entered the King Edward Hotel for the first time through the front door this morning.
He told me he was "a shoe-shine boy" at the King Edward before it closed down in the late 1960s. "We had to come in through the back door, then," said Robinson, who is black. Pointing toward the elevators in the lobby, he said, "I gave shoe shines right there."
Lt. Gov. Phil Bryant, Jackson City Council President Frank Bluntson, Ward 7 Councilwoman Margaret Barrett-Simon, HRI Properties co-founder Pres Kabacoff and Jackson Mayor Harvey Johnson Jr. all spoke this morning at a ribbon-cutting ceremony for the newly renovated downtown hotel and apartment building. Local developer David Watkins, who spearheaded the $89.6 million renovation of the King Edward Hotel, emceed the festivities.
While thanking a litany of partners, politicians, family members and friends for their help, Watkins said frequently, "Have I thanked Leland Speed, yet?" referring to the Jackson developer and former executive director of the Mississippi Development Authority, whom he gave credit for helping keep the project on track.
To a packed lobby and second-floor rotunda, including former New Orleans Saints running back (and Watkins' investment partner) Deuce McAllister, speaker after speaker proclaimed it a "great day for Jackson" and noted the significance of the re-opening of the hotel on Capitol Street in downtown Jackson.
"This is our capital city," Bryant said, suggesting that perhaps the Legislature might be more supportive of city projects than it has historically. "(As) goes this capital city, so goes the state."
Barrett-Simon noted that she had expected for years to be standing on the grounds of the King Edward, but she never knew if it would be to announce the hotel's revitalization or its demolition. "Today we have clarity," she said. "Jackson, our capital city, is in the midst of a Renaissance."
Bluntson got the loudest laughs when he claimed to have seen pigeons in front of the King Edward looking confused by the throngs of people entering the building. "That's not the house we left," he claimed to overhear. (He then, as an aside, suggested that the pigeons might leave downtown altogether and move to Madison County—a jab at suburban flight that elicited laughter from the crowd.)
Noting that the King Edward had been an issue since he first took office as mayor of Jackson in 1997, Johnson said, "It's unbelievable that I'm standing here 12 years later welcoming you to the King Edward." He pointed out the role that Hinds County and the county's sheriff had played in moving the hotel (whose original owner, he claimed, had once suggested to Johnson that the hotel could be turned into a bingo hall) to the purview of the Jackson Redevelopment Authority, where it could then be sold to developers.
Johnson also noted that HRI and Watkins had not been his initial choice as developers for the project, but when an earlier plan fell through, HRI was still willing to take his call and tackle the project, an attitude for which he gave Watkins and Kabacoff credit.
While known locally (and from the sign on the roof) as the King Edward, the hotel will be run as a Hilton Garden Inn property, called Hilton Garden Inn–Downtown Jackson in the hotel company's reservation system. The project also offers 64 luxury apartments for rent on the top floors, which today Watkins said should be fully rented "by the end of the day."
Saying that the King Edward was now an "anchor" for the west side of downtown, HRI's Kabacoff made a point of telling the crowd how excited Jackson residents seem to be about this project compared to his experiences in other cities.
Saying that HRI's mission is to "revitalize cities by creating diverse, viable, sustainable futures," Kabacoff said in reference to the King Edward project, "I feel like we've done it."
"Now," he exhorted, "make this a neighborhood."
Previous Comments
ID

154371

Comment

I think I see myself on the far left in the photo :)

Author

chip

Date

2009-12-17T14:27:49-06:00
ID

154373

Comment

Folks, don't miss this gallery of King Edward: Then and Now for images you won't see elsewhere. Thomas Beck took the photos today, and Stephen Barnette provided the memorabilia from the 1960s and before (how mod!), and various photographers took the images in between! Check it out! (Oh, and be sure to click on each page and look at all its photos. Our galleries are confusing to navigate, which I'm going to convince them to fix one of these days!) Enjoy.

Author

DonnaLadd

Date

2009-12-17T14:40:54-06:00
ID

154482

Comment

My wife and I stayed there on Friday evening, the second day it was open. We were very impressed, and it's not too expensive, either. I recommend it to all fans of Jackson when you come back to visit. I still can't believe it's finally open. It was also great to see the Standard Life Building under renovation, too. (We had a great view of it from our room.) I hope the addition of residences in both towers has a good effect on downtown. I hope a grocery store near downtown goes in soon to serve all the new residences. Along those same lines, it will be good to see those store fronts across from the King Edward on Capitol rehabbed, as well as the store fronts along Roach Street next to Standard Life. By the way, does anyone happen to know what's being done with the Lamar Life Building? There was a big crane and some work being done, but I couldn't tell just what.

Author

Mark Michalovic

Date

2009-12-25T12:04:04-06:00
ID

154506

Comment

I'll be checking in at the King on the 4th of January for a quick look. Can't wait to see the glistening marble where dust once gathered in lonely clumps. The 17th of December was indeed a great day for Jackson! David Watkins, Deuce McAllister and HRI deserve eternal places of honor in Jackson's pantheon for resurrecting the Jewel of Capitol Street.

Author

tombarnes

Date

2009-12-29T00:10:27-06:00
ID

154621

Comment

The Watkins Group also deserves mention for rehabbing those storefronts on the north side of Capitol Street. It's been sad to see so many of them abandoned and derelict, and good to know they're coming back. Getting retail and services downtown is key to making downtown a viable residential area. Residents need those kinds of businesses close by. What's more, since they'll be a short walk from the King Edward and Standard Life residences, there will be more people out and about walking on the sidewalks, which will not only make downtown livelier, but it will also make it easier for downtown neighbors to meet and get to know each other and build a real community. As much as I support the Farrish Street entertainment district, it's really the humble things like grocery stores, pharmacies, and barber shops that make a downtown lively on an everyday basis.

Author

Mark Michalovic

Date

2010-01-01T10:30:32-06:00
ID

154622

Comment

Trust me Mark, those things are in the works and coming!

Author

Kamikaze

Date

2010-01-01T10:47:37-06:00
ID

154623

Comment

Kaze I understood from an earlier post by you guys at "Watkins Dev" that some of the buildings across the street might be too far gone to save. My comment is that many times the facades can be saved and the buildings directly behind demolished and replaced with bigger newer bones and spaces kinda like a face transplant in reverse). Remember when they renovated and expanded the First "Bap" Church in the late 80's and they kept the three facades (west, south, and north) standing and used back supports to hold up the walls while the new "Sanc" was being built inside? I'm just sayin..........

Author

atlntaexile

Date

2010-01-01T13:36:46-06:00
ID

154625

Comment

Well at first glance we thought that might be the case but upon further review we will indeed be able to salvage them. Starting with the building right in front of King Ed where the Watkins sign is. And the facades WILL be saved and actually must be saved to get the vital historic tax credits. So, we agree (smile)

Author

Kamikaze

Date

2010-01-01T15:08:23-06:00
ID

154626

Comment

Kaze, one of the best feelings I had re the King Edward was not only walking in and seeing what it looked like finished...but looking across the street and seeing fresh new "Watkins Development" banners on all that property I'd written off as hopeless. Good on y'all.

Author

Tom Head

Date

2010-01-01T15:46:39-06:00
ID

154627

Comment

Kaze a couple of those facades date to the 1880's. also what's under the metal skins of one or two of them should be quite revealing as relates to architecture of the late Victorian period. Didn't know you were going to become an architectural historian did you?

Author

atlntaexile

Date

2010-01-01T15:49:19-06:00
ID

154629

Comment

I didn't. Lol. But I get pumped about learning new things and this has been a great teachable moment for me. I'm a novice at best but I'm working at it. What I DO know is that that's gonna be one magnificent block of Capital that will attract a gang of people everyday!

Author

Kamikaze

Date

2010-01-01T17:27:19-06:00
ID

154630

Comment

It will be, to be sure. In my memory there are one or two of those facades that were covered with correcgated metal panels to "update" them in the 70's....when they come off you will ask yourself "what were they thinking".....similar to what they found under the AT&T building up on Capitol across from Regions. You guys will have fun now!!!!! Get it on.....

Author

atlntaexile

Date

2010-01-01T17:35:16-06:00
ID

154631

Comment

Saving the buildings or just the facades is all the same to me. I'm just glad there will be retail and services for downtown residents in those spaces.

Author

Mark Michalovic

Date

2010-01-01T17:41:23-06:00
More like this story
Like independent media outlets around the world, the Jackson Free Press works hard to produce important content on a limited budget. We'd love your help! Become a JFP VIP member today and/or donate to our journalism fund. Thanks for considering a JFP VIP membership or one-time support.