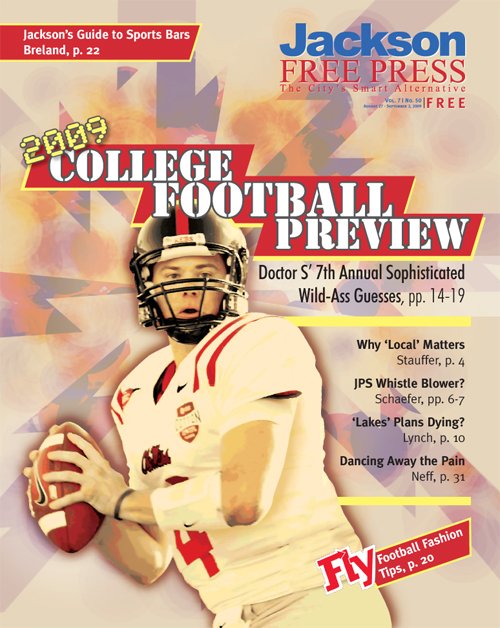 Triggerman. Signal-caller. Pivot. Field general. By any name, the quarterback is the most important player on the field.
These days, fewer teams try to get by with a "caretaker" quarterback, a guy who's called on not to lose a game rather than to win one. A quarterback has to throw, run (a little, anyway), make good decisions in tough situations and look good wearing the uniform, even if the uniform doesn't look good. An elite team needs an elite quarterback. Florida has Tim Tebow. Texas has Colt McCoy. Oklahoma has Sam Bradford. And Ole Miss has Jevan Snead.
That's right; Ole Miss has an elite quarterback. And for the first time in 40-plus years, he's not named Manning.
At Mississippi State, all eyes are on the freshman quarterback, who likely will become the starter sooner rather than later.
Southern Miss has a record-setter returning who figures to be even better in his second season in Larry Fedora's system. Jackson State has a starter who can't seem to get a firm grasp on the job.
Delta State and Mississippi College have legends in the making. Millsaps has to replace a legend.
Everybody else is looking for a quarterback to ignite the offense.
Who's going to get the job done this year? Find out by reading Doctor S' seventh annual SWAGS (sophisticated, wild-ass guesses).
OLE MISS
Coach: Houston Nutt (second season 9-4/17th season 120-74)
2008 record: 9-4 (5-3 SEC), won Cotton Bowl Stadium: Vaught-Hemingway Stadium, Oxford
Radio: 97.3 FM
Two years ago, Jevan Snead knew after a year at Texas that he was not going to displace Colt McCoy as the starting quarterback. He sat out a season in Oxford as mandated by NCAA transfer rules. Fortunately for Snead, the Rebels replaced Ed "Caveman" Orgeron with Houston Nutt at the end of that season. Snead and the Rebels have been rising ever since. Two weeks ago, Snead was on the cover of Sports Illustrated.
"I really try not to put too much into it," Snead told The (Memphis) Commercial Appeal. "… If we don't get the win at the end of the week, it doesn't count for much in my eyes."
Ole Miss is a consensus preseason top 10 team, but Nutt seems to be growing more uncomfortable by the day. He cancelled the annual "Meet the Rebels" event because of flu fears. He pulled the plug on a proposed TV reality show.
Nutt is right to worry. The Rebels haven't played up to expectations since 1963, the last time Ole Miss won an SEC title. That's why UM considered installing a cardboard field: The Rebels always look good on paper. And Nutt-coached teams with high expectations have usually underperformed, too.
"I can't control (the hype)," Nutt told ESPN.com. "The only thing I can try to control is the attitude of our players and how they go about it."
Ole Miss' six returning starters on offense include electrifying running back/wide receiver Dexter McCluster. But the Rebels are struggling to replace left tackle Michael Oher, an All-American and first-round NFL draft choice. The defense has eight starters back. Can defensive end Greg Hardy replace Peria Jerry, another All-American and NFL first-rounder?
Outlook: The Rebels' schedule is favorable. They don't play SEC heavyweights Florida and Georgia. Alabama and LSU both have to come to Oxford. The Rebels won't go undefeated, but they will win the SEC West for the first time.
Uniform watch: The Rebels aren't going to mess with perfection.
Schedule: Sept. 6, at Memphis; Sept. 19, Southeastern Louisiana; Sept. 24, at South Carolina; Oct. 3, at Vanderbilt; Oct. 10, Alabama; Oct. 17, UAB; Oct. 24, Arkansas; Oct. 31, at Auburn; Nov. 7, Northern Arizona; Nov. 14, Tennessee; Nov. 21, LSU; Nov. 23, at Mississippi State.
MISSISSIPPI STATE
Coach: Dan Mullen (first season)
2008 record: 4-8 (2-6 SEC)
Stadium: Scott Field, Starkville
Radio:105.9 FM
Tyson Lee has been MSU's starting quarterback since early last season. He's spent the last few months learning the spread offense new coach Dan Mullen imported from Florida. Quaterback Chris Reif has had a good camp, according to Mullen, and is running neck and neck for the starting job. Expect to see both players this fall.
"I think people will be shocked at the contribution Chris might make this year to the team," Mullen told The Associated Press.
The quarterback that Bulldog Country is watching is Tyler Russell, the freshman who led Meridian to the Class 5A state title last year. Mullen says he won't play Russell before he's ready.
"If I think (Russell is) going to give us the best chance to win, I will play him," Mullen told ESPN.com. "If not, then he won't play.
"I'm not just going to throw him out there."
Quarterback isn't the only question mark the Bulldogs have on offense. MSU is thin on the line and at wide receiver. Key returnees include running back Anthony Dixon (869 yards, seven TDs in 2008), who became Starkville's best-known champagne drinker after his recent DUI arrest, and receiver Brandon McRae (518 yards).
The defense should be solid. All-SEC linebacker Jamar Chaney returns after missing 2008 because of a broken ankle. The top newcomer is hard-hitting, loud-talking defensive lineman Pernell McPhee. The "sack machine" led the nation with 32 sacks over the last two seasons for Itawamba Community College.
Outlook: As usual, the schedule is absolute murder. Non-conference foes include C-USA favorite Houston and Georgia Tech. The usual band of SEC killers includes defending national champion Florida. Mullen might turn things around in Starkville, but the Bulldogs are going to take some lumps in 2009.
Uniform watch: MSU unveiled new Adidas uniforms last spring. Putting aside the marketing mumbo jumbo, the biggest change is that the Bulldogs will wear maroon helmets for the first time since 2003. That makes it even more imperative that the Bulldogs not wear all-maroon uniforms at home.
Schedule: Sept. 5, Jackson State; Sept. 12, at Auburn; Sept. 19, at Vanderbilt; Sept. 26, LSU; Oct. 3, Georgia Tech; Oct. 10, Houston; Oct. 17, at Middle Tennessee State; Oct. 24, Florida; Oct. 31, at Kentucky; Nov. 14, Alabama; Nov. 21, at Arkansas; Nov. 28, Ole Miss.
SOUTHERN MISS
Coach: Larry Fedora (second season 7-6)
2008 season: 7-6 (4-4 C-USA), won New Orleans Bowl
Stadium: M.M. Roberts Stadium, Hattiesburg
Radio: 1180 AM/103.3 FM
Last year, former walk-on Austin Davis surprised some by winning the starting quarterback's job in Larry Fedora's no-huddle spread offense. Then the redshirt freshman turned the doubters into believers by throwing for a school-record 3,128 yards and 23 touchdowns.
"In this system, (Davis) did more as a first-year quarterback than any quarterback I have had," Fedora told Sporting News.
Davis and the USM offense could be more explosive this season. Eight starters return including superstar receiver DeAndre Brown (67 catches, 1,117 yards, 12 TDs in 2008), although he's been slowed by recovery from a broken leg suffered in the New Orleans Bowl. USM career rushing leader Damion Fletcher (1,332 yards) returns seeking a fourth consecutive 1,000-yard season. Fletcher got on the wrong side of the law in the offseason by firing a pistol inside the city limits of Hattiesburg. His penalties included the "punishment" of missing spring practice. Since the arrest, however, Fletcher has been on his best behavior.
The Golden Eagles' defense, which held opponents to eight points a game in the last four games of the regular season, returns eight starters, too. The loss of linebacker Gerald McRath left a major void, but the Eagles are betting Korey Williams can fill it.
"We've got plenty of talent and we're putting it all together," Davis told The Associated Press. "That's the type of thing we do at Southern Miss—we compete for the conference championship—and I think that's definitely in our grasp this season."
Outlook: USM struggled early last season, losing five consecutive games at one point. But the Eagles finished with five straight wins. The Eagles were only a few points away from winning the C-USA East last season. This year, USM will win the title.
Uniform watch: USM and Nike unveiled the Eagles' first major uniform overhaul since 2001. The team has black, gold (yellow, really) and white jerseys and pants (which sport a funky wraparound stripe), giving USM nine possible combinations. Unfortunately, those combinations include the traditional ugly-ass all-black and the hideous all-yellow the Eagles wore in the New Orleans Bowl.
Schedule: Sept. 5, Alcorn State; Sept. 12, UCF; Sept. 19, Virginia; Sept. 26, at Kansas; Oct. 1, at UAB; Oct. 10, at Louisville; Oct. 17, Memphis; Oct. 24, Tulane; Oct. 31, at Houston; Nov. 14, at Marshall; Nov. 21, Tulsa; Nov. 28, at East Carolina
JACKSON STATE
Coach: Rick Comegy (fourth season 21-14/14th season overall 129-65)
2008 record: 7-5 (6-2 SWAC, won SWAC East), lost in SWAC championship game
Stadium: Mississippi Veterans Memorial Stadium, Jackson
Radio: 1300 AM
This isn't the way things were supposed to work out for Trae Rutland. The senior from Atlanta started last season, passing for 1,423 yards and seven touchdowns. He emerged from spring practice as the starter. But he has spent preseason practice battling Dedric McDonald, a redshirt freshman. McDonald was even listed as the Tigers' No. 1 quarterback on the first depth chart of preseason drills. It might just be a ploy to motivate Rutland. But Comegy has never been shy about bringing in the second-string QB if the starter struggles.
"It was a little frustrating, but I know it was an early depth chart," Rutland told The Clarion-Ledger. "Just keep working, can't be too frustrated by it. Just try to get my spot back."
The Tigers return 10 starters on offense. The offensive line and receiving corps, which struggled because of inexperience in 2008, should be much better.
The defense, which ranked second in the SWAC in total defense, has seven starters back but has huge holes to fill. The top newcomer will be cornerback Anthony Johnson, a transfer from Mississippi State. The Provine alum won't play in the opener at MSU because of a gentlemen's agreement between the coaches. After that, watch out. Johnson should give the JSU secondary a huge boost.
Comegy has focused on discipline throughout the offseason. JSU committed 88 penalties for 808 yards in 2008, an average of 115.4 yards a game. The fourth-year coach has vowed that this season will be different.
"We are going to teach, and teach, and teach until they get it," Comegy told The Associated Press. "We are working on discipline every day."
Outlook: Comegy seems to have the Tigers on automatic pilot, and they will win a third straight SWAC East title. But JSU isn't likely to dethrone Grambling State.
Uniform watch: The Tigers have always looked snazzy, especially since Comegy brought back the old-style helmets. But the Doctor still hates the all-blue home uniforms.
Schedule: Sept. 5, at Mississippi State; Sept. 12, vs. Tennessee State in Memphis, Tenn.; Sept. 19, at Grambling State; Oct. 3, Southern; Oct. 10, Arkansas-Pine Bluff; Oct. 17, Texas Southern; Oct. 24, at Mississippi Valley State; Nov. 7, Alabama State; Nov. 14, at Alabama A&M; Nov. 21, Alcorn State.
BELHAVEN
Coach: Joseph Thrasher (first season at Belhaven/third season 15-18)
2008 record: 2-9 (1-4 MSC)
Division: NAIA
Stadium: Newell Field, Jackson
Radio: Online at http://blazers.belhaven.edu
Outlook: Thrasher is the first former Belhaven player to coach the Blazers. He has plenty of work ahead. The Blazers scored a measly 21.8 points a game (41 turnovers didn't help) in 2008 while giving up a whopping 37. Starting quarterback Jarred Wallace (1,789 yards, 14 touchdowns) is back, but it remains to be seen if he will start. Whoever starts will have a good target in All-MSC West receiver Anthony Embry (63 receptions, 646 yards, three touchdowns). The Blazers have 10 starters back on defense, for what that's worth, led by All-MSC linebacker Reginald Lumpkin.
The Blazers' rebuilding project will be hampered by a tough schedule that includes three NAIA preseason Top 25 teams, plus West Alabama and Millsaps. Belhaven was picked to finish fifth in the seven-team MSC West. That sounds right. Uniform watch: No word on any changes. Hopefully those all-gold uniforms are history.
Schedule: Aug. 27, West Alabama; Sept. 12, at Millsaps; Sept. 19, Kentucky Christian; Sept. 26, Bethel; Oct. 3, at Faulkner; Oct. 10, at West Virginia Tech; Oct. 17, Shorter; Oct. 24, at Cumberland; Oct. 31, at Lambuth.
MILLSAPS
Coach: Mike DuBose (fourth season 26-7/eighth season overall 50-31)
2008 record: 11-1 (7-0 SCAC, won championship), lost in second round of NCAA Division III playoffs
Stadium: Harper Davis Field, Jackson
Radio/video: Online at http://gomajors.com
Outlook: The departure of quarterback Juan Joseph, the three-time SCAC Offensive Player of the Year and 2008's Conerly Trophy winner, leaves a big hole in the Majors' offense. The heir apparent at quaterback is Chris Graves who has just 19 of 36 passes for 200 yards and a touchdown in three seasons as a backup. The Majors have five starters back on offense, including three linemen and running back Shane Bowser (414 yards, six TDs), the SCAC's Newcomer of the Year in 2008. The Majors also have five starters back on defense, including a good group of linebackers, but Millsaps must replace the entire secondary. The Majors have too many holes to fill to win a fourth consecutive SCAC title.
Uniform watch: The Majors are expected to stick with their classic purple-and-white unis. Schedule: Sept. 5, at Mississippi College; Sept. 12, Belhaven; Sept. 19, at Austin; Sept. 26, Trinity; Oct. 3, at DePauw; Oct. 10, at Huntingdon; Oct. 17, Rhodes; Oct. 24, Centre; Oct. 31, at Sewanee; Nov. 14, Birmingham-Southern.
MISSISSIPPI COLLEGE
Coach: Norman Joseph (fifth season 20-20/ninth season overall 41-40)
2008 record: 5-5 (5-3 ASC)
Division: NCAA Division III
Stadium: Robinson-Hale Stadium, Clinton
Radio: Online at http://www.gochoctaws.com
Outlook: Record-setting quarterback Adam Shaffer was the key to the Choctaws' 2009 season. The ASC preseason Offensive Player of the Year played in just two games before suffering a season-ending knee injury. Backup Tommy Reyer played well, winning ASC Offensive Freshman of the Year, but the Choctaws lacked the firepower to hang with the ASC's best. Shaffer and Reyer are back along with four starting offensive linemen. Six starters return on defense led by All-ASC middle linebacker Quartez Ashmore. MC's schedule is full of potential stumbling blocks, including Millsaps, NAIA Top 25 squad Cumberlands, and NCAA Division III Top 25ers Mary Hardin-Baylor and Hardin-Simons, the ASC teams picked to finish ahead of them. But all of those teams are coming to Clinton. If Shaffer stays healthy, MC will win the ASC title.
Uniform watch: The Choctaws will keep wearing their classic navy and yellow.
Schedule: Sept. 5, Millsaps; Sept. 12, Cumberlands; Sept. 19, at McMurry; Sept. 26, Hardin-Simmons; Oct. 3, at Louisiana College; Oct. 17, Mary-Hardin Baylor; Oct. 24, at East Texas Baptist; Oct. 1, Howard Payne; Nov. 7, at Sul Ross State; Nov. 14, Texas Lutheran.
ALCORN STATE
Coach: Earnest Collins Jr. (first season) 2008 record: 2-10 (1-6 SWAC) Division: NCAA Division I-AA Stadium: Jack Spinks Stadium, Lorman Radio: 90.1 FM
Outlook: Alcorn State is a team in search of stability. Collins was promoted from defensive coordinator after the firing of Ernest Jones. Fortunately, the returnees include quarterback Tim Buckley, who threw for 1,353 yards and seven touchdowns in 2008 for an offense that averaged just 15.1 points per game. Senior defensive lineman Malcolm Taylor is the top returnee on a defense that gave up 20.2 points a game. The Braves were competitive last season. Six of their 10 losses were by a touchdown or less. But the unsettled coaching situation has to take a toll. The Braves are picked to finish last in the SWAC East and will. It's going to be another dismal season on The Reservation. Uniform watch: The Braves will keep wearing their traditional purple and gold. It's a good look.
Schedule: Sept. 5, at Southern Miss; Sept. 19, at Central Michigan; Sept. 26, at Southern; Oct. 1, at Arkansas-Pine Bluff; Oct. 10, Mississippi Valley State; Oct. 17, Alabama A&M; Oct. 24, at Alabama State; Oct. 31, at Texas Southern; Nov. 14, Prairie View; Nov. 21, at Jackson State.
DELTA STATE
Coach: Ron Roberts (third season, 20-4)
2008 record: 10-2 (9-0 GSC, won championship), lost in second round of NCAA Division II playoffs
Stadium: Travis Parker Field, Cleveland
Radio: 930 AM
Outlook: The Statesmen's back-to-back GSC titles haven't gone unnoticed. DSU is ranked in the top five in every preseason poll. The Statesmen have nine starters back on offense, led by quarterback Garrett DeWitt (276-of-445 passing for 1,277 yards and 28 TDs). Also returning is All-America all-purpose back Trevar Deed (1,487 yards rushing and receiving with 15 TDs). The Statesmen will be stout again on defense. The six returning starters include All-America linebacker Lardester Hicks-Green, the 2008 GSC Defensive Player of the Year, and cornerback Dominique Davenport, last year's GSC Defensive Freshman of the Year. DSU will continue the greatest run in school history by winning a third straight GSC title and challenging for the national title
Uniform watch: The Statesmen are still wearing forest green and white. Even their green-on-green unis look good. Schedule: Aug. 29, at Texas A&M-Kingsville; Sept. 12, at Arkansas-Monticello; Sept. 19, Harding; Sept. 26, at Ouachita Baptist; Oct. 1, Valdosta State; Oct. 10, at West Alabama; Oct. 15, at North Alabama; Oct. 24, Southern Arkansas; Oct. 31, at Arkansas Tech; Nov. 7, West Georgia.
MISSISSIPPI VALLEY STATE
Coach: Willie Totten (eighth season 29-39)
2008 record: 3-8 (1-6 SWAC)
Division: NCAA Division I-AA
Stadium: Totten-Rice Stadium, Itta Bena
Outlook: Surprisingly, Totten is still around after two straight 3-8 seasons. If his name wasn't on the stadium, he might not still be working in Itta Bena. Paul Roberts is back at quarterback after throwing for 2,039 yards and 14 TDs in 2008. He was also the Delta Devils' No. 2 rusher with 192 yards. That's not a good thing. Things are even worse on defense. Valley gave up 485 yards and 40.3 points a game in 2008. The only reason the Devils won't finish last in the SWAC East is because Alcorn State is even worse.
Uniform watch: The Delta Devils have mixed and matched green, red and white over the years and looked good doing it. Valley will reportedly wear new unis this fall (new to the Doctor, anyway) that are topped off with a Valley green helmet with a large red V on the side.
Schedule: Sept. 5, at Arkansas State; Sept. 19, Arkansas-Pine Bluff; Sept. 26, vs. Alabama State in Chicago; Oct. 3, Texas College; Oct. 10, at Alcorn State; Oct. 17, Prairie View; Oct. 24, Jackson State; Oct. 31, at Alabama State; Nov. 7, Texas Southern; Nov. 14, Lincoln; Nov. 21, at Alabama A&M.
THE BIG 13 GAMES
Here are 13 must-see Mississippi college football games this season:
Sept. 5: Jackson State at Mississippi State The Tigers and Bulldogs meet in a historic SWAC-SEC game. It's going to be a great day for Mississippi. ... Millsaps at Mississippi College: The Majors and Choctaws collide in the Backyard Brawl. Start hating now and avoid the rush.
Sept. 6: Memphis at Ole Miss We get our first look at the highest-ranked bunch of Rebels in more than 40 years.
Sept. 12: Belhaven at Millsaps The Blazers and Majors tangle to decide the Belhaven championship.
Oct. 1: Valdosta State at Delta State The Blazers and Statesmen are both ranked in NCAA Division II preseason polls. This game will go a long way toward deciding who wins the GSC title.
Oct. 10: Mississippi Valley State at Alcorn State Both of these SWAC rivals will struggle to win this season. ... Alabama at Ole Miss Hopefully the players will decide the outcome and not an official, as was the case here two years ago.
Oct. 24: Jackson State at Mississippi Valley State The Tigers venture in the Delta Devils' den in Itta Bena. ... Florida at Mississippi State: Bulldogs coach Dan Mullen faces his former boss Urban Meyer. Fun fact: Florida has never won in Starkville.
Oct. 31: Southern Miss at Houston This could be a preview of the C-USA championship game.
Nov. 21: Alcorn State at Jackson State The Tigers seek their third straight victory over the Rebels. ... LSU at Ole Miss: The Tigers and Rebels might be playing for the SEC West title.
Nov. 28: Ole Miss at Mississippi State The Rebels and Bulldogs meet in Mississippi's greatest grudge match. No matter who wins, a lot of people's Thanksgiving weekend will be ruined.
The Best In Sports In 7 Days
Doc's Football Fashion Follies
Jackson's Guide to Sports Bars
A Place To Watch The Game
Previous Comments
ID

151329

Comment

I'm praying for miracles in the Memphis v. Ole Miss, Jackson State v. Mississippi State and the Alcorn v. Southern Mississippi games. The miracles won't occur though except for the Memphis and Ole Miss game. I have already prepared my nephew on Ole Miss' team for the loss. I better not see a tear roll from his head either. Men in our family don't cry. Crying is for girls!

Author

Walt

Date

2009-08-27T16:55:33-06:00
ID

151330

Comment

By the way, Doc good job with all he information. You the bomb.

Author

Walt

Date

2009-08-27T16:56:38-06:00
ID

151338

Comment

Walt- you are so funny. Do you really think Memphis stands a chance?

Author

BubbaT

Date

2009-08-27T18:27:57-06:00
More like this story
More stories by this author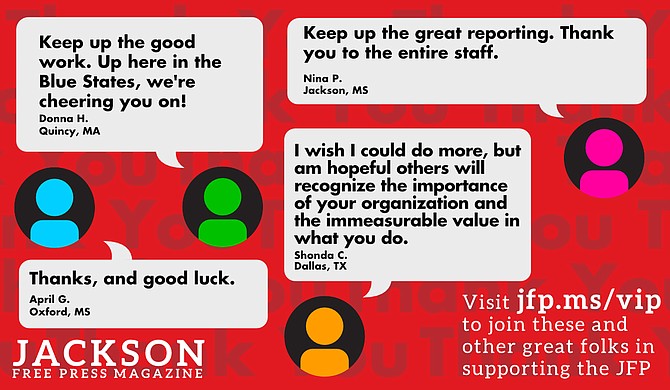 Thanks to all our new JFP VIPs!
COVID-19 has closed down the main sources of the JFP's revenue -- concerts, festivals, fundraisers, restaurants and bars. If everyone reading this article gives $5 or more, we should be able to continue publishing through the crisis. Please pay what you can to keep us reporting and publishing.