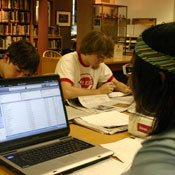 It's hard to believe that the Media Literacy Project came from a day at the zoo. The Civil Rights Civil Liberties Club, a Jim Hill High School-based group, held a retreat for its members at the Jackson Zoo in mid-May to gain momentum for the next school year. The day started with a bunch of group exercises to get us used to working with each other, then a quick trip to visit the Gibbons (a group of great apes that make vulgar noises humorous to many generations).
We heard that Jackson Free Press Editor-in-Chief Donna Ladd would make an appearance, but nobody knew what her arrival would cause. In 2001, Ladd wrote a story for the Village Voice about a group of New York high school students, "The Youth Force," who published a report critiquing the media's coverage of youth violence and what they felt was an unfair treatment of youth in The New York Times. The report, "In Between the Lines: How the New York Times Targets the Youth," featured the students' research, observations, illustrations, and poetry communicating the reporting disparagement between teen and adult violence. The findings were so powerful that they warranted a tense visit with the Times metro staff.
Donna's timing couldn't have been more serendipitous. Jim Hill students had recently faced an unjust depiction of their friend Alfred Hawkins, a young man fatally shot while standing outside in the early morning of March 23. The confusion and anger caused by the media coverage surrounding Alfred's death created a spark, but it wasn't enough to start the fire. Then someone noted that while Alfred was pictured as a juvenile delinquent who got shot because he was doing something illicit, a similar story involving Mitch Dickens, Zach Bailey and Scott Lloyd—three teens from Madison County who died in a car crash—used a more sympathetic tone and showed those teens as victims of an unfortunate and untimely incident. That observation was gas for the flame.
It was obvious that the local publications were not providing equal coverage of youth. Sure, many factors came into that, such as different writers and different available information. But, isn't it the media's job to give the public fair and equal news? We couldn't sit back and allow this to happen in our own hometown. This was the time to do something. We had the manpower; now all we needed was the plan.
Donna asked if we were up to the challenge; how could we refuse?
And So It Began
Since first hearing about the project in May, students' anticipation and interest grew. Through word of mouth, people who weren't even present that fateful day at the zoo began to inquire. We were itching to get started. Then, the day after school ended, invitations came for a June 7 meeting at the JFP office.
Behind the scenes, David Molina, co-founder of the CRCL and project coordinator at the William Winter Institute, procured funding for the project and hired Bryan Doyle as project manager and coordinator.
After introducing ourselves and getting acquainted with the definition of "media literacy," prospective members of the MLP took time reading several articles with a critical eye and identifying bias. We were getting down to the core, talking about things we had noticed was wrong with news but had never really talked about. Here, we all saw what was required.
Now the brainstorming began: What did we want to cover? What type of media did we want to focus on? What publications? For how long?
After an hour-long discussion, we came to the consensus that we wanted to analyze The Clarion-Ledger and the weekly Madison County Journal, Jackson Advocate and Northside Sun. We would search archives from April, May and June, while analyzing the daily Clarion-Ledger for May and June. Our topic was harder to decide. It needed to be something broad enough to explore but not so much to get lost in. Then the idea struck: Observe how and what types of youth get into local media.
Simple, right?
Digging Deep
Wrong. Coming into the second week of meetings, it was easy to see how incorrect we were to assume that this would be an easy, quick summer project. This was not summer camp. Most of our time was spent creating a rubric to help us find what we wanted to look for.
Using The Youth Force checklist as a guide, we devised our own easy-to-use list. This rubric reminded us to read carefully and thoroughly to give each publication a fair analyses.
And so the research began. Many days were devoted to trips to the Eudora Welty Library locating and reading newspapers and noting our findings. Four weeks later, our work was done. It was a long process but vital to the next stage.
Start the Presses
Then it was story time. It was finally time to start learning how to "shut up and write." Because of the inspiration gained from our research, our topics weren't hard to find, but that left the hardest part for last: How do we put this whole thing together? We began to think about layout and cover ideas: the things that would make or break this issue. For about three weeks, even after school, we worked and reworked our stories making sure that they were near perfection.
As for the cover of this issue, we flung many stick figures and concepts around until they were nearly finished, settling on the idea of a media machine turning individual youth into stereotypes. Then the amazing JFP designer Christi Vivar did her magic.
Sweat, brain-freezes, over-talking, stressful silences, corny jokes and lots of coffee have gone into this issue just so people can see that the youth of Jackson mean business.
We have voices, and we know how to use them.
Full Jackson Media Literacy Project package:
Screw Friendship Bracelets
Eyes on the Machine: Jackson Teens Cover the Media
Editors Speak Up
'Yes, We Can'
The Mouth Of Babes
Intentional Bias
Now What?
Related:
David Molina's Blog Post on the Jackson M-Lit's genesis (+ great photos)
Previous Comments
ID

138904

Comment

Folks, the Jackson Media Literacy Project is one the coolest projects that has happened on Jackson Free Press soil. I applaud all the associates, Bryan Doyle and everyone else involved. And a big shout-out to David Molina for picking up an idea I'd hold on to for a while and making it happen. Here's his blog post about it, explaining exactly how it came about. And don't miss the photo gallery there of the associates working in the JFP classroom here. (I love that my "zebra chair"—which is my teaching chair—made the cut, and all those images of our Emmett Till movie poster. There's something so *right* about that.)

Author

DonnaLadd

Date

2008-10-10T09:59:22-06:00
Support our reporting -- Follow the MFP.