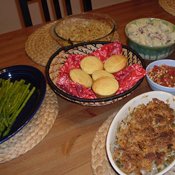 Gas prices may finally be going down, but I still do a lot of cringing in line at the grocery store every Saturday morning. It is hard enough to stick to a budget and also make environmentally responsible choices on a normal week. How on Earth can we all manage it during the holiday season? Actually, it is easier than you might think if you follow a few simple guidelines.
Buy organic foods only for the "dirty dozen" pesticide-laden fruits and vegetables such as potatoes and celery, and for hormone-filled dairy products. Store-brand organic dairy products are usually a good price. Look for deals on locally grown produce such as sweet potatoes at the farmer's market and at your favorite grocery. Choose the store brand for most foods in cans and jars, but compare it with a national brand first to make sure that you aren't choosing a product with an excess of salt or corn syrup. Compost all your fruit and vegetable peelings, as well as any table scraps. And the biggest budget-friendly and environmentally sound choice you can make this Thanksgiving is to skip the meat, which is expensive, energy-intensive and pollution-causing.
I promise that with all of this abundance on your table, you will barely notice its absence. The best thing about this meal for four to six adults is that you can prepare it by yourself in about an hour for less than $50.
Mashed Potatoes and Gravy
First, cut four large, organic red-skin potatoes into large chunks. I like to leave the peel on to add texture and color to my mashed potatoes. Boil them in a large pot. When they are soft, drain the water and mash the potato chunks. Add a little milk or half-and-half, butter, salt and pepper to taste. Heat up a jar of your favorite gravy as an accompaniment. I like mushroom gravy best. Cost: $7.80.
Green Bean Casserole
It doesn't get much easier than two cans of store-brand green beans, one can of low-fat cream of mushroom soup and one 3-ounce can of fried onions. You know what to do. Cost: $4.43.
Sweet Potato Mash
Peel three Mississippi-grown sweet potatoes and cut into large chunks. Boil until soft. Mash the sweet potatoes. Mix in butter, brown sugar, cinnamon and chopped walnuts to taste. Cost: $3.76
Hoppin' John
Open and heat two cans of vegetarian hoppin' john from McDade's. It is delicious. I won't tell that it isn't homemade! Cost: $2.78.
Steamed Vegetables
Pick your favorite fresh, green vegetable to steam. I picked asparagus. Mix with a little lemon juice, garlic and butter, and arrange on a nice platter. Cost: $3.93.
Cranberry-Orange Sauce
Take one bag of fresh cranberries. Rinse and put into the food processor. Now take an orange (be sure to pick one that is grown in Florida and not shipped in from South Africa or some other far-flung locale) and rinse it well with the peel still on. Cut into slices. Remove seeds and the stem. Place the orange slices, peel and all, into the food processor. Process until the cranberries and orange slices are minced together uniformly. Scoop into a bowl and mix in about 1/2 cup sugar or more to taste. Sprinkle chopped walnuts on top. Cost: $3.48.
Stuffing
Choose the dry stuffing mix of your choice and follow the directions on the package. I am partial to the vegetarian-friendly Pepperidge Farm Cornbread Stuffing myself. I like to add a taste of sautéed onions and organic celery, and some toasted sesame seeds. Cost: $3.69.
Cornbread Muffins
Get two boxes of Jiffy corn muffin mix and follow the directions on the package to bake them. We always choose eggs that are both organic and free range to satisfy our environmental and ethical concerns about factory-farmed eggs. Cost: $2.78.
Apple Pie
Thaw out two store-brand piecrusts from the refrigerator section. Press one into the bottom of a pie pan and set the other one aside. Wash six tart apples (preferably Granny Smith) very well. Apples are one of the most pesticide-coated fruits, but organic apples are often shipped in from Chile or further, and are extremely expensive these days, so our family generally chooses non-organic apples that are grown here in the U.S. I like to leave the peel on for my apple pies, but feel free to peel your apples if you prefer.
Cut the apples into thin slices after cutting out the cores. In a large bowl, mix about half a cup of sugar with about a tablespoon of cinnamon and mix together. You can adjust these to your own preference. I use less sugar, since I know I will be putting a sweet scoop of ice cream on top at the end. Dump the apple slices into the bowl and mix until all are lightly coated with the sugar mixture. Put the coated apples into the prepared piecrust in the pie pan. Press the other crust on top around the edges, joining the two crusts in a rippled pattern.
Take a fork and make some designs on top of the crust. Place on a baking sheet and cover loosely with foil. Bake at 350 for 40 minutes. Then remove the foil and bake for another 20 minutes. Serve warm with a scoop of your favorite vanilla ice cream. Cost: $11.45.
More like this story
More stories by this author
Like independent media outlets around the world, the Jackson Free Press works hard to produce important content on a limited budget. We'd love your help! Become a JFP VIP member today and/or donate to our journalism fund. Thanks for considering a JFP VIP membership or one-time support.