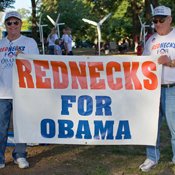 Pollsters predicted all along that Mississippi would not break its 32-year Republican voting streak on Election Day, but hours after the polls closed, pundits would not (or could not) accurately predict whether the Magnolia State would provide its six electoral votes to Republican John McCain or Democrat Barack Obama.
In the end, the networks filled the state's outline in Republican red on the nation's TV screens, but that was long after the surrounding southern states—Alabama, Georgia, Tennessee and so forth—went to McCain. But many considered the possibility of Mississippi voting majority Democratic. In fact, Obama took several southern states considered Republican strongholds, including Virginia, North Carolina and Florida, and dominated the rust belt states, adding Ohio, Indiana and Iowa to the Democratic majority.
The reasons for the uncertainty in Mississippi are both clichéd and nuanced. The state has a larger percentage of African Americans than any other; at 37 percent, the black population here betters the national average by 25 percent. African Americans tend to vote Democratic, and this year, Obama won their votes as no candidate of any race has done before, with 95 percent of all black voters voting Democratic.
McCain's support, meanwhile, grew substantially among southern whites, while falling in nearly every other county, according to 2008 exit polls. In fact, only 22 percent of the nation's counties voted more Republican this year, and almost all of those 22 counties were limited to southern states and counties containing the Appalachian Mountains. Mississippi, curiously, mostly avoided this classification, possibly because the high turn-out of its substantial black population countered new registration among Republicans this year.
State voter numbers, according to political pundits, indicate that whites in many sections of the state were capable of crossing party lines to support candidates, voting Republican on the presidential race, but then voting Democrat on some local down-ticket races. This behavior was no more apparent than in the extreme north eastern portion of the state.
"I think having Barack Obama at the head of the Democratic ticket had a lot to do with how things turned out," said professor Marty Wiseman, director of Mississippi State University's John C. Stennis Institute of Government. "North eastern voters voted Democratic for the House, many voted Democratic on the Senate race, but then they turned around and voted for McCain."
Exit polls reveal that increased Republican turnout during the 2008 election was limited almost exclusively to the northeast territory—puzzling considering the area's history as the last stronghold of pre-southern strategy Democrats.
Voters in that area remain untapped by the national Republican Party's push to incorporate disgruntled whites fleeing the emigration of blacks to the Democratic Party. The population of the northeastern counties contains fewer blacks than the rest of the state, so whites of the region, according to Wiseman, had little fear of blacks. Residents' perceived absence of a cultural threat by blacks gave the Republican Party no handle by which to grab them with the Southern strategy that was so successful during the 1970s and 1980s.
At least, until you throw at them a black man with "Hussein" in his name.
"The voters of that area voted for Eric Powell, an African American senator in Alcorn County, replacing Travis Little, a white Republican, in an area that's 91 percent white. They knew Eric Powell was local and a known quantity, while Obama had a funny-sounding name. They have no problem voting for a black fellow, but Obama just wasn't one of them," Wiseman said.
Mississippi NAACP President Derrick Johnson said national candidates fare poorly in the district largely because unfamiliarity with the candidates leaves voters vulnerable to the fear tactics of the Republican Party.
"It's a conservative district, but if the candidate don't get a chance to meet the voters then they will vote against him most of the time," Johnson said, "even if it means voting against their economic interest."
It would be clichéd, however—and wrong—to say that blacks voted for Obama strictly because he is black, and whites voted for McCain simply because he is white—at least on the national scene. Across the country, Obama gained 53 percent of the popular vote, and the 16 percent African American population could not have delivered a victory without millions of white votes to go with them. In Mississippi, he received more than 43 percent of the vote, which means while the majority of whites might have voted along racial lines, many did not.
Polls prior to the elections showed that Obama was not only winning the African American vote and—of minor importance in Mississippi—the Latino vote, he was also polling well among whites—especially women—and among younger, 18 to 29-year-old voters across racial and gender lines.
Obama even had the support of white men nationwide; at 41 percent, it was the highest percentage of white male voters the Democrats have garnered since Jimmy Carter hit 38 percent in 1976. It was this overall increase in Democratic support, combined with nearly 200,000 newly registered Mississippi voters, that made the pundits careful to predict a winner on Election Day.
In the tri-county area, only Hinds County put Obama in the win category, with 70 percent, or 68,794 votes. Hinds County has the highest total African American population (of all ages) in the area at 65 percent. Madison County, with an estimated African American population of 37 percent, and Rankin County, with an 18.6 percent black population, both went to McCain, 58 percent and 76 percent, respectively.
The big story in Mississippi was voter turnout. Unofficial statewide reports say that 1.2 million voters turned out in the state, or roughly 64 percent of registered voters, an increase of some 64,500 over the previous record set in the 2004 presidential election. In Rankin County 76 percent of all registered voters cast their ballots, Madison saw an approximate 72 percent turnout, while Hinds County saw the lowest voter turnout in the area at 64 percent, which is still equal to the record-setting, statewide average.
The overall Mississippi shift from Republican to Democrat is inconsequential given the numbers of new voters, which pollsters said heavily favored Democrats: In 2004, the state voted 60 percent Republican; in 2008, the percentage shrank only 3 percent, to 57 percent. The story takes on a different flavor in the individual counties.
Hinds County increased Democratic support by 10 percent, while Madison gained 6 percent. Even Republican Rankin County lost 3 percent of its Republican vote. Twenty-nine of Mississippi's 82 counties went Democratic, and only about half the counties going to McCain did so strongly by giving the Republican a 15 percent or stronger margin.
What did the average Mississippi McCain voter look like? The exit polls tell that story: Typically, this voter lives in the eastern part of the state, is between 40 and 64 years old, white, male, and a college graduate making more than $50,000 annually. He was also likely to be an evangelical or born-again Christian, considers himself a conservative Republican or Independent, and probably approved of how George W. Bush was handling his job as president. Nothing that happened in September or October had an influence on the average Mississippi McCain voter; he'd made up his mind before then which way his vote would be cast. Top of mind for this voter was the economy, and he's worried.
In contrast, the typical Mississippi Obama voter is young, between 18 and 29, an African American woman with a high-school diploma or some college, living in Jackson or the Delta and making less than $50,000 a year. She probably identified herself as a moderate or liberal Democrat, was not evangelical or a born-again Christian, and disapproved of how Pres. Bush was handling his job. She also was undecided longer than the McCain voter, making her decision sometime in September. The economy is her number-one issue as well, but she's a bit less worried than the McCain voter.
Mississippi Republican Party Chairman Brad White said the economy may have been the issue that gave McCain the killing blow this time around, and speculates that the race would have been more even—possibly reversed—had the economic numbers not taken a dive in September.
"The economy was working against our guy," White said. "It was difficult to get your message out when voters were concentrated on money and looking for someone to blame. In these cases, the incumbent party always has to push upstream."
Johnson said voters were generally disenchanted with Republicans after eight years of leadership and were already leaning Democratic prior to the stock market tumble.
"It was not just the economy. There was Republican fatigue all over the country. People generally felt that they were not better off now than they were eight years ago. We've yet to finish the war in Iraq, and we haven't even caught Osama Bin Laden yet. There are too many other issues getting ignored under Republican leadership, and people were ready to try something else.
Previous Comments
ID

140619

Comment

I read this, see that Rankin County voted 76 percent for McCain, and I grit my teeth. Way to be lamer than Madison. It reminds me of an anecdote in some forgotten book. It was the 1950's, and the editors of a Jackson paper were trying to explain to an outsider that white folks in Jackson were actually pretty moderate. "You should cross the river," they said, pointing toward Rankin.

Author

Brian C Johnson

Date

2008-11-12T18:46:27-06:00
ID

140750

Comment

Mmmmm...it seems to me to be the same old same old. A vote for McCain, whatever the race, economic status, sex, etc. of the voter, was also a vote for Palin. A vote for Palin was a vote for a decidedly less than bright ideologue. By definition, it would also seem to bring into question the intelligence of the person voting for the McCain / Palin ticket whatever else might be a play. Race is always a factor in Mississippi. That would be the case even if Obama's name was Jesus Christ.

Author

blkjazz

Date

2008-11-17T13:57:49-06:00
ID

141003

Comment

Interesting: Jere Nash thinks that the exit polls undercounted the white vote for Obama in Mississippi.

Author

DonnaLadd

Date

2008-11-25T20:20:28-06:00
ID

141005

Comment

Hmm, the link is busted. Did the author say by how much he thought it was undercounted?

Author

LatashaWillis

Date

2008-11-25T20:55:16-06:00
ID

141007

Comment

i really want to check out that article from Jere. i mentioned this right after the election on another thread, CNN showed a much slimmer victory margin for McCain in the week running up to the election; 3%. Considering the antics of our officials in the run up to this election - it would not surprise me at all if there was foul play in Mississippi.

Author

daniel johnson

Date

2008-11-26T08:44:28-06:00
ID

141008

Comment

Folks, I just fixed the link, and it's still not working. Maybe the scared muckety-mucks at the Ledger made it to the JFP site won't link in. I've heard of corporate media doing that before. Don't know. Those links are so unwieldy that I'm surprised those blogs stay operational day to day. And I'm pretty sure they've already made it where readers can't link out to other sites, which caused them to lose a lot of their traffic (as did the three redesigns that lost previous comments). Useless. If you want to read it, go try to navigate that site and find Nash's blog. The title of the entry is something about White Mississippi. Here's some of it: According to the CNN exit poll in Mississippi, Obama got only 11% of the white vote, which is apparently now considered the holy grail of statistics. On the face of it, though, this figure doesn't make much sense. How can Obama get only 11% of the white vote when he got 23% in Tishomingo County, 22% in Hancock County, or 21% in Itawamba County (the black voters in these counties would fill one medium size precinct in Jackson). Heck, Obama even got 30% in DeSoto County.

Author

DonnaLadd

Date

2008-11-26T09:36:08-06:00
ID

141009

Comment

Test. Here's a link to a Salter column. It comes up, so it must just be a Pluck blog issue.

Author

DonnaLadd

Date

2008-11-26T09:39:37-06:00
More stories by this author
Support our reporting -- Follow the MFP.