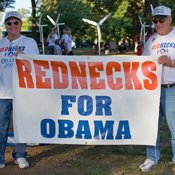 OK, not just yet. White Mississippians voted overwhelmingly for John McCain, but younger voters of all races went for Barack Obama.
Stories this photo appears in:
Politics
Pollsters predicated all along that Mississippi would not break its 32-year Republican voting streak on Election Day, but hours after the polls closed, pundits would not (or could not) accurately ...