Please go here, look at this dress, and tell me whether you think it was inappropriate for a high school prom. Here's an excerpt of the article on the incident:
Madison High's prom took place at the Sugar Land Marriott, but [Marche] Taylor only got as far as the lobby. When she tried to enter the ballroom, an official stopped her.

She was told her custom-made dress violated the school dress code.

"She shook her head, she was like 'you are not getting into this prom,'" said Taylor. "We were arguing back and forth because I wanted to know why I can't get into my prom."

Even after offering to provide more cover, Taylor was denied access to the final soiree of the school year.

At that point, Taylor said she was furious. She said if she couldn't get in, she wanted her money back.

Things got so bad that someone called the police. Officers showed up, handcuffed her and escorted her out.
No charges were filed against her, and she was released. According to the video in the article, the school is refusing to refund the money that Taylor paid for the prom.
Personally, I think the dress is too revealing, and unless she was using double stick tape to keep the "girls" from dislodging, one false move would have brought on a Janet Jackson moment. I don't how involved her parents were in having this dress made, but I wouldn't let my daughter wear that to a prom. Even if she had a swinsuit made the same way, I wouldn't let her wear it. Teen girls are influenced by what they see on the red carpet or on music videos (some of which I also felt was too revealing), but they need to be taught that the red carpet is not real life, and those celebs are surrounded by bodyguards who won't let them get assaulted.
If I could talk to Marche, I would tell her that her body is a temple and it's what's inside that matters. I would tell her that she's beautiful and does not need to show all her "blessings" to prove it. I'm not saying that she should wear a potato sack, but she should focus on elegance instead of shock value.
Previous Comments
ID

129898

Comment

My measuring stick is: would I allow my daughter to wear that to her high school prom? No way in heck. That dress leaves nothing to the imagination. Very inappropriate for a high school function: and inappropriate for quite a few adult functions. L.W., what you said about the body being a temple: beautiful, and absolutely spot on.

Author

Lady Havoc

Date

2008-05-16T10:22:39-06:00
ID

129902

Comment

Thanks, LH. As some would say, "It don't take all that." I've seen a couple of prom dresses before that I felt was too revealing (like one dress where the back was COMPLETELY out, past the waistline), but that dress took the cake. As one commenter said on the Huffington Post blog, she could have just worn pasties and duct tape. You should read the comments made about the dress on the blog. The opinions vary widely.

Author

LatashaWillis

Date

2008-05-16T10:41:19-06:00
ID

129904

Comment

I have 2 daughters and there is no way in hell that they would wear something that revealing.

Author

BubbaT

Date

2008-05-16T10:55:27-06:00
ID

129905

Comment

If I ever do have a daughter, I wouldn't let her wear something like that, even when she's 50.

Author

golden eagle

Date

2008-05-16T11:37:13-06:00
ID

129910

Comment

Yeah, I agree. :)

Author

Ironghost

Date

2008-05-16T16:38:28-06:00
ID

129915

Comment

S is for too much Skin K is for "you're Krazy if you think you're wearing that" A is for for 'if she bends over you'll see her a#*" N is for straight up Nasty K is for something else that could get me [BANNED]

Author

bill_jackson

Date

2008-05-16T22:04:12-06:00
ID

129926

Comment

Probably no father at the house. I'd told her to get out of those "ho-looking clothes" before I kill her and go to jail proudly.

Author

Walt

Date

2008-05-18T10:52:43-06:00
ID

129942

Comment

I would love to hear what her mother or father thinks of the dress. Actually it's not a dress. It's a section of halter and a tube top for a skirt. It makes me sad to think that she believes she has to dress like that to be beautiful.

Author

msgrits

Date

2008-05-19T11:40:33-06:00
ID

129943

Comment

I finally watched the video. She's a pretty girl and shapely but needs a lesson on what represents beauty and self-esteem combined. Not many boys would respect her for dressing that way. Some of the young mothers are crazy too. No wonder the children are! I hope my grnaddaughter's mother grows up soon, else I'm surely going to give her a good cursing out about how she allows my granddaughter to dress. I wonder what kinds of grades that young lady makes.

Author

Walt

Date

2008-05-19T11:51:42-06:00
ID

129944

Comment

You have got to be kidding? That's not a "prom" dress, that's the type of dress worn to the "Pimps up, H**s down" ball by hookers in attendance. And to think she had the nerve to be outraged because they wouldn't let her in. Bless her little heart.....she obviously doesn't know any better.

Author

honey2me

Date

2008-05-19T12:10:34-06:00
ID

129946

Comment

see i say that i would get my name tatted on the inside thigh of one of my wives under L.W.'s proposal and the ladies get in a tissy...rex is calling a high-school aged girl a skank...honey says she is dressed like a hooker at a players ball and yall say nothing...looks kinda funny to me...

Author

skipp

Date

2008-05-19T12:30:21-06:00
ID

129948

Comment

Not sure what you're talking about, but the truth don't change regardless of how it's presented. IMHO, she looks like that, but I would never presume her to be a hooker. I wanted to clear that up simply because I am a mother and she is a child to somebody. Now where they were when she was getting costumed out.......?

Author

honey2me

Date

2008-05-19T12:45:33-06:00
ID

129950

Comment

Skanks are not limited by age constraints. A few weeks ago I had to be out at Shiloh Park in Brandon for a baseball tournament in conjunction w/ Brandon Day. I was astonished at the way not some but most of the girls were attired / made up. At what age do moms start slapping make-up on little girls nowadays? They looked like little skanks, one and all.

Author

bill_jackson

Date

2008-05-19T12:55:59-06:00
ID

129951

Comment

did your comment get clipped, Skipp?

Author

bill_jackson

Date

2008-05-19T12:57:56-06:00
ID

129952

Comment

Lay off. Sure our daughters would never wear that. But she's is a young lady, and I stress that, who was never taught how to dress properly. She's never been "mentored" by someone in the community who could teach her how to value herself and the importance of self-esteem. So before you criticize her, think about this. We need more mentors, not just for our young ladies, but also for young parents. Alot of young parents need parenting skills - this girl's mom included.

Author

lanier77

Date

2008-05-19T13:00:45-06:00
ID

129955

Comment

nah it wasnt...but see i guess when you piss off people (i.e. white women) it aint that easily overlooked...but you get on here and call a black woman a skank...and no one has anything to say...honey says shes dressed like a hooker at a players ball and nothing is said...but my statement is called offensive and piled on...i dont get it...i had a problem with what you said and i dont feel a need to address that on the internet...just know that you shouldnt be tougher on a keyboard than you are in person...i dont think you wouldve called that young lady a skank in her face...but you know it is what it is...

Author

skipp

Date

2008-05-19T13:12:32-06:00
ID

129956

Comment

I wouldn't have to,Skipp. That dress speaks volumes all by itself. Tell me what about it was "unskankly"? If it walks like a duck....

Author

bill_jackson

Date

2008-05-19T13:17:39-06:00
ID

129957

Comment

Let's not forget that lots of young ladies or girls would dress that way to try and impress boys if they thought they could get away with it. For those in denial, lots of white girls would do it too. I live around lots of white people and I can tell you there is little or no difference based on values. The big difference I see is that families with 2 parents seem to have a better hold on things.

Author

Walt

Date

2008-05-19T13:25:06-06:00
ID

129958

Comment

do what you do rex...im not playing with you...i dont tolerate or even try to pretend to be attentive to men...disrespecting women...so do what you do internet guy...it is what it is...

Author

skipp

Date

2008-05-19T13:27:06-06:00
ID

129959

Comment

see my above post about the girls in Brandon (they were mostly white). But Skipp had to call me out about "getting on here and calling a Black woman a skank". They come in all colors, Skipper.

Author

bill_jackson

Date

2008-05-19T13:29:44-06:00
ID

129960

Comment

i just wonder where is all the womanly outrage that was present over my joke about tatting the ladies in my harem...shout out to L.W....youre a saint...woman...GOD...loves you for the work youre trying to do in the community...im done

Author

skipp

Date

2008-05-19T13:30:16-06:00
ID

129962

Comment

Skipp, LW's face should be up on that mountain with the 3 presidents dudes, for the love and togetherness she's trying to brang to the community at large. I know you're talking about the "Willis plan" she proposed a couple of weeks ago. Fine work if you ask me!

Author

Walt

Date

2008-05-19T13:36:22-06:00
ID

129963

Comment

Actually, Walt, Washington, Jefferson, Lincoln, & Roosevelt = 4.

Author

bill_jackson

Date

2008-05-19T13:40:06-06:00
ID

129964

Comment

Is this the same site where the rappers were summarily attacked for misogynistic lyrics. If I recall, the woman doesnt deserve to be called names like ''skank'' or ''hooker'' regardless of how she dresses. Should not be called a ''ho'' no matter how many men she beds. As I ''recall''. But yet, I see those terms tossed around with ease. Fair and balanced? Not being privvy to this young lady's background...and per that now famous thread..I dont think its proper to use those terms to describe her. Period. Regardless of what your ''perception'' is. Clothes, or lack thereof do not determine a person's respect for themselves and plenty of girls AND guys have left home, stopped over a friend's, and changed. So you cant honesly say bad parenting or lack of a father is to blame. What it DOES say is that she as an individual felt like she was (a) sexy in that dress or (b) was going to be the talk of the prom. Either way we've given her the audience she wanted.. Cuz now 5 times as many folks have seen it than would have otherwise. I have a daughter. and NO that wouldnt get past me or her mother, or her stepdad, or anyone! but thats me. Cant say what happened in this case cuz we weren't there. I guess here we have to decide are we going to use the skank or hookr terms and we're not. If the rappers get attacked then you guys should too.

Author

Kamikaze

Date

2008-05-19T13:48:12-06:00
ID

129965

Comment

I was careful to hate or diss on the clothing and not her personally. Points well-taken though except for the one that says how your dress or clothing doesn't say anything about you. They may not say everything about you but they do say something about you, i.e. don't know better, can't do better, wants to show how fine you are, stepping out, turning it a loose, no one to train better, parents gone, changed at a friend's house, thinks your body is your greatest asset, etc.

Author

Walt

Date

2008-05-19T13:54:54-06:00
ID

129966

Comment

You're right. Our tossing those terms about could be harmful to her "self esteem". We should "empower" her to make the clothing choices she feels comfortable with. Someone should take the time to "mentor" her right down to Fredericks' of Hollywood or Victoria's Secret so she can finish up her wardrobe.

Author

bill_jackson

Date

2008-05-19T13:58:06-06:00
ID

129967

Comment

That's cold and wrong Rex.

Author

Walt

Date

2008-05-19T13:59:53-06:00
ID

129969

Comment

...now with that being said. Although it doesnt necessarily deserve ridicule or comments, the reality..no let me capitalize that...the REALITY of it is..if you do make it out of the house with THAT outfit on..you had better be prepared for the scrutiny that comes along with it. good and bad. And that goes for my daughter too unfortunately..See..society's morays notwithstanding..you CAN prevent putting yourself in compromising situations sometimes Skipper the Holy Man. Black or white. So do I agree with calling a woman a skank because she wore a skimpy outfit NO. calling a high school girl a skank??..even moreso NO...but this aint a black/white thang in this instance. But you prevent the discussion from even being put on the table if that dress doesnt make it out of her house and into that prom and on to the news. Hell..some women/men dont like skimpy dresses on grown women. I for one applaud them. AND encourage them. on GROWN women. my opinion.

Author

Kamikaze

Date

2008-05-19T14:04:05-06:00
ID

129971

Comment

Cold & wrong? Maybe cold, but not wrong. What's wrong is that this young lady was raised to think that it was acceptable to wear this, unless she was just looking for a reaction

Author

bill_jackson

Date

2008-05-19T14:37:33-06:00
ID

129972

Comment

How do you know this wasn't a one time occasion for her and the only time she had dressed this way. If this was the case and she acted ladylike despite the dress then it's wrong to label her a skank or to render her a hopeless cause or case.

Author

Walt

Date

2008-05-19T14:43:15-06:00
ID

129973

Comment

It is what it is. The latin term "res ipsa loquitur" said it best... the thing speaks for itself! She let that dress do all the talking for her and made others form opinions about her before she even opened her mouth. At no time did I refer to her as being a hooker, but described her clothing as something that would be seen at the player's ball. Was I wrong? I mean, I've never attended the ball, but assume that clothing of that type would be worn there. Never called her a hooker, just commented that her clothing was hooker-like. The young lady's morals were not attacked by me, but she did put herself out there to invite comments about her morals from others.

Author

honey2me

Date

2008-05-19T14:52:47-06:00
ID

129974

Comment

If I go out and rob just one bank, I am still a bank robber, even if it was only once.

Author

bill_jackson

Date

2008-05-19T14:53:22-06:00
ID

129975

Comment

If you just look in the bank or go in but do nothing more in furtherance of a robbery then you're not a bank robbery, and can resist the urge in the future. You can grow up.

Author

Walt

Date

2008-05-19T14:56:25-06:00
ID

129977

Comment

Reximus - this girl is a teenager who made an immature and poor choice for a prom dress, no more, no less. You gain nothing by trashing her.

Author

lanier77

Date

2008-05-19T15:56:37-06:00
ID

129978

Comment

I am offended by some of the statements here. I can easily see some viewing the dress as inappropriate attire for a prom. HOwever, there is no reason at all that the officials had the right to kick her out or keep her out of a prom that she has waited her entire life to attend. Girls wear that attire out and to clubs all the time. Now that's it's a Madison school she goes to jail....this is ridiculous. And it was not on school property so why is a school dress code even applicable. i know, it was a school function. Still and all, her attire does not make her a SKANK, it does not mean her parents are not loving parents. To me it means that she is proud of her shape, her curves, and she wanted to feel sexy. Don't bite the bullet now because she's in Madison county. I mean you can't have it both ways. Either you can't define a woman by what she wears, or you can. Like Kaze mentioned up there. It's a double standard. Just because some wouldn't wear it, doesn't mean this girl is a slut because she is confident enough to do so. I find this ridiculous and the reactions to her attire are just as inappropriate as the determination that she is a skank for wearing it. If anything she should be counceled on when to wear what....but that would have been prior to or after the prom. Not kicking her out, even after she attempted to cover up. And maybe a fashion statement about the dress not being very "pretty". But it was not, from what I saw, completely tasteless. It's what they wear now-a-days....that is in Hinds county and other non-Madison-county areas.

Author

Queen601

Date

2008-05-19T16:01:17-06:00
ID

129979

Comment

Queen this was in Texas, near Houston. Sugarland is a suburb of Houston. I'm familiar with the area since I lived in houston 12 years. It may not be that different from Madison County a few miles up the road from here though.

Author

Walt

Date

2008-05-19T16:06:15-06:00
ID

129981

Comment

I'm not the one who started this thread. However I was trying to comment on the horrendous choice she made. I'd be interested to know if she bought that or if her mom /dad did. At what point does someone get it in their head that that sort of attire would be appropriate for the prom? Who's to say she didn't gear up like that knowing full well she'd be denied entrance to the prom and hence make the evening news. So come on, you can't say her being a teenager and she made a poor choice is at the root of this. Nobody is that clueless.

Author

bill_jackson

Date

2008-05-19T16:08:07-06:00
ID

129983

Comment

Oh, guess I should have read the whole article huh? My bad...please continue! But this would be typical madison county (MS) behavior). I wouldn't be surprised by that AT ALL. Thanks for correcting me Mr. Walt...I know you got my back! :-)

Author

Queen601

Date

2008-05-19T16:23:16-06:00
ID

129984

Comment

Reximus, see the problem is that you can't expect parents to pick out 12 graders clothes when they haven't been doing so since probably 7th grade. My mother had NOTHING to do with my attire for junior or senior prom. I didn't wear anything like that, but I had a job and bought my own clothes. She may be the same way. And you do know that many seniors are 18 years old, right. Meaning, they are able to wear whatever they want. I don't think it was a poor choice, not like you're saying. It may have been inappropriate for the prom....I'll give you that. But I didn't find the dress to be too revealing. I didn't think it was slutty or skanky. I mean Halle Berry, J-LO, Janet Jackson, all the women they see with curves dress that way. This is an issue that's bigger than prom dresses. The issue is how we are bringing up our daughters in the first place. She could be one of the girls i mentioned in the R.Kelly blog that needs ATTENTION EARLY....maybe she didn't get it. Now, look! Maybe she dresses that way all the time. But prom night she couldn't pull it off.

Author

Queen601

Date

2008-05-19T16:28:20-06:00
ID

129987

Comment

I saw the CNN story on this. The students had signed documents stating the rules of the prom, one including appropriate dress.

Author

emilyb

Date

2008-05-19T18:32:47-06:00
ID

129989

Comment

Yes Queen, I was 18 when I grauated, and I picked out my own prom tux (was not going to go w/ the ruffly shirt /butterfly bowtie which was prevalent at the time). And I appreciate seeing an attractively dressed woman, I'm not a prude by any definition, but it was in no means appropriate for a prom. And people wonder why the teen pregnancy rate is what it is. If my skank blast offended I'll back off on that, however it should be noted that that particular word has made it's way into my vocabulary from hearing it used by many more women than men, if that means anything.

Author

bill_jackson

Date

2008-05-19T19:28:23-06:00
ID

129998

Comment

Uhm, if how people dressed had anything to do with the teen pregnancy rate, the United Arab Emirates wouldn't have 12 times the teen birth rate as Japan. That said, incredibly clueless for someone to think they could wear something like that to a prom, especially a prom with a dress code.

Author

Tom Head

Date

2008-05-19T22:10:55-06:00
ID

130000

Comment

yes, but those two cultures are a bit apples and nectarines, it seems to me.

Author

bill_jackson

Date

2008-05-19T22:26:43-06:00
ID

130002

Comment

I don't recall if I paid for my senior prom dress but I did pay for some of my formals. I could have been the Queen of England or the Queen of Jackson and there is no way my mama was going to let me wear something like that because it was her house. If wanted to dress like that than I needed my own house. It didn't matter if I had a job. I still couldn't support myself. That being said, we are in a awful place when young lady thinks that's appropriate attire for prom. Our children don't understand the difference between reality and fantasy. Lil Kim where's that stuff because it's her job to be over the top. Referring to what Kaze said, idealism is nice but this young woman needs to know that dressing like this isn't going to add value to her life. It'd be nice if we judged her for her heart but this is the real world and dressing like that sends the wrong message and comes from a place of terribly low self esteem.

Author

msgrits

Date

2008-05-19T22:32:15-06:00
ID

130007

Comment

Queen, a parent can control what a 12th grader wears. I have a daughter who will be a senior and 18 next year. As long as she lives in my house, her mother and I will have final sayso on what is appropriate or inappropriate. It doesn't matter if she pays for or we pay for it. It doesn't matter if she is 18 or 25. She lives with us. MY HOUSE, MY RULES.

Author

BubbaT

Date

2008-05-20T02:53:08-06:00
ID

130009

Comment

I agree with msgrits in that this dress sends the wrong message. It shouldn't warrant the girl being called a skank though. Someone should let her know that you do not have to show so much skin to be sexy. She is a very pretty girl, and I actually think the dress takes away from her beauty as it would for anyone who wore it. Sometimes it's better to leave something to the imagination.

Author

ellen

Date

2008-05-20T07:56:08-06:00
ID

130010

Comment

Okay look this is what I'm saying there is no involvement early on when teenagers START heading down a less-than-desirable road. Therefore there shouldn't be this much amazement surrounding appearance. I'm not saying parents don't have control over their teenagers I'm saying parents dont TAKE control over their teenagers. Many teenagers already have their own babies by the time they get to 12 grade. Therefore it's a tad bit too late to start regulating what your daughter wears to a prom or if she/he goes to college or who he/she dates or is in the company of. This is exactly what I was trying to say with the RKelly post. Catch this outlandish behavior early and CORRECT it to prevent gold-digging tendencies, lack of self esteem which causes decisions to be distracted by pleasure and not necessarily responsibility. People are so quick to call her a slut and a skank at this point, but when it's time to be shaping this young girl's attitude, everyone says "she's too young", "she doesn't know better"....she would if she was held accountable for the actions that eventually lead to this. Letting it slide, this is what it gets you....and a lot more to come. And I still don't agree that what she wore makes her a slut. I don't think one should be judged based on what they are wearing. I mean inappropriate for the prom it was. It's even arguable that it is inappropriate for a teenager period. However, if she is not instructed, then this is what happens when attention is the main goal. The same attention that is desired when a woman seeks out an older man for money or other luxuries. Why get mad now, it should have been addressed earlier.

Author

Queen601

Date

2008-05-20T08:02:57-06:00
ID

130011

Comment

Queen, we have got to work on our girls' self esteem, so that they understand that provocative dressing can lead a young lady down the wrong path and attract the wrong kinds of friends, particularly boys. Halle Berry & J-Lo make $$$$ to dress half-naked, but you won't make a dime, just get yourself in alot of trouble. And BubbaT, ditto. My house, my rule. Let's try to teach our girls to dress appropriately - they can wear fashionable clothing that is not too revealing nor provocative.

Author

lanier77

Date

2008-05-20T08:03:39-06:00
ID

130014

Comment

Good comments, everyone. I'm proud to know y'all. By the way, Sugarland is Tom Delay's stomping ground or it used to be the area he represented in Congress. Ain't no telling what lack of family values, pretense, inconsistent behavior or dual messages have been fostered or sent by that community as a result of his duality and lack of morals. It seems to me all the young lady needs is to be taught what real or appreciated beauty is. She could have worn anything and still have been beautiful. Even her countenance in the interview showed uncultivated or rough beauty - her voice was nice, demeanor good, poise was adequate and her appearance, while inappropriate perhaps for her age and definitely for the event, showed unrefined beauty.

Author

Walt

Date

2008-05-20T08:22:29-06:00
More stories by this author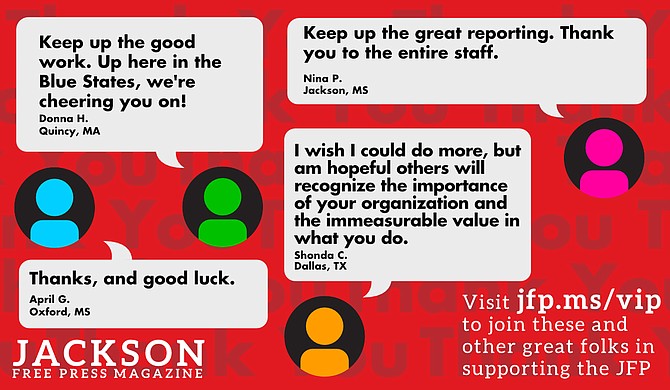 Thanks to all our new JFP VIPs!
COVID-19 has closed down the main sources of the JFP's revenue -- concerts, festivals, fundraisers, restaurants and bars. If everyone reading this article gives $5 or more, we should be able to continue publishing through the crisis. Please pay what you can to keep us reporting and publishing.