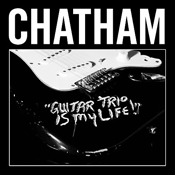 In 2005, Rhys Chatham released "A Crimson Grail" for 400 guitars. Gathered in a French basilica, the guitarists performed the piece to an audience of nearly 10,000 attendants inside and outside the basilica. The result is a beautiful, evolving, slowly rising three-song orchestra of 400 guitars fluidly composed along, droning, eventually bursting into crescendo.
In 1971, Rhys Chatham released "Two Gongs," an hour-long series of intermittent gong bangs. He is part of a minimalist genre popularized in the early '70s by LaMonte Young, Tony Conrad, Glen Branca, John Cale and Terry Riley. Through that minimalist movement came bands like Sonic Youth, Mogwai, Mono, Godspeed You Black Emperor, Wolf Eyes, Liars, DNA, Acid Mothers Temple and Ghost. Even before these bands, minimalist music worked its way through American bands like The Velvet Underground, The Talking Heads, Dream Syndicate, Suicide and Television. German bands like Can, Faust, NEU! and Amon Duul are all followers of some, if not all of the aforementioned minimalist architects. Their approach is to strip down, or deconstruct the song.
In 1977 Chatham released "Guitar Trio," a song that brought together a small group of guitarists around one chord. Each would play an extension of the chord until it erupted into a state of dissonance.
"Guitar Trio Is My Life," released in March, is the 30th anniversary of "Guitar Trio." The three-CD set is a take on the original "Guitar Trio" in different cities with different musicians around the U.S. and Canada. Members of Sonic Youth, Husker Du, Godspeed You Black Emperor, Swans, Modern Lovers and Tortoise appear with Chatham on the sprawling anthem. Despite it being the same song—the same chord, really—each take of the song eventually takes on a singular form.
— Zach Thompson
More stories by this author
Support our reporting -- Follow the MFP.