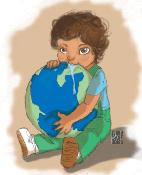 With the uncertain future of our planet, many couples are wondering whether they should have children at all. That is a highly personal decision, but I will say that it is easier (and cheaper) than you might think to have a family with a low environmental impact and to raise thoughtful children who will be leaders in solving the next generation's environmental problems.
Family Planning
When welcoming a new family member, think seriously about what you really need to buy or include on your baby registry. For many families, a new baby means big spending on all the latest gadgets. But do you really need a baby monitor if your baby will be sleeping in your bedroom or the room next to yours? Do you really need a room full of plastic toys? Set up an alternative online gift registry that will allow you to ask your family and friends for hand-me-down clothing, gently-used toys and books, homemade gifts, and even non-material things such as postpartum meals and babysitting.
Feeding
You can save money and help your baby's immune system by breastfeeding. The American Academy of Pediatrics recommends at least 12 months of breastfeeding. Human milk is easier for babies to digest than formula. Numerous studies have found breastfed babies to be healthier and even smarter than their formula-fed counterparts.
If you're working outside the home, you can still get the health, environmental and financial benefits of breastmilk by pumping. If you need to use bottles for pumped breastmilk or formula, choose glass bottles that are easier to recycle and free of the chemicals found in plastic bottles.
Think of all the bottles and formula containers you can keep out of the landfills by choosing to breastfeed. Furthermore, most infant formulas are based on cow's milk, and we already know the damaging impact cows have on the environment through methane emissions, groundwater pollution and other problems. If you must choose infant formula, look for more sustainable organic options. And avoid supporting companies such as Nestle, which, according to a report by a former sales executive, violates World Health Organization codes in unethically marketing their formula to the Third World poor.
While you're omitting formula from your routine, consider eliminating baby food and its excessive packaging as well. Buy just enough to get a set of baby food jars to clean and reuse for your own baby food storage needs. Feed your baby mashed up, unseasoned versions of what you're eating for dinner.
Cloth Diapers
The typical American baby uses 6,000 disposable diapers before they are potty-trained. This is an expensive habit, and it is problematic because it can take up to 500 years for a disposable diaper to decompose in a landfill. Additionally, disposable diapers in landfills can pollute groundwater supplies with fecal contamination and runoff from chemicals in the diapers. Disposable diapers also contain many harmful chemicals, such as dioxins, which can cause cancer and other health problems. That's not what I would want touching my baby's skin.
Fortunately, there are many cloth-diapering choices today to fit just about any lifestyle and budget. Or consider making your own. Most cloth diapers will last through two children. Washing and reusing cloth diapers has about half of the environmental impact of using disposables, even less if you dry your diapers outside in the sun.
Used Clothes and Toys
Experts say that it is safe to get used products for your babies. The only things you should purchase new for the sake of safety are car seats and cribs. For everything else, help the planet and your wallet by looking for used items at yard sales and thrift stores, and by trading with other families. Avoid plastic and electronic toys. Instead, look for classic, resilient toys that can grow with your child, such as building blocks and books. And don't overlook the value of playing outside. Seek durable, gender-neutral clothing and toys that you can reuse for additional children or hand down to other families.
Car Seats and Cribs
When buying your new crib, look for one made from sustainably forested wood. For car seats, you need to be a bit more proactive. A recent study by the Ecology Center tested 62 car seats currently on the market and found cancer and reproductive damage-causing chemicals such as bromine, chlorine, lead and heavy metals in many popular brands. Offgassing from a car seat alone is probably not enough to cause serious problems in most children, but you can't be too careful with a baby's sensitive system. The study identified the least harmful convertible seats, which can be used as both an infant seat and a toddler seat, to be the Cosco Scenera 5-point and the Eddie Bauer 3-in-1 Convertible Montecito. Major retail chains such as Target, Walmart and Babies 'R' Us carry one or both of these.
The opportunities to make sound environmental choices continue as your children grow, but if you maintain the principles of consuming less, reusing and sharing, and using safer products for your family and for the environment, it is an easy path to follow.
Teach your children to value experiences over material goods, to value timeless toys, playing outside and recycling. Give long-lasting gifts in reusable cloth gift bags or intangible gifts such as a zoo membership. Take family bike rides. Let the kids pick out produce at the farmer's market. Go to the library and the park. Help your children see your vision for a better world.
Local Resources
N.U.T.S.
114 Millsaps Ave. 601-355-7458
Orange Peel
3026 N. State Street 601-364-9977
(Buy and sell children's clothing and toys at N.U.T.S and Orange Peel.)
Online Resources
freecycle.org/group/US/Mississippi/Jackson
(Check Freecycle for cheap or free children's clothing and toys.)
alternativegiftregistry.org
(Set up your alternative baby gift registry.)
earthangelsdiaperco.com/index.htm
(Browse the different cloth diapering options.)
More stories by this author
Support our reporting -- Follow the MFP.