The head of the Mississippi Republican Party is using the guilty plea of Richard "Dickie" Scruggs to try to focus the scandal spotlight away from Republicans and put it squarely on Democrats, especially Attorney General Jim Hood, who was re-elected last November with more votes than any statewide elected official, including Gov. Haley Barbour. Scruggs, the brother-in-law of former U.S. Sen. Trent Lott and known for campaign contributions to both major parties, pled guilty last week to conspiracy to bribe a Lafayette County Circuit Court judge.
Republican Party Chairman Jim Herring weighed in on the Scruggs guilty plea at a press conference he called for March 17, saying the Republican Party was donating $27,250 that Scruggs had given to the party to the Boys' and Girls' Clubs, and called upon Democrats, notably House Speaker Billy McCoy and Attorney General Jim Hood, to do the same. He also said that the chief justice of the Mississippi Supreme Court should appoint an independent counsel to investigate the relationship of Hood and men under indictment in the bribery scandal, which is not provided for by Mississippi law. Herring did not present evidence of wrongdoing by Hood.
Scruggs and Joey Langston donated heavily to Hood's campaign and to organizations that funded Hood's campaign. Hood could not immediately be reached for comment but has maintained that lawyers should have the right to donate to the AG's campaign; otherwise the office will be bought by corporations, like WorldCom and Microsoft, that the AG's office is charged to watchdog—and occasionally sue.
Hood has also said that it would not be appropriate for his office to investigate people it has hired to do contingency contract legal work for the state in cases such as the one against WorldCom, in which Langston helped recover $110 million in back taxes, property and charitable donations, with $14 million in additional attorney's fees ordered, from WorldCom. The Legislature promptly found ways to spend that money, even as state Republicans started framing the case as including a multi-million payment from the state to Langston and other counsel.
Herring's remarks Monday come during a period of intense partisan criticism of Hood, which so far, seems based more on guilt-by-association rather than evidence. Bobby Harrison, the long-time capitol correspondent for the Daily Journal in Tupelo, wrote on March 11 that there simply has been no "credible evidence" of wrongdoing by Hood, despite a Republican guilty-before-proven-innocent indictment:
"Hood, despite a lot of speculation and innuendo, has not been charged with a crime. There has been no credible evidence that he has violated any laws. If that evidence does not surface, a lot of very vocal bloggers and others probably will have to be put on suicide watch because they are all so hopeful that he will be brought down as part of the Scruggs investigation." Harrison added: "And if Hood did break the law, he should pay the price as should anyone else."
But the U.S. Department of Justice has proved actual wrongdoing in the indictments it has brought. Scruggs signed a plea agreement last week admitting that he had offered $40,000 to Judge Henry Lackey for a decision favorable to Scruggs in a $26 million attorneys' fees lawsuit pending in Lackey's court.
Scruggs' law partner Sidney Backstrom, who faced the same charges as Scruggs, also pled guilty. The plea agreement caps Scruggs' jail time to a maximum of five years, and limits his fine to only $250,000. Backstrom faces 30 months in prison. Both await sentencing. Both will also likely lose their licenses to practice law in Mississippi, though the fine will mean little to Scruggs, who made million off tobacco and asbestos litigation in the 1990s. Scruggs, in particular, was instrumental in helping Mississippi settle a $3.4 billion lawsuit against major tobacco companies in the 1990s.
Scruggs' son, Zach Scruggs, who also stands indicted for the same crime, has not pled guilty and will go to trial on March 31, barring any further guilty pleas until then. On Monday, The Wall Street Journal reported that former Attorney General Mike Moore has signed on as one of Zach Scruggs' attorneys.
"I have known Zach Scruggs since he was a little boy. He asked me to represent him should his case ever get to trial. Zach is innocent of the charges pressed against him, and we look forward to his exoneration," Moore said in a statement.
In addition to Scruggs and his son, the indictments included Backstrom, New Albany lawyer Timothy Balducci and former state auditor Steve Patterson. Balducci and Patterson had already pled guilty and were cooperating with authorities.
Backstrom's plea agreement specifically demands that he cooperate with authorities in pursuing more potential cases, and their cooperation may ultimately lead authorities to figures in Hinds County. Scruggs' ties could lead to other judges who, unlike Lackey, did not report the bribery offers to authorities.
A December U.S. Attorney search warrant sought "documents related to (a) Hinds County case, as well as documents regarding payments to Jackson lawyer (and former Hinds County DA) Ed Peters... ."
Scruggs' attorney, Joey Langston, came forward with his own guilty plea, telling authorities he had offered to bribe Hinds County Circuit Judge Bobby DeLaughter on behalf of Scruggs.
Langston pled guilty to delivering $50,000 in cash in December 2005 to Peters "to influence Judge Robert 'Bobby' DeLaughter." In addition to that money, Langston admitted that he, Patterson and Peters planned to split the savings Scruggs would earn as a result of DeLaughter's favorable ruling—amounting to about a million each. DeLaughter has denied that he was influenced by the bribery effort.
Scruggs allegedly was also ready to use his brother-in-law Lott, who announced he was retiring his senatorial post last Nov. 26—the day before federal agents stormed Scruggs' Oxford office with a search warrant. Balducci also testified in February that Lott told DeLaughter he would put him on the list of potential candidates for the judgeship if he granted Scruggs a favorable ruling.
Lott denied any involvement in the case and told reporters that his resignation had nothing to do with the case against Scruggs. Both the defense and prosecution in the federal case against Scruggs are prepared to call upon Lott in testimony, however.
Neither Scruggs or DeLaughter have been indicted regarding Langston's information about that incident.
Attorneys for cases pending in Hinds County allege Peters may have already bought DeLaughter's influence.
"Very serious questions have been raised—and circulated throughout the entire country—about the relationship of Ed Peters and Judge DeLaughter. In this circumstance, the public interest in seeing that justice has been done impartially requires that the successor judge review these issues," wrote attorneys for Jeffrey Frisby in a Jan. 24, 2008, motion for stay of discovery in the trade secrets lawsuit Frisby v. Eaton.
Lawyers claim DeLaughter altered his decisions on granting motions friendly to Frisby after learning of Peters' presence on the plaintiff's side. They also noted DeLaughter's altruism toward Peters' client in a traffic accident case that resulted in the death of one Jackson resident, with DeLaughter refusing to adjudicate police officer Jeffrey Middleton in that manslaughter case over the objections of then-District Attorney Faye Peterson.
Previous Comments
ID

99527

Comment

You can't blame the repubs for this action. Democratic trial lawyers were under a microscope under the current ad men. Yet he was so arrogant he tried this. I am done. I am a plaintiffs attorney that does divorce, criminal, custody, injury.... EVERYTHING but tax, immigration and backruptcy. To Hell with every lawyer that tarnished my profession. I didn't get any piece of any deal, yet everyone thinks I have an in.... Clients say.. "Didn't you pay the judge" or "how much should I pay the judge" At this point How do I assure them that this is a fair playing field. SCREW those that hurt my profession and indict the rest. There are more

Author

AGamm627

Date

2008-03-17T22:35:10-06:00
ID

99528

Comment

Mr. Herring's statement is just more of the same. Public confidence in the neutrality and essential fairness of the judicial process is at a low point in our state. So what does Chairman Herring do? SPINS FOR PARTISAN ADVANTAGE. The Chief Justice of the Mississippi Supreme Court is an elected official; in fact, he is up for re-election this year. Any investigation by a State-appointed official would be reviewed on appeal by . . . the Mississippi Supreme Court. And, as is well known, Chief Justice Smith is aligned with pro-business forces and is supported by Governor Barbour. THIS is the way to bring public confidence back? NOT. All it shows is that the Republicans and the corporations that were attacked so vigorously by Scruggs et al are using this tragedy for their own advantage. Point, counterpoint, point, counterpoint. I'm SICK of this. Let's agree that there should be severe penalties for anyone influencing the process of resolving disputes through the legal system. That includes insurance companies that pay their consultants to change their opinion on "wind or water" issues. That includes expert witnesses who send innocent African-Americans to death row on trumped up evidence. That includes Good Old Boys who talk to their favorite judges about cases on golf courses and at the country club, or, heaven forbid (and it surely does), the Baptist Sunday School. When pols like Jim Herring support a comprehensive solution to systemic bias in the legal process, I'll jump on the bandwagon. When he just wants to gore the other side's ox, forget it.

Author

GenShermansGhost

Date

2008-03-18T06:57:21-06:00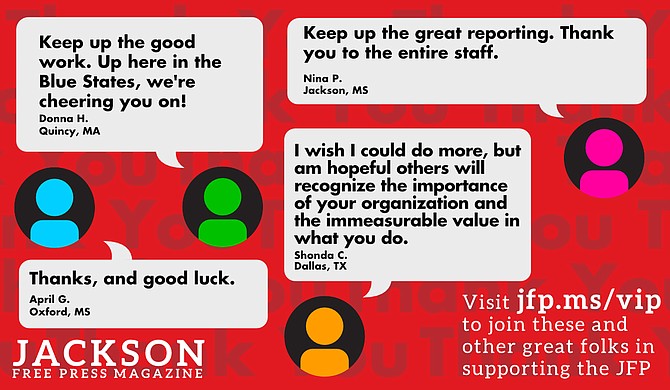 Thanks to all our new JFP VIPs!
COVID-19 has closed down the main sources of the JFP's revenue -- concerts, festivals, fundraisers, restaurants and bars. If everyone reading this article gives $5 or more, we should be able to continue publishing through the crisis. Please pay what you can to keep us reporting and publishing.