The last significant snowfall I recall was New Year's Day, 2001. I remember it well because I was at church on New Year's Eve when the snow started, and it had accumulated quite a bit by the time service was over. Thankfully, I kept a can of de-icer in my trunk at all times, and I even loaned it to someone who didn't have an ice scraper. I crept my way home, unable to see the lines in the street. Despite a traffic jam due to an accident or something, I managed to get home within an hour.
I have a picture somewhere of my older sister's kids playing in the snow. I think that my nephew was nine and my niece was three at the time. My younger sister's daughter wasn't born yet, so she had never seen snow before.
When I heard the forecast about possible snow flurries, I didn't expect to see anything. Of course my mother, being the Mother Hen she is, made it her business to head to the grocery store just in case we got so much snow that we would have to dig our way out, kind of like that Christmas episode of Little House on the Prairie.
Well, my older sister's kids spend the night at our house Friday, and when I woke up that morning, I looked out the window expecting to see rain. Well, to my chagrin, snowflakes were falling like salt being shaken from the gray sky above. I told the kids, and their reactions didn't surprise me. My niece, now nine, proceeded to put on her coat and shoes while still wearing a nightgown, so she was pretty excited. After I told her to put on some pants, I asked my fifteen-year-old nephew if he was going outside, too. With teen angst, he declined the offer and returned to bed, Nintendo DS in hand.
I went outside with my niece to get a closer look and take some pictures. There wasn't much accumulation to speak of, so most of my shots only show touches of white. I tried to photograph the snowflakes, but they were too fast for me. They came out looking like white chicken scratches, so I guess my shutter speed isn't good enough for that sort of thing.
Determined to play in the snow, my niece went to the only place in the yard that had a decent accumulation: my car.
She made a few snowballs and threw them (one at me - ouch), and she also made a snowman that was about the size of a Smurf.
She also caught snowflakes on her tongue. I did too, but not on purpose. Her final masterpiece: a smiley face on my car window.
We went inside since I was about to freeze to death, and we had hot cocoa and gingerbread cookies. I also called my younger sister to see if she let the six-year-old play in the snow. She let her look out the window, but that was it since she didn't get any accumulation. Her son is six weeks old, so I know he won't remember the snow at all.
There's always next time...
Previous Comments
ID

116495

Comment

I haven't seen snow since November 2005, when I went to Michigan. I miss the snow over the weekend. Whatever snow was there was gone by the time I woke up.

Author

golden eagle

Date

2008-01-21T22:19:56-06:00
ID

116496

Comment

It pretty much snowed the whole morning. You must have slept in pretty late. :-P

Author

LatashaWillis

Date

2008-01-21T22:22:30-06:00
ID

116497

Comment

Slept til 10:30am. I usually don't sleep that late, but cold, cloudy mornings will do that for you. I'll be the uncle of a niece or nephew in August, so maybe next winter, I'll have baby pictures of his or her first snowfall.

Author

golden eagle

Date

2008-01-21T22:29:10-06:00
ID

116498

Comment

is it strange that, here in the blizzard of utah, i'm actually sad about missing mississippi snow?

Author

cheree

Date

2008-01-22T13:13:15-06:00
ID

116499

Comment

Makes perfect sense. It *matters* more here. Todd and I used to wade in snow up to our thighs (now and then) in Colorado, and I woke him up with excitement Saturday to look at the snow on the car next door!

Author

DonnaLadd

Date

2008-01-22T13:27:07-06:00
ID

116500

Comment

my friend and I both heard the sounds of the melt, thinking, is that rain? I woke up in awe seeing the snow, the quietness of it, the movement of it. Later I drove out to shop & Daniel's Mundo Melodia show came on WLEZ, he had a song from Vietnam it sounded just like the snow fall...

Author

Izzy

Date

2008-01-22T13:46:48-06:00
ID

116501

Comment

Ah, snow. I've been wishing and praying for it here for so long. While we lived in KY, it snowed every winter. Living in Louisville, it was spectacular. Our son woke us to to the melodic sounds of, "Get up! It's SNOWING!!!" Within 20 minutes, we were all dressed and outside. We had some snowfall in the side yard, and our son promptly gathered as much as he could, made a snowball, and threw it at me. Then our daughter and I tried to catch snowflakes on our tongues. The first snow always tastes the best, I told her. Then, just as quickly as it started, it was over. We got some good pictures and made some incredible memories.

Author

Lady Havoc

Date

2008-01-22T14:46:17-06:00
ID

116502

Comment

Deja vu? I went outside this morning to throw something in the trash, and what do I see? Again? http://i8.photobucket.com/albums/a47/law6331/th_march2008snow-1.jpg I didn't see expect to see any accumulation again within a two-month period. It wasn't much, but it was still kinda weird.

Author

LatashaWillis

Date

2008-03-08T08:50:28-06:00
ID

116503

Comment

Just a little dusting. There was more the farther north you were. Oxford got around three inches.

Author

golden eagle

Date

2008-03-08T22:33:48-06:00
ID

116504

Comment

Yeah, it wasn't much, but I'm fascinated regardless of the amount since we don't see it much in these parts.

Author

LatashaWillis

Date

2008-03-09T21:12:08-06:00
More like this story
More stories by this author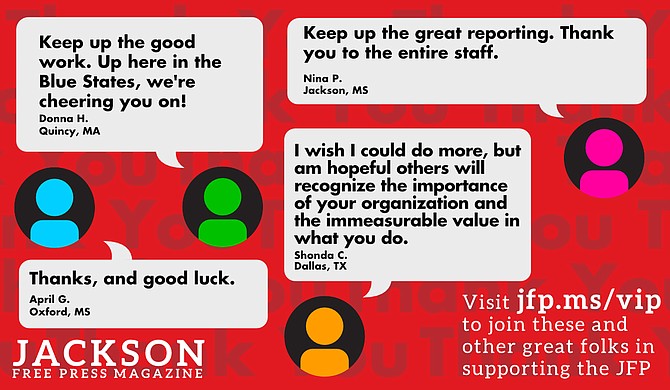 Thanks to all our new JFP VIPs!
COVID-19 has closed down the main sources of the JFP's revenue -- concerts, festivals, fundraisers, restaurants and bars. If everyone reading this article gives $5 or more, we should be able to continue publishing through the crisis. Please pay what you can to keep us reporting and publishing.