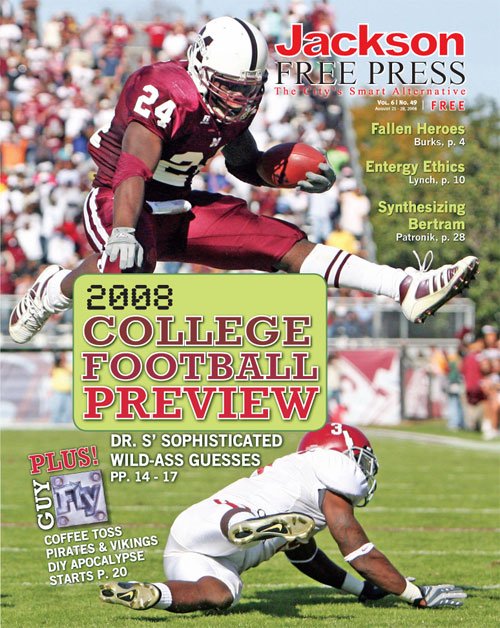 Pearl Jam's Eddie Vedder summed up what's going on in Mississippi college football when he sang: "It's evolution, baby."
Many of the changes are obvious. Ole Miss, Southern Miss and Alcorn State have new coaches. Houston Nutt, Larry Fedora and Ernest Jones, respectively, have their schools' faithful fired up and ready to win. Unfortunately, the alumni and fans won't be in the huddle. Can the new guys live up to the expectations?
Change is also afoot at other schools. Sylvester Croom led Mississippi State to an 8-5 record in 2007. Can he keep winning in Starkville? Jackson State, Millsaps and Delta State each won conference titles last season. Can they do it again? And is Mississippi College ready to challenge for the ASC crown?
Elsewhere, things are stagnant. Belhaven has suffered through two consecutive 5-6 seasons. Big things were expected of Mississippi Valley State last year after a 6-5 finish in 2006. Instead, the Delta Devils regressed to their traditional losing ways. Is there any reason to believe the Blazers and Delta Devils will turn things around this fall?
We will leave the debate on whether entropy trumps evolution for another time. As the Oakland Raiders' Al Davis has often muttered: "Just win, baby." One thing is for sure: Coaches who don't follow that law of football face professional extinction.
Get ready for Doctor S to put you through the changes with his sixth annual set of SWAGs (Sophisticated, Wild-Ass Guesses).
MISSISSIPPI STATE
Coach: Sylvester Croom (fifth season, 17-30)
Stadium: Scott Field, Starkville
2007 record: 8-5 (4-4 SEC), won Liberty Bowl
Radio: 105.9 FM
Everything is hunky dory in Bulldog Country, basking in the afterglow of 2007's
8-5 season, State's first winning season since 2000. Season tickets are a best-seller, there's a
$6.1 million, state-of-the-art HD video board sitting in Scott Field's south end zone, and Sylvester Croom has silenced most of the doubtersčtemporarily. Can the Bulldogs build on last season's success, or were they just a one-year wonder? Croom thinks the future is bright. "It's time for us to take that next step," he told Sporting News in July.
The Bulldogs were successful despite their offense last season. MSU ranked 113th out of 119 NCAA Division I-A teams in total offense. The Bulldogs have a solid No. 1 quarterback in sophomore Wesley Carroll. The offense moved into a higher gear when Carroll took over as the starter last season. The running game is led by talented (and fumble-prone) tailback Anthony Dixon, who ran for 1,066 yards and 14 touchdowns in 2007. The Bulldogs suffered their biggest loss when their top offensive lineman, left tackle Mike Brown, was kicked out of school for firing a gun on campus.
There are seven starters back on the defense, which is led by All-SEC free safety Derek Pegues and linebackers Jamar Chaney and Dominic Douglas. Pegues has been suspended for the first game of the season for skipping too many classes. What is happening to college football? One major missing piece is cornerback Anthony Johnson who was suspended for the season for his role in the Brown gun incident.
Outlook: Promising. The SEC schedule is brutal, of course, but not impossible. The SEC West is a little down this year, so the Bulldogs could have a chance to make a little noise. Barring serious injuries or another campus shootout, MSU can win eight games.
Schedule: Aug. 30, at Louisiana Tech; Sept. 6, Southeastern Louisiana;
Sept. 13, Auburn; Sept. 20, at Georgia Tech;
Sept. 27, at LSU; Oct. 11, Vanderbilt; Oct. 18, at Tennessee; Oct. 25, Middle Tennessee;
Nov. 1, Kentucky; Nov. 15, at Alabama; Nov. 22, Arkansas; Nov. 28, at Ole Miss.
OLE MISS
Coach: Houston Nutt (first season at Ole Miss/16th season overall, 111-70)
Stadium: Vaught-Hemingway Stadium, Oxford
2007 record: 3-9 (0-8 SEC)
Radio: 97.3 FM
Houston Nutt may have worn out his welcome at Arkansas, but he was welcomed as a savior last December when he took over for Ed "Coach Zero" Orgeron. Now everybody in Rebel Nation is nuts about Ole Miss football. The team has 15 returning starters and loads of talented newcomers like third-year freshman Jerrell Powe. Orgeron might have been a lousy coach (10 wins in three years), but he was an excellent recruiter.
Mississippi Sports Magazine named Rebel quarterback Jevan Snead to its preseason all-state team. Nevermind that Snead has never taken a snap in Oxford and hasn't played a real game in two years. The transfer from Texas has shown flashes of brilliance during spring practice and preseason camp. Of course, he was playing against the Rebel defense. Snead has some good receivers to throw to in Mike Wallace (716 yards, six touchdowns), Shay Hodge and the talented-but-injury-prone Dexter McCluster. The running game is a question mark. Cordera Eason is listed as No. 1 at tailback for the time being.
The defensive line, which is supposed to be the strength of the Rebel defense, is hurting. Defensive end Greg Hardy, last year's SEC sacks leader, is expected to be out six to eight weeks after suffering a stress fracture in his foot. Defensive tackle Peria Jerry suffered a knee injury in practice last Sunday. He will probably miss a month. The Rebels are looking for answers at linebacker and in the secondary where strong safety Jamarca Sanford is the top returnee.
Outlook: Nutt has a history of doing big things with little-regarded teams. The schedule is tough (of course), with trips to Florida and LSU. On the other hand, the Rebels have seven home games and most look winnable. Look for the Rebels to win six games.
Schedule: Aug. 30, Memphis; Sept. 6, Wake Forest; Sept. 13, Samford; Sept. 20, Vanderbilt; Sept. 27, at Florida; Oct. 4, South Carolina; Oct. 18, at Alabama; Oct. 25, at Arkansas; Nov. 1, Auburn; Nov. 15, Louisiana-Monroe; Nov. 22, at LSU; Nov. 28, Mississippi State.
SOUTHERN MISS
Coach: Larry Fedora (first season)
Stadium: M.M. Roberts Stadium, Hattiesburg
2007 record: 7-6 (5-4), lost Papajohns.com Bowl
Radio: 1180 AM/103.3 FM
Have you heard the Southern Miss radio ad where Larry Fedora keeps yelling, "Attack! Attack! Attack!"? Here's hoping he's targeting whoever came up with USM's ugly-ass, all-black uniforms. Fedora replaced Jeff Bower, whose reward for 14 consecutive winning seasons was being shown the door because his teams were boring. Fedora promises excitement with attacking offenses and defenses.
"Coach Fedora is a very exciting person," Athletic Director Richard Giannini told The Associated Press this month. "He will get you pumped up." USM is hoping a more entertaining team will win more games, too.
Sports Illustrated loves USM's offensive players. Running back Damion Fletcher was named the top offensive player from non-BCS schools. "He can make tackles miss in a phone booth," Fedora told SI. Fletcher ran for 1,586 yards and 15 touchdowns last season en route to winning the Connerly Trophy. SI also ranked wide receiver DeAndre Brown as the non-BCS true freshman to watch. But who's going to throw the ball to him? Fedora is still looking for a quarterback to run his no-huddle spread offense. Austin Davis and Martevious Young appear to be running one and two. The Eagles need some interior linemen, though.
USM is also short of experienced linemen on defense. But the Eagles are strong at linebacker thanks to Gerald McRath, the 2007 CUSA Defensive Player of the Year. Safety Chico Hunter is expected to be a standout in the secondary.
Outlook: Doctor S supposes that anythingčeven winningčcan become boring. That said, USM's program badly needed a makeover. Look for the Eagles to put up some big offensive numbers this season. Look for them to give up a lot of yards and points, too. USM is good enough to win eight games, but the Eagles won't win the CUSA East title.
Schedule: Aug. 30, Louisiana-Lafayette; Sept. 6, at Auburn; Sept. 13, Arkansas State; Sept. 20, Marshall; Oct. 4, UTEP; Oct. 11, Boise State; Oct. 18, at Rice; Oct. 25, at Memphis; Nov. 1, at UAB; Nov. 8, at UCF; Nov. 15, East Carolina; Nov. 29, at SMU.
JACKSON STATE
Coach: Rick Comegy (third season, 14-9/13th season overall, 104-35)
Stadium: Mississippi Veterans Memorial Stadium, Jackson
2007 record: 8-4 (8-2 SWAC, won SWAC East) won SWAC Championship
Radio: 1300 AM
Rick Comegy restored the roar last year, leading Jackson State to its first SWAC championship since 1996. All he has to do is win it all again this yearčand every yearčand Tiger Nation will be happy. Comegy has resurrected the JSU program by recruiting like a mother. The man has an eye for talent and, unlike some of his predecessors at JSU, he's been able to get the players to come to Jackson. The decline in JSU's program was due to what appeared to be an entitlement mentality in recruiting.
There are a few stumbling blocks on the way back to the title game, though. The biggest is at quarterback, where JSU has to find a replacement for Jimmy Oliver. Trae Rutland, a former Mississippi State quarterback, played in eight games last season. He came into preseason camp as the starter, but he's being pushed by Louisiana Tech transfer Michael Mosley.
Whoever is under center will have somebody to throw to as tight end Marcel Frost and receiver Carlos Simpson (41 catches, 456 yards, one TD) return. The Tigers also have a leg up on special teams thanks to preseason All-SWAC kicker Eric Perri (17 of 24 field goals). Four starters return on the offensive line, but the Tigers are still looking for a running back. Right now the frontrunner is Terrell Walters, a transfer from Delta State.
Seven starters are back from the league's best defense in 2007. Mainstays include defensive back Michael Palmer (51 tackles, eight interceptions), linebacker Marcellus Speaks (85 tackles, three sacks) and defensive lineman Marcus Benard (45 tackles, nine sacks).
Outlook: His colleagues think Comegy and the Tigers can do it again. JSU was chosen to repeat as SWAC champion in the preseason coaches poll. Listen to the coaches.
Schedule: Aug. 31, Hampton at Orlando, Fla.; Sept. 6, Stillman; Sept. 13, Tennessee State at Memphis, Tenn; Sept. 20, at Grambling; Oct. 4, Southern; Oct. 11, at Arkansas-Pine Bluff; Oct. 18, at Texas Southern; Oct. 25, Mississippi Valley State;
Nov. 8, at Alabama State; Nov. 15, Alabama A&M; Nov. 22, Alcorn State.
Belhaven
Coach: Don Lee (fourth season, 17-16)
Stadium: Newell Field, Jackson
2007 record: 5-6 (3-2 MSC)
Radio: 930 AM
Outlook: Belhaven has been a streaky team in recent years. It happened again in 2007: The Blazers started 2-5, then won three of their last four. On offense, the Blazers have All-GSC receivers Anthony Embry and Barry Johnson back, but they haven't settled on a No. 1 quarterback. Two All-MSC players, linebacker Reginald Lumpkin and defensive back Cameron Achord, anchor the defense. The Blazers are in for tough times again this season. Belhaven will face two tough non-conference foes, West Alabama and Millsaps, before they begin MSC play.
Schedule: Aug. 30, at West Alabama; Sept. 6, at Concordia-Selma; Sept. 13, Millsaps; Sept. 27, at Bethel; Oct. 4, Faukner; Oct. 11, West Virginia Tech; Oct. 18, at Campbellsville; Oct. 25, Cumberland;
Nov. 1, Lambuth; Nov. 8, Shorter; Nov. 15, Union.
Millsaps
Coach: Mike Dubose (third season, 15-6/seventh season overall, 39-29)
Stadium: Harper Davis Stadium, Jackson
2007 record: 8-2 (6-1, tied for SCAC title)
Radio: 1240 AM
Outlook: Millsaps got its 15-plus minutes in the national spotlight last year thanks to the "Mississippi Miracle," a 15-lateral, game-winning touchdown play for Trinity that ended up in heavy rotation on ESPN. The Majors wound up tying for a share of their second straight SCAC title. Millsaps enters this season ranked No. 23 by USA Today. Quarterback Juan Joseph, the two-time SCAC Offensive Player of the Year, returns after throwing for 2,860 yards and 31 touchdowns in 2007. The Majors will bring home SCAC title No. 3 this year.
Schedule: Sept. 6, Mississippi College; Sept. 13, at Belhaven; Sept. 20, Austin; Sept. 27, at Rhodes; Oct. 4, DePauw; Oct. 11, at Centre;
Oct. 18, Sewanee; Nov. 1, at Trinity; Nov. 8, Colorado College; Nov. 15, at Birmingham-Southern.
Mississippi College
Coach: Norman Joseph (fourth season, 15-15/eighth
season overall, 36-35)
Stadium: Robinson-Hale Stadium, Clinton
2007 record: 8-2 (6-2 ASC)
Outlook: Norman Joseph has made MC football matter again. The Choctaws are ranked No. 25 in the D3football.com preseason poll (which doesn't rank Millsaps ╔ hmmm). Quarterback Adam Shaffer, the preseason ASC Offensive Player of the Year, is back after putting together the greatest statistical season in MC history (3,497 yards passing and 31 touchdowns) in 2007. The defense has nine starters back, led by All-ASC defensive end Brannon Willisson. This will be the year the Chocs dethrone Mary Hardin-Baylor as ASC champion.
Schedule: Sept. 6, at Millsaps; Sept. 13, at Cumberlands; Sept. 20, McMurry; Sept. 27, at Hardin-Simmons; Oct. 4, Louisiana College; Oct. 18, at Mary Hardin-Baylor; Oct. 25, East Texas Baptist; Nov. 1, at Howard Payne; Nov. 8, Sul Ross State; Nov. 15, at Texas Lutheran.
Alcorn State
Coach: Ernest Jones (first season)
Stadium: Jack Spinks Stadium, Lorman
2007 record: 2-8 (2-7 SWAC)
Radio: 90.1 FM
Outlook: Coach Ernest Jones, Alcorn Class of 1995, was hired to win the SWAC title, something the Braves haven't done since 1994. One thing hasn't changed on The Reservation: Jim Hill alum Tony Hobson is the starting quarterback and is fighting to keep his job. Jones insists his plan is to win now. The reality is the Braves are likely to go 0-3 in Jones' first three games. Jones might make the Braves' a SWAC contender again, but it won't happen before 2009.
Schedule: Aug. 30, Southeastern Louisiana; Sept. 6, at Grambling; Sept. 13, at Troy; Sept. 18, Arkansas-Pine Bluff; Sept. 27, Southern; Oct. 11, at Mississippi Valley State; Oct. 18, at Alabama A&M;
Oct. 25, Texas Southern; Nov. 1, Alabama State; Nov. 15, at Prairie View; Nov. 22, at Jackson State.
Mississippi Valley State
Coach: Willie Totten (seventh season, 26-31)
Stadium: Rice-Totten Stadium, Itta Bena
2007 record: 3-8 (2-7 SWAC)
Outlook: The Delta Devils and their fans are going to spend the season in football hell. Valley has seven starters back on offense and seven on defense. But Valley was ninth in the SWAC in total offense and defense last season, so that might not be a good thing. "Winning is what we have to do," coach Willie Totten says in the school's media guide. "Losing is not an option." Losing is a certainty for the Delta Devils, and when the season is over, Totten might lose this job.
Schedule: Aug. 30, Texas College; Sept. 13, at Southern; Sept. 20, Prairie View; Sept. 25, at Alabama State; Oct. 11, Alcorn State;
Oct. 18, Savannah State; Oct. 25, at Jackson State; Nov. 1, Grambling; Nov. 8, at Texas Southern; Nov. 15, at Arkansas-Pine Bluff; Nov. 22, Alabama A&M.
Delta State
Coach: Ron Roberts (second season, 10-2)
Stadium: Travis-Parker Field, Cleveland
2007 record: 10-2 (8-0, won GSC title), lost in second round of NCAA Division II playoffs
Outlook: Delta State kept winning in Ron Roberts' first season as coach. The Statesmen won the GSC, and if they could have figured out a way to beat North Alabama, DSU might have won the NCAA Division II championship, too. The Statesmen, who are ranked No. 8 in USA Today's preseason poll, are loaded again this season with eight starters back on offense and seven on defense. DSU will be in the hunt for the national title again.
Schedule: Sept. 6, at McNeese State; Sept. 13, Arkansas-Monticello; Sept. 20, at Harding; Sept. 27, Ouachita Baptist; Oct. 2, at Valdosta State; Oct. 11, West Alabama; Oct. 16, North Alabama; Oct. 25, at Southern Arkansas; Nov. 1, Arkansas Tech; Nov. 8, at West Georgia.
Previous Comments
ID

133487

Comment

I like last year's cover better. Nonetheless, I'm looking forward to another great season in college football.

Author

golden eagle

Date

2008-08-22T16:22:02-06:00
More stories by this author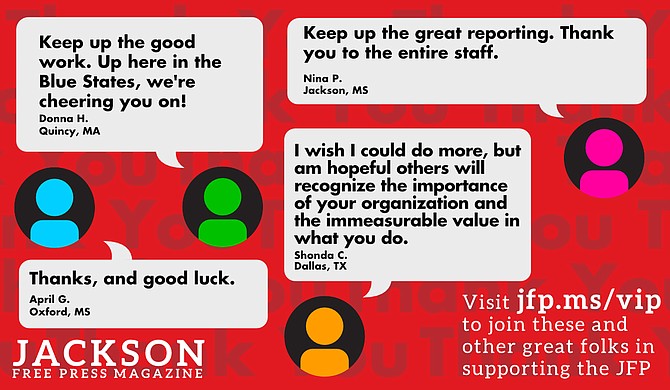 Thanks to all our new JFP VIPs!
COVID-19 has closed down the main sources of the JFP's revenue -- concerts, festivals, fundraisers, restaurants and bars. If everyone reading this article gives $5 or more, we should be able to continue publishing through the crisis. Please pay what you can to keep us reporting and publishing.