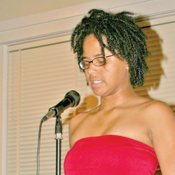 "If you seek the soul of a people, look to its women."—Jerry Taliaferro
They've come to talk about their experiences as African American women in Jackson. They've come to find solutions to the issues they encounter in their lives. They've come with conviction, seeking change through conversation, a dialogue between the wisdom of years and the freshness of youth.
This is the second Sistahood Town Hall meeting; the first was held in March at the end of Women's History Month at the Jackson Medical Mall. It lasted five hours and had women of all ages.
"We focused strictly on solutions, we felt very much empowered. We had a rotation of hugs; women I'd never met before, hugging me like they'd known me for years. We left there full and not discouraged," says June Hardwick, who attended both meetings.
The second meeting was held at the Smith Robertson Museum and Cultural Center. It followed an exhibition by photographer Jerry Taliaferro entitled "Women of a New Tribe." The exhibit features black and white photography in celebration of the black American woman. The pictures are awe-inspiring, silencing the viewers who have wandered in from the main hall, where things are lively. The pictures are of teachers, doctors, students, activists, mothers—women, and they are beautiful. It is a fitting start for a conversation between women about women.
As the attendees wander in, the meeting room comes to life. It's bright, with a flow of energy and an astute observer can catch a glimpse of the passion behind their eyes. Brother Lukata steps to the podium, calling attention to the front, as the drums start to play to the left of him. A rhythm of ancestors, that strikes deep down in the soul of the listener, connects past to present.
All ages are there, women and men. Members of the community sitting side-by-side with Democratic Reps. Clara Burnett and Alyce G. Clarke, Hinds County Tax Collector Eddie Fair, and Sandra Hodge from the Department of Health and Human Services. They are all here to come together and find solutions.
Brother Lukata explains Kwanzaa and the significance of applying the principles to daily life, not just once a year. "We have to learn to get along within our community," he says. "Our community has to stand up for themselves and learn to love each other through communication. We cannot look for others to solve our problems. The solutions to our problems don't lie outside our communities, they lie within us."
With this call to action, the floor is open to discussion. Hardwick shuffles through cards that local colleges have passed around. She pulls one out and reads a question. "How do we re-establish the black family? Solid relationships and marriage." Hands fly up and voices ring out in response.
"We have to show our young people that just like anything worth having, marriage requires work," Museum Curator Latoriya Phillips says.
"We have to be better models to our children of marriage and what should be. They live what they know and are told, and we are letting the media determine that," Hodge adds.
The conversation veers to loving and healing oneself and choosing wisely. Then it moves to solutions and how to make change, reaching out to young people and talking to them about choices and accountability, showing them good examples through involvement.
So impassioned was the discussion, that it was the only topic covered that night, but each meeting will build on the one before it. Museum curator, Pamela Junior, said it best: "We as women have to get up, stop talking about it and do something."
Previous Comments
ID

118881

Comment

I heard about these town hall meetings but didn't get to attend. I think this is a great step forward to obtaining empowerment and unity.

Author

LatashaWillis

Date

2008-04-23T17:42:30-06:00
ID

118959

Comment

Awesome.

Author

Heather

Date

2008-04-28T14:08:43-06:00
More stories by this author
Support our reporting -- Follow the MFP.