Summer is fast approaching, and everyone is rushing to fit into that itsy-bitsy bikini. That means it's time to eat healthier. Swimsuit season is my motivation—as I told a friend, "I don't care how much I weigh; I just want to look good in a bikini!" Here are some tips and strategies I've used that will help you not only shed pounds but also feel healthier. As a bonus, many of the ideas are also Earth-friendly.
Customize Your Diet
The U.S. Department of Agriculture introduced MyPyramid, a customized way to eat healthy, in April 2005. The Web Site has a feature that allows you to put in your age, gender, weight, height and level of physical activity. I entered my age (36), gender (female), my weight (not telling!), my height (5 feet 7 inches) and my level of daily physical activity (less than 30 minutes per day). Up popped a screen that confirmed what I already knew: "The weight you entered is above the healthy range for your height. This may increase your risk for health problems." Eeek! Luckily, the next step is to create an individual plan based on the number of calories I should consume per day to lose weight gradually (1,800 per day).
For my 1,800-calorie plan, MyPyramid recommends daily: five ounces of meat or beans, two-and-a-half cups of vegetables, one-and-a-half cups of fruit, three cups of dairy and six ounces of grains. MyPyramid takes into account that exercise is essential, so it also recommends I increase physical activity to 60 minutes a day.
A Rainbow of Flavors and Colors
Experts all say that eating a variety of foods makes for a healthier diet. An easy way to make sure you're eating a variety is to take a rainbow approach to eating fruits and vegetables. Try making a huge salad out of red bell peppers, diced ripe tomatoes, fresh baby carrots, rings of orange bell peppers, sliced yellow squash, two or three kinds of lettuce (try butter, Bibb, romaine, endive, radicchio and iceberg), purple onions, eggplant or florets of purple cauliflower. To preserve the natural flavors of the vegetables, use a light dressing, such as a homemade vinegar and oil (1 part balsamic vinegar, 2 parts olive oil, a dash of lemon, pepper and salt to taste, shake well). Top with a teaspoon of sunflower seeds.
Or try a fresh fruit salad containing sliced strawberries and red cherries, cubes of cantaloupe, tangerine segments, slices of ripe banana, halved seedless green grapes, cubes of ripe honeydew melon, blueberries, black raspberries, Bosc pears and chopped apples (try Fuji, Braeburn, Gala, and Granny Smith).
Fresher is Better
Fresh foods (preferably organic) are better for you. In general, the less packaging, the better. Packaged foods often contain preservatives so they can remain on grocery store shelves for long periods. Purchase fresh fruits and vegetables when they are ripe, and eat them within one or two days. Enjoy foods in their seasons when they are freshest. Store root vegetables (potatoes, turnips, carrots) in a cool, dry place and eat before they begin to bud or sprout. If fresh food is not available, buy fruits and vegetables frozen (with no added sugars or salt). Dried beans and fruits are also good, as long as they do not contain sulfites as a preservative. As a last resort, buy canned organic foods. Canned, processed fruits and vegetables stored in sugary or salty syrup contain so many preservatives as to be next to worthless nutritionally.
Go au Naturel
To get the maximum nutrition from your foods, eat them as close to their natural state as possible. In practice, this means eating lots of raw, green, leafy veggies. If you must cook vegetables, lightly steam or grill them. For fresh fruits, just peel and eat. Vegetable-fruits like avocados and tomatoes tend to become acidic when cooked, so eat them raw. Try to use raw, organic butter and cheese, and whole grain pastas, rice and breads. Read the labels: Whole grain bread is healthier than that made with bleached white flour and refined sugar.
Foods that must be prepared or cooked in some way, such as meat and fish, are healthier when broiled, baked or grilled rather than fried. To limit calories from sauces, use a small cup of sauce for dipping instead of putting the sauce on the food.
For many of us, especially here in the South, eating healthy is a lifestyle change—making choices each day about what goes into your body. Treat your body well, give it high quality food, and not only will that little bikini fit and look great, but your body will reward you with a lifetime of good health.
Zucchini Bread
1 cup vegetable oil (not olive oil)
3 eggs, beaten (can use egg substitute)
2 cups sugar (or a substitute)
2 teaspoons vanilla extract
2 cups grated raw zucchini, unpeeled
3 cups all-purpose flour
1 teaspoon baking soda
1 teaspoon salt
1/4 teaspoon baking powder
3 teaspoons cinnamon
1 cup chopped walnuts or pecans
Cream the oil, eggs and sugar in a large bowl. Add vanilla and zucchini, mixing with a large spoon. Combine dry ingredients and lightly stir with a fork. Add the flour mixture in two additions, scraping the bowl often. Fold in the nuts. Spoon batter into two well-greased and floured loaf pans. Bake at 325 degrees for 80–90 minutes. Bread is done when it begins to pull away from the sides of the pan and a toothpick inserted in the center comes out clean. Store tightly wrapped to preserve the amazing moisture of this cake-like bread.
More like this story
More stories by this author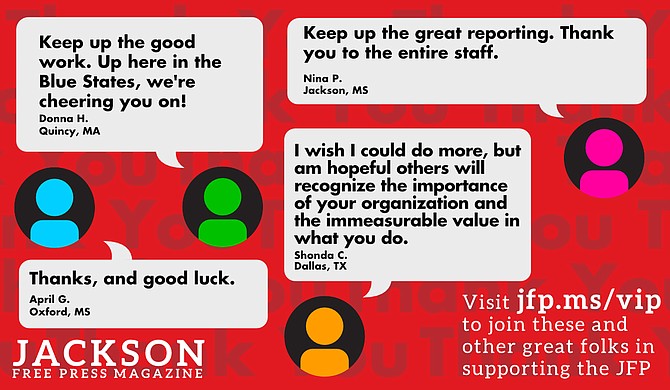 Thanks to all our new JFP VIPs!
COVID-19 has closed down the main sources of the JFP's revenue -- concerts, festivals, fundraisers, restaurants and bars. If everyone reading this article gives $5 or more, we should be able to continue publishing through the crisis. Please pay what you can to keep us reporting and publishing.