As a new resident of the Jackson area, I am in awe of the masses who seem to go out to eat every single night. Don't get me wrong, I do it as well, but why?
Although I have been cooking for years now, I am still what some would call a young sprite. At this ripe old age of 25, I find that cooking for two, my fiancée and myself, is harder and less economical than going out to dine at a local mid-range restaurant. On top of that, we usually just don't have the energy to go to the grocery store at the end of a typical workday.
I know I constantly make the excuse that it is more economical to eat out, but is it really? When we set out on our journey to find dinner it seems we never have anything in mind that matches our appetite, so we usually settle for something run-of-the-mill: Italian, Mexican, burgers or some equally lackluster fare. Once we have seen the city by circling the metro area in our frequent, indecisive and mindless excursions, we usually end up spending about $25-$30 on a so-so meal. Plus a tip, $8-$10, brings our total to $35-$40. If you think this seems high, understand I like to enjoy a drink or two with dinner, and though I could always stiff the waitron, I prefer not to be a cheap-ass. Overall, even though we could technically do dinner cheaper, I am there to enjoy the company and myself, because isn't that what dinner is really about? Personally, mad-dashing through the drive-thru at some grease factory to get a less-than-satisfied feeling only minutes after consuming their sorry excuse for a meal is worse than fasting.
Frustrated with our dining rut, I decided the other day to reconnect to what really makes me happy: creating a meal that makes my belly smile. This was a spontaneous decision when I spied a butcher shop. I stopped in, and instead of feeling drained and disappointed upon leaving, I was satisfied with my choice selection of two center-cut filets. I went straight to the grocery and picked up four red potatoes, a hunk of smoked Gouda and some shitake mushrooms. I was well on my way to creating a meal of epic proportions for about $28, not including the bottle of wine I already had. The recipe takes minimal effort, off-the-cuff planning and average cooking skills. For your time, you can produce a truly amazing dining experience in the comfort of your own kitchen.
So a few simple steps, fueled by my refusal to dread another dinner, allowed us to enjoy a well-rounded meal and a night of relaxation. Plus, my fiancée was thrilled, and I received compensation that surpassed the best tip.
STEAK OUT YOUR KITCHEN
Steaks:
2 beef filets (6 to 8 ounces each)
1 tbsp. fresh ground pepper
½ tbsp. garlic powder
Red Wine Sauce:
4 shitake mushrooms, quartered
½ cup dry, red wine
1 tbsp. unsalted butter
1 tsp. cornstarch
salt and pepper, to taste
Preheat oven to 500 degrees. Mix pepper and garlic powder and rub onto steaks. Heat a lightly greased—margarine is fi ne—skillet to medium high. Sear steaks on all sides for one minute. Once you have seared the last side place skillet in oven. Remember to use an oven-safe skillet … if it has plastic on it, don't put it in the oven! Cook for 15 minutes for medium rare. (You are not using my oven; you may need more or less cooking time.) Remove steaks from the pan and place on serving plates; cover with foil.
Return pan to stove and turn on medium high heat. Pour in wine and bring to rolling boil. (Warning: you may want to remove the pan from the stove to introduce wine, as it is fl ammable.) While boiling, stir with a wooden spoon making sure to scrape all bits of brown stuff off of the bottom of the pan (deglaze). Boil until reduced by half, and then reduce heat to medium. Stir in cornstarch to thicken sauce. At this point add mushrooms. Cook for another two minutes. Remove from heat and stir in butter. Immediately spoon mushrooms and sauce over steaks and serve.
Fond (French, n.) — All of that brown stuff left in the skillet after searing meat that brings the rich flavor to any sauce or gravy.
"REALLY GOUDA" POTATOES:
4 red potatoes
1 tbsp. unsalted butter
1 heaping tbsp. sour cream
¾ cup shredded, smoked Gouda cheese
salt and pepper, to taste
finely chopped fresh parsley, for garnish
Roughly skin and cube red potatoes. Cover with water in medium saucepan, salt, and bring to boil. Boil for fifteen minutes or until tender. Test by poking with a fork. Once tender, drain and place in mixing bowl. Add butter. Smash roughly with potato masher until butter is melted. Add ½ cup of shredded smoked Gouda; continue to smash until Gouda is evenly melted throughout the potatoes. Stir in sour cream. To serve, top with a sprinkle of the remaining smoked Gouda cheese and finely chopped fresh parsley.
Previous Comments
ID

84881

Comment

Speaking of cheese... Behold the Power of Cheesus! I don't care if the whole world freezes, as long as I've got my Cheddar Cheesus (TM) The Gouda potatos sound good. The Gouda Budbha would be proud!

Author

pikersam

Date

2007-03-29T20:10:33-06:00
ID

84882

Comment

wow... just.... yeah wow. i think i need one of those cheese sculptures for my next party!! great recipes Jacob, and welcome to Jackson! the Gouda potatoes really REALLY sound good.

Author

andi

Date

2007-03-30T07:30:09-06:00
ID

84883

Comment

I think I'm one of the few weirdos who don't eat out much. I couldn't cook much either until after the kitchen renovation was done, so before that, I had my fill of TV dinners, Hot Pockets, canned soup and cold sandwiches. Most of what I ate from a restaurant was take-out that my mom would bring home - Pizza Hut, Popeye's or Arby's. Inspired by Rachael Ray, I'm trying to cook more. I've never cooked with red wine a day in my life. I've never even bought red wine, so I wouldn't even know how to ask for it. Aren't there a bunch of funny French names for that stuff? I've heard of gouda cheese, but I've never had that either. I know - I need to get out more.

Author

LatashaWillis

Date

2007-04-03T19:26:07-06:00
ID

84884

Comment

LW go to Wine and Spirits on Lakeland, and tell them you need a good red wine to cook with! See if Nick is there (he sometimes wears a kilt) he will help you. You should cook with a wine you would drink, contrary to what some people believe. I am partial to red zinfandels, and some of the best include Norman Vineyards' "The Monster" (but it is backordered right now for some reason) Karly, and Ravenswood, to name just a few. :)

Author

andi

Date

2007-04-04T07:25:23-06:00
ID

84885

Comment

You should cook with a wine you would drink, contrary to what some people believe. Andi, since I don't drink, I don't know what to believe in the first place. How much does that stuff cost?

Author

LatashaWillis

Date

2007-04-04T07:32:44-06:00
ID

84886

Comment

i see... well some people think you can cook with just any ol' wine and it will taste good, but it's not true. you can get a good red for less than $20, and there are actually some that are more in the $10 - $12 range that are not bad.

Author

andi

Date

2007-04-04T07:35:17-06:00
ID

84887

Comment

ho hum rachel sucks

Author

Kingfish

Date

2007-04-04T07:44:18-06:00
ID

84888

Comment

Thanks, Andi. The recipe seems simple, so I may try it soon.

Author

LatashaWillis

Date

2007-04-04T07:45:46-06:00
ID

84889

Comment

wow, that was pointless 'fish. and you know, for a messageboard full of people who don't like RR, they sure do watch her show a lot.

Author

andi

Date

2007-04-04T07:52:27-06:00
ID

84890

Comment

Rachael sucks, huh? Every time somebody gets a little famous, they throw up an "I hate you" Web site. Yawn. If they don't like her, don't watch her and move on. It's called a remote.

Author

LatashaWillis

Date

2007-04-04T07:54:54-06:00
ID

84891

Comment

Oops, gotta go...Rachael's on! :-P

Author

LatashaWillis

Date

2007-04-04T08:01:41-06:00
ID

84892

Comment

Saw this and thought I'd share it with you: Rachael Ray Serves Up Prom After Tornado

Author

LatashaWillis

Date

2007-04-06T12:44:29-06:00
More like this story
More stories by this author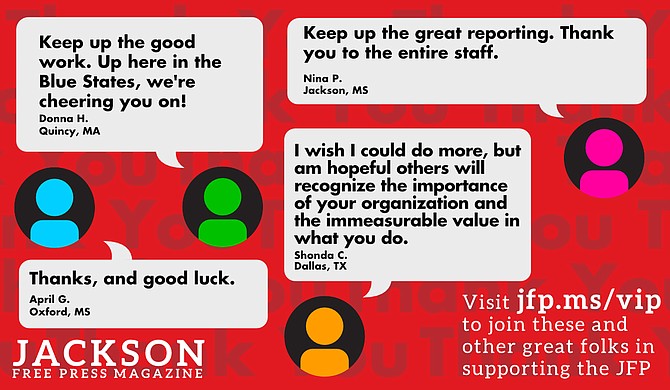 Thanks to all our new JFP VIPs!
COVID-19 has closed down the main sources of the JFP's revenue -- concerts, festivals, fundraisers, restaurants and bars. If everyone reading this article gives $5 or more, we should be able to continue publishing through the crisis. Please pay what you can to keep us reporting and publishing.