Why am I typing this at 4:30 AM? My sister called and said that someone broke into her van and stole her car radio. Before you say, "I'm leaving Jackson," listen closely.
My sister's van was an easy target because one of the doors was unlocked. She had told her children to be careful about leaving a particular door unlocked, and this happened to be one of those times when one of them forgot again. A neighbor saw someone get in the van, but he thought it was her son and didn't say anything. My sister believes that the thief would have broken the window to get in anyway, but I don't think he would have wanted to draw that much attention to himself since she lives on a busy street. If he tried to break the window, the neighbor who saw him would have known right away that the guy was up to no good and would have probably yelled at him or got a good description of him so he could tell the police.
I'm sure my sister's kids are getting an earful, and I also have some tips for protecting your car from burglary:
* Keep your doors locked.
* Keep items like purses out of view, or if possible, not in the car at all when you're not in it.
* Do not leave papers in the car that have personal information on it like your bank account number or Social Security number.
These are simple things we can do to keep our vehicles from becoming targets. This incident could have happened to anyone anywhere considering the circumstances. Let's not make it easy on the criminals. A little common sense and know-how is beneficial.
Previous Comments
ID

113472

Comment

I went here for more tips, and the Web site said some of the things I just said above. They also had some other important tips that I haven't thought of: * Ask law enforcement for a free home security survey. * Make sure you have sturdy metal or solid wood doors at all entries into your home and that sliding glass and similar doors are properly secured. * Trim the shrubbery around your doors and windows so crooks don't have a place to hide. * Do not give out personal information over the phone, through the mail, or over the Internet unless you have initiated the contact or know with whom you are dealing. * If you're a senior, use direct deposit for your Social Security check and other regular payments. * If you notice someone following you when you're driving, head for the nearest busy, brightly lighted area. Write down the license number and make and model of the car. Call 911 or your local emergency number. * Always lock car doors and take the keys when you leave your car, even if you'll be gone "just for a minute." * Don't leave valuables in view in the car. Leave them in the trunk or, better yet, take them home immediately. * As you walk down the street or through the parking garage, walk alertly and assertively. Don't weigh yourself down with too many parcels. Take several loads to the car if necessary. * If you carry a purse, hold it close to your body; if a wallet, keep it in a front pocket. * Don't display your cash or any other inviting targets such as pagers, cell phones, hand-held electronic games, or expensive jewelry and clothing. * When traveling, carry only the credit and ATM cards you absolutely need. Leave the others at home, safely stored. * Make sure your home is secure when you are traveling—all deadbolts locked, lights left on timers, newspapers stopped, and mail held at the post office or collected by a trusted neighbor who has your travel schedule.

Author

LatashaWillis

Date

2007-07-15T04:09:51-06:00
ID

113473

Comment

Don't forget to have your cell phone out with 911 pre-dialed so that when you are attacked, you can hit send and have the cops on their way to take a detailed report from you. OR Carry a gun and defend yourself.

Author

LawClerk

Date

2007-07-15T13:10:29-06:00
ID

113474

Comment

I agree. Purchase and learn to use a gun effectively. Responsible gun ownership is a cornerstone of home and auto protection.

Author

Trust

Date

2007-07-15T19:32:02-06:00
ID

113475

Comment

Except that many people do not wish to own or fire a gun, or be part of a gun culture. Don't assume everyone thinks like you do. They don't. Then there are the dangers associated with owning guns and escalating situations by pulling guns. There's plenty of research out there showing why it isn't the best idea.

Author

DonnaLadd

Date

2007-07-15T21:57:51-06:00
ID

113476

Comment

There are also dangers associated with owning knives, hammers, and other tools. In my post I stated "responsible gun ownership" and I am talking about people who wish to own a gun as a part of a home and auto defense. I believe that people who wish to take defense seriously, should seriously look into owning a gun and knowing how to use it. Also, there is plenty of research to indicate that guns have sucessfully defended people for a very long time.

Author

Trust

Date

2007-07-15T22:39:53-06:00
ID

113477

Comment

Defending an auto with a gun, somehow, reminds me of hanging horse stealers. Each to his own. I think people who take safety seriously can seriously feel fine about not owning a gun. The risk of escalation with a gun is very, very serious. I believe that just as strongly as you do your point, for the record. Also, the risk and ease of a suicide in the home by a troubled family member is greater with guns in the home. Not to mention the use of it in a heated domestic dispute. Never forget that everyone is "law-abiding" the first time they commit a crime with a gun. Other than that, though, I'm not going to debate guns with you. I've already stated, many times, that I don't believe this debate, in either direction, is our top priority in today's America. The gun culture is too entrenched to make any significant inroads into it in the short term. There are better ways to spend our time. However, it is important for people like yourselves to know that your answer is not the only one, or the best one, and many of us believe just as strongly that we have the right to live in a society free of gun-toters, just as strongly as you believe that the Second Amendment gives you the right to tote one. Someday, we likely will live in a different culture. Or an ancestors will. But for now, let's keep all sides of this discussion on the table. I'm not on the bandwagon to ban guns, although smart gun regulation is a public-safety issue. On the other hand, it is not wise to just allow comments such as yours that show a very narrow view on the gun issue, and one that many, many people who do not have the NRA et al as their PR arm do not agree with. It's a complicated issue, and on this site we will keep it that way.

Author

DonnaLadd

Date

2007-07-16T08:15:59-06:00
ID

113478

Comment

I agree this is a complicated issue and I hope it does stay that way. I do not like gun violence, but I do believe in adequately protecting yourself. As for your statement that defending an automobile is like hanging horse thieves, I would say that is a pretty accurate analogy. In the old days, when people's entire lives depended on horses, it was important enough to make it clear to rustlers and thieves that if they stole a horse they would be hung. Sure, today we would not hang a horse thief, but in today's society when someone attempts to rob your vehicle at gun point, I for one, have no problem with the owner of that car laying the idiot low and providing a good "teachable moment" to his ass. I feel the same way about someone busting a window out in my house and attempting to rob it. In our society today, we should feel safe and secure in our houses and cars and I feel no pity for those who attempt to violate the sanctity of our houses and cars and end up on a slab.

Author

Trust

Date

2007-07-16T13:11:40-06:00
ID

113479

Comment

My sister told me that the police officer would not do a report because she doesn't have insurance on her vehicle right now. What one has to do with the other, I don't know. Also, the neighbor who saw the thief was talking to the police as the guy was getting away. He saw a squad car parked nearby as he was on the phone, and the officers did not go after the thief. Seems like dispatch would have told them about the thief right then, or did the neighbor have to get off the phone first so the dispatcher could tell the officers what was going on? I thought the dispatcher just typed the info in and the station relayed the message to the cops. Am I missing something?

Author

LatashaWillis

Date

2007-07-16T13:16:41-06:00
ID

113480

Comment

LW- I don't think you're missing anything. Honestly. I'm not trying to be funny. If that were to happen in a city OTHER than Jackson, you could have probably seen the arrest a mere moment after your call. However, in Jackson, it's every man (or woman!) for himself(herself). As far as the insurance comment... That's a first for me to hear. They should take a report regardless. That's their job. They take reports after the fact and *rarely* stop crime as it happens or before. I don't fault anyone for wanting to move out of Jackson. The people that blame the "flighters" for wanting to flee to safety annoy me.

Author

LawClerk

Date

2007-07-17T08:02:24-06:00
More like this story
More stories by this author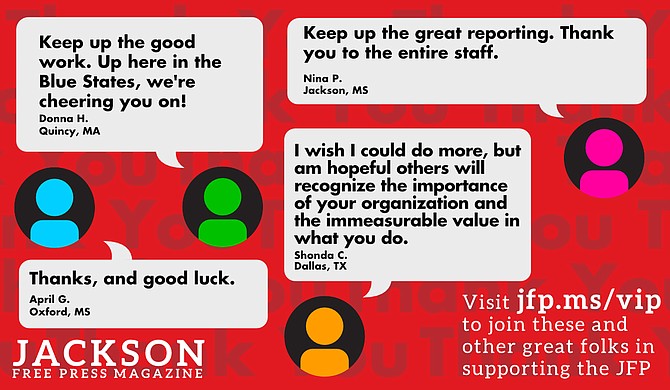 Thanks to all our new JFP VIPs!
COVID-19 has closed down the main sources of the JFP's revenue -- concerts, festivals, fundraisers, restaurants and bars. If everyone reading this article gives $5 or more, we should be able to continue publishing through the crisis. Please pay what you can to keep us reporting and publishing.