I recently drove down to Hattiesburg to meet with architect James Polk in a tiny storefront office with a cement floor, spring green walls, and architectural posters and models covering every available surface. Polk is the architect designing Lily Valley, a walkable eco-community centered around a European-style town square, with energy-efficient homes in walking distance of a school, concert hall, bakery, grocery, art galleries, shops and restaurants. Plenty of green space will surround the buildings.
"We're leaving trees where there are not houses or roads. So instead of going in there and clear-cutting, the ethic is to leave natural growth," Polk says. He showed me the plans and then quickly led me out the door to hurry around downtown Hattiesburg in search of Jamie Franks, Polk's favorite eco-candidate.
He talked as we walked.
Polk sees his development as an example of the "New American Village," a concept of sustainable communities that is taking off nationwide. "The current so-called neighborhoods, most of them I just consider storage buildings for people," Polk says. "You've got houses and houses and houses and nowhere you could walk to, even if there were sidewalks—and there aren't sidewalks in most new developments. The 'New American Village' is a place where you have equal access by foot as you have by car."
Cars won't be necessary within the Lily Valley community; Polk hopes to arrange a shuttle to take residents to the University of Southern Mississippi and downtown Hattiesburg. Homes will feature back-up solar power, which means that the next time a big hurricane barrels through, folks won't have to worry about losing power to their refrigerator, computer or other essentials.
"Our homes come with a solar-electric system. The homes use 25 percent of the electricity that a typical home uses, and we're offering an upgrade," Polk explains. "For about $15,000 more, you can install a bigger solar-energy system and go down to a zero-energy home, which means that you're selling back to the utility what you don't use. You're hooked up to the utility, so that you can pull energy in when it is a cloudy day and you don't have solar energy, but if it is in the middle of the summer, you're pumping back into the utility, so you come out with net zero in terms of your energy."
Green roofs, highly insulated walls, solar hot-water heaters, and window ventilation will also reduce heating and cooling costs dramatically. The houses will also feature smaller square footage in their floor plans, with increased multi-use space.
One thing that sets Lily Valley apart is Polk's commitment to using natural, nontoxic materials manufactured in Mississippi.
"Pretty much everything in these homes is harvested or manufactured or assembled in Mississippi," Polk says. "So, you're transporting at most a couple of hundred miles, as opposed to a thousand, 2,000 miles, or all the way across the ocean if it comes from China. So that's carbon you're not putting into the atmosphere from transportation." Polk also plans to rely on local labor to support Hattiesburg's economy.
Design that incorporates nature has inspired Polk, who studied the architecture of Frank Lloyd Wright, but it wasn't always easy to find people eager to carry out his ecologically friendly plans. Polk has never understood the departure from sensible things like cross-ventilation in southern homes. His basic design, a "modern dogtrot," is focused around a central breezeway for air circulation. "It is working with what Mother Nature gives you, not against it," Polk says. "It uses the same principles of green building that people were using two hundred years ago. What I'm doing with the modern dogtrot is showing people that green is not this magical new thing, it's a classical way to build a house. I named it the 'modern dogtrot' to continue that thread from the roots of the way we designed before petroleum and electricity and bring that forward and show how that can be done in a completely contemporary context."
Fortunately, since Hurricane Katrina, Polk has found it much easier to convince developers and contractors of the benefits of environmentally friendly building techniques. Even New Orleans is seeing some green rebuilding through the efforts of such organizations as Global Green USA and Brad Pitt's "Make It Right" project.
The green building market is growing quickly as the evidence of global warming mounts. Many people have brushed off global warming as something for other people to worry about, but the truth is that most of our emissions of carbon dioxide—the most prevalent greenhouse gas—come from our own homes, offices and cars. Twenty-one percent of global warming emissions in the United States comes from our houses alone. Fortunately, it is not as hard or as expensive as you might think to start making changes at home. Eco-construction involves much more than solar panels. Sometimes, environmentally friendly construction techniques and technologies are more expensive at the outset, but most pay for themselves quickly through drastically reduced utility bills.
The city of Jackson is also jumping on the green bandwagon. Full Spectrum developers are currently planning the infrastructure for a development called Old Capitol Green in downtown Jackson. This project will feature a high-density mixed-use neighborhood with retail shops and restaurants on the street level, under townhomes, luxury apartments and office space. It will revitalize downtown while using environmentally sound design and building methods.
One important goal is to eliminate the need for personal vehicles within a certain radius. To that end, the development will be pedestrian-friendly, with shuttle buses running within the shopping district and out to local hospitals, colleges and universities. Energy usage in the buildings will be 30 to 50 percent better than code; builders plan to use the latest green technologies such as low-flow showerheads, LED traffic signals and parking decks with green roofs for Leadership in Energy and Environmental Design (LEED) certification.
The U.S. Green Building Council certifies buildings for being built in an environmentally responsible manner. LEED benchmarks include greenhouse gas emission reduction, water and energy conservation, and waste reduction.
We can't all move into these enticing eco-developments, but that doesn't mean that we are doomed to have carbon dioxide clouds endlessly looming over our heads. Environmentally friendly remodeling is a booming industry that is just coming to Mississippi. Locally, construction-contractor-turned-massage-therapist Erik MacKinnon has established Living Earth, a company that offers soy-based spray-in insulation products from Biobased Insulation that can reduce home energy usage by up to 50 percent. He hopes to branch out into other eco-friendly retrofitting services in the next few years—in addition to practicing massage—once his green insulation plans take off. "Once Living Earth Insulation Company has its own legs to stand on, I really want to focus on solar energy, solar panels (and) wind energy," MacKinnon says.
For now, customers can get walls, attics and even floors insulated to keep home temperatures regulated by sealing off exposure to the elements. MacKinnon explains, "The greatest inefficiency in a home is the energy loss through air escaping the envelope of the house." The problem with more traditional fiberglass insulation is that it sags and breaks down with time, and it is more susceptible to the elements. Foam insulation is recommended for LEED certification, but standard spray-in foam insulations are petroleum-based, and thus much less environmentally friendly than renewable soy-based foam insulation. One of the products that MacKinnon's company offers is a waterproof soy foam that is perfect for sealing humid Mississippi crawl spaces while preventing mold growth.
The cost for adding Living Earth's insulation depends on the square footage of your home. "But regardless of the cost on the front end, especially when you build a home and build the cost into a mortgage … your energy savings that very first month (are) going to be $150 or $250, so you're already ahead of the investment," MacKinnon says. In older houses, homeowners need to address their windows in addition to insulation in order to seal their homes. Regardless of the age of the home, MacKinnon emphasizes, "There's a way to build green and save green at the same time."
Boost your global-warming knowledge with these must-read books:
"An Inconvenient Truth: The Planetary Emergency of Global Warming and What We Can Do About It" by Al Gore (Rodale Books, 2006, $21.95). Gore's book boasts photographs, charts, statistics, and easily accessible facts that make it both an important climate primer and a well-informed expose.
"This Is My Planet: The Kids' Guide to Global Warming" by Jan Thornhill (Maple Tree Press, 2007, $10.95). Full of basic information and ideas for positive action, this book is a good choice for children who are ready to learn about global warming.
"Fight Global Warming Now" by Bill McKibben (Holt Paperbacks, 2007, $13). This book is a complete guide to launching a grass-roots campaign to fight climate change. Learn how to become a successful activist from the brainchild of the Step It Up 2007 anti-global warming rallies.
Resources:
Lily Valley (James Polk)
http://www.villagedesigner.com/lilyvalley
601-310-3035
[e-mail missing]
Old Capitol Green
http://www.fullspectrumny.com/
progressOCG.htm
601-973-5555
[e-mail missing]
Living Earth (Erik MacKinnon)
http://www.biobased.net
601-540-4756
[e-mail missing]
You're Getting Warmer
Going green In The Classroom
What YOU can do about global warming
The View From Kyoto
More like this story
More stories by this author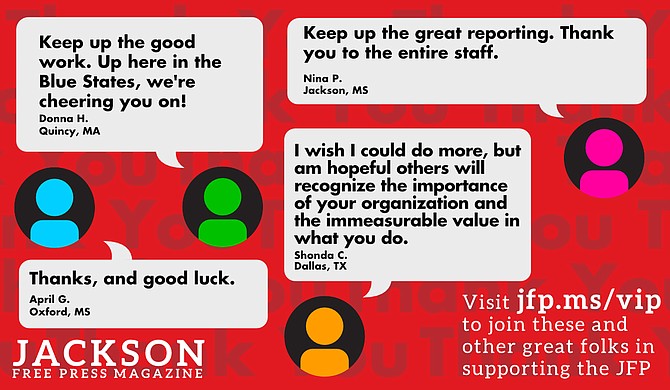 Thanks to all our new JFP VIPs!
COVID-19 has closed down the main sources of the JFP's revenue -- concerts, festivals, fundraisers, restaurants and bars. If everyone reading this article gives $5 or more, we should be able to continue publishing through the crisis. Please pay what you can to keep us reporting and publishing.