Almost exactly two weeks after the Jackson Free Press reported that eyewitnesses were saying Mayor Frank Melton and his cohorts had taken a "Walking Tall" stick and sledgehammers to rental property on Ridgeway Street, a trio of state and county officials indicted Melton and two of his bodyguards. Melton, who is out on $50,000 bond, is facing six felonies and two misdemeanors that could bring a total of more than 50 years in prison.
The JFP learned on Thursday that a special grand jury might hear the evidence gathered by the Hinds County Sheriff's Department and Mississippi Attorney General's office investigators. Indeed, word spread with the speed of the Tazmanian Devil Friday morning that Melton may well be indicted that very day. The JFP's Brian Johnson went to the Hinds County Courthouse to wait with other reporters. Around noon, city employees Stephanie Parker-Weaver, City Attorney Sarah O'Reilly-Evans, Chief of Staff Marcus Ward and Police Chief Shirlene Anderson showed up.
Around the same time, Melton himself arrived, flanked by bodyguards Michael Recio and Marcus Wright. The three disappeared into the courthouse as media and curious spectators gathered outside, pointing their cameras, calling friends on their cell phones.
This was it. Sept. 15, 2006, would go down in history as D-Day for Frank Melton.
As Melton and bodyguards were being booked, fingerprinted and mug-shot inside, word went around that the sheriff would soon hold a press conference, followed by one from the district attorney. Reporters crammed inside the sheriff's assistant's office—and waited.
Finally, soon after Melton left the building in a black SUV, Sheriff Malcolm McMillin arrived about 1:30 p.m., in a casual short-sleeve shirt, looking sad but resolved.
The Sheriff
McMillin was the first to officially drop the bomb: "The fact of the matter is that the mayor and his two bodyguards, Marcus Wright and Michael Recio, have been indicted by the grand jury," he told media in his office. He did not list the indictments, saying the district attorney would announce the charges herself. "All three have posted bond, and that's pretty much the story," he said, ending his statement.
Asked about Melton's demeanor during the arrests, McMillin responded, "I could say he wasn't happy."
McMillin explained that the indictments were brought quickly in the interests of the city. "I think it's important for it to be done so soon because of the sensitivity of having the chief executive officer of the city of Jackson being accused of these violations. To continue that until October … it would be in our best interest to deal with it now," he said.
A reporter asked the sheriff: "This is a new thing for your department, isn't it?"
"What, to arrest a mayor?" McMillin said.
"To arrest a public official. How is the process going so far?"
"Well, it's going fine. I think this is the first public official in my 15 years in office, I think." He added: "Mayor Melton and I have known each other for over 20 years. We have had a working relationship and friendship that goes back 20 years. … The law applies to everybody, and makes no exception to (any) person. … I have a job to do here. What a lot of people don't understand is it's not like I make a choice about investigating this. 'I think I might look into this.' That's not how it works. There's a violation in this county where I have the jurisdiction, and it's my duty and obligation under the law to investigate those allegations."
When asked why the police chief was in the building, he answered, "I think because she'd be interested. Beyond that, I couldn't say." He added that the three men did not have guns or badges on them when they were arrested.
McMillin said his office learned of the destruction of the Ridgeway house "the day it happened." But his office didn't look into the destruction at that point, he said. "There would be an assumption on our part that that would be taken care of by the Jackson Police Department. And since the Jackson Police Department was on the scene, there was no need to check behind them, you see. It wasn't until other things came to our attention that we became involved in that."
McMillin said that other members of Melton's entourage could be charged in the future.
The sheriff nodded when asked if the mayor had "crossed the line": "I think the grand jury made that decision when he was indicted. The grand jury is a cross-section of this community, citizens at large, that made that decision, that there was enough evidence to indicate there was a violation of the law and that he did step across that line."
Had Melton affected McMillin's ability to do his job? "Well, yes. And he'd probably tell you himself that he would have done better had he stayed mayor," McMillin said.
The District Attorney
When it was her turn, District Attorney Faye Peterson walked down the steps of the county courthouse, flanked by her staff. She looked solemn, but regal, as she took her place at the temporary lectern.
"It is my duty as the district attorney for Hinds County, Mississippi, to report to the citizens of this community that on this day I did convene a special grand jury for the purpose of hearing the matters against the honorable Frank E. Melton, mayor of Jackson, Marcus Wright and Michael Recio."
Peterson added that the attorney general's office had presented three separate cases and had helped investigate the Ridgeway incidents. She announced "true bills" in three separate indictments against the mayor. "The mayor is charged along with Michael Recio and Marcus Wright with five counts of felonies: two counts of conspiracy; one count of house burglary; one count of malicious mischief involving property damage exceeding $500; and one count of causing or directing a minor to commit a felony. He has been charged with carrying a firearm on school property at the Mississippi College School of Law (on Feb. 28, 2006). He has also been charged with carrying a firearm to a public park (Jaycee Park, on June 16); and also charged with carrying a firearm to a public institution, that being St. Andrew's Cathedral (June 13)."
Melton routinely has a number of boys under 17 living in his home. Peterson explained that any juveniles who committed felonies at the men's direction cannot be charged with felonies.
Recio and Wright "have only been charged with five counts involving the incident on Ridgeway Street," but no weapons charges, Peterson added. She said the next step would be arraignment, and that she had not been part of any negotiations for deals with the mayor. She said she had not decided whether to try the case personally.
The D.A. said the mayor's $50,000 bond, and the bodyguards' $20,000 bond each, included stipulations that they could not carry firearms; could not use Police Department equipment; could not supervise minors under 17; could not leave the United States; and could not possess drugs or alcohol.
Peterson said she had not pursued an investigation of Melton until the Ridgeway incident. "My office has not been conducting any ongoing investigations on this administration," Peterson said. "What happened was an unfortunate incident. We had hoped that this was just an urban legend, and we did ask the sheriff's department to investigate the matter. They did investigate the matter and determined that there was sufficient evidence to go forward with a grand jury."
"You would assume that when something this severe had happened, you would assume … someone was telling a wild tale," she said.
The Attorney General
As the D.A.'s press conference wound up, Attorney General Jim Hood's office called to say that he would be holding a press conference in his office at 3:30 p.m.
Hood started out: "It's a sad day for the city of Jackson, of course for the mayor as well. It's always unfortunate when we have to prosecute one of our elected officials. It's particularly bad in this instance for a city of this size to have to go through this. Hopefully, we can quickly resolve this matter; I'm working with attorneys for the mayor; hopefully, we'll be able to reach some quick resolution on this matter."
The AG said it was a policy of his office to always make a recommendation for a plea agreement. Asked if it would include Melton leaving office, Hood answered, "Absolutely."
Hood said the "main charge" from his office was burglary—breaking into someone's house with intent to commit a crime therein—and it carries a three-year minimum, 25-year maximum prison term. He called the conspiracy charges against the bodyguards "such an unfortunate situation and another I hope we'll be able to resolve quickly."
As for Melton resigning, Hood said, "I would like to see him do that. … I don't know, the Good Lord makes things happen for a reason. Maybe this is the point where the city of Jackson has kind of hit bottom, and we can move on from here once this is resolved. It will get worse if it continues on with the prosecutorial process; if we're able to resolve it by resignation and a plea, that would be the best route."
Hood said the city needs to re-evaluate and come up with a plan for moving forward. "The first thing involves money," he said. "People are going to have to face the music. They've been sold this bag of goods that you can have good law enforcement for nothing. That's not true. You've got to have jail space. … People have to know that a citizen tells law enforcement some information, they will be carried to jail, and they want hurt them and their family. … That means walking the beat, community … more officers, judges, jail space. … We're going to have to put our money where our mouth is if we want our capital city safer. …"
There could be more charges later, Hood said. He added that the cases came to their attention because people reported them. "That's the way law enforcement works," he said.
Hood said that "it didn't surprise me" that Melton did not heed the warnings that he gave him this summer about not stepping over the legal line. "I think he made the statement that he just couldn't follow the law."
If Melton refuses a plea agreement, the AG's office will definitely seek jail time, Hood warned. He also expressed confidence that his office could successfully prosecute the case in court if necessary—and get a jury that would convict based on good evidence.
Hood said he wasn't sure who would prosecute the case and would be glad for Peterson to handle the case if she desires. "There is no turf," he said.
The AG said he hoped there would be a solution that allowed Melton to "maintain a degree of his pride."
"These situations are delicate. But it's best for these law-enforcement officers, it's best for the city of Jackson, it's best for the mayor himself whose health is not the best, to resolve this thing quickly one way or the other. I'd rather have peace. But if we can't have peace, we'll have war." Hood referred questions about the mayor's health back to Melton or his attorney, Dale Danks.
The Defender
Soon after Hood's press conference ended, Danks held a press conference in his Ridgeland office where he said that Melton will not resign and would fight the charges in court. Danks said the indictments were politically motivated.
"I'm not suggesting (the charges are politically motivated), I'm saying it," Danks said in response to a question from the Jackson Free Press. "They've made this a priority when I've got senior citizens out here getting raped, knocked over the head and their belongings stolen from them. Businesses are having to close and leave the city because of drugs and crimes taking place, and that's what I'm talking about: priorities. I mean this is ludicrous, and will be proven ludicrous."
"There is no question that damage was done to the exterior of the drug house at 1305 Ridgeway," Danks and Melton wrote in a statement released at the press conference. "Maybe better judgment could have been used, but the charges that have been made against Mayor Melton are an extreme and excessive reaction."
There was extensive damage to both the exterior and interior of the duplex on Ridgeway. No drugs were found in the residence on the night of the arrest of Evans Welch's, who is a diagnosed schizophrenic.
Peterson responded to Danks' comments Friday by threatening to impose a gag order. "I'm not interested in those comments, and … I will be seeking a gag order to prevent anyone from tainting the potential juror pool," she told the JFP. The gag order was not in place as the JFP went to press Tuesday.
The mayor was seen in public, first at St. Luther Baptist Church on Sunday with Danks, but did not stay for the full service. At a brief news conference on Monday, Wright and Recio stood in their familiar places beside Melton, presumably unarmed. Melton sat in on a Council work session for several minutes, then left. He was in City Council chambers Tuesday evening as the JFP went to press.
Watch jacksonfreepress.com for breaking updates on this story.
More like this story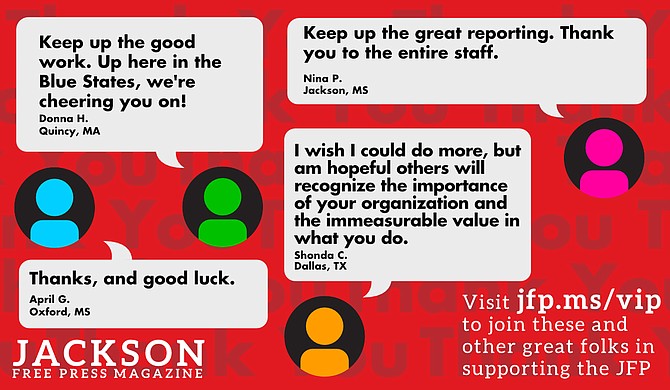 Thanks to all our new JFP VIPs!
COVID-19 has closed down the main sources of the JFP's revenue -- concerts, festivals, fundraisers, restaurants and bars. If everyone reading this article gives $5 or more, we should be able to continue publishing through the crisis. Please pay what you can to keep us reporting and publishing.