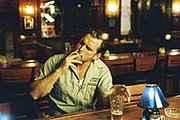 You can't always tell an unrecognized genius from a deluded would-be artist. In the bleak but amusing film "Factotum," Matt Dillon plays Henry Chinaski, an aspiring writer, indifferent laborer and dedicated drunk. Frequently unemployed and inebriated, Chinaski seems identical to any other misguided chump with an artistic streak, except that he is the fictional alter ego of the late Charles Bukowski, the Los Angeles "skid row poet" who rose from obscurity to cult status to international acclaim.
The film is largely adapted from Bukowski's novel "Factotum," and Dillon and Norwegian director/writer Bent Hamer take a pub crawl through the character's struggles. As Chinaski scribbles hard-boiled verse, beds boozy women and gets himself fired, he remains defiantly out of place with the world, his family and even other reprobates.
The gutter-level perspective of "Factotum" would be depressing if the film didn't maintain such a strong, fatalistic sense of humor.
Chinaski takes jobs at such dreary venues as pickle factories and bicycle warehouses, although he'll run off to the nearest bar the minute his supervisor's back is turned. "Factotum" pits Chinaski against a seemingly endless line of starchy middle managers, virtually identical guys with thinning hair, narrow mustaches and absent smiles. Compared to their joyless ranks, Chinaski seems more truly alive, if not exactly a role model. Chinaski sums up his self-destructive integrity when he informs a desk jockey that he plans to use his paycheck to get drunk: "It may not be noble, but it's my choice."
Following his Oscar-nominated performance as the racist cop in "Crash," Dillon makes Chinaski more than just a misanthropic boozehound. The former teen heartthrob has evolved into a remarkably subtle performer, and "Factotum" provides a showcase for Dillon's understated magnetism, commanding our attention while doing very little obvious "acting." In voiceovers, he infuses Bukowski's words with a throaty, hard-earned wisdom, like his description of the racetrack crowd as "life grinding against death and losing."
It's tempting to see "Factotum" as the actor's response, almost 20 years later, to a drastically different portrayal of Chinaski by Mickey Rourke (Dillon's old "Rumble Fish" co-star) in "Barfly." Rourke offered a more swaggering portrayal of the poet as a filthy, roaring Neanderthal. Dillon gives Chinaski some alpha-male qualities in his out-thrust jaw and the proud swing of his arms, but also has a more soft-spoken, fastidious quality. In his writerly discipline and even in the tightness of his closely cropped beard, we recognize a perceptive soul amid the flophouses and barstools.
In addition to Chinaski's war with the working week, "Factotum" tracks his off-again, on-again love affair with Jan (Lili Taylor), a floozy who can match him drink for drink and doesn't care about good housekeeping. They tend to encourage each other's worst instincts: Jan flirts with a jerk at the racetrack to goad Chinaski into picking a fight, but she also bears the brunt of his violence when he backhands her off a barstool during a domestic squabble.
At other times, the couple's relationship very nearly becomes a rock-bottom romance for the down and out. When Chinaski contracts crabs and an agonizing rash, Jan tenderly wraps his groin in gauze, then beams up at him: Now that's love. Later, after the pair walk for blocks to retrieve beer money and Jan complains of her high heels, Chinaski gallantly removes his shabby shoes and places them on her aching feet, like Cinderella discovering a Prince Charming as broke as she is.
At times, "Factotum" wanders off-track, such as during an extended sequence with a rich weirdo and his hangers-on. Dillon nevertheless provides one of the year's strongest performances, and images from the film linger long in the memory, such as Marisa Tomei as another of Chinaski's floozies, looking bleary-eyed and disheveled—yet somehow still alluring—in the harsh light of a liquor store. Or Chinaski framed in the window of a huge, otherwise featureless brick wall, like a lonely prisoner of capitalism looking in vain for a way out.
"The Crossroads Film Society & the JFP present "Factotum" Monday, Dec. 4, 7 p.m. Matt Dillon, Lili Taylor, Marisa Tomei. New Stage Theatre, Belhaven. $7, $5 members. 601-613-6060. http://www.crossroadsfilmsociety.com
http://factotummovie.com
A must see. (Plus, New Stage offers concessions from popcorn, candy and cokes to beer and wine!)"
More stories by this author