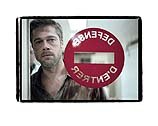 Hop-scotching across hemispheres, "Babel" considers cause and effect on a global scale. Two young brothers (Boubker Ait El Caid and Said Tarchani) play target practice with their new rifle in the Moroccan mountains. A bullet strikes a testy American couple (Brad Pitt and Cate Blanchett) on a tour bus. The tourists' misfortunes complicate the lives of their two children and their Mexican nanny in San Diego. And so on.
As the title "Babel" suggests, Mexican director Alejandro González Iñárritu wants these stories to show how forces such as language and cultural differences separate us, while the ever-shrinking world brings us into each other's personal space. The compelling storytelling unifies the four plots even more than its thematic ambition, and you watch "Babel" in a state of borderline dread.
In "Babel's" conception of the global village, Americans—or perhaps more accurately, "Westerners," to include a fourth plotline in Tokyo—play a role comparable to both commanding demigods and helpless children. The American couple's accident sparks an international crisis that, ironically, impedes their urgently needed medical care. When the couple seeks aid in a tiny, impoverished town, their fellow tourists turn against them with a fury worthy of "Lord of the Flies," driven by horror at conditions that are simply "home" for other human beings.
A similar double standard plays out on either side of the U.S./Mexican border when nanny Amelia (Adriana Barraza), unable to find a substitute caregiver for the couple's children, brings them to her son's wedding in Tijuana. The scenes surrounding the wedding provide the film's most exuberant moments, but we feel nervous on behalf of the kids, as if they're less safe than the children who live there. The towheaded Yanks are classic innocents abroad, joyously helping to catch a chicken, and then blanching with horror when the bird loses its head for supper.
The connection between the other threads and Chieko (Rinko Kikuchi), a lonely, deaf Japanese teenager, is tenuous to the point of nonexistence. Maybe Iñárritu and his usual screenwriter, Guillermo Arriaga, simply wanted to add sign language to the film's chorus of misunderstood tongues. Chieko drifts from volleyball games to crowded nightspots, vainly looking for an emotional connection. In a nightclub scene, Iñárritu emphasizes Chieko's isolation in the crowd. His camera cuts between Chieko's face, accompanied by throbbing music, and her point of view, where silence reigns. Kikuchi gives a remarkable performance, conveying that beneath Chieko's unsettling sexual provocation sits rage, and beneath her rage sits misery. We perceive all of these things even if the girl cannot.
Following his similarly ambitious, complex films "Amores Perros" and "21 Grams," Iñárritu again proves himself to be a master screen artist. He cultivates terrific acting in everyone from complete amateurs to A-list stars such as Pitt, who sheds his pin-up glamour for rawness that blends rage at Third World inefficiency and desperation at his own powerlessness. Babel's editing cultivates maximum intensity, and the cinematography has a rough, tactile quality. It's as if we can feel every new location, rather than simply seeing. Like "The Constant Gardener" director Fernando Meirelles, Iñárritu belongs in a generation of filmmakers intent on confronting the West with the passions and plights of the Third World.
"Babel" sweeps you away while you're watching it, but proves a bit frustrating on reflection. You wish that the characters would ask themselves, "What's the worst that could happen?" before making astonishingly dumb choices. So many things go wrong that when one group of characters ends up fleeing into a desert by night, you half expect the mutant family from "The Hills Have Eyes" to appear.
Iñárritu seems on the verge of blaming the ills of the Third World on developed nations: the fateful rifle, for instance, has Western origins. But "Babel" backs away from its grimmer implications, and many of its other themes don't really stick. Despite the language barriers, most characters get their message across to each other without that much difficulty. Iñárritu can seize our attention with an urgency equaled by few other living filmmakers, but having hooked us with "Babel," he doesn't seem quite sure what to say.
This review originally ran in Creative Loafing.
More like this story
More stories by this author