Before New York Times columnist Nicholas Kristof and I left on our trip to Africa in September, WNYC's Brian Lehrer interviewed us on his radio show. A caller asked us why we were leaving the country to cover poverty when plenty of domestic poverty remained unabated.
It was a question that resonated for me. When I lived in Mississippi, I rarely paid any attention to international news because every day I found so much to cover in the South. Why did I need to leave the country to find poverty when, only a mile from my house, Almetha Williams, a 34-year-old who had been a prostitute since age 13 when her family abandoned her, still roamed the streets homeless, battling both AIDS and ovarian cancer?
Every trip downtown to Smith Park provided another story of destitution, of families abandoning their kids, of those same kids, now addicted to drugs and living on the streets, asking me for a cigarette or a dollar.
I didn't feel provincial while living in Mississippi. For some reason, it just didn't bother me that I didn't know much about the world.
When I got to graduate school at the University of Missouri, my professors really pushed international news. One professor, who worked for years in Moscow, taught me about governmental control of media in China, about South Korean media risking their lives to get into North Korea. The New York Times was free at Missouri, so I started reading it every morning before class. I became fascinated with international stories.
When I saw the chance to enter a contest to win a trip to Africa with Nick Kristof, I didn't hesitate.
Though I wrote about my own family's poverty in my essay to win the trip, what I saw in Africa was so beyond any poverty I had experienced. This was not a matter of pawnshops or bankruptcy or the embarrassment of having to buy groceries with food stamps.
I had never before smelled a room like the hospital room that did not have electricity, was bug-infested and reeked from infection and death and vomit and blood and urine from an overflowing catheter. I had never before seen a doctor leave a woman dying in the next room for four days because she didn't have the $100 up front.
Strangely, though, having been in Mississippi, I found it easier to quantify poverty in Africa. I wanted to see the people there, wanted to really know them rather than just see them as ubiquitous starving Africans.
Whenever I got out of a car in Africa, a crowd of men usually rushed up to me to ask for money. I didn't have any. Nick was paying for everything, so there was never a reason for me to convert my dollars. But I felt that same guilt getting out of my car in downtown Jackson. A person asked for money. I inevitably said, "Sorry, I don't have any."
I've never held any strong convictions about pulling yourself up by your bootstraps, but I rarely gave money when I first moved to Mississippi. Eventually, I stopped shrugging off every beggar. I started spending more time in Smith Park talking to the homeless. At first, I felt bad about giving some of them $5. What if they just bought crack with it? But really, the $5 was intended to make them happy. What did I care what they did with it?
I'm not sure that I did any great thing by talking to people in Smith Park, but I know talking to homeless people in that way made me a better reporter in Africa. It is easy to become so accustomed to poverty that you lose sight of what it really is. Looking at it personally, in the eyes of one little boy or one dying mother, you can't turn away from it. And that's really the way you have to report it. Stories of hundreds of thousands of Sudanese dying get overlooked, skimmed in the newspaper. But one really great story about one woman dying in a beleaguered hospital in Cameroon makes people pay attention.
The poverty I saw in Africa was on a much grander scale than anything I've seen in the South, but being there also taught me so much about the South, about the ways poverty spreads and persists, about stigma, about world expectations. Working with Nick taught me how to talk to anyone, how to keep working to find the story even when I'm tired, how to respect someone and get anyone to talk with you (even if it's about a really sensitive subject).
People keep asking me: "What do you want to be now? Do you still want to be a reporter? Do you want to go back to Africa?"
The day we left the Central African Republic, I almost thought I wouldn't want to go back. I was exhausted and hungry. I hadn't bathed in days. But it only took three days for me to start aching to return. I remembered so many stories I didn't cover. I wished I'd had more time to really do each story right.
Though I feel Africa already calling me back to cover the stories I missed, I also feel conviction, more than ever, to be a voice for the South in the United States, to illuminate both the glory and the shortcomings in a way that honors the South with honesty and respect. In a lot of ways, I think the rest of the nation still sees the South as a foreign country. Reporters often only report the bad statistics without ever getting to real stories of Mississippi and its neighboring states.
An African woman told me when I got home that the world needs the mixture of coverage about Africa, and I think the South needs that same mixture of reporting. The difference is that plenty of good reporters are going to Africa to get those stories. I don't see good reporters coming down to Mississippi and doing stories that are both respectful and helpful to the state.
I want to be a reporter who changes that.
Previous Comments
ID

74060

Comment

This is probably my favorite column about the African trip of yet. I read the article twice but carelessly didn't notice the headline - Mississippi: America's Africa. This is quite an interesting and thought-provking comparison in that Mississippi finds itself in a somewhat self-induced similar situation. Could you please write more about that? I don't mean to challenge you because I actually like the idea that you saw comparisons. However, I can't recall any place suffering the outside thievery, abandonment, and internal and external division that Africa has suffered so long.

Author

Ray Carter

Date

2006-11-29T12:42:27-06:00
More like this story
More stories by this author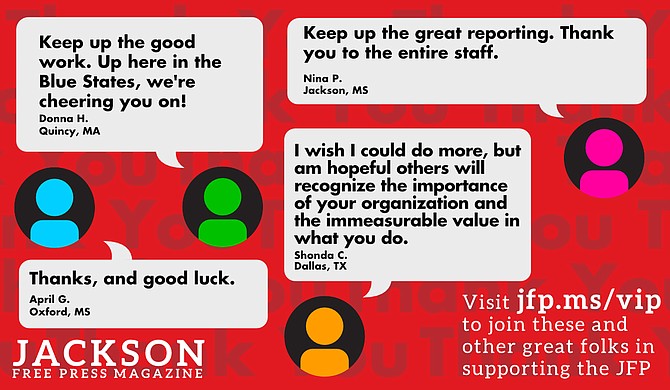 Thanks to all our new JFP VIPs!
COVID-19 has closed down the main sources of the JFP's revenue -- concerts, festivals, fundraisers, restaurants and bars. If everyone reading this article gives $5 or more, we should be able to continue publishing through the crisis. Please pay what you can to keep us reporting and publishing.