Jackson police stood with full riot gear in Smith Park downtown on July 15, ready to take on protesters in the country's abortion battle. Both sides were poised for battle in the city with Mississippi's only remaining abortion clinic, months after the Legislature barely beat back an attempt to ban all abortions in the state of Mississippi.
"Mississippi could become the first state in the country with no abortion clinic," said the Rev. Flip Benham, leader of Operation Save America. "This will happen the day the majority of this county unites and realizes that abortion mills are a nationwide tragedy."
Pro-choice supporters flocked into Jackson to oppose Operation Save America—the newest version of the controversial Operation Rescue—which moved into the city for an eight-day campaign, July 15-22, to get the state to close its last abortion clinic.
Members of the Mississippi Reproductive Freedom Coalition—including the Women's Heath Organization, the ACLU, even anti-President Bush associations like The World Can't Wait, Drive Out the Bush Regime—assembled a legion of determined local faces to meet the anti-abortion armies moving in.
"As soon as I got to Mississippi, I noticed the blatant racism and discrimination going on here," said Melody Drnach, vice president of the National Organization for Women in Washington, D.C. "If you've got money, abortion isn't a problem. You can afford a family doctor to do it, or you go out of state. But the clinic in Jackson serves the women who don't have the economic means to go to the hospital or their private doctor. This is classist and crazy in a state filled with so many low-income and poor people, in a city filled with low-income or poor people."
The pro-choice rally Saturday, sponsored by NOW, the ACLU and others in Smith Park, reflected the hostility that has been brewing since Roe v. Wade. Caught in the middle is local law enforcement, which must provide safe separation while appearing impartial.
It's proving difficult. Both sides are already accusing the police of aiding the enemy. Operation Save America plans a lawsuit against the city and, as we go to press, abortion-rights supporters are seeking an attorney to represent them against the city.
Both sides say that police in Jackson are the most hostile to constitutional rights to assemble and protest on public property that they have ever encountered.
Abortion opponents tried to crash the abortion-rights gathering in Smith Park Saturday by bringing gargantuan photos of supposed fetuses to hold around the stage and above opponents' heads—following the lead of local anti-abortion activist Roy McMillan.
"I was told that we could hold our signs here, so long as we stayed off the stage, but these people here won't let us anywhere near that spot," said Thomas Brunt of Memphis.
Abortion-rights demonstrators say that police allowed opponents to take over their rally. Those protesters, especially visitors from Anti-Racist Action (known for their black face bandanas), surrounded the fetus-displaying demonstrators as they moved through the rally, holding abortion-rights signs in front of the mutilated baby signs.
Police, under the command of Sgt. Wendall Watts, soon angered pro-life marchers by ordering them behind a sidewalk cutting through the middle of the park, because they did not have a permit for the event. They also warned both sides not to make contact as they moved through the park together, sign to sign. "Going to jail will not help you get your point across," Watts warned both representatives of Operation Save America and Anti-Racist Action at about 1 p.m.
Shortly afterward, at about 1:15 p.m., police suddenly started breaking up the rally by telling demonstrators to move toward the southwest end of the park. At first, police refused to tell protesters, or the media, why they were breaking up the rally—causing anger among otherwise-peaceful participants. Finally, police announced that a report of a bomb in the park was prompting the action.
However, once police successfully broke up the rally and blocked pro-choice protesters from much of the park, they visibly relaxed, not even closing off the side of the park where the bomb was rumored to be. Several police officers sat under the park's gazebo, passing water bottles among themselves. An elderly man wearing a pro-life t-shirt sat with them.
Asked by the Jackson Free Press why police had not cordoned off the entire park if there was a serious bomb threat, Sgt. Watts refused to explain, saying it was about "safety." When pressed to explain why no bomb squad had arrived almost an hour after the rally was dispersed, Watts was visibly angry and said that JFP reporters were violating orders by asking him questions—mere feet from where the pro-life protester sat casually with officers under the gazebo, passing water bottles.
"I'm asking you a second time to step out of the park," he said. When asked, Watts also refused to identify the protester or explain why he had not been evacuated, too.
Authorities on the scene seemed hazy about where the lines were actually drawn and where police would intervene. "They're drawn wherever there's a confrontation," said Capt. Henry Glaze of the Hinds County Sheriff's Department. "We're not trying to limit anybody's rights. We're just trying to keep people safe."
Finally, a full hour and a half after breaking up the rally, and soon after being questioned by the JFP, police cordoned off the entire park, pushing protesters into the street to gather on the sidewalk next to the governor's mansion. Eventually, a bomb unit showed up with a small robot in tow, which pulled an old suitcase filled with pill bottles out of a trash can next to the stage. Police did not name suspects, but word after the event was that the suitcase belonged to a homeless man.
Rally organizers say the bomb scare actually bolstered their protest. "If it was a tactic by anti-choicers to break up the rally, it wasn't a very smart tactic," said Kim Gandy, president of the National Organization for Women, in town especially for the event.
"They waited until the main speaker had spoken. So we turned the rally into a march all the way around the governor's mansion, which I thought was a more fitting end to the rally than we had planned."
Within days, police were arresting protesters for gathering on and near sidewalks, however. JPD arrested five pro-lifers the next day after they annoyed patrons of St. James Episcopal Church, in Fondren. The charges included obstructing traffic and protesting in a residential neighborhood without a permit.
Then, on Monday, JPD collected more protesters—but they were not arrested, according to Police Chief Shirlene Anderson—for extending their rally down State Street, well beyond the sidewalk in front of the abortion clinic that police say their permit allowed. This angered abortion opponents. "This is just unbelievable. This is police gone wild—we are dealing with a force that is absolutely renegade," Benham told The Clarion-Ledger after several of his protesters were arrested for taking their message south on State Street to the University Medical Center.
"The police in this town clearly stand against us in our battle," Benham told reporters. Operation Save America filed a restraining order against the city, claiming the city is enforcing the law unfairly against them—and said a lawsuit was close behind. In an e-mail alert sent out to supporters nationwide this Tuesday, Focus on the Family warned that Jackson, Miss., was not friendly to their side—and that police were disrupting their fight for the "preborn."
"[P]olice interrupted events around the city Monday and ordered them to stop, confiscated signs and arrested protesters. Officers said the group could not assemble without a permit," the e-mail stated.
That same day, police ordered away some abortion-rights demonstrators near the embattled clinic because they had no permit to rally in that area. Meanwhile, police told pro-choice demonstrators organizing a counter-rally at the State Capitol that they could not gather on the city sidewalk across the street from Operation Save America, and could only collect on the capitol lawn if they put down their signs.
Anti-Racist Action member Jerry Bellow called the city's response to sidewalk demonstrations "outrageous."
"I've attended more than 250 demonstrations all across this country, and in no other city or small town in America have I seen cops demand that we have a permit on a sidewalk, even if we're not blocking it," Bellow said Tuesday, adding that the city required a permit for any demonstration involving more than three people holding signs.
City Attorney Pieter Teeuwissen says that the city has only been enforcing local laws. "They've got every permit they've asked for," Teeuwissen said. "They think they ought to be able to protest on any sidewalk anywhere. They feel they shouldn't need a permit."
Teeuwissen says the city was already being lax when it did not enforce permit violations by abortion opponents when they swamped State Street, and argues that it takes only a few minutes to get a permit because the city waived the 30-day requirement for filing.
Police Chief Shirlene Anderson had called a press conference for last Thursday to brief media on how the city would handle the protesters this week. However, she canceled the briefing without notice.
NOW volunteer and Jacksonian Neola Young said she wasn't ready to give a verdict on treatment by law enforcement. "We'll see how the police treat the other guys when it's our turn to occupy the (Capitol) steps this Wednesday," Young said.
Watch jacksonfreepress.com for updates to this story, and view five galleries of protest photos of both sides.
Previous Comments
ID

66653

Comment

Three people holding a sign on a sidewalk requiring a permit????? This sounds like a statutory fossil from the Civil Rights Era. I hope the ACLU or someone files a suit to have the ordinance declared unconstitutional (which shouldn't be too hard to do)!

Author

Philip

Date

2006-07-25T20:29:07-06:00
ID

66654

Comment

It would keep the sidewalks clearer if they upheld it, ya know. :D

Author

Ironghost

Date

2006-07-25T20:42:18-06:00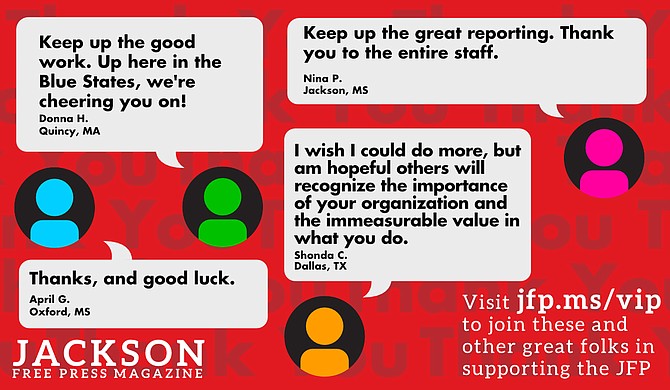 Thanks to all our new JFP VIPs!
COVID-19 has closed down the main sources of the JFP's revenue -- concerts, festivals, fundraisers, restaurants and bars. If everyone reading this article gives $5 or more, we should be able to continue publishing through the crisis. Please pay what you can to keep us reporting and publishing.