Just how bad of a newspaper is The Clarion-Ledger? A hint comes three-quarters of the way into Executive Editor Ronnie Agnew's "end of the year" column (Jan. 1, 2006). The paragraph is about Mayor Frank Melton:
"What will he do next? We media types have a 'no duh' confession to make. Newly crowned Jackson Mayor Frank Melton will keep reporter notebooks full and TV cameras humming during the next four years. And we like it. Gives us plenty to do, reporting and un-reporting the stuff Frank gives us."
My first thought was "Here he goes again." After a few years worth of screwy reporting, he's trotting out the old, "What, us? We're just a little ol' newspaper that reports this stuff " disclaimer, letting everyone know that they don't plan to take any responsibility for the state of the crime dialogue in Jackson. "And we like it," Agnew writes. "Gives us plenty to do, reporting and unreporting the stuff Frank gives us."
It was pointed out in a discussion of Agnew's column on the JFP's Melton blog that, perhaps, if "Frank" is giving them bad "stuff " then maybe The Clarion-Ledger should invest in their own reporting and not wait for Frank's releases.
Of course, what's worse is the stuff that The Clarion-Ledger is just sitting on. Make no mistake. Mr. Agnew may not take this responsibility seriously, but the fact remains that the "paper of record" for Jackson has a democratic obligation to this community to get the story right and report it fully.
But when it comes to the paper's coverage of the city of Jackson and Frank Melton over the past year, The Clarion-Ledger has failed us in that responsibility on two fronts. First, they made editorial decisions to sensationalize crime during the previous administration's tenure. Second, they've omitted from the record some important tidbits that, institutionally, The Clarion-Ledger knew about Melton during the 2005 mayoral campaign. First, the crime reporting issue. In late October, Morgan-Quitno (morganquitno.com) released its annual round-up of its "most dangerous" cities and metro areas.
While the M-Q report can be fundamentally flawed—they tend to lump violent and non-violent crime to build their "dangerous" picture—it's something that's used all across the country (usually by newspaper columnists) to gauge progress in a city's crime-fighting efforts—or to lambaste an elected official the columnist doesn't like.
The numbers for Jackson this October were promising. Jackson dropped from its 2003 "most dangerous" city ranking of 14th to its 2004 "most dangerous" city ranking of 28th. It left the Top 25 altogether and ended up well behind a number of southern cities of similar size (including Richmond, Va., which the daily held us as a model for Jackson recently).
The Clarion-Ledger, according to a search of its online archives and the Lexis-Nexis database, has yet to make a single mention of the 2004 ranking.
That wasn't true when the number was worse. Last year, Eric Stringfellow wrote a column entitled "Chief Crows Too Early on Crime Stats" and then went on to harangue Chief Robert Moore, in part using Morgan-Quitno as his bludgeon. The previous year, Stringfellow had used the 2002 report to, well, take down the city administration as a whole, beginning his piece: "Sobering. That's the best way to describe greater Jackson's ranking as one of the country's most dangerous areas."
But the drop this year? The Clarion-Ledger hasn't even reported it. Not in a news story, not in an opinion story, not in passing in an "end of the year" column. Why not?
My guess is that, as an institution, The Clarion-Ledger is so invested in the idea that the previous administration was incompetent when it came to fighting crime that it will literally ignore evidence that anything went well on that front during the Johnson administration. The new ranking—or the fact that murder dropped 31 percent in the first six months of 2005—just doesn't fit the narrative that The Clarion-Ledger has decided its reporting should fit.
Also contrary to The Clarion-Ledger's narrative is its own institutional knowledge that Frank Melton—at the beginning of his short tenure as director of the Mississippi Bureau of Narcotics—had leaked an internal personnel report to the newspaper. In a subsequent defamation lawsuit by the men named in the memo that turned out largely false, Melton eventually admitted this summer that he'd lied when he denied to the court leaking the memo to The Clarion-Ledger. The court, in response, issued summary judgment against him, and the case is now in the penalty phase.
Not only does The Clarion-Ledger now refer to Melton's involvement in this case without mentioning the fact that they're also named in a companion lawsuit, but something more shocking is also true—The Clarion-Ledger endorsed Frank Melton without reporting and acknowledging something serious that, institutionally, they knew about him—he had lied to a court in Meridian. Indeed, they hardly registered that the case was going on during the campaign.
What Agnew should have written is a column apologizing to its readership for its convoluted approach to covering Melton and its decisions to keep things that it knew about the case out of the limelight. The fact that the newspaper was also part of a companion lawsuit is no excuse for it to abdicate its responsibility to report what it knew about the case.
To top it all off, Agnew wrote his end-of-the-year column at the end of an extraordinary news cycle in which the Melton administration has (1) released partial crime statistics, (2) threatened to withhold all crime statistics, (3) suggested that it might end COMSTAT altogether, and then (4) said that it would release some crime statistics but only through a non-governmental watchdog group that lists Melton as an "emeritus" member on its letterhead.
During that same week, Chief Anderson even brought up "perception" with the City Council, "The percentage of crime (in Jackson) is not bad, but every time you look in the media that's the perception: that there isn't any good in this city, that everything here is some type of criminal element."
Rings oddly familiar, doesn't it? It sounds a lot like what Chief Moore was saying last year—and the two years before—when he was roundly criticized and ridiculed by The Clarion-Ledger for even using the word "perception." At that same time, he instituted weekly COMSTAT and began community policing initiatives that, at least by the measurements available, appear to have resulted in a 24-percent decrease in crime on his watch.
But what do we get from Mr. Agnew to round out this extraordinary year of gaffs by the C-L? A "hey, we're only reporting the news, not making it," excuse.
Well, I ain't buyin' any of what you're sellin', Ronnie. The Clarion-Ledger has a responsibility to this community to get the story right and help citizens get solid and complete information, whether or not "Frank" gives it to you.
You need to admit your own mistakes, fully report the newspaper's involvement in the Meridian case, call the mayor on his mistakes, demand the crime stats and public-records releases, and start acting like a daily newspaper.
I don't care how much fun you have following the Frank around.
Previous Comments
ID

71221

Comment

I had a strong urge to scream, "YOU DAMN RIGHT" after reading this column.

Author

Lori G

Date

2006-01-05T09:40:54-06:00
ID

71222

Comment

Todd, you nailed it... You nailed something I think many of us feel and have expressed repeatedly in rant after rant. Excellent job for making it clear and to the point!

Author

kaust

Date

2006-01-05T16:29:12-06:00
ID

71223

Comment

In contrast to Mr. Agnew's approach, here's here an excerpt of an editor's note from 1999 by then-Clarion-Ledger executive editor David Petty: Pursuing the whole story Recently, in this space we talked about the Principles of Ethical Conduct that have been adopted by all newspapers of the Gannett Co., Inc. One of the principles that we are committed to is: "Seeking and reporting the truth in a truthful way." To effectively do that, one of the things we must do is be persistent in pursuit of the whole story. Obviously, there will be some days when we will have a report that is less than the full story. Space, time, the availability of outside sources and newspaper resources will all play a part in the completeness of the article that we give readers. Telling the whole story commits us to keep trying to get it. As an example, The Clarion-Ledger did not have the complete story on the City Council bribery cases when it first broke the story, but few would fault us in our pursuit of the whole story. In fact, many of the facts reported in this newspaper were news to the prosecutors. So, to get the whole story you keep after it. You keep it before the readers. You develop "update" columns which we have in The Clarion-Ledger and other devices to not let incomplete stories die. Truth will emerge Walter Winchell, the famous late syndicated columnist, once said: "The theory of a free press is that the truth will emerge from free reporting and free discussion, not that it will be presented perfectly and instantly in any one account."

Author

DonnaLadd

Date

2006-01-07T18:05:37-06:00
ID

71224

Comment

BTW, where *is* that Ledge editorial (followed by the Orley, the Stringfellow and then, a couple of weeks later, Hampton smoothing it over a bit) lambasting the chief for making a statement about crime "perception"??? They tried to scrape Chief Moore's skin off with a razor blade everytime he went near the word ... but what's going on now? Hypocrites.

Author

DonnaLadd

Date

2006-01-08T21:04:47-06:00
ID

71225

Comment

What I can't help wondering is exactly what is going on behind the scenes. At first blush, the C-L's behavior (bashing one chief for talking about perception, and then giving the next chief a pass on the EXACT same issue) seems irrational. But I'm always reluctant to accept that behavior is truly irrational. There's almost always a reason, good or bad, moral or not, for the things people do. Is it as simple as the C-L being in debt to Frankie for the leak he provided them with (and perhaps other similar favors through the years)? Or is there something deeper going on? After all, any debt to Melton would explain why they're going easy on him, but not why they were so hard on the Johnson administration. It would be easy to cry "racism" and leave it at that, and I'm not saying that's not going on here. But I'm interested in the functions that this particular expression of racism is serving for those who are engaged in it. Hmm. Best, Tim

Author

Tim Kynerd

Date

2006-01-17T12:44:55-06:00
More like this story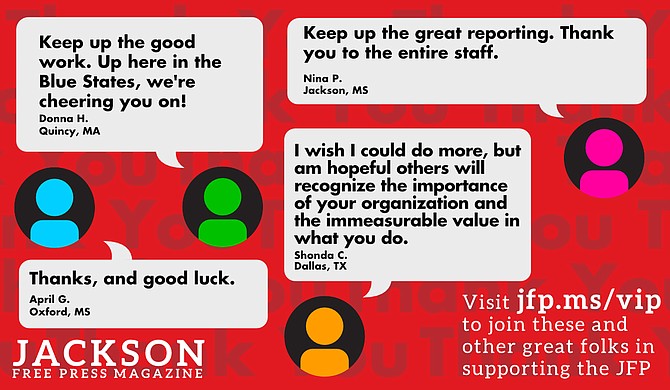 Thanks to all our new JFP VIPs!
COVID-19 has closed down the main sources of the JFP's revenue -- concerts, festivals, fundraisers, restaurants and bars. If everyone reading this article gives $5 or more, we should be able to continue publishing through the crisis. Please pay what you can to keep us reporting and publishing.