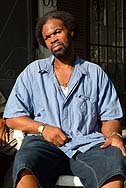 People living in Jackson may always remember 2006 as the year when Melton melted down. It's not all we'll remember about this year, of course. Renovation began on the King Edward, along with a host of downtown developments including the Capitol Green project and Farish Street. The city passed a badly needed bond for Jackson Public Schools. Heck, even the Democrats finally screwed their caps on straight and won an election.
Nevertheless, in the events of the past year, Melton's meltdown looms large. At the beginning of the year, Melton had unparalleled political capital, but that was before we learned that crime had surged. It was before Melton tore (rather than shredded, you see) public records requests and dragged the city through a pointless lawsuit. It was before the Jackson Free Press' Donna Ladd conducted her breakthrough interviews with Melton, illuminating a side of the mayor few voters had ever seen before. And of course, it was before Melton was indicted on six felony counts and two misdemeanors.
We won't spill any more ink on Melton here, because like a meteor streaking across the sky, Melton illuminates the darkness. Many figures we hardly knew at all are now familiar, if still enigmatic. Others, like Evans Welch, were simply in the wrong place at the wrong time. For different reasons, the people below have intrigued us during 2006. We can hardly imagine what 2007 has in store.
Mayor Frank Melton
Enough said. (For now.)
Sarah O'Reilly-Evans
The city attorney made news this year for collecting an additional $45,000 from the convention center bond through a crafty clause she placed in her employment contract, as first reported by the JFP. City Council balked at the payment, and several members said they couldn't remember ever seeing the clause. Although negotiations are ongoing, according to Council President Ben Allen, thus far O'Reilly-Evans has refused to return the money, going so far as to suggest that City Council is prejudiced against her because she is an African American woman. There is good reason to think that this fight had something to do with the resignation of Administration Director Peyton Prospere, who was seen as one of the level-headed bulwarks of an unusually political administration.
O'Reilly-Evans has also been one of the most vocal enemies of open government. She has said that open-records requests are a waste of taxpayer money, and her office has rejected requests on the slightest pretense, often by misapplying the "personnel" exemption in the Public Records Act. Requests have sat in her office unfilled for weeks while she has complained to the media about all the extra work the media have given her. Here's a suggestion for avoiding public-records requests: Be open. An open government does not have to worry about records requests because an open government keeps the public informed without having to be asked.
Evans Welch
Ordinarily, the public would have paid no attention to Evans Welch, 45, but in ordinary times, the mayor does not smash up a duplex with the help of police detectives and teenagers. According to witnesses, Welch was minding his own business at the modest duplex his parents rented for him on Ridgeway Street when Melton told him to clear out or else. To his credit, Welch refused. As a result, he was arrested and his home was completely destroyed by Melton and posse.
When he was released, Welch spoke out with the same defiance, telling the Jackson Free Press what Melton and the rest of his entourage had done on Aug. 26. In the months since, Melton's attack dogs, namely Stephanie Parker-Weaver and Bob Hickingbottom, have argued that it was right for Melton to destroy Welch's home because it was a "crack house." Never mind that no one has ever been able to present evidence that drugs were sold from the house. Never mind that police found nothing more in the house than a pipe. (The Mississippi Supreme Court recently refused to hear the city's appeal of Judge Tomie Green's decision forbidding members of city government from calling Welch's residence a crack or drug house.)
The "crack house" argument has fallen flat on its face because of Evans Welch himself. He is not a member of the country club, and he has had his share of run-ins with the law, mostly for petty offenses like shoplifting. Still, it was plain to see that Welch was no "thug." He has schizophrenia, and his parents once had him committed to Whitfield for evaluation and care. He was a troubled adolescent, and he has struggled with addiction and mental illness all his adult life. But he is not violent, and none of his arrests, which include possession of small amounts of marijuana and cocaine, involved dealing drugs.
Melton's supporters have said that he is doing what he has to do, but in this case, that's obviously not true. Evans Welch was not a threat that excuses breaking the law, and Melton did not make the neighborhood safer by leaving Welch homeless, his few possessions stolen. All Melton accomplished that night was inflicting catastrophic damage on his own public career. There is a certain justice in that.
Ben Allen
Council President Ben Allen has tacked back and forth between the Melton administration and its opponents this year, which was the main reason why he was elected to the presidency in July. To put it simply, Allen was the only candidate that both sides would tolerate. He's had his fair share of quarrels with Melton, particularly over the mayor's determination to demolish the King Edward Hotel and his decision to fire John Waits of Winston and Strawn, who was a very successful lobbyist for the city in Washington until Melton replaced him with relative novice Marcus Ward. Melton has since lost both fights—last week, renovation began on the King Edward, and City Council welcomed Waits back as the city's lobbyist.
On the other hand, Allen has often deferred to Melton, as when he delayed a City Council investigation into Melton's actions on Ridgeway Street. He has also displayed ambivalence toward public scrutiny and comment. He maintains "decorum" at City Council to the point that members of the public are not allowed to criticize council members. He has also urged City Council into executive session, where the public is excluded, more often than his predecessor, and he tried to forbid council members from discussing those meetings until he was told that effort was illegal.
These concerns aside, Allen is a champion of development in Jackson. He seems to regard Melton's actions and the surrounding public furor as irritating distractions from that work. He also seems exasperated by the Melton administration's disdain for due process and the routines of good government.
Barring a shakeup in the membership, Allen remains the swing vote on a deeply divided City Council. We'll see where he leads the council in 2007, when fights over confirming Fire Chief Todd Chandler and payments to temporary workers will resume.
Deuce McAllister
While an injury back in October 2005 left him unable to contribute to his team, the New Orleans Saints, it left Lena, Miss., native Deuce McAllister plenty of opportunity to think about the ways he could contribute to his home state. This year, not only has Deuce McAllister Motors, the former Holman Jaguar dealership, been successful, but the running back has been a key player in advancing the highly anticipated renovation of the King Edward Hotel downtown. Although there hasn't been much visible evidence of the King Edward's renaissance since the groundbreaking in August, remediation work has finally begun, and the vision of a grand, restored King Edward has finally become tangible. It's going to happen. McAllister expects that revitalizing the King Edward and downtown Jackson will bring a vibrant economy back to the capital city. At a time when some folks seem to think downtown is fit only to be a ghost town, McAllister has foresight and high expectations for the capital city—and boy, can he run the ball.
Dale Danks
Melton attorney Dale Danks may be the most intriguing person in Jackson. Sometimes called "the shadow mayor" by insiders for the power he still holds in city government, he is, by many accounts, Melton's closest adviser. He does not hold an office, but his experience and contacts ensure that his influence reaches into many corners, from disputes over open records to directing the mayor's largely rhetorical crime summit.
When the year began, Danks was helping the city clear its backlog of legal cases, and he went so far as to bill the city attorney's office for work he had never been approved to render. He wrote a settlement with Clarion-Ledger attorney Leonard Van Slyke to settle that paper's open-records lawsuit against the city even though he was not the city's attorney. There was even talk of Danks—who was nothing more than Melton's private attorney—becoming public-records czar, until the Jackson Free Press along with the city attorney's office urged City Council to reject Danks' wildcat settlement.
At the same time, Danks has been a vocal proponent of open government. He had a heavy hand in crafting the finest memo Melton has ever issued, one that demanded transparency from city government.
Danks has been less evident in city government since his client/protégé Melton was indicted on six felonies and two misdemeanors, not to mention the growing number of civil suits. Melton seems set on giving Danks plenty to do. There is a question that intrigues us: What's in it for Danks?
Faye Peterson
The Hinds County district attorney is a strong woman and prosecutor, whom many people either love or hate. In 2006, she really captured headlines—earning respect from many and ire from others—by indicting Mayor Frank Melton on several counts following his alleged Aug. 15 rampage of a Ridgeway Street duplex. Before the indictments, Melton had tried to discredit Peterson by bringing a convicted felon, Christopher Walker, to a press conference, where he hurled personal and unsubstantiated insults of her at the TV cameras, but the attempt did not derail Peterson's investigation of Melton's gun-toting ways. Peterson, a native of Jackson's inner city is unique for being one of the few black women lead prosecutors in the country.
Stephen Stamboulieh
In a way, Stephen Stamboulieh was Melton's worst nightmare, because he was both a weapons enthusiast and a law student. The first of six felony indictments against Melton all began with Stamboulieh asking Melton to cite the law that let a mayor carry a weapon onto school property. Stamboulieh obeys the law prohibiting weapons on school property even though he thinks it is wrong, and he wanted to know why the rules didn't apply to Melton.
Six months later, Stamboulieh was set to be the star witness against Melton in his weapons trial, before the mayor copped a plea and was sentenced to a year of probation. Stamboulieh was never able to testify in court, but the Jackson Free Press had an exclusive interview with him after the trial. He told us that he saw Melton's weapon, even though Melton's bodyguard remembered just before the trial that Melton had left his weapon in the car. We learned that Stamboulieh took and passed a lie detector test, while at least one witness for the defense failed to show up for his.
We might not agree with all of Stamboulieh's ideas about guns—arming every law-abiding citizen does not sound to us like a prescription for making society more safe. However, he proved himself a thoughtful, courageous citizen who stood up to tell the truth, and that is all we can ask of anyone.
Kim Wade
This radio talk-show host on WJNT is unique for being a black conservative adored by listeners of all races. While his views on certain issues—such as public education and Democrats—is textbook conservative, in 2006 he continually angered many conservative supporters of Mayor Melton by being one of the few local pundits who would speak out against the mayor, his illegal crime-fighting tactics and the minimal oversight given to his mentoring strategies. Listeners grew accustomed to Wade often saying about Melton: "I'm not going to be proved wrong about this." So far, he hasn't been.
Shirlene Anderson
Police Chief Shirlene Anderson is intriguing largely because the citizenry knows so little about her—other than the fact that she seems devoted to Mayor Melton. The chief was one of his deputies at the Mississippi Bureau of Narcotics and was deposed in the Meridian lawsuit against Melton about her role in a false memo he leaked to The Clarion-Ledger disparaging several agents. She also seems afraid of facing the public and seldom holds press briefings, in sharp contrast to her predecessor who met the press once a week. Until Melton was banned from using the Mobile Command Center, she spent many evenings out on his infamous "raids," where the officers on board referred to her as "Mama" when she wasn't looking—presumably because she was there to keep them out of trouble. Or, in the case of Melton, to try to keep him legal. Apparently, she was not aboard the Command Center the night that Melton is accused of ripping up the Ridgeway Street duplex. She also achieved a certain local cocktail-party notoriety after JFP editor Donna Ladd reported in April that the chief had cleaned up Melton's kitchen before accompanying Melton and his entourage on a Sunday night raid.
David Banner
Home-grown rapper David Banner (born Lavell Crump) is a hero, or a traitor, depending on whom you ask. He is a hero to many in the inner city where he regularly gives large amounts of money, as well as performances to benefit young people in need. He even beat FEMA to the Gulf Coast with truckloads of supplies after Katrina. And he touts his love for Mississippi in videos and performances, even as he burns a Confederate flag on stage. Still, like many rappers, he makes a lot of money off raunchy and sometimes-misogynistic lyrics. He was in the headlines again late in the year after he was asked to the state Capitol to receive a humanitarian award from the National Black Caucus of State Legislators. In response, some conservative legislators protested the award—leaving Banner once again in the news to talk about his music and the challenges facing young African Americans.
Albert "Batman" Donelson
The attention of Mayor Frank Melton left Donelson one of the more intriguing Jacksonians in 2006; after he was acquitted of murder charges, the JFP ran an exclusive cover interview with him—an issue that became one of our most popular to date. Much of the intrigue with Donelson centers around that feud with Melton, which Donelson said originated with Melton for no reasons that he can figure out. Donelson heads the list of young black offenders whom Melton openly reveals a vendetta against, as opposed to the list of young black offenders he tries to help even as they commit more crimes. Donelson and his rap partner, Willie Hardge, originated the name "Wood Street Players" for their musical act before he went to prison the last time, he says, and they are now trying to re-start their musical career. In the interview, Donelson says that he has no interest in breaking the law any longer, although others in the community dispute whether that's true. At any rate, hearing the name "Batman" gets people to listen.
Christopher Walker
Christopher Walker is a young accused criminal whom Melton does like, and has taken into his home to live between prison stints. He was also Melton's "star witness" against the Donelsons last spring, but the prosecution had to remove him from the witness list after learning that Melton had given him a "Frank E. Melton" credit card, a car, an apartment, money and may have allowed him to handle weapons, even as Walker was on probation. Walker's most intriguing moment came in front of TV cameras at Melton's side when he blurted out unsubstantial allegations about D.A. Faye Peterson's sex life. Melton had called the press conference to blame Peterson for the Donelsons' acquittal. Soon afterward, the feds revoked Walker's probation because he failed 11 drug tests during the period of time that he was living in Melton's home.
The Rev. Ross Olivier
It is not every Sunday that a preacher in a largely white Mississippi church stands up and preaches against the war in Iraq. Or for taking a deliberate approach to racial reconcilation. Or takes a leading role in helping raise money to pay back a young black man falsely imprisoned for 12 years. But that is exactly what the South African reverend of Galloway United Methodist Church does. He is a forceful and passionate leader of progressive Christianity and of plain old doing the right thing. Olivier openly admits that he spent time in prison for stealing money from a company he worked for in a previous life; while in prison, he went down the Road to Damascus, so to speak, and found religion—the kind of religion that would eventually lead him to play a pivotal role in ending apartheid and in South Africa's Truth & Reconciliation effort. Now, he's brought what he's learned to Mississippi, and we're better for it.
Previous Comments
ID

80780

Comment

Really great summary of some of the people who have made this a VERY interesting year! Would enjoy reading additionally about Danks and Byrum and Jackson. Decisions and Appeals rendered and filed after Danks, Byrum's Attorney, was allowed by this Administration full access to Jackson's Legal Department where presumably all of the City's records concerning Byrum are kept. Not to mention Melton's statements about Byrum during the last of his campaign and the first of his Administration. The City's interests were not well served, IMHO.

Author

ChrisCavanaugh

Date

2006-12-28T12:41:32-06:00
ID

80781

Comment

Channel 12 has just reported we have had 39 murders this year so far with 15 unsolved compared to 39 or 40 last year with only one unsolved. What's up with that? Did we stop Frank from solving them? "For the last ______ _______ time, Frank you're not a _______ certified police officer." How in the world did the sage and genius who critically exclaimed this avoid making the list?

Author

Ray Carter

Date

2006-12-28T13:14:11-06:00
ID

80782

Comment

Not so fast, Ray, the year isn't over yet.

Author

Brian C Johnson

Date

2006-12-28T14:13:06-06:00
ID

80783

Comment

I don't mean to make light of 40 murders a year, because that's 40 too many, but may I say how much safer I feel now that it's 40 and not 100, like it was 15 years ago. Whatever we think of Melton, let's keep that differential in perspective. Jackson is much, much safer than it used to be. Cheers, TH

Author

Tom Head

Date

2006-12-28T14:32:27-06:00
ID

80784

Comment

(Not as safe as it was during Johnson's second term, but still much safer than it used to be. And I don't mean this as a defense of Melton at all; truth be told, I don't think the mayor can have that much of an impact on the crime rate. It boils down to stuff like poverty, relative maturation of the drug trade, etc.; competent crimefighting can make things better and incompetent crimefighting can make things worse, but for the most part this is and always has been something beyond the mayor's control. I'm sure that if Kane Ditto could have done something about those 100 homicides per year, he would have. Cheers, TH)

Author

Tom Head

Date

2006-12-28T14:34:45-06:00
More stories by this author
Support our reporting -- Become a JFP VIP.
The news business has changed dramatically in the past year, and we need your help more than ever to keep bringing you important stories about Jackson and the Metro. Become a JFP VIP with an annual membership or you can Sign up as a monthly supporter. Thanks for anything you can do to empower our journalism!