The Oregonian had a fascinating story a few days ago about an Ethiopian woman whose employers (she was working for a family) basically made her a slave:
An impoverished Ethiopian woman who came to Oregon a decade ago seeking a better life working for a Salem-area doctor's family says that she was bullied and deceived into working 90 hours a week without pay.
Mulu Derbew, 32, contends in a federal lawsuit that she was lured to the United States by the promise of generous wages that would allow her to help her family in rural Ethiopia. Instead, she says she worked around the clock caring for children, cooking and cleaning for an affluent couple who kept her isolated and threatened her with jail when she asked for pay.

Read the rest here
Previous Comments
ID

108760

Comment

For everyone who thought that there was no longer a reason to continue the fight for civil rights, HERE IS YOUR WAKE UP CALL. See, human traffickers know they can't pull this stuff on Americans who are the descendants of slaves or other oppressed groups because we know too much. Therefore, they have to go overseas to find someone to take advantage of. I'm so glad that the restaurant owner stepped in to help the sister out, or else she could have spent the rest of her life in misery and still unable to help her family. I hope that she gets everything that is due to her - and then some.

Author

LatashaWillis

Date

2006-12-05T23:38:25-06:00
ID

108761

Comment

Someone didn't get the memo. Although it's interesting she's filing a federal lawsuit. I'd like to hear more about that story.

Author

Ironghost

Date

2006-12-06T08:16:12-06:00
ID

108762

Comment

Mulu needs some underground connection so the doctor can be beat up too. I wish her the best at getting recompense.

Author

Ray Carter

Date

2006-12-06T09:46:18-06:00
ID

108763

Comment

Slavery....Ethopia....surely you just. How bout those born and raised right here in the USA and are being treated in this fashion. NOt to minimize this sister's struggle. But it always gets me when we fall in love with these stories....Oprah calls, story covers everywhere and yet right here in America....our own black americans get treated to the same degree. But now it's worse because an unexpecting woman from another country got it. What about the rest of us. Americans are always so willing to save and rescue and we miss our own brethen right here in this country who need saving for trying so hard to be the savior.

Author

Queen601

Date

2006-12-06T10:16:24-06:00
ID

108764

Comment

interesting point, Queen. I know this is kind of unrelated, but something that has been messing my brain up lately is how much money we spend on the war, etc., when so many people here don't have health care. Not having health care really does affect so much, and it is baffling to me why the United States of America can't figure this out. But, back on track, I think the United States in general might always be more turned outward (is it a reputation thing?), but I don't know. I still think this story is fascinating and deserves any media attention it gets because the white guy doctor family doing the damage are the same types who abuse those domestic-born slaves you're talking about.

Author

casey

Date

2006-12-06T12:18:01-06:00
ID

108765

Comment

Yes mam, I certainly agree... I'm not saying that this story doesnt need to be publicized...it does. I just get so darned fed up with American's always wanting to be considered the people who have the answers, the means, and just the overall good will to make sure everyone is great in the world. Well, the folk in this country, right down the street are being done the same way. It's ridiculous. And yes, the war itself is a big bag of bullcrap! How in the world is it still being justified at this point. Healthcare....please! I can't afford to live, get sick or die and I work every day and pay taxes to this "fair country". I can't get a car loan, I cant buy a house, I can't do anything....yet my president is over in another country acting like he has to save those peopel and they don't even have an issue or see the problem that he's saving them from. How bout we service the people who were born here. People who have been mistreated and made to be less than worthy to live or vote. How bout Bush or any president to come focus on the fact that African Americans in this country have NOTHING and the more we try to get it, the more the rich whites find ways to keep us from it. Sorry if my frustration had to come out on this particular story, but it is what it is. I am just flat out sick of this and this story just opened the festering sore....SORRY.

Author

Queen601

Date

2006-12-06T12:41:48-06:00
ID

108766

Comment

I don't even have words...and that saying alot for me....interesting I haven't seen this on CNN but of course they hyping the Oprah/50 cent beef!!!

Author

Panther

Date

2006-12-06T15:06:00-06:00
ID

108767

Comment

Queen: why can't you get a car loan or house?

Author

Kingfish

Date

2006-12-06T15:44:27-06:00
ID

108768

Comment

Kingfish....if I had time to go into it without contemplating suicide or something along those lines, i would. :-( Hit me up on my e-mail if you're inquiring to gain information or to offer information....if not, it's too much of a burden to discuss. [email][email protected][/email] ---hit me.

Author

Queen601

Date

2006-12-06T17:00:29-06:00
ID

108769

Comment

Queen, I see your point as well. but, don't we all live in this world? I don't understand how people draw boundaries in this life, period. Isn't one life just as worthy as another? And, I believe poverty in Africa takes on a whole nother defintion than poverty in the USA. Either way it sucks that it continues and people are expected to live through this. I feel you, truly, but the Ethiopian woman needs to be heard. peace.

Author

jmac

Date

2006-12-09T00:05:27-06:00
More like this story
More stories by this author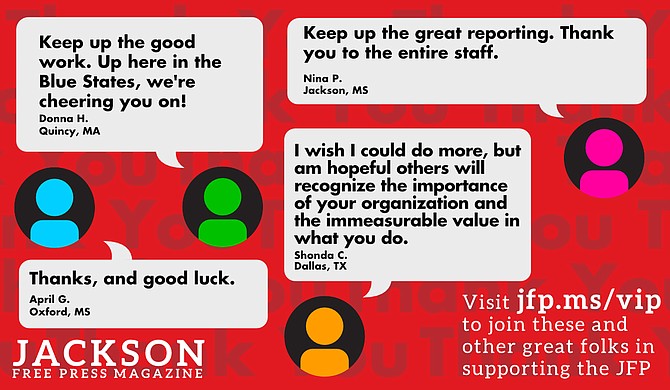 Thanks to all our new JFP VIPs!
COVID-19 has closed down the main sources of the JFP's revenue -- concerts, festivals, fundraisers, restaurants and bars. If everyone reading this article gives $5 or more, we should be able to continue publishing through the crisis. Please pay what you can to keep us reporting and publishing.