Four years ago, I came to Jackson to go to Millsaps excited mostly about one thing: getting away from my mother. My mom had always been pretty lenient—pushing my curfew back much later than any of my friends, letting me go visit friends in New Orleans for a whole month—but I couldn't wait to get away.
Something funny happened while I was in college, though. For all of my attempts to avoid phone calls and visits, my mother and I actually became best friends. While I was busy studying English and French, she and my father were eternally moving—from Alexandria, La. to Monroe, La., to Oklahoma, then finally to Kansas. She keeps inching farther away physically from me, but I have never felt closer to her than I do now.
When I went to visit her in March, she had a whole itinerary planned for me. Since I first became a vegetarian, she has reminded me at least once a week that what I really need is a good steak, but when I got to Kansas, our freezer was filled with, basically, every single special vegetarian entrée the local grocery store must have carried. She had soy milk—chocolate and plain—and at least a dozen special Boca products (far too many to eat in my short visit there).
She took me shopping for thrift store clothes, even though I know she'd prefer me to look a little, well, matched, when I dress. When I asked her why she was willing to acquiesce to all of the this, she said simply, "I'm trying, Casey."
She is trying, which is more than many parents do. And all she asks for in return (besides a trip to the Wichita, Kan. tea room) is a trip to the Oprah Winfrey show to meet Barry Gibb. Most people have long forgotten the "importance" of the Bee Gees, but it's my mother's life-long dream to meet them. For years, she has reminded me of a program that Oprah does called "Harpo's Hookups" in which Oprah (ahem, that's Harpo backwards) makes your dreams come true.
My mother has sent me letters in the mail with just "Harpo's Hookups" written inside. She leaves messages on my answer machine that say simply: "I've got two words for you: Harpo's Hookups." Or, I'll check my email, and there are 14 new messages, each message a single letter or mark of punctuation from my mother that spells out Harpo's Hookups.
All I'd have to do is write Oprah a letter and tell her how wonderful my mom is. But I haven't been able to do this, yet. Not because my mother isn't wonderful—she is. She has supported me through all my weird hairstyles and bad relationship choices (And she's become an advocate for gay rights after I told her in 2002 that I'm a lesbian. That's much more parental dedication than many LGBT kids can claim.).
She has called my friends to find out what songs I'm listening to so she can make me a mix CD of all of my favorite music. She has bought me tiny presents every time she goes to the grocery store, claiming that things "just jump in (her) buggy." She has been saving dollar bills for the last year, stuffing them in teacups so she can give me a good graduation present.
I've never kept secrets from her. There just hasn't been a reason to. No matter what I have told her, she seems to understand. And if she doesn't at first, we grow together and come to understand each other more.
Of course we have fought plenty, too—over politics, my eating habits, my mismatched clothing or other reckless decisions.
But that isn't why I can't write the letter to Oprah. I haven't written it yet because, secretly, I like hearing her nag me about it. When I come into work, and my co-worker looks at me, baffled, and says, "Some woman called and says she has two words for you," I know it's my mother, calling from Kansas to tell me she loves me in her own, special, kind-of-weird way. Her reminder of "two words" has become my favorite thing to hear.
I can't write the letter to Oprah because it always comes out wrong. I've sat down a few times, aiming to write Ms. Winfrey and tell her about the wonderful woman who sends me packages with pocket money, mixed CDs and magazines she knows I'd never buy for myself. But every time I begin this letter, my words seem futile. How can you match 22 years worth of love and strength in a single letter?
Recently, she was diagnosed with breast cancer, and in June, she will have a double mastectomy. I've returned to this letter to Oprah, wanting to reward my mother somehow, but the difficulty in crafting such a letter is still present. There's something very solidly felt in my heart, but none of it translates into language.
I've heard that women often feel de-womanized after losing their breasts, but my mother has stayed strong. When I call her up, crying, scared that I'm losing her, she responds with strength—a resounding, "I'm too mean to die, girl."
Though I tend to think my mother is stronger than anyone, each of the mothers spotlighted in this issue possess their own individual flames, too. Interviewing their children, my intern Brittney and I have been moved to tears at times as kids recount the ways in which their mothers have been so necessary. Watching the Taylor family crowd into a picture, all six of them smiling at their mother, who they each have admitted is the reason they have succeeded in life, Brittney started crying.
There is just something so touching about the bond between a mother and her children. This is something too moving to be explicable. It's the reason I can't write to Oprah, and it's the reason most of the people we interviewed begged for more than a paragraph's worth of space. (Robert Langford almost insisted on writing 500 pages)
But, in the face of such a loss for words, all I can say is, mama, I've got (three) words for you: I love you.
Or, as the Bee Gees sing, you're "more than a woman" to me.
Assistant Editor Casey Parks edited this issue while Donna Ladd took a much deserved semi-break. As of this weekend, Casey is a graduate of Millsaps College.
Previous Comments
ID

69926

Comment

While I'm passing out props, I want to heap praise on my assistant editor Casey Parks, who just graduated from Millsaps and is now FULL TIME for us. She put out this entire issue, while I was off blogging and such last week. Happy graduation, Casey, and excellent column about yo mama. I laughed, and I criedóthe highest for an opinion piece. ;-D

Author

DonnaLadd

Date

2005-05-04T20:12:12-06:00
ID

69927

Comment

Casey, :)

Author

emilyb

Date

2005-05-04T21:44:48-06:00
ID

69928

Comment

look how sweet my editor is... guess that "time off" (errr blog time) did the body good

Author

casey

Date

2005-05-05T09:12:30-06:00
ID

69929

Comment

Happy graduation--what a wonderful article, and what a wonderful issue of the JFP! I admire so much what you and Donna are doing here. When writing this good comes out of Jackson, it really gives me hope for the city. Cheers, TH

Author

Tom Head

Date

2005-05-06T02:26:37-06:00
ID

69930

Comment

Casey!! That was great!! You should send that in to OPRAH!! Just in case you are wondering...this is Brittney, your intern...

Author

brittney

Date

2005-05-06T12:43:07-06:00
More stories by this author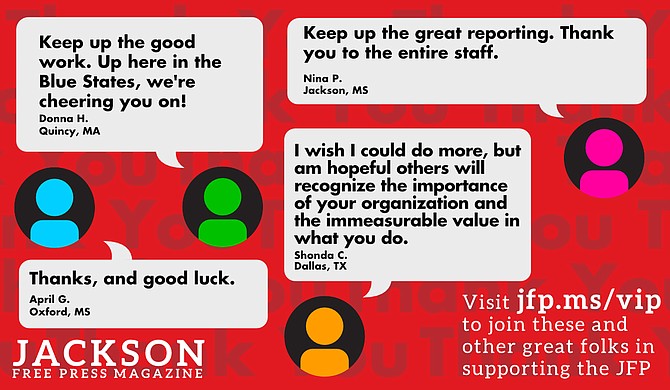 Thanks to all our new JFP VIPs!
COVID-19 has closed down the main sources of the JFP's revenue -- concerts, festivals, fundraisers, restaurants and bars. If everyone reading this article gives $5 or more, we should be able to continue publishing through the crisis. Please pay what you can to keep us reporting and publishing.