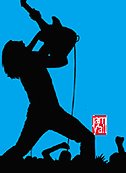 Make no mistake: The 2005 Jubilee!JAM will be markedly different from those in years past. Music coordinator Charles Abraham says the 19th JAM will be "more of a street party with really good music" than just "a big concert that happened to be on the street."
The JAM's journey from East Capitol Street to the emerging entertainment district on Capitol Street was not without its problems. Hamstrung by growing debt and mounting costs, the 12-member board of directors of the Jackson Arts and Music Foundation—the braintrust behind the JAM—decided to make a radical change to try to save the city's largest musical festival and one of its largest tourist attractions.
Some people questioned if Jackson even needed a festival any longer, as cities from Birmingham to New Orleans have been struggling financially with their own city festivals. But Jackson Arts and Music Foundation President John Lawrence had no doubts about how vital JAM is to Jackson and sees it as an important piece of a much larger puzzle.
"The Jackson Arts and Music Foundation was founded to create a festival that would be a celebration of Mississippi's music, art, culture and heritage in downtown Jackson," he says. "For a long time, it was just the JAM, but last year we had events that focused around food, events that focused on music in smaller venues, and in the next few years you're going to see regular events" other than just the annual music festival.
Event coordinator Holly Lange echoes Jackson's need for JAM, and for this year's rebuilding efforts. "There are people who only come downtown one time a year, and that's for JAM or St. Paddy's Day," she says. "We're doing what we're doing for a very good reason—to bring back JAM bigger and better."
In its early planning stages, though, JAM seemed poised to fall to a few more tragedies. The hip-hop community almost boycotted due to the lack of any hip-hop artists in the JAM line-up. But final revisions to the line-up added popular emcee Kamikaze as a head-liner. The M.A.P. Coalition is also hosting several hip-hop acts in the JFP Lounge at the Brew Pub.
Though the hip-hop problem was easily solved, there are still some changes to this year's JAM lineup. Noticeably lacking from this year's JAM is the big-name headliner—a Bob Dylan or Run D.M.C.—that went along with the old festival. Though many Jacksonians have lamented the lack of a big name, Lawrence says a headliner is not necessary. "We're not concert promoters, and have no intention of doing that—we're not in that business. We're not trying to make money promoting a concert," he says. "We're trying to create as a diverse and welcoming atmosphere we can for a celebration in our capital city. It's centered around music, but we're trying to provide as much as we can to as many different people we can. We don't feel we have to do that through one marquee act, or genre."
Abraham adds that the switch to smaller, more local bands was intentional. He says the board "went after music that we knew had a following in the local community," especially focusing on "fun party bands." A major concern was finding popular music at a reasonable price, as Abraham says the JAM only had about "about one-sixth of what our music budget has been in the past several years."
The smaller budget had JAM looking locally and regionally for music, with an unintended benefit. In years past, local music has played a diminishing role on the line-up in favor of national acts. Joshua Clark, the singer and guitarist of local favorites Living Better Electrically, relishes the opportunity to showcase his band's music to a wider audience. His band is headlining in the Hal & Mal's Red Room Saturday night. "We have a great fanbase, but this gives us a chance to play for people who can't get into bars to see us, and to people who don't go to bars to hear music," he says.
The focus on local and Mississippi-based music helps fulfill what Lawrence calls JAM's true mission—to provide "a celebration of summer, of downtown, and of music, in the heart of our capital city."
Local singer/songwriter Eric Stracener is also playing this year's Jubilee!JAM, and is looking forward to the experience from a different standpoint—as a father. "My 4-year old son may get to come watch me play, and see other bands, too, and he wouldn't get to do that if I was playing a regular club date," he says.
Patrons of this year's JAM will be able to see more than 30 bands for only 20 dollars if they buy the weekend pass. There will be four outside food vendors in addition to the full regular menus at Martin's, W.C. Don's, and Hal & Mal's. A total of eight bars will be on the premises, with two outside selling beer and liquor, four at Hal & Mal's, and one each at Martin's & Don's.
Terry Butler, owner of W.C. Don's, thinks that JAM's move is a smart one. "It's a real no-brainer for me," he says. "To me, it makes more sense that JAM is here on Commerce Street, where we have a real entertainment district, with three bars and restaurants, then downtown. It's just natural that if we have a music festival, it should be here."
That synergy was important to Lawrence as well. "For the first time in 19 years, the businesses that are in the festival site are active participants in the festival. This year we have three or four bars and nightclubs that are going to directly benefit from and participate in the festival. You'll be able to eat and drink what these place have to offer on any other day, and there are people that are going to come that may have never been to these places."
Where before there were only outdoor stages, now there are additional indoor venues—a festival first. There was never an indoor area open to the public before, let alone a place to sit down, eat and enjoy a little air conditioning. "Let's be honest," says Lawrence, "it's late June, and it gets hot. Everyone needs a place to cool off."
For many people, the changes in JAM really don't matter—they just want to know who's playing. Millsaps College student Amanda Simpson, 21, has never been to JAM before, but plans on attending this year. "I'm really excited to see the North Mississippi All-Stars and the Dirty Dozen Brass Band, " she says, "but I'm also excited to see new bands I've never heard of."
At the end of the day, Abraham says that "the concept isn't to make (this JAM) better then any other JAM—the concept is to try rebuild Jubilee!JAM, to have a festival that is paid for before the gates open, and that will set us in position to have the best JAM ever next year for the 20th anniversary."
A FEW OF THE FEATURE ACTS
by Lynette Hanson
FREE SOL
This genres for this Memphis-based group are listed on Clear Channel's New Music Web site as rap, hip-hop, rap rock, funk/soul/R&B, rock—that pretty much says it all. I've only heard them once, live, at the Crossroads Film Festival's After Party at Hal & Mal's. Energetic, creative, soulful, rhythmic voices and sounds for today filled the Red Room. I haven't been sorry that I bought the CD they had for sale that night, although I don't play it when I have my Mama in the car. I even got on their e-mail list and just got the June Newsletter on Tuesday. Naturally, they mention their appearance at Jubilee!JAM, on Hal & Mal's South Stage at 9:30 p.m., Fri., June 17. Come then and you'll find out whassup, Free Sol style.
THE DIRTY DOZEN BRASS BAND
Once I had read JC Patterson's review of this band in the JFP's coverage of the 2004 Jubilee!JAM, I could hardly wait to walk the block from our tent to the other side of the Governor's Mansion for their show. I was expecting horns and rhythm and a beat that would be impossible to resist. Did they ever deliver! My skin felt as though it was literally jumping around on my body, loosing itself from the rest of me, as I stood against the solid wall of a building stage left. Before long, I was dancing by myself for all I was worth. What a sound. What energy. What professionalism. What a treat they they'll be outdoors again, on Friday night at Hal & Mal's South Stage, around midnight. Come. Let's let it all hang out with The Dirty Dozen Brass Band.
THE BLUZ BOYS
People, if you dated and then enjoyed married musical fun to the live shows of Mississippi's Bluz Boys, you owe it to your children to turn them on to this funky bunch of musicians and singers. And since they're performing at 6:30 p.m. Sat., June 18, on Hal & Mal's North Stage, you can do just that. Put that little kid up behind your neck, Daddy, and groove to the rhythm and blues while Mama twirls the other one around in the stroller. Everyone will be all smiles, loving every second of the beat on the street. Hey, singles, you come on, too. You won't want to miss the show. After all, you might meet that special someone and start your own tradition.
THE VAMPS
The Vamps are just plain classy, jazzy, groovy, sexy guys. Their music speaks for itself, full of rhythm and bass and lead and sax and horns and vocals that cause you to feel good all over. I've only heard them play indoors, so this will be a neat treat to catch them at 10:45 p.m. Friday night on Hal & Mal's North Stage. It'll be hot, but you won't care, and I wouldn't be surprised to find some of the guys in short pants. They do work up a sweat putting out their signature sound—premier soul-jazz, as they call it on their Web site. Amen to that. If you've never heard this group use its wiles to seduce you, to transport you to an e-zone—easy, now I mean entertainment—then get down to Jubilee!Jam and partake.
THE BARKAYS
I'm here to tell you, the BarKays put on a stage show, y'all. These guys, many of them, if not most of them, my age or older—that's getting heavy into the gray-haired stage of life—can rock and groove and funk better than some youngsters who think it's all about explicit lyrics instead of straightforward funky music with a beat that grabs hold of you and won't let go. Think "Soul Finger," "Shake Your Rump to the Funk," and the sounds of the group that backed the Black Moses, Isaac Hayes—on "Shaft" and "Hot Buttered Soul" and "To Be Continued." When I saw them at the Mississippi State Fair, at least 10 years ago I suppose, the BarKays became electricity in human form. Get your shot of their juice at 8:45 p.m. on Fri., June 17, on the Hal & Mal's North Stage.
More stories by this author
Support our reporting -- Become a JFP VIP.
The news business has changed dramatically in the past year, and we need your help more than ever to keep bringing you important stories about Jackson and the Metro. Become a JFP VIP with an annual membership or you can Sign up as a monthly supporter. Thanks for anything you can do to empower our journalism!