A resident of the historic subdivision Presidential Hills, 30-year-old Latasha Willis, was recently watching the television debut of a David Banner video when she was surprised to see the name of her neighborhood flash across the screen. "I think the song was basically talking about Mississippi, and it caught my eye," says Willis, who has lived for 26 years in the neighborhood that sits on the edge of the city. "You would see him rapping, and it would switch to a word. I saw Tougaloo College, and I saw Presidential Hills across the screen."
With this tidbit of trivia in mind, it's intriguing to notice how a Saturday morning in Presidential Hills resembles the portrait of neighborhood life in Jackson that Banner has captured in his videos. A group of children sit clustered in the shade of a front porch and begin to braid one another's hair, while a man wearing a white tank top pushes a manual lawnmower across the front yard. The glint of the summer sun highlights the neon colors accenting the neighborhood, whether it reflects off one home's electric green trim or the metallic pink coating of a car in a nearby garage. On the street, a duo with cocked hats ease to a halt before one of the numerous four-way stops in the area; the smoke from their cigarettes forms thick, white clouds in the interior of what might be a Cadillac on 22s.
While Presidential Hills is easily an archetype for many Jackson neighborhoods, it is the neighborhood's unique history that begins to set it apart. Developed in the late 1960s by the realtors White, Dickerson & Gilmore, Presidential Hills is the only residential neighborhood created for blacks before desegregation was instituted by the state. In keeping with their vision of a dignified community for middle-class income families, the developers constructed 1,100 one-story brick homes in a location that safeguarded the area from inner-city crime.
"It was a nice neighborhood," recalls Mary Williams, who moved into her house on Abraham Lincoln Boulevard in 1975. Like most of those who flocked to Presidential Hills in its early years, Williams was attracted by the growing prestige the neighborhood was garnering through word-of-mouth. "The homes were well-kept, peaceful, no crimes in the area."
As a parting gift to the community they had created, the realtors donated 179 acres of land to be developed into the neighborhood's first park. Today, it still sits as an open expanse on Flag Chapel Road, beckoning to the 20-somethings who regularly use its basketball and tennis courts.
No one is sure who came up with the concept to christen each street with the name of a former U.S. president, but as Johnny Crisler, the current president of the Presidential Hills-Natchez Trace Homeowners' association, points out: "It was a really neat idea. It brought with it enthusiasm."
ONGOING INFILTRATION
Not only has the history of Presidential Hills been shaped by the interactions between its residents, it has been greatly influenced by the actions of the homeowner's association. Even those vaguely familiar with the area seem to also be aware of the association's ongoing infiltration into every aspect of the community's affairs. Crisler says its policy has always been to "get things done for the community enhancement—to be sure to stay beautiful, to be sure that the homes are well kept."
And it has been there since the beginning. The first meeting of PHNTHA was called to order on December 5, 1970, and sought to resolve conflicting ideas on how residents should decorate their yards for Christmas. The solution: Each household would resurrect a 4-foot Christmas tree 10 feet from the curb, with the lighting on from 6 p.m. to midnight each evening. On the day after Christmas, the lighting would be suspended.
Since then, the homeowner's association has dealt with more serious issues, such as setting up a bus route within the neighborhood, making sure that each home meets the standards outlined by the Federal Housing Administration, and organizing an effort to reverse the damage caused by flooding in the area.
Crisler, who has been president for 18 years, has overseen many projects. A man of medium stature with curly hair, Crisler embodies the characteristics of many successful politicians: He is articulate, diplomatic and also happens to carry the favor of the people.
"I think he's concerned about the neighborhood, and (is) overall a good person," remarks Linda May, who has lived on LBJ Drive for the past 32 years. She occasionally attends the homeowner's association meetings that are held every third Sunday of the month.
The Presidential Hills' neighborhood association works frequently with Jackson City Council to "to do some things to be sure that some of our tax dollars return to our community," as Crisler puts it. It's not surprising to learn that the voting rate here is very high—at least 50 percent of the residents vote in city elections. The neighborhood has used the ample opportunities it has been given to realize its political efficacy.
In the early 1980s, Presidential Hills was able to form a coalition with the city, state and federal government in order to receive funds to pave the Bogue Chitto creek that was causing flooding in the area. This success was followed up by negotiations with the Triangle Water Company, who in exchange for promotion by the city of Jackson, gave Presidential Hills another 179 acres of land that was developed into the neighborhood's second park.
"The (second) park is used more, by not only this community but other neighborhoods, even Clinton," says Crisler. "It's one of the nice parks, and there's a real hope that we can develop that into a real super park that North Jackson would be proud to be a part of using."
PRETTY SAFE HERE
Though the association is very active, some residents feel it has failed to adequately address the increase in crime that has been occurring since the 1980s. Many credit that as the only way in which the neighborhood has radically changed.
"They come together and talk about it (at association meetings), but nothing really gets done," says Williams, who experienced the vandalization of one of her cars about 10 years ago. When asked whether she alerted authorities to the matter, Williams seems filled with hopelessness: "Nothing would get done about it, and we really didn't know who to blame for it."
In 2004, Presidential Hills experienced 246 crimes, ranging from auto theft to assault. Precinct 3, which the neighborhood is under, also encompasses havens for crimes such as Medgar Evars Boulevard, which is notorious for homicide, making the crime within Presidential Hills—mostly burglary, the residents say—seem petty by comparison. Perhaps this is why there is such varying opinion on whether the neighborhood is safe overall.
For instance, even though May has had her home broken into three times since she moved in,
she still maintains that "we feel pretty safe here."
Earnestine Harden, who lived on LBJ, says, "I wouldn't think we just got widespread crime out here." She supports her claim by saying, "I don't hear very much that goes on out here that's not going on in other neighborhoods."
On the other hand, Catherine Willis, who also resides on LBJ and is the mother of Latasha Willis, flatly states that she does not feel safe and no longer takes walks in the park "since there's been so much going on."
In fact, none of the residents interviewed said they used the first park, which Latasha Willis says is used mostly by "single guys who want to play basketball."
Williams agrees, saying, "The first park—that's the original park—there's a lot of fighting and crime in that park. It doesn't get used as much now as the second park because they play ball up there. There's a lot of cursing going on, and you don't want to be around that."
Harden says she doesn't use either park, because she's "getting older, and it's hot," but adds that "my grandchildren usually go up (to the second park) and swim and use the playground."
OWNERS V. RENTERS
So exactly how did crime become a problem for Presidential Hills? "It was basically a quiet neighborhood. You hardly heard about a whole lot of problems. To me, it was in the late '80s when things started to change," Willis remembers. "It seems like during the '80s, people who would move in from different neighborhoods would mention that they were from Chicago. Some of them were probably influenced by the things that occur in Chicago … and I think that some of that spread."
Others begin to wax philosophical on the differing mentalities of those who choose to rent instead of buy their homes, pointing out that many homeowners who moved during that time decided to rent their property.
"When we first moved here, there weren't any renters," says May. "Now there are renters, and they're not keeping up the property."
This may explain why, when driving through the neighborhood, there is a visible distinction between lawns that have been freshly manicured, while others are overgrown.
Crisler also supports the idea that there is more integrity associated with homeownership. When the Jackson Housing Authority bought several houses in the neighborhood a few years ago, they were originally intended for rent. But Crisler says he steered the JHA "in the direction of letting people buy their homes instead of renting, because that takes away from the building property (value) around them. They don't have a true feeling of ownership and the pride that goes along with ownership. It's kind of a mentality, 'Well, if something happens to this house, I'll just move onto the next house.'"
A WHOLESOME APPROACH
The neighborhood association is also taking a stab at crime from a completely different angle—by focusing on providing a wholesome upbringing for the children in the neighborhood (a smart strategy considering a large percentage of the 5,000 residents are children), which will hopefully route them to better prospects.
"We think that would help to control some of the crime. When you have facilities that will deter those kind of dangerous activities into positive, that's what we would like to see happen," says Crisler. "We are hoping one day that we can develop an activity center in our park that will allow children to play basketball, (with) any kind of activities that they want to. We know that's kind of long range, but we do foresee that that can happen."
For now, the kids in Presidential Hills have several ways to spend their free time. In addition to the pool, jungle gym and other park activities available at the new park, the community center runs several enrichment programs to expand on what is covered at the schools (most attend John Hopkins for elementary, and Callaway or Provine for high school). During the school year, kids can be dropped off and find help with their homework or practice for the ACT. During the summer, kids 7 to 12 can participate in a program based around extracurricular activities and educational speakers.
Kids are also treated annually to the neighborhood's biggest event, Family Day. When Crisler speaks of this event, he beams as if he were talking about his own children.
"That's coming up in August. We have parades, we have political leaders, we have local bands that perform in the park, we have DJs, we have all kinds of food, staged activities, choirs. It's just a conglomeration of activities going on out in the park that day," he says.
Family Day allows Presidential Hills—along with the political leaders it so closely allies itself with—to celebrate the successes and the progress that it has made. It reiterates what most of those who have lived in the neighborhood for more than 30 years say remains: the neighbors they have known all along.
"Everybody looks out for everybody," Williams sums up.
Presidential Hills Directory
Callaway High School
601 Beasley Road
601-987-3535
Jackson Police Department
3rd Precinct
1475 Northside Drive
960-0003
Provine High School
601-950-5401
Presidential Hills Daycare
6810 Presidential Drive
601-366-8065
Presidential Hills Neighborhood Association
3719 John F. Kennedy Blvd. .
601-982-9987
Neighborhood Parks
1000 Flag Chapel Rd.
3971 Flag Chapel Rd.
SIGNS OF LIFE IN PRESIDENTIAL HILLS
Flag Chapel Road Parks: The first, an expanse of 179 acres of land, boasts a basketball court where guys play daily. The second has a community center and a pool.
Neighborhood Association: The Presidential Hills-Natchez Trace Homeowners' Association "gets things done for the community enhancement."
Voting Record: At least 50 percent of the residents vote in city elections.
The Community Center: During the school year, kids can be dropped off to find help with their homework or practice for the ACT. During the summer, the Center hosts extracurricular activities.
Previous Comments
ID

78503

Comment

I certainly donít want to offend any of the good folk residing in Presidential Hills, but I think the article is quite modest in contrast to what has actually occurred in this once greater community.

Author

K RHODES

Date

2005-07-06T19:09:16-06:00
ID

78504

Comment

have you ever lived there????

Author

skipp

Date

2005-07-07T15:36:05-06:00
ID

78505

Comment

Hi, To K: Since I live in the Hills and was one of the people interviewed, could you let me know what you have heard? Maybe I can verify it for you.

Author

LatashaWillis

Date

2005-07-07T20:50:08-06:00
ID

78506

Comment

just tell me if youve lived there b4 your statement seems to imply that you know otherwise so just tell me your former street name i grew up on LBJ

Author

skipp

Date

2005-07-08T09:11:38-06:00
ID

78507

Comment

skipp, I grew up on LBJ too. I'm there now, as a matter of fact. What block did you live on?

Author

LatashaWillis

Date

2005-07-08T09:21:33-06:00
ID

78508

Comment

Skipp have you ever lived there???? Some family, but not I L.W. To K: Since I live in the Hills and was one of the people interviewed, could you let me know what you have heard? Maybe I can verify it for you. Iíll start with the droves of people that aimlessly loiter about in front of curbs that are often not theirs. How about the guns being discharged randomly, as well as the many houses in dire need of maintenance.And none of this is hearsay, but rather it is all first hand accounts. With that having been said, there are still lots of beautiful homes and people in the ëHillsí! Now if you will, verify for me there being a gated 'part' of the 'Hills' that has upsacle homes?

Author

K RHODES

Date

2005-07-08T12:11:01-06:00
ID

78509

Comment

I think it would be cool to do follow-up coverage by sending a reporter to Family Day in August.

Author

Steph

Date

2005-07-08T12:29:59-06:00
ID

78510

Comment

Presidential hills was a nice place to live...back in 1985. It's since become a gangland hangout and drug haven. I don't sleep next to windows at my aunt's house on queen eleanor.

Author

Jocelyn

Date

2005-07-08T13:58:00-06:00
ID

78511

Comment

Iíll start with the droves of people that aimlessly loiter about in front of curbs that are often not theirs. How about the guns being discharged randomly, as well as the many houses in dire need of maintenance.And none of this is hearsay, but rather it is all first hand accounts. This is true. Oddly enough, a larger number of these loiterers don't even live in the neighborhood. My mom thinks it's because JPD doesn't know the area well enough, so they know they can hide over here. I think it's because people don't say anything for fear of retaliation. As for the maintenance, that is also true, which I brought up during the interview. I showed Sophia some of these homes myself. As for the random shooting, I have heard it, but whoever these clowns are mostly do it during the 4th of July and New Year's Eve. Years ago, I heard that some people believe that shooting a gun in the air on New Year's Eve brought good luck. I don't know where that came from... Now if you will, verify for me there being a gated 'part' of the 'Hills' that has upsacle homes? The part in question is the Natchez Trace Estates, but there is no gate surrounding them. I don't sleep next to windows at my aunt's house on queen eleanor. Queen Eleanor is not in Presidential Hills. It's in the Queens, where most of the streets are named after queens. A lot of the people who loiter here come from there since they're the next neighborhood over.

Author

LatashaWillis

Date

2005-07-08T16:08:23-06:00
ID

78512

Comment

front end 6724 discharging gunfire randomly housing needing maintence sounds a lot like pearl too gangland hangout and drug haven please describe or explain these terms

Author

skipp

Date

2005-07-08T16:42:13-06:00
ID

78513

Comment

Hey everyone. This is a bit off topic, but I wasn't sure where to address this issue. I live in Hattiesburg, but I've been in Las Vegas for about a month with my dad, and I will be here for at least another month. I miss reading the JFP and have been catching up as best I can on the net. I was wondering: is there any way to have individual copies of the paper sent out of state? Probably not, but I'd appreciate any feedback. Thanks.

Author

dustin

Date

2005-07-08T17:29:26-06:00
ID

78514

Comment

Dustin, go to the home page and click on the "Subscribe to JFP" link. skipp, I stay on the "circle", right by Flag Chapel Road. When did you go to school? I might know you. As for the gangland drug haven stuff, that could be said about the Queens, Shell Rock, etc. However, I wouldn't use the words "land" or "haven". From what I have seen, these guys are more open with loitering than anything else, but it depends on where you are in the Hills and who your neighbors are. There really isn't a sweeping generalization to apply to this area.

Author

LatashaWillis

Date

2005-07-08T17:55:31-06:00
ID

78515

Comment

I was GLAD to see this article in JFP after other conversations on this board had dogged my neighborhood. I grew up and still live in Presidential Hills on Franklin D. Roosevelt Dr. To me, the Hills is not as bad as those who don't live here think. As for the comment about this article being modest, I completely disagree. It highlights the positive and the negative about the Hills just as there are positives and negatives about every neighborhood.

Author

thirdcup

Date

2005-07-09T21:20:33-06:00
ID

78516

Comment

Presidential hills was a nice place to live...back in 1985. It's since become a gangland hangout and drug haven. I don't sleep next to windows at my aunt's house on queen eleanor. That's news? A friend of mine (no longer with us, I'm sorry to say) moved away from Queen Eleanor after a gun was fired into her house. If her son had been at home in his bed, he could have been shot in the head. This was in the early 1970s. Best, Tim

Author

Tim Kynerd

Date

2005-07-10T02:33:07-06:00
ID

78517

Comment

Growing up in the Hills, the Queens had a bad reputation among the residents here. However, I did not take what I heard as the gospel truth since I didn't live there. As a matter of fact, I know quite a few decent, hardworking people who stay there. I don't want to stigmatize an entire neighborhood because of a few. For instance, the young man who was allegedly involved in the shooting of six people at the Upper Level lives on my block, but most of the people on my block do not behave that way. Unfortunately, he comes from a family that has had issues for decades. Some of the little twerps put firecrackers in our mailbox. Grrrrrr...

Author

LatashaWillis

Date

2005-07-10T08:36:08-06:00
ID

78518

Comment

well anywho i went to john hopkins then northwest then i moved in 93 and went to siwell but you know for some reason Jackson just has to be as dangerous as others want to make it its the capital its my home and i love it even the stuff i hate about it... but the smearing that is done on a neighborhood like the hills or the queens forces me to ponder why if some dummy does what dummies do it all falls on the entire neighborhood but when i or many of us that have graduated from college and more of us have graduated college than murdered someone...they wont say well presidential hills or the queens is home to many college graduates and working people, they say we're a drug haven and a gangland ignorance

Author

skipp

Date

2005-07-11T07:39:44-06:00
ID

78519

Comment

Skipp, sounds like you're a little younger than me. :-) Anyway, the media doesn't help. They make it a point to tell the address where the crime occurred, and they always interview people with rollers in their hair and missing teeth. I say people should see the neighborhood for themselves instead of just going by what others say. They'll be surprised how quiet it can be over here. The most noise you usually hear are kids playing or a lawn mower running.

Author

LatashaWillis

Date

2005-07-11T10:00:32-06:00
ID

78520

Comment

and i must openly admit that i dont think its an ideal neighborhood but it is not a "drug haven" or "gangland" but whats wrong with being young

Author

skipp

Date

2005-07-11T12:48:45-06:00
ID

78521

Comment

There's nothing wrong with being young itself - it's all up to the individual as to behaving himself or herself. When a teenager commits a crime, the focus shoud be on the teen instead of the whole neighborhood. It is possible to make it through the teenage years without spending one night in jail, experimenting with drugs, etc. I am an example of that. It's about upbringing and self-control.

Author

LatashaWillis

Date

2005-07-11T15:17:33-06:00
ID

78522

Comment

well say the same its cool that you did it but i have never gone to jail (knock on wood)

Author

skipp

Date

2005-07-12T16:35:28-06:00
More like this story
More stories by this author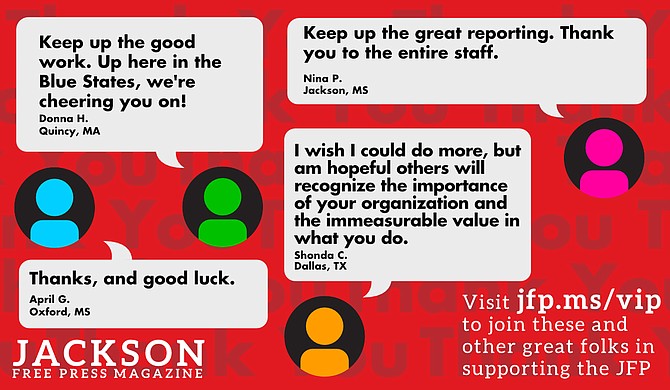 Thanks to all our new JFP VIPs!
COVID-19 has closed down the main sources of the JFP's revenue -- concerts, festivals, fundraisers, restaurants and bars. If everyone reading this article gives $5 or more, we should be able to continue publishing through the crisis. Please pay what you can to keep us reporting and publishing.