At 17 years old, Tommy Croft has grown up faster than most youth his age in Mississippi. Croft conveys the pain and genuineness in his story about his dark past with his large brown, puppy-dog-sad eyes. Croft wears the same street clothes as many other African-American youth in this state do: an orange bandana and a backward orange-and-white baseball cap with an over-sized baseball jersey. The dark hair on his upper lip is just enough to make him look a few years older.
Croft recalls his first run-in with the law while sitting at a table in Jay's Restaurant in Monticello, where Croft is currently living. He says: "The first time I had to go to youth court, I was charged with receiving stolen goods and joyriding (with someone who did not own the car), and that's why I had to go to Columbia. Later I was charged with the attempted sale of drugs on school premises. I got a year and six months for that in Oakley." He was 13 when he first was locked up.
While at the Oakley Training School in Raymond, Croft got in more trouble for allegedly running through the campus screaming, which added two months to his sentence, and another time for allegedly throwing up gang signs, which added six more months to his sentence. Croft openly admits he used to be a part of a gang, but says he is no longer active. Croft was put in Ironwood—the maximum-security lockup unit at Oakley—for running away with a fellow cadet. He was there for the remainder of his stay, except for the last two weeks.
Croft says his stay in the training school made him more of a criminal. "Oakley actually made me worse. I started smoking weed. Now that's all I was smoking when I got out, but Oakley definitely made me worse. Nine out of 10 of the kids that are up there go back up there for a third or fourth time. [Oakley] is this little prison facility where you get locked up in all day. You have a bathroom in your cell, but sometimes they would cut your water off. That's cruel because if you had to use the bathroom, then you would have to smell that all day while you were in there."
He recalls some of the harsh treatment he observed at Oakley, "One time when I was up there I saw this staff member stomp this boy to the ground for no reason. I also remember this one staff member on duty that told me he would beat the hell out of me a few times."
Worse though, Croft speaks of when he was at Ironwood, the prison within a prison. He remembers a staff member refusing to let a guy use the bathroom, so he decided to defecate in his blanket and throw it outside the cell because he couldn't bear it. "I think he actually got about three more months for that, and he had been holding it all day long," Croft said.
'Cruel and Unusual Punishment'
It would be easy to shrug and say that Croft's stories are merely the tales of a trouble-making kid who doesn't like to be punished—in fact, that's a typical response to descriptions of problems in the state's two training schools. But, in 2003, parents, children and their advocates who had complained for years of severe abuses in the training schools got a credibility boost: the Bush administration's Department of Justice issued a scathing report that backed up their stories, and then some, accusing the state of Mississippi of providing "cruel and unusual punishment in violation of the Eighth Amendment of the U.S. Constitution" to the state's young residents who get in trouble for "crimes" as mild as skipping school.
Following an investigation of Oakley Training School in Raymond and Columbia Training Facilities in Columbia, the U.S. Department of Justice findings showed that the harsh conditions described by Croft are only a taste of what Mississippi's youth offenders have to bear when they are fulfilling their sanctions set by the courts in these "paramilitary" training schools. The investigation, conducted in response to three federal lawsuits filed against these training schools, found that boys and girls—most in for non-violent crimes and most children of color—were being hog-tied, beaten, choked, shackled to poles and even locked into cold, dark cells while naked for hours.
DOJ found that every level of care for these youth was deficient—from safety to education, sanitation to medical care. "Youth at Oakley and Columbia are confined in unsafe living conditions and receive inadequate treatment and care," the DOJ wrote to then-Gov. Ronnie Musgrove. "These conditions exist mainly because of staff shortages, ineffective management and supervision at every organizational level within both facilities, and the facilities' emphasis on control and punishment instead of rehabilitation."
"Oakley and Columbia do not have any system of positive incentives to manage youth," DOJ added, "but instead rely on discipline and force. This leads to unconstitutionally abusive disciplinary practices such as hog-tying, pole-shackling, improper use and overuse of restraints and isolation, staff assaulting youth, and OC (pepper) spray abuse." The DOJ found not only 8th Amendment violations, but infringements of the children's due process rights, as well as their 1st Amendment freedoms, which were violated because they were forced to engage in specific religious activities; if they refused, they would be disciplined.
Equal Opportunity Abuse
Both schools are currently under the auspices of the state's Department of Human Services. Children who get in trouble for a variety of offenses—from truancy, to getting into a fight on a playground, to more serious violent offenses—can be sentenced to these two facilities by youth court judges. Indeed, a 10-year-old child who gets in trouble in North Mississippi can end up doing push-ups in the hot sun hundreds of miles from his family.
The Oakley Training School, also called the Mississippi Youth Correctional Complex, rests on 1,068 acres of land contained by fields in Raymond, half an hour south of Jackson. Oakley is designed to operate as a paramilitary program for delinquent boys, ages 10 to 17. DOJ found that the majority of the boys at Oakley were there for property offenses, lower-level drug possession or auto theft.
The Columbia Training School, located in Columbia, two and a half hours northwest of Gulfport, is also on 1,000 acres of land in an unfenced rural setting. Columbia, with many housing and administration buildings surrounding a big field in a lodge setting, has a medical clinic, a school with a cafeteria, a chapel and a gym. Columbia primarily houses girls aged 10 to 18, but is used to incarcerate boys, aged 10 to 15, as well. Most of the girls at Columbia are there for "status offenses"—minor or misdemeanor-level problems such as probation violations or contempt of court. Juvenile justice experts usually recommend that children who commit status offenses be placed in non-secure settings.
However, like Oakley, Columbia uses a paramilitary model for both girls and boys. DOJ is quick to emphasize that paramilitary programs are not, on their face, unconstitutional when used in juvenile facilities. However, it said Mississippi uses paramilitary-style punishment on four segments of the population "particularly unsuitable" for the harsh discipline: younger boys, girls, youth with developmental disabilities and youth who are emotionally or physically fragile.
DOJ outlined instances of school staff using archaic restraints, such as hog-tying and pole-shackling boys and girls, "without penological justification." At least 10 to 15 children of both genders reported being placed face down on the floor with their hands and feet drawn behind their backs and shackled together like, well, hogs. Girls were typically tied in this way for three-hour periods and often left in totally dark rooms.
One girl, who did not follow orders during military exercises at Columbia, was pole-shackled—meaning her arms and legs were handcuffed and shackled around a utility pole for three hours as the rest of the unit performed military exercises around her. Another girl was treated similarly for talking in the cafeteria. Still another because she did not say, "Yes, sir."
Girls at Columbia who "acted out" or showed suicidal tendencies were placed in the "dark room"—a locked, windowless isolation cell, which is often kept pitch-black. The room has nothing in it but a drain in the middle of the floor that the girls can use as a toilet. Most girls are stripped naked when placed in the "dark room." One girl reported being left there without clothes in the dark for three days and forced to eat all her meals there.
The DOJ also found that Columbia girls were often not given access to basic necessities, such as water, personal hygiene items and bathroom facilities, and were not provided adequate mental health services.
Reversing the Abuse
The DOJ report was graphic and chilling in its detail when it went public; more shocking was that this abuse was known by state lawmakers and children's advocates for many years. But nothing had been accomplished to help these children caught in a system where no one wanted to take responsibility. The lawsuits came about because the state—unlike other states that the DOJ had targeted—refused to settle the suits with the government and take responsibility for repairing an antiquated and broken juvenile-justice system that had been in place since Jim Crow days. For one thing, the state didn't want to pay for expensive improvements; for another, many staunch conservatives believed that these troublemakers deserved all the tough love they could get. This was a bipartisan problem with a bipartisan history.
But the lawsuit and the 2003 report got the attention of the state. It was designed to; the federal government was bearing down: "Fix this problem now." Mississippi could no longer ignore its young offenders' rights. Then, during the 2004 legislative session, a coalition of advocates for children, civil libertarians and juvenile-justice experts came together to both demand action and to find ways to make juvenile justice make sense, and be affordable for the state.
Attorney Sheila Bedi is one of those advocates. She is on loan to Jackson from the Southern Poverty Law Center in Montgomery, Ala.; she is working with the Mississippi Center for Justice as an advocate to help lawmakers craft a solution to the training-school dilemma. "With proactive legislation, we can prevent states from dissenting lawsuits over conditions in juvenile facilities," Bedi said.
Bedi is representing a number of the young inmates in lawsuits against the state; she and other attorneys, however, have run into numerous roadblocks in gaining access to their young clients. She represents a 14-year-old, known as K.L.W., who was choked by an adult staff member at the Columbia Training School. The case, K.L.W. v. James, was filed in the United States District Court for the Southern District of Mississippi in April 2004. But K.L.W. was initially unable to meet with Mississippi Center for Justice attorneys due to the state's policy restricting visitation to counsel of record in youth court proceedings.
Only last Wednesday, Jan 12, a settlement was reached. The State of Mississippi has agreed to change its policy on allowing access to counsel at the state's two training schools. Now staff at the training schools will inform each child orally and in writing of their right to access counsel and the courts; they will help facilitate access by providing each child with a list of pro bono counsel; they will help the children contact counsel of their choice; and they will permit attorneys to visit with a child upon notice and with the approval of the child's legal guardian, youth court counsel or youth court judge.
"We're pleased the state will allow the young girls at Columbia access to their attorneys. After all, the DOJ found that these girls were most vulnerable to abuse and lived in the most inhumane conditions," Bedi said.
Fixing the Problem
While other lawmakers and lobbyists spent much of the 2004 legislative session fighting over Medicaid, education funding and tort reform, a coalition of lawmakers and children's advocates spent their time trying to hammer out a solution to the juvenile-justice crisis here. That effort has yielded the Juvenile Justice Reform Act of 2005, authored by Rep. George Flaggs, D-Vicksburg, that will come to the floor this session.
With 18 years of experience as a youth court counselor in Warren County, the loquacious and animated Flaggs is eager to deal with the state's problems with the juvenile justice system. "As I've said from the start, we need to legislate, not litigate. It will be cheaper and more effective that way," Flaggs said.
As part of his research, Flaggs visited both Oakley and Columbia, and he also visited Louisiana, Florida and Missouri to see new community-based programs in the states that have replaced monolithic, prison-type facilities such as Oakley and Columbia. Flaggs has introduced what he believes is a budget-neutral, comprehensive package that will provoke a dialogue that will examine the faults in our current system.
In Mississippi, he argues, court-ordered mandates into an unsatisfactory and poorly run juvenile-justice system ultimately end up costing taxpaying citizens even more money than well-run community-based programs would. The state currently shells out $89.04 per day per youth incarcerated at the training schools. The Mississippi Coalition for the Prevention of Schoolhouse to Jailhouse—a statewide group of educators, community legal and public policy leaders—says that once Mississippi settles pending lawsuits, the cost could rise to $287 per youth, per day. This is much, much more than is spent per pupil for public education in the state ($6,143 per pupil per year).
One way to streamline the costs and the services, Flaggs believes, is to take the juvenile justice system away from the Department of Human Services—which doesn't exactly have a track record of success here—and create a new Department of Juvenile Justice. Historically, the training schools have not always been under the DHS. They used to have their own board that reported to the governor and the Legislature; however, this was changed under Gov. Ray Mabus.
Flaggs also wants to change the names of the Oakley and Columbia facilities to the Juvenile Justice Centers at Hinds and Marion in order to rid the facilities of their old stigma. "If it has a state seal on it," he said, "it ought to represent the best the state has to offer, which is what we plan to offer the youth offenders."
"Right now, the kids are coming out of Oakley worse than they came in because of how they are not getting the proper rehabilitation they deserve," Flaggs added, echoing the belief of Tommy Croft and many other training-school alumni.
Flaggs warns that if the Legislature does not pass comprehensive reform this session, it is going to be more difficult, and more costly, in the longer run. "If we don't legislate, the court will litigate, and this will be less expensive than a court mandate. Just look at the Ayers settlements and the Medicaid settlements," he said.
Meeting Opposition
Still, opposition to the plan is strong. Rep. Virginia Carlton, R-Columbia, a member of the Juvenile Justice Committee, says that Flaggs' bill isn't ready for primetime just yet. "I would not anticipate the bill will pass as is because the youth court judges have just sent us a long list of changes that need to be made," she said. "When it comes time to vote, I'll just do what I believe is the right thing to do with the information I'm provided while using my background and experience."
Carlton has represented juveniles in youth court as a public defender, been a prosecutor for crimes of violence involving women and children, and trained law enforcement and social workers for forensics interviews for child justice cases at the Southwest Mississippi Children's Advocacy Center. She says she has worked years on "making the criminal justice system work more for them to protect them and not further victimize them in child abuse and rape cases."
One of the faults with the Juvenile Justice Act that Carlton points out is Flaggs' projected, rigid caps for the number of children each facility can have. Under the bill, the Center at Hinds (Oakley) could only house a maximum of 365 children by July 1, 2006, going down by 100 kids every year to a total of only 165 by 2008. The Marion center (Columbia) would decrease to 75 youth by 2008. According to Carlton, research needs to be done in order to see what the proper ratio for child-to-staff would be.
Carlton also doesn't trust the financial analysis. "I'm a cautious individual, and I'm waiting for a fiscal note to see the exact figures," she said. "We can't afford a new Department of Juvenile Justice right now. We are in a fiscal crisis with the budget and need to concentrate on getting out of debt first, but I am eager to study this and try and make some changes."
Flaggs and Carlton both agree that Oakley should only be for the worst offenders in the future and that the training centers should concentrate more on educating and teaching a vocation to the youth, while rehabilitating both the youth and their families. DOJ called education at both facilities—especially at Oakley where many students participated in no school work at all—"sorely inadequate" and emphasized that the children are entitled to adequate education and vocational training. Flaggs' bill would create a school district out of Oakley with certified teachers, so the children can stay longer and continue their education.
DOJ also found that youth offenders with mental disorders weren't being treated quickly, thoroughly or individually by mental-health experts—a problem both Flaggs and Carlton agreed should be fixed. The feds also warned that students with mental-health problems shouldn't be subjected to paramilitary-style discipline, which is the bedrock principle that has ruled both facilities, and Mississippi's mindset, for years. Carlton, who is an Army Reserve JAG officer and mother of three, is not opposed to the paramilitary component.
Bringing the Kids Home
One way to alleviate the flood of non-violent offenders into the training facilities is to not send them there in the first place. This may seem like an obvious answer—but it requires a major shift in the thinking of lawmakers and others in the state who believe that "bad" kids should be shipped off to training school (or "reform schools," as they used to be called).
"We would love to see both training schools eliminated," said Ellen Reddy, executive director of the Citizens for Quality Education, a member of the Mississippi Coalition for the Prevention of Schoolhouse to Jailhouse. Reddy said that young people with heavy offenses need a safe environment, just as the public does. She wants a "balancing act" to find out what is happening in the troubled children's lives. "The treatment and rehabilitation comes back to the communities because, ultimately, it comes back to the homes. We need to get away from punishment."
An alternative, which is working wonders in many states including Louisiana (see page 16), is to replace the mega-facility model with community-based programs—especially for children who have committed minor, non-violent offenses. And both Flaggs and Carlton believe this will save the state money—and it will keep "status" offenders from mixing with more violent children.
There are basically three types of community-based alternatives. A Day Treatment Center allows kids to attend school for six hours per day while getting counseling and participating in community-service activities a few days a week before returning home. In an Intensive Mentoring Program, each youth offender is assigned a "tracker" (usually a college student) who monitors the child's school attendance, behavior and performance. In a Home Detention alternative, a child is confined to only school and home with a curfew and is required to call in check-in times. This alternative allows for the child to receive counseling and family monitoring as well.
The coalition argues that community-based sanctions would only cost the state $23.08 per child, per day, and they have released many studies and statistics showing how much more effective these programs are in neighboring states.
But some critics of juvenile justice reform say community-based programs would be merely a slap on the wrist—and thus not very effective. Who's right?
The most compelling argument for these types of programs involves a study released by the National Institutes of Health that revealed that these community-based alternatives involve the families and communities and address the children's mental health needs more effectively than more antiquated models like training schools. NIH reported on Oct. 15, 2004: "'Scare tactics' don't work, and there is some evidence that they may make the problem worse rather than simply not working," adding that there is "no reason to believe that group detention centers, boot camps and other get tough programs do anything more than provide an opportunity for delinquent youth to amplify negative effects on each other."
Flaggs would like these programs to be in every county or district; his bill calls for at least every congressional district to have a community-based alternative to the training schools by July 1, 2010. Carlton balks at the cost.
Rep. Erik Fleming, D-Clinton, said: "I think Flaggs' bill is very important. It is a budget-neutral plan for now, but we would like to have community-based organizations in all counties. I strongly agree that we need to pull the juvenile justice system out of the DHS. We don't need to treat kids like criminals or train them to be better criminals by letting Oakley stay the way it is."
Even the most conservative lawmakers can see the point of community-based programs. Sen. Charlie Ross, R-Jackson, told the JFP just before Christmas: "In juvenile justice, one size does not fit all. Some juveniles do need to be put away and punished at Oakley; however, I believe that community-based programs are OK for some kids—those with minor offenses, that is."
Of course, not everyone agrees on the definition of the word "minor"—and the truth is that the children, for one reason or another, who end up in the juvenile-justice system have been in trouble of some sort.
Would Tommy Croft—who was charged with a drug offense and riding in a stolen car—be considered a minor offender who deserves the compassion of a community-based program over the military rigor of an Oakley? The answer is not yet clear, but this is a question for the state, and its residents, to ponder.
For his part, Croft doesn't have to worry about uniforms, handcuffs or razor-wire fences anymore, though. Attorney Bedi has helped him maneuver the system and get his home life back on track, he said. "I'm in the clear now, and I was off the papers as of Dec. 7." He's trying to get a fresh start. "I'm drug-free, and I'm trying to get my GED and trying to find a trade. I'm thinking about being an auto mechanic," he said.
Previous Comments
ID

77959

Comment

Eric Stringfellow writes about this in his Ledge column today: The starting point appears to be the Juvenile Justice Act of 2005, a 124-page bill filed by Rep. George Flaggs, D-Vicksburg. Flaggs' measure shifts the institutions from the Department of Human Services to a new agency. A big flaw in Flaggs' proposal is that it keeps operational Oakley and Columbia, where conditions and alleged abuse led to the federal litigation. Keeping these schools, which represent a sorry concept of juvenile rehabilitation, would be wrong. Thankfully, Flaggs, Juvenile Justice Committee chairman, sounds open to closing the training schools.

Author

DonnaLadd

Date

2005-01-20T11:10:39-06:00
ID

77960

Comment

thanks link to Ledge article. HB 6, looks like referred to Appropriations today. and yes, it's a long one. http://billstatus.ls.state.ms.us/2005/PDF/House_cmtes/AP.htm cannot find a short summary. looks like this is the latest action today http://www.clarionledger.com/apps/pbcs.dll/article?AID=/20050120/NEWS010504/50120010 see comments of Clay County Judge Storey...quote" in the rural counties we don't have a place to put the children.." children? also, see Rep. Baker's remarks. this bill needs some support I think, or it will not survive. Rep. Flaggs webpage is here http://www.ls.state.ms.us/house/flaggs.htm

Author

sunshine

Date

2005-01-20T15:25:17-06:00
ID

77961

Comment

http://www.jacksonfreepress.com/comments.php?id=4997_0_9_0_C "An Answer in Baton Rouge" relates well with this story

Author

Philip

Date

2005-01-20T17:38:27-06:00
ID

77962

Comment

for anyone who can manage to read this for more than five minutes at a time without feeling ill, (has this been posted before? ) here is link to original DOJ letter to Gov. Musgrove in June 2003. ok, for one, stop using contaminated dental instruments. that did it for me. www.usdoj.gov/crt/split/documents/oak_colu_miss_findinglet.pdf so why do some , ok, Rep. Baker (motion defeated hurray) , say wait till we get a report from the legal experts we hired... ?? wait?? even waiting for a fiscal note is too long I'd say.

Author

sunshine

Date

2005-01-21T15:20:45-06:00
ID

77963

Comment

First things first. I admit that Donna's remark on the "You are a Jacksonian" page did guilt-trip me quite a bit -- although I can at least say that I read the story, as evidenced by the Baton Rouge post. Honestly, I can't think of a whole lot to disagree with in this article - and I know little or nothing about criminal justice practices. This is the root reason why I said nothing beyond offering a link to another post. Everyone I know would find these practices appaling - again, not a whole lot to argue with that I can see. Rehabilitation is an extremely complex issue, to the point where it's hard (except in the most obvious cases) for ordinary citizens to offer appropriate solutions -- let alone ones NOT fraught with controversy. I can't speak for others, but this is another reason why I barely commented about this article. However, I think the training schools idea does have a lot of merit. Personally, I'd say they should add cognitive skills training too (so they can learn to think things through with more emotional self-discipline and so their minds are trained to think about matters from every angle).

Author

Philip

Date

2005-01-29T13:16:54-06:00
ID

77964

Comment

Don't feel guilty, Philip. It serves no purpose. I don't believe in it. I wasn't trying to guilt you into talking about this storyóbut I do think the point needed to be made on that other thread that, Good Lord, there are more important things to get bent out of shape about than a little top-10 list! On this story, what is important is for Mississippians (even if they don't have kids in public schools or juvenile justice system) to start paying attention to what is being done on our behalf to these kids. Right now in the Legislature, conservative lawmakers are trying to block needed juvy reforms. If people would pay attention to this, and this about it a third as much as they ponder fluff, and then call their lawmakers, maybe we could make a difference. This is ACTUALLY important. When I wrote my editor's note last issue about this (that drew little comment, iether), I was so angry. That DOJ report is remarkable in its detail about the torture of these children, the vast majority of whom are black and poor. I even originally had a line in my editor's note about the report showing me how military personnel and elected officials (and attorney general nominees) could get to the point of thinking that fondling a Muslim's man testicles in Abu Graib or Gitmo, or peeing on him, or stripping him and making him run in circles, was an OK thing. After all, Mississippians have been doing similar things to young Mississippians in our training schools for years. Maybe some of them got their own "training" in places like this. BUT, the truth is, many people do not want us to talk about these kinds of issues and attract a lot of attention to them because then a lot of folks might get outraged enough to demand change.

Author

DonnaLadd

Date

2005-01-29T13:29:08-06:00
ID

77965

Comment

I should also say that you've engaged, and contributed to, enough serious discussion on this site that you shouldn't feel guilty. You're one of the good ones, and I appreciate everything you're doing for Jackson from a distance. Keep it up.

Author

DonnaLadd

Date

2005-01-29T13:30:24-06:00
ID

77966

Comment

it's interesting, ladd, that you mentioned Guantanamo, I thought the same comparison and actually mentioned it in an email to Rep. Flaggs. (no response) my hub thought that was out of line. I think not. these kids do not deserve that kind of treatment, they are not 'terrorists' for pete's sake. (leave aside that whole other Gonzales issue, and let's not confirm that guy). these kids are not criminals, they are mis-behavers (sp).. . Philip, you are right, it's a complex issue, but I think most professionals in the field would say, hey , training camps, not so good. skills training, REBT maybe, yes. but authoritarian military, hey , that is the last thing these kids need. what are they rebelling against hmm. it just makes it worse, not better. if I had a kid in there.. ok, I'll stop now. save the children is not an extreme statement . imho.

Author

sunshine

Date

2005-01-29T15:32:34-06:00
ID

77967

Comment

I feel compelled to jump in here--first let me repeat what I told Donna and Brett--In years of doing this work, this article is the best I've seen on the juvenile justice issue--bar none. I was worried about exposing Tommy but Donna and Brett handled this story brilliantly. Tommy is no angel. He's made bad decisions. But he's a kid who's never felt valued or loved. No one ever expected Tommy to have a future. Will he "get better" when the state further devalues and dehumanizes him? If a parent treated a child the way the state of Mississippi does, that parent would be locked up. The state supported training schools abuse children. And where's the "merit" in child abuse? I represent a Coalition of organizations pushing for juvenile justice reform. So Philip (and anyone else interested) I'd like to invite you to attend one of our Coalition events. There, you'll hear the stories of children abused at the hands of the state, children who developed panic disorders after training school, children who attempted suicide because conditions at the training schools are so unbelievably inhumane, parents who've seen their children's childhoods disappear. Forgive me if I sound shrill, but after working for these children--and seeing first hand the after affects of this abuse-- I bristle at the suggestion that the training schools have any merit. If you are at all interested in this issue, please contact the Mississippi Center for Justice for more information. Thanks again to Donna and Brett!

Author

SheilaB

Date

2005-01-31T23:44:40-06:00
ID

77968

Comment

Hi Shelia, This is a strong response, and appropriate for one with genuine experience, knowledge, and passion about children. Some reactions from me: Shelia: RE: Tommy making bad decisions, state dehumanizing him. Philip: Oh DEFINITELY the state would lock up a parent who treated a kid half as badly as the state did Tommy. When I said the Training Center concept has some degree of merit, I did not mean "the training center concept as it currently stands". Maybe I'm putting too much faith in the good side of human nature, but my idea of a training center consists of education and skills training....PLUS Cognitive Skills training (logical thinking training, as in spotting logical fallacies, learning how to properly think for yourself [in the sense of using arguementative and rhetorical methods approved of by scholarly/philosophy Ph.D consensus], withstand peer pressure, undo 'hardwiring' of thoughts by your surrounding culture, and so forth. This is next to impossible to do if they are still surrounded by the bad influences they've always known. I cannot speak for Tommy, but judging from this article, Tommy does strike me as someone who WOULD have benefited from a training facility as I proposed. A training facility in this sense does have merit, I believe (at the very least, I see no way how it would lack merit). Certainly using Parchman-style punishment for young inmates does not work. As I said on another thread "leaner, take-no-backtalk, macho societies do NOT prosper in the long run". As for attending your Coalition meetings -- unfortunately, I live four hundred miles from Jackson, so I not able to attend very many of them. HOWEVER, if you all record the contents of meetings in some way, I'd be glad to read them.

Author

Philip

Date

2005-02-01T08:01:58-06:00
ID

77969

Comment

Re: My Cognitive Skills Training Comments. Some people reading this will think ìall you are doing is teaching the kid how to become a more clever criminalî. I will be the first to admit that in some cases this is true, but NOT IN ALL cases. Then you may be asking ìhow can we tell who will have potential for this cognitive skills training?î I am happy to present to you segments of a transcript from the Australian ABC Radio program ìBackground Briefingî. The programís main focus is Corporate Psychopaths, but I find it highly relevant to this issue. FROM http://www.abc.net.au/rn/talks/bbing/stories/s1158704.htm Ian Walker: Generally what are the motivations behind the psychopathic behaviour? What drives them? Paul Babiak: I think psychopaths are primarily driven by a thrill seeking drive. Theyíre very impulsive, and they have a perhaps physiological drive for stimulation. The second thing that operates in them is a need, a drive if you will, to play games, to play the game, to play with people as if theyíre pawnsÖtheyíre gameplayers. And they like to win, of course. And, the third aspect of their personality which I think is a driver, is that they are immune to the damage they do. At some level they might even enjoy the damage that they do. Ian Walker: Why this is is still a mystery. One clue may be in a very small part of the brain known as the amygdala, crucial for processing emotions. Philip: Here is the REALLY interesting part ñ the part that I REALLY want to drive home. Continuing.. Bob Hare says thereís been some promising recent research done in Germany, Scandinavia and by his own team in Vancouver, using Functional Magnetic Resonance Imaging, or FMRI. The results all show up the same kind of blind spot in a psychopathís thinking. Bob Hare: There are anomalies in the way the brain functions while itís processing certain types of information. For example, Ö (see the linked article for more. YES, I am really pushing this transcript, but only because I find so much of it right on target!!)

Author

Philip

Date

2005-02-01T08:13:21-06:00
ID

77970

Comment

first Sheila, thank you for jumping in. I think it was a great article also. and Philip, excuse me, but why are you citing research about 'psychopath's thinking?' I would say, these training camps have the potential to actually create psychopaths. I see you suggest other possible treatment approaches, that's good. but , really, while these kids might be 'thrill-seeking' and 'impulsive' that might fit a whole lot of us out here. I would suggest the possibility that their behavior problems have something to do with their environment more than their amygdala. nature v. nurture, old story. these camps are bad news either way.

Author

sunshine

Date

2005-02-02T16:36:17-06:00
ID

77971

Comment

Sunshine, I cited it as an anticipated response to the reply that cognitive skills training will only make the kid a more clever criminal. Furthermore, there's a pretty strong corrleation between psychopathy and criminal tendencies (yes, we can argue circular causation. However, I don't think it's psychopathy in every case). In particular, I cited research that could potentially separate kids who truly are psychopathic from those who are basically psychologically sound and decent (even if a bit bruised up on the inside). In particular, there's hope that 'thrill-seekers' of the type who qualifies for the second paragraph of the quote. The second thing that operates in them is a need, a drive.. to play games, to play the game, to play with people as if theyíre pawnsÖtheyíre gameplayers. And they like to win, of course. And, the third aspect of their personality which I think is a driver, is that they are immune to the damage they do. At some level they might even enjoy the damage that they do" (emphasis mine) BTW note well that psychopaths are NOT all violent felons. In fact, the very term "Psychopaths in Suits" is about NON-violent psychopaths (namely those responsible for Enron and general white-collar crime). In fact, this is the heart of the connection between that article and this one.

Author

Philip

Date

2005-02-02T17:58:02-06:00
ID

77972

Comment

Philip: (yes, we can argue circular causation. However, I don't think it's psychopathy in every case) This should say (yes, we can argue circular causation. However, I don't think it's circular causation in every case) ALSO Philip: In particular, there's hope that 'thrill-seekers' of the type who qualifies for the second paragraph of the quote. This should say In particular, there's hope that 'thrill-seekers' of the type who qualifies for the second paragraph of the quote can be screened out from those who aren't intrinsically psychopathic (i.e., the habitual, chronic manipulators) Addendum: Currently, there's apparently no cure for adult psychopathy (and maybe, but I'm not sure, not even teenage psychopathy either). Still, the fact the researchers TENTATIVELY identified a major center of psychopathy lends hope for a future treatment within the next generation or so.

Author

Philip

Date

2005-02-02T20:59:00-06:00
ID

77973

Comment

Good column by Warren Yoder in The Ledge today about the training schools: Community-based programs do work and they cost the state only $23 per child per day. Family oriented interventions reduce recidivism rates by 25-80 percent in repeated trials. Training schools nationwide average 60 percent of "graduates" rearrested, compared to only 8 percent of the graduates of community-based alternatives. Twenty-five Mississippi counties have access to community-based alternatives to the state-supported paramilitary schools. In FY2004, these 25 programs saved the state of Mississippi over $14 million. Support for change grows Mississippi's training schools have been lightning rods for lawsuits. In the past year the U.S. Department of Justice has joined two class-action suits over the inhumane and unconstitutional conditions at the two schools. U.S. Deputy Assistant Attorney General Brad Schlozman called the state's training schools, "clearly the worst two we have seen in probably 20 years in the Department of Justice ó and that's saying something."

Author

DonnaLadd

Date

2005-02-07T10:53:51-06:00
ID

77974

Comment

Hmm, $23 per child per dayfor a much more reduced rate vis-a-vis a $90 per child per day? Yup, sounds like we need to look more deeply into this one! (that's just in dollars and cents terms - don't ask about the psychological conditions!)

Author

Philip

Date

2005-02-15T21:38:12-06:00
ID

77975

Comment

cost-benefit aside, if the DOJ says "clearly the worst..and that's saying something" - that is saying something. this is the DOJ who is making deals with child labor vis a vis WaldoMart. so if they are thinking inhumane, well , probably puts it mildly. let's get those kids out of there.

Author

sunshine

Date

2005-02-15T21:52:30-06:00
ID

77976

Comment

Good news; Haley Barbour signed the juvenile justice reform today. Finally, some good news from the Capitol

Author

DonnaLadd

Date

2005-03-17T17:21:14-06:00
More like this story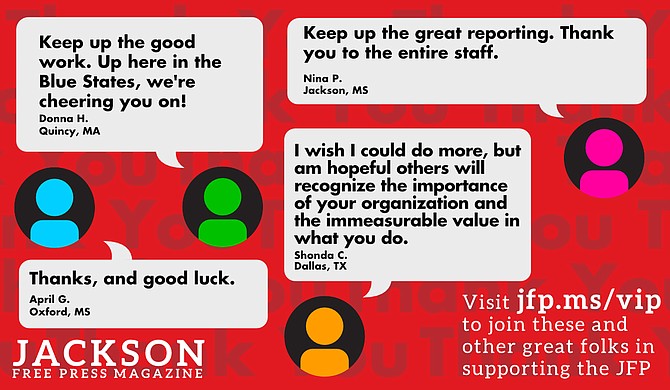 Thanks to all our new JFP VIPs!
COVID-19 has closed down the main sources of the JFP's revenue -- concerts, festivals, fundraisers, restaurants and bars. If everyone reading this article gives $5 or more, we should be able to continue publishing through the crisis. Please pay what you can to keep us reporting and publishing.