Ms. D is a fan of the book "The Healthy Hedonist," by Janet Bridgers, which, while it may have a title that scares off some of our fundamentalist-leaning friends, need not be feared. The "hedonism" here is simply an approach to a lifestyle that says you don't have to be on a strict diet in order to be healthy. Chocolate, an evening drink and even guacamole are allowed as occasional indulgences. In fact, the book's approach—that getting healthier should be a bit more fun—is the approach I need this week.
Here's last week for me—Monday evening I was busy with the film series, Tuesday evening was a recovery evening after press day, Wednesday evening was a board meeting, and I was up late doing invoices, Thursday was the voter rally and debate party, Friday was our JFP karaoke birthday celebration, and Saturday I taught a seminar at Millsaps with filmmaker Nina Parikh. Sunday I never even shaved.
Net exercise: two mornings of walks and a little hobbling around in the afternoons to get lunch and coffee in Fondren. I didn't make it to the gym once, despite my plans to in last week's column.
My only recourse is to recommit this week to both exercise and the gym, and I'm going to set my sights a bit lower. I'll walk at least three times and work out with weights once. If I do that, I'll count myself satisfied with the progress. And, frankly, who wouldn't want to get out an exercise now that it's finally turning to fall?
But, in the meantime, I do feel like I'm eating a bit better—cooking at home with more fresh vegetables, cutting way back on the fatty lunches and staying away from sodas and junk food. And, I have to say I feel there's some improvement in my day that simply comes from drinking more water. The recommendation is eight glasses—minimum. I'd recommend that if you feel lethargic mid-day or later, at least take a look at your water intake. You may simply be dehydrating, particularly if you're drinking coffee or sodas instead.
What I haven't quite solved is the biggest problem that a lot of us have at work—healthy snack food. Convenience food. Those foods that fill the mid-morning and midday. One approach I've started to look into is yogurt—I recommend the natural, low-fat brands that, in particular, don't add refined sugar. (Pick up those name-brand options in the grocery store and make sure that sugar isn't the second or third ingredient.) Women reap various advantages from yogurt, and it's a good way for anyone to get a little dairy protein and calcium.
The other solution is the one recommended in the "Healthy Hedonist"—fruit. Bridgers goes to some length to make the point that fruit is extremely fast—usually you just have to rinse it off in order to start eating—and it's extremely healthy for you, particularly if you choose from a variety of them. She recommends eating fruit right off the bat in the morning to get some of those recommended daily portions taken care of early.
Fruit is big with the healthy types. Dr. Andrew Weil (http://www.drweil.com) even encourages "fruit fasts" for some detoxification options that can help you fight disease or get a little healthier in a hurry. (Search for "fruit fast" on the site to get his complete recommendation.) Dr. Dean Ornish in "Eat More, Weigh Less" pretty much lets you loose on fruits, with the exception of the fatty avocado—and I'd suggest that the occasional indulgence is tolerable. (Gotta get your guacamole fix every so often, especially if you grew up in Texas.) Ornish, indeed, recommends getting fruits for their complex carbohydrates, which are tougher to absorb and thus don't turn into blood sugar as quickly, which means less insulin production, which means less fat storage.
Buy and eat all the fruit you can get your hands on. The only real concern with any of it is pesticides—which is one excuse for eating certified organically grown fruit. While any fruit you choose is probably a bit better when it's organically grown, I know that's not always practical; the suggestion is to particularly avoid buying non-organic produce when we're talking about fruit you eat whole, with the skin intact. And smaller fruit that you eat in bunches has more surface area, meaning more exposure, particularly if you don't clean them very well. (There are some produce sprays, like Fit or VeggieWash, which can be used to clean some pesticide residue and bacteria.)
The fruits to buy organic include berries and cherries—both tend to top the lists—as well as peaches, apricots and grapes. Dr. Weil implicates grapes from Chile in particular and cantaloupes from Mexico; you also need to watch out for some greens, green beans and spinach. Other types of fruit and vegetables you can buy in non-organic versions if you can't find them organically. (Rainbow Co-Op is a good resource, and many local supermarkets are getting better, although you need to check their prices sometimes), and it's better to be eating these fruits and vegetables than it is to avoid them completely.
What "The Healthy Hedonist" adds to this discussion, in particular, is when you should eat fruit. According to Bridgers, fruit is better eaten on its own—that makes it easier to digest. It's ideal in the morning or for a mid-morning or mid-day snack; it can both stave off hunger, and it's digested relatively quickly, meaning it won't wipe you out and you'll be ready to eat again relatively soon. Her favorite: the apple—for its taste, variety and convenience.
So, one thing I'm going to try this week is adding both fruit and vegetable snacks to my repertoire, with the intention being that I'm trying to keep full throughout the day while snacking on the stuff that's supposed to be so much better for you. I'm even going to look into something I've been reading quite a bit about recently—the venerable vegetable juices. I used to hate V8, but I think it's time to see how far they've come.
Those fruits and vegetables, combined with plenty of water and moderate exercise expectations, will hopefully take me where I feel like I've been headed for the past five weeks—to more energy, better days and better-fitting clothes. I think healthy snacking may help take me further down the road.
Ms. D's Two Cents
Todd is right: I love the hedonist, decadent approach to good, healthy living. And fortunately, that's getting easier to do every day.
I remember back in the 1970s when my brother and sister-in-law revealed themselves as "health nuts" to me—that is, they ate naturally, did yoga, biked instead of drove a lot, drank water instead of sodas, and so on. A teenager bored still in Neshoba County, I thought this whole exotic lifestyle was really cool—I started biking around town ("but, you have a car," my dumbass friends would say), doing yoga with the help of a PBS show ("Lilias, Yoga & You"), but I couldn't catch onto the diet part. Yes, I was programmed to eat fried, fatty, heart-clogging food all the time; I was, after, a deep-fried southerner.
But that wasn't all: Truth is, a lot of health food just tasted like dirt back then. Fortunately, today, that has changed with Rainbow Co-op, and even regular grocers, lined with shelves of healthy convenience foods, veggie-but-delicious "meats" (try those fake BBQ riblets, for instance, and Boca burgers rock), peanut butter that doesn't taste like mud, even corn dogs that might have come from the Neshoba County Fair. (Note to Kroger, though: Stop mixing in articifial junk in your "natural" section. We're onto that trick.)
So don't be intimidated: Go stroll the aisles and try some new, natural food items. Buy a few organic apples. Grab some healthy hot dogs for the kids, or some organic turkey breast, if you eat meat. I promise, eating healthy this century won't taste like dirt.
More like this story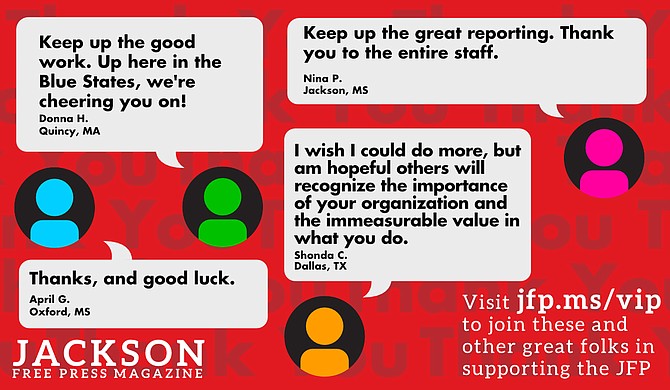 Thanks to all our new JFP VIPs!
COVID-19 has closed down the main sources of the JFP's revenue -- concerts, festivals, fundraisers, restaurants and bars. If everyone reading this article gives $5 or more, we should be able to continue publishing through the crisis. Please pay what you can to keep us reporting and publishing.