A recent article in The New York Times suggested that workplace stress is costing us $300 billion a year in the United States, and that's just what corporations are spending on stress in terms of health care, lost productivity and stress-reduction technologies. What we, as individuals, pay in terms of health and dollar costs is probably quite a bit greater than that.
One of the problems is quintessentially American—we work too many hours. In the U.S., workers put in an average of 1,800 hours a year, about 350 more than Germans and slightly more then the Japanese, according to the Times. And the pervasive technology—cell phones, computers, palmtops, Blackberries—means we're all "on call" as if we were all Marcus Welby. M.D.
But, in the short term, what can we do about it? I sometimes feel like I can't do a thing about it—I've got two jobs: books to write and my newspaper tasks—and that means I spend a ton of time in front of the computer.
I'm reminded of a friend of Ms. D's who was both a weekly newspaper movie reviewer and a "creeter"—he built concrete foundations for buildings—who seemed pleased with himself when he figured out how to get out from behind his desk and work with his muscles part of the time. I have no creeting skills, unfortunately.
That leaves three solutions to living with a desk job: exercise, ergonomics and the exit. The Road to Wellness is getting me to work on my exercise—next week I'm planning at least four sessions of some sort of walking, running or biking. I'm still having trouble fitting it into my schedule, but I expect to get to the gym at least twice and a hearty stroll through the neighborhood twice more. The cooler fall air can't come fast enough.
As for ergonomics, I've always tried in this department but still feel the aches and strains of sitting in front of a computer too long. I'm not a specialist, but there are some generally held principles I can pass on for how to sit in front of a computer:
• Look directly at your monitor. A desk with a monitor off to one side is like driving your car looking out the side window. Guaranteed neck pain.
• Look straight on at your monitor. The top of your display should be even with your eyes when you look straight ahead; above all, you want to avoid craning your neck to look down at your display. If it's too low right now, grab last year's phone book or buy some sort of stand. Even an upside-down inbox may help.
• Joints at 90 degrees. When you sit at your desk, your knees should be at a 90-degree angle with your feet on the floor, and your elbows should be at a 90-degree angle as you type. If that's not how things look, you may need to raise your seat or lower your keyboard or try to figure out how to get into such a position.
• Don't reach. I've been in too many offices where the mouse is in some bizarre location relative to the keyboard. It should be right next to it at the same height. If you extend or contort your arm in order to move the mouse, you'll develop discomfort.
• Take a break. Look away from your display every 15 minutes or so—glance out the window or spend a few minutes reading a paper—and you should get up and stretch at least once per hour. Use your office breaks to hit the pavement for a few minutes of walking—if the end goal is a smoothie or a healthy snack, all the better.
If you feel discomfort at your computer, stop working; if you feel pain, see a doctor. Your livelihood could be at stake.
Week 3: Man at Work
• Focus on ergonomics.
• Walk at least three times a week for 20 minutes; get on a treadmill at least once this week for a little longer. Sustain a faster pace.
• Spend at least two sessions in a quiet room, in simple surroundings, without TV or radio and observe breathing. (See last week's "Road" for tips on breath observation.) Figure out a time to make this a regular habit.
• Bring healthy snacks (cut-up fruit, low-fat soy bars) into the office. You can actually eat more food more often and gain muscle, if the foods are smart and in sufficiently small portions. Prep daily space to accept more fruit, bars, smoothies and other items that we'll discuss next time.
Ms. D's Two Cents: Smoothies and Namaste
Alright, life with Dr. T is getting more crunchy with each passing week. It may surprise you that he's the real stubborn one of our union: I talk about doing stuff (like going vegetarian); he just does it (therefore, we did six years ago). So when he gets the wellness bug up his, well, you know, I don't have much choice.
Between us, I'm pretty happy about it. T and I have both have workaholic tendencies. But we've been around the block enough to know that you can't keep up the mad pace forever, so we're both trying to work as efficiently as possible and then get the hell out of the office. Good ergonomics are important, but so is getting the job done and splitting. And that means organization. If there's anything I'm focused on right now, it's getting organized and getting new work systems in place, so I can get my work done sooner. It also really helps to be "mindful" about my work, so that the friggin' "monkey brain" T talked about last week doesn't distract me constantly, thus causing me to stay at the office longer. I believe that learning how to be mindful—and other Eastern philosophy concepts such as feeling compassion and "lovingkindness" for folks who drive you bonkers—is probably the best thing you can do for your health and peace of mind.
Otherwise, the diet is going pretty well. (Patronizing Moe's on our "day off" helps a lot.) I'm a big believer in the power of a smoothie to work miracles, and it so happened that a new smoothie shop (Shakes) opened in Fondren Corner just as we took off down the Wellness road. This is a perfect way to get a lot of your daily fruit needs, as well as low-fat yogurt (women, this means you), and to "bury your soy," as I like to say. That is, I love fruit smoothies (no fake sweetener or sugar; just fruit juice or honey to sweeten) with protein and/or soy powder. (I'm lobbying Shakes to lay in a supply of soy protein powder from Rainbow). What's great is that I can get up from my desk and walk right down the block to grab a smoothie and a small pasta from Basil's, or something yummy from the Rainbow deli. I get to stretch my back (which perpetually hurts from repetitive stress), walk, breathe and visit all our cool Fondren neighbors at the same time!
I'm also shopping for a yoga class I like and that fits my schedule (the real challenge). I tried Level 1 at Butterfly Yoga in Fondren last week, and really enjoyed it. (And I got a mango smoothie at Shakes when I left.) This week, I hope to try out Joy Flow, also in Fondren, especially their prana and meditation class.
I also really need to get out and buy several pairs of new yoga pants. I don't know about you girls, but being dressed cute for exercise doesn't hurt a bit.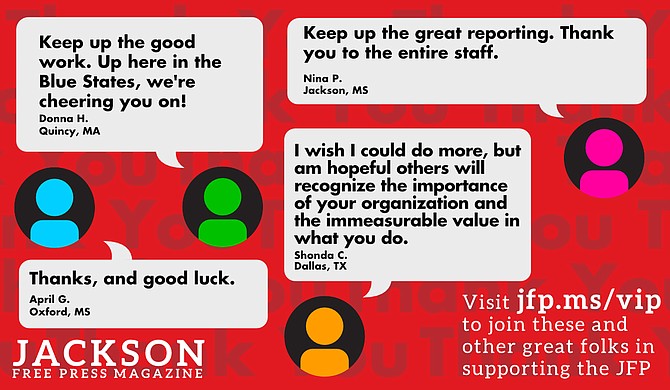 Thanks to all our new JFP VIPs!
COVID-19 has closed down the main sources of the JFP's revenue -- concerts, festivals, fundraisers, restaurants and bars. If everyone reading this article gives $5 or more, we should be able to continue publishing through the crisis. Please pay what you can to keep us reporting and publishing.