First, let me assure you that "GTA: San Andreas" is NOT for the immature. Parents, if your children show enough intelligence to separate real and unreal, there is little to worry about. But, if your kid is very impressionable and tried to do a backflip rail slide after playing Tony Hawk's Pro Skater, steer clear.
Disclaimer aside, "GTA: SA" is by far the most enjoyable game in the series. It uses the old engine, and while it may appear to be a simple remake, "Grand Theft Auto: San Andreas" achieves one goal where others have failed—you associate with the characters. In "GTA III," the main character was so two-dimensional that it's actually a running gag. In "Vice City," the main character was Tommy Vercetti, possibly the coldest, most violent gangster ever to grace the pixilated screen. But in "SA," you have Carl Johnson, a fresh and interesting hero. Played by rapper Young Maylay, CJ is the first "Grand Theft Auto" character to show emotions other than sarcasm and kill mode. Also, you respect him.
Another way "GTA" has improved is the city. I mean, "Vice City" and "Liberty City" are real pretty, but there wasn't enough variety. The real world has forests, ports, mountains deserts, etc. And so does "San Andreas." A quick run-through: The crime-filled city of Los Santos is bordered on the west by the sprawling badlands, which include long highways and several small towns like Angel Pine and Dillimore. North of the badlands is the slightly safer San Fierro, home of some of my favorite characters. Cross over the San Fierro Bridge on the east side to get to desert. More tiny towns dot the sand, including plenty of secrets.
Finally, in the top right of the map there's the most glamorous city—the gambling haven of Las Venturas. Cruise down the Las Venturas Strip, cross the Parkaway Bridge and you're back in good old Los Santos. Not enough? The bayside city of … um … Bayside awaits you north of San Fierro; the extreme south contains the untamed Back O' Beyond (warning, there are some things in Back O' Beyond you don't want to disturb). And if you're feeling nostalgic, maybe you should gank a jet and fly over to a very familiar city. What city is that? Here's a hint: Saint Mark's Bistro.
The gameplay of "San Andreas" stays true to the original formula. If you've played "Vice City" or "GTA III," the controls will instantly make sense. The most influential change is the ability to affect CJ's appearance and stats. He starts out as a normal looking guy in a wife beater and jeans. By the end of the game, he can look like a gangster thug, James Bond or even a metal-head with a mohawk.
Clothes aren't the only way you can change CJ. He has two appearance ratings: Fat and Muscle. They have obvious effects on CJ. Other stats are: Respect, Sex Appeal, Stamina and plenty more. The most interesting thing is how those ratings affect your speech. If you have high fat, CJ constantly talks about how hungry he is. If you have high respect, he calls himself a "well-dressed maniac." Basic actions are affected by how you shape CJ, and that's a good thing.
The "Grand Theft Auto" series has always been a jack of all trades, with fun exploration, gun battles, racing and, of course, shadier activities. The list grows in "SA," and you can now rob houses and complete courier, delivery and carjacking missions.
There is no music other than the list of radio songs that can be played in a vehicle or on the pause menu. The selection is great, including classic and early '90s rock, rap, R&B, techno, country and even talk radio. As for graphics, "San Andreas" looks surprisingly good. They pale in comparison to "Metal Gear Solid 3" and "Halo 2," but the variety is probably the most expansive of any game ever.
"Grand Theft Auto: San Andreas" doesn't revolutionize gaming. But it does provide one thing only the best can hope for: endless hours of fun.
More like this story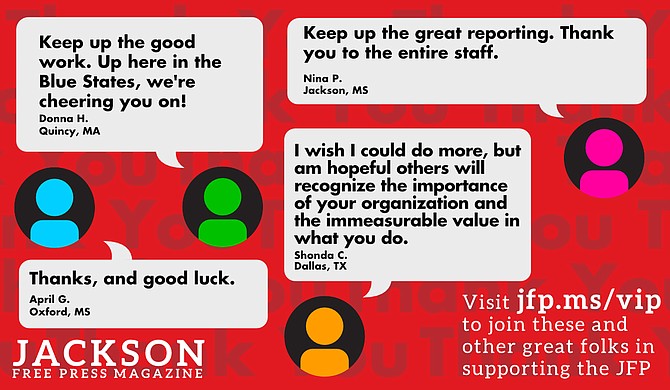 Thanks to all our new JFP VIPs!
COVID-19 has closed down the main sources of the JFP's revenue -- concerts, festivals, fundraisers, restaurants and bars. If everyone reading this article gives $5 or more, we should be able to continue publishing through the crisis. Please pay what you can to keep us reporting and publishing.