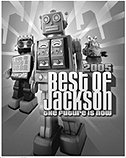 No doubt about it, 2005 was the best of times, and the worst of times in Mississippi. We end the year sorrowful about our state's massive losses due to a wrathful hurricane and thankful that the old girl didn't take even more lives with her. We bid 2005 adieu with gratitude to Neshoba County citizens for finally starting to heal a festering old wound, and hopeful that the same thing will happen in upcoming months in Franklin County to bring justice in the 41-year-old Henry Dee-Charles Moore case. We close the year in awe of how far Jackson's renaissance has come since the JFP started publishing in 2002, and a bit concerned about the leadership of the city continuing that march toward our rightful place as the Deep South's most promising creative-class city.
In honor of the ups and downs of the year past, here is Part I of a timeline of just what happened in and near our dear city of Jacktown in the first six months of 2005 and in the pages of the Jackson Free Press. Part II will appear in the Jan. 5, 2006, issue.
January
4 – A Neshoba County grand jury indicted Edgar Ray Killen for the 1964 murders of James Chaney, Andrew Goodman and Michael Schwerner.
The JFP introduced its new Talk of Jackson section, designed by Jakob Clark, and including all sorts of fun new features—from DIY to 6 Degrees of Separation.
The Mississippi Legislature returned to Jackson, gridlocked before they ever took their seats over how much to fund vital services such as Medicaid and Adequate Education Funding. Gov. Haley Barbour brought his "no new taxes or a single fee raise" back to the Capitol with him, hamstringing much of the necessary work of state government. The governor would refuse to even consider a tobacco tax hike, although Mississippi has some of the lowest cigarette taxes in the country—and very expensive smoking-related health-care costs that often end up coming out of taxpayers' wallets. Experts said this refusal to fully fund basic services was likely to eat away at even Barbour's conservative base: "Republicans who identify with moral issues still have some expectations from the government with respect to their needs," Stennis Institute Director Marty Wiseman told the JFP.
12 – Under the direction of intern emeritus Swetha Regunathan, whose family hails from the region devastated by the tsunami on Dec. 26, the JFP hosted a tsunami benefit at the Red Room in Hal & Mal's with the help of The Collective and Rock 93.9 and dozens of local artists and musicians. The event raised $4,311 for the cause. The Clarion-Ledger wrote a piece about the event, but did not mention the Jackson Free Press.
13 – The JFP published our first Young Influentials issue, featuring our choices for the 14 most influential Jacksonians 35 and under photographed by Charles A. Smith. The second annual Young Influentials issue will publish again in January 2006.
14 – A fire destroyed Cindy E. Walsh and Associates in Fondren. By the end of 2006, Ron Chane had moved his Swell store into the space.
20 – Brett Potter and Donna Ladd wrote a cover story about the state of Mississippi dragging its feet on stopping horrifying abuses in the state's two juvenile training schools. The graphically detailed story, which was republished later in "Youth Justice in America" (CQ Press, Washington, D.C.), helped lead to legislative reforms later in the session.
27 – The JFP investigative team figured out that there were only six degrees of separation between a certain Belhaven kitty, Willie Hoyt Ladd Stauffer, and—get this—Jack Nicholson.
29 – The Mississippi Opera assembled a unique combination of choirs to perform "The Gospel at Colonus" at Thalia Mara Hall.
30 – Nearly 400 people, including dozens of local business owners, a robot and Jackson Mayor Harvey Johnson Jr., attended the JFP's third annual Best of Jackson awards celebration in a loft in the Millsaps Arts District. Que Sera Sera, Hal & Mal's and Fenian's took the most awards—and the JFP publisher challenged Best Columnist winner Orley Hood to wrassle alligators. (Hurry, balloting for 2006 awards ends New Year's Eve!)
February
1 – Dr. Imari Abubakari Obadele spoke at City Hall in honor of Black History Month. In the weeks leading up to his visit, scheduled by City Councilman Kenneth Stokes, the visit ignited political fires and caused mass confusion about the history of his radical, pro-black group, the Republic of New Africa, which had advocated for a separate black state in the South until police and FBI stormed their Jackson "compound" in August 1971 at dawn, leaving Jackson police officer William Louis Skinner dead in the gun battle. Although talk-show hosts and bloggers called Obadele a "convicted cop killer," he was not on the scene, and murder charges against him were dropped. He served five years for federal conspiracy and later got his Ph.D from Temple University in political science and now teaches. (See Editor's Note, "The House That Racism Built" for more facts on the case.)
2 – The Wadsworth Group/Thomson Learning asks to reprint Donna Ladd's column, "Say These Words With Me" in their new textbook, "The Informed Reader." McGraw-Hill re-published a portion of Lynette Hanson's JFP Interview with Jill Conner Browne in their new textbook, "Motives for Writing" by Robert K. Miller.
3 – With the state Legislature facing a budget crisis and a stubborn governor, the JFP editorialized: "Is the governor here to govern the state of Mississippi or just to lobby for legislation that fits his ideology and benefits his (former and perhaps future) clients?"
Four JFP photographers—Thabi Moyo, Charles A. Smith, TC Perkins Jr. and Susan Margaret Barrett—exhibited in the "Fire & Ice: A Black and White Photography Salon" exhibit at The Cedars in Fondren.
4 – JFP intern Brett Potter attended the Wild Beast Feast 2005 at the Broadmoor Baptist Church in Madison with 1,000 other men, including Frank Melton. The gathering discussed avoiding sexual temptation and the need to be "saved." Brett wrote later: "On my plate lay braised rabbit, wild boar enchiladas, venison Sloppy Joes, southern fried deer steak, venison sausage, elk, alligator, wild turkey, duck, dove and bison. Not a vegetable or a starch in sight.
10 – In his Jacksonian profile in the JFP, Bravo/BroadStreet owner Jeff Good announced he would be the finance director for Frank Melton's mayoral campaign—shocking many Harvey Johnson supporters due to Good's help in getting Johnson's Convention Center initiative past the voters.
12 – The JFP sponsored the 13th annual MS HeARTS Against AIDS benefit.
17 – The mayoral campaign kicked off in earnest—as did the JFP's in-depth coverage of the race. The JFP Truth Watch blog launched to fact-check assertions made during the campaign—leading to at least one local blog by Melton campaign contractors and contributors seemingly designed to discredit the JFP's reporting of any facts they believed made their candidate look bad. Mayor Johnson announced his candidacy, leading to a hastily called press conference by challenger Melton in front of the dilapidated rental of Bobbie Johnson on Lamar Street. There he told her that he had brought Habitat for Humanity, which the organization later denied, and promised to replace crumbling housing with single-family dwellings when elected. (See JFP city campaign blog here).
18 – The city announced that Mississippi Bar-b-que Company and Crescent City Beignets would join the Farish Street business line-up.
24 – Hip-hop artist Kamikaze joined the JFP as a regular columnist, leaving his gig at The Clarion-Ledger. His column, "Hello, Mayor Jones" took the mayor of Florence to task for dressing down a police officer for being too rough with some (white) teenage troublemakers. "We do want to make sure he understands in a small city like Florence that you can't handle them like you would if they were in the inner city," the mayor said.
March
1 – New Democratic Party head Howard Dean preached to an overflowing crowd at The Clarion Hotel, declaring that Democrats could take back "red states" including Mississippi by focusing on "real" morals: It is "not a moral value to pass our debts on to our children." JFP editor Casey Parks was the only local reporter to interview Dean in advance of the appearance.
10 – Adam Lynch joined the Jackson Free Press as a full-time reporter—just in time to wade into the Jackson mayoral campaign.
11 – A small tree fell on accused Klan murderer Edgar Ray Killen, 80, breaking both of his legs as he awaited trial.
Rep. Steve Holland, D-Plantersville, shot the bird at Lt. Gov. Amy Tuck and some Republican senators the bird on the day that Medicaid was slated to go broke Barbour-led cuts in the program. Then, Tuck called a special session for the weekend on Barbour's behalf—even though he was in Washington, D.C., and there had never been a special session called during a regular session of the Mississippi Legislature. The JFP called for the governor to "spend more time behind his desk in Mississippi."
14 – JFP editor Donna Ladd attended a breakfast at Bravo! Restaurant for mayoral hopeful Frank Melton. Ladd's story would become a centerpiece in the campaign, and the subject of a Marshall Ramsey cartoon in the Clarion-Ledger because she reported that Melton declared about the campaign that "it's over!" He then told the well-to-do women that he was not, in fact, a Democrat (or a Republican), but needed to run as one to win in Jackson as a black man. He also suggested putting the Convention Center "between Two Lakes" (in Rankin County), and addressed, in specific, rumors that had circulated the city about him for years involving "pedophilia and drugs." After the breakfast, he told Ladd that former Police Chief Jimmy Wilson had spread the rumors about him and challenged her to report the source of the rumors, which she did in a profile published just before the mayoral primary in May.
16 – Gay one-man performer Jade Esteban Estraba performed his "Icons I" at Hal & Mal's to benefit the Grace House—marking one of the first times such an openly gay and edgy performance had occurred in Mississippi.
17 –JPD officer Thomas Catchings was killed in the line of duty by 18-year-old Omar Hampton, whom Catchings also killed before he died. Rep. Erik Fleming, D-Hinds, would later eulogize both men, including the cop-killer, in his JFP column: "When an Omar Hampton dies a violent death, we all suffer. With proper treatment and mentoring, who knows what potential he could have achieved."
Donna Ladd got radical in her editor's note in the annual Chick Issue, telling readers never, ever to call her ma'am, sending local conservative pundits into a predictable tizzy.
The Mississippi Supreme Court disbarred attorney and activist Chokwe Lumumba for six months for statements he made in the courtroom of Circuit Judge Marcus Gordon (who would soon preside over the Killen trial), accusing the judge of sending an unconstitutional instruction to the jury. Justice James Graves Jr. dissented over the "extreme and draconian sanction."
18 – State Auditor Phil Bryant ruled that the vast majority of allegations about two former employees in a 2003 Mississippi Bureau of Narcotics memo, at the center of a lawsuit against then-Director Frank Melton, were false. Almost immediately, the former agents also filed a defamation lawsuit against The Clarion-Ledger, which had published the allegations right after receiving a fax from Melton. Melton would lie in court documents about his role in giving the memo to the media until after he was elected mayor in June. The Clarion-Ledger did not report on Melton's lawsuit during his mayoral campaign and would endorse Melton without mention of the lawsuit. The paper still has not told its readers that it is also being sued in the scandal.
19 – Star running back Deuce McAllister was the grand marshal of Mal's St. Paddy's Day Parade, leading thousands of Sweet Potato Queen wannabes and other revelers past the governor's mansion where they sang "Never wear panties to a party" over and over again. Spud Stud Randall Wallace—the screenwriter of "Braveheart"—assured the JFP that he was not wearing panties under his kilt.
24 – The alacrity of the mayoral campaign really started building, with handmade "Harvey Must Go" posters showing up on public signs around Jackson. The JFP reported that a Clinton blogger, Mark Lyon, was distributing the signs in his neighboring city.
The campaign to convince Gov. Barbour to support adequate education fundings built steam, with protest after protest at the capitol, but would ultimately prove inadequate. The Legislature would adjourn in April after underfunding the Mississippi Adequate Education Program by $127 million.
31 – Bravo! Sommelier Lesley Tolar McHardy joined the JFP as wine columnist.
April
1 – The JFP staff ordained Gov. Haley Barbour the "2005 April Fool" due to his refusal to raise a single tax or fee to help pay for education and health care.
2–3 – The Crossroads Film Festival drew record crowds. "Land of Plenty" by director Wim Wenders won "Best Feature," and "The Most Segregated Hour" by Kent Moorhead took "Best Documentary" honors.
5 – The Jackson Municipal Democratic Executive Committee challenged the candidacy of Frank Melton because he had not filed homestead exemption in Jackson, but in Tyler, Texas, where his wife continues to live. He had told the committee on March 9, in comments taped by the JFP, that he had filed homestead exemption already, but that statement turned out to be false.
7 – JFP columnist Kamikaze angered some local feminists when he defended rap artist Nelly against Spelman College women who had protested Nelly's-- misogyny, saying the women were "using hip-hop as a scapegoat to garner free publicity." However, he would later write that the ensuing controversy from his column would help him better understand the concerns of the women.
Mayor Harvey Johnson Jr. took the gloves off against adversary Frank Melton at a meeting in Belhaven, blasting Melton for selling the black-owned WLBT and busting the union at the station when he took it over. He also blasted Melton for not registering to vote in Jackson in 20 years."
19 – Candidate Frank Melton cancelled his appearance at a Mississippi Democratic Club forum at Tougaloo College, first claiming bias of moderator Othor Cain, and then citing "scheduling conflicts."
Frank Melton spoke to hip-hop and poetry artists of the M.A.P. Coalition at The Birdland on Farish Street, promising repeatedly to "build you a recording studio on Farish," even in response to questions that had little to do with the musicians themselves or Farish Street. Later, the M.A.P. Coalition endorsed Melton for mayor, although some of its members disagreed with the decision.
27–29 – A local production of the spicy "Hedwig and the Angry Inch," a sexually charged rock musical about a transsexual, played at Hal & Mal's, directed by Mike Padilla of Millsaps College and starring Josh Clark of Living Better Electrically as Hedwig. He is not, in fact, a transsexual.
28 – The JFP ran profiles of the mayoral candidates. The Melton profile caused controversy because Donna Ladd published the source of ugly rumors about Melton, as he challenged her to do back in March. The same week, Pulitzer Prize-winning reporter Jim Mulvaney called into the Kim Wade show on WJNT to discuss an article he wrote in 1994, also reporting on those allegations based on a police report given to the FBI by then Police Chief Jimmy Wilson. Melton called in angrily to the show, threatening to sue Wade for airing the allegations. No other media reported on the old allegations, which are available in media archives and were never proven. In the same profile, Ladd reported that council candidate Frank Bluntson had been involved in a scandal at the Hinds County Youth Detention Center during the same period when allegations of rape and corruption were made against guards, and had resigned with an agreement not to be prosecuted. He then went to work with his friend, D.A. Ed Peters, and had access to all records on the detention center scandal, according to the police report. However, no other media reported on Bluntson's past.
The Jackson Free Press endorsed Mayor Harvey Johnson Jr. and all the incumbents for City Council. Our winning choices included Ward 2's Leslie McLemore, Ward 3's Kenneth Stokes, Ward 6's Marshand Crisler and Ward 7's Margaret Barrett Simon. (Ward 1's Ben Allen ran unopposed). The Jackson Advocate endorsed winners Frank Melton for mayor, Frank Bluntson in Ward 4 and Charles Tillman in Ward 5.
May
3 – Frank Melton won the Democratic primary for mayor in a low turnout of 33 percent of registered voters, taking 63 percent of the 44,556 total votes cast (or 27,982 votes in a city with a voting-age population of 131,613). The Clarion-Ledger reveled in that "landslide" and, days later, bemoaned the re-election of Ward 3's Kenneth Stokes—who actually brought in a larger "landslide" than Melton, taking 73 percent of his ward's 34-percent turnout.
5 – Assistant editor Casey Parks wrote a lovely tribute to her mother for Mother's Day: "I've heard that women often feel dewomanized after losing their breasts, but my mother has stayed strong. When I call her up, crying, scared that I'm losing her, she responds with strength—a resounding "I'm too mean to die, girl."
In the same issue, Chick columnist Emily Braden taught son Monkey, 6, "the birds and the bees": "'Sex,' I whispered. Then without a single breath, with the widest those blue eyes have ever expanded, he replied, 'I knew it!' That's it. No more questions."
The JFP invited the children of seven Jackson mothers to tell us what made their moms wonderful. Stacie Dennis, 27, wrote about mom Carolyn: "When we were growing up, she always went without so we had. She has shown me how to be a strong black woman who can make it through anything with a lesson learned on the other side."
12 – The Rankin County school board voted to allow random drug testing for students in 7th to 12th grade participating in extracurricular activities.
18 – Even though he was in Washington, D.C., to raise money for his political action committee, Gov. Barbour called yet another special session to deal with unresolved budget issues, especially for his pet projects of Momentum Mississippi; highway funds; and to help bail out a failed beef plant, a project he had vocally supported along with the Legislature. The Legislature also had to allocate a $100 million settlement with MCI by Attorney General Jim Hood.
19 – JFP Publisher Todd Stauffer again called for The Clarion-Ledger to hire an ombudsman to monitor their sensationalistic coverage of crime, due largely to their mishandling of Police Chief Robert Moore's "perception" quotes, even as crime dropped dramatically with him at the helm. Stauffer wrote: "My guess is what has demoralized the chief is that he's being criticized by media who don't know what they're talking about. They're treating him as if he's as stupid about law enforcement as they are." In the same issue, Moore told the JFP: "I have no regrets," and said he hopes the "revolving door on chiefs … stops with me."
A May 10, 2005, survey by Survey USA found that Gov. Haley Barbour was the eighth most unpopular governor in the country. In the poll, only 37 percent of Mississippians said they approved of the job he was doing. That included 36 percent of Republicans; 47 percent of whites, 50 percent of males, 54 percent of 35-54-year-olds and 59 percent of 18-34-year-olds. The Clarion-Ledger did not report the findings, even though they used results from the same polling outfit during the mayoral campaign to show that Melton was leading the race. Barbour spokeswoman Pete Smith told the Biloxi Sun-Herald, which did report the results, that the poll was "flawed" because it polled too many young people and not enough of the 55-and-older crowd most likely to vote for Barbour's reelection. In the May 26 issue, editor Donna Ladd pointed out that the poll was about Mr. Barbour's approval among all voters, and not just about those who already agree with him.
24 – Outgoing Mayor Harvey Johnson Jr. told off the City Council, and then the media: "It takes the media participating in the crime-fighting process alongside our citizens and the police department instead of sensationalizing the problem."
26 –Adam Lynch reported that lawmakers were saying that Gov. Haley Barbour was "bullying" them and threatening their money for re-election if they did not agree with his budget plans, which included underfunding education. Children's Defense Fund director Oleta Fitzgerald called Barbour a "dictator" at the capitol, raising eyebrows.
In an op-ed in the JFP, Republican mayoral nominee Rick Whitlow called for "zero tolerance policing"—considered the opposite of the holistic "community policing" model.
28 – The Mississippi Legislature went home after Barbour's nine-day, $347,000 special session with
education underfunded. Rep. George Flaggs, D-Vicksburg, was angry at Barbour's skewed priorities: "I think we allowed Momentum Mississippi to get in the way of education," he said. "It should be 'Education/Momentum Mississippi,' because you can't have good economic development without a good education base."
June
2 – JFP publisher Todd Stauffer reported that jacksonfreepress.com traffic had started averaging more than 275,000 page views a month during the mayoral campaign and announced the JFP's new free online classified ad system.
In an editorial, the JFP called on the local media to step up and start covering real mayoral issues in the last week of the campaign, instead of the superficial coverage to date: "We call on the media to pull out all the stops on their coverage and ask these men (Melton and Whitlow) the hard questions that they should have to answer before getting the city's top job." It didn't happen. The JFP did not endorse Whitlow, but called him more "mayoral" than Melton.
3 – State Agriculture and Commerce Commissioner Lester Spell defected from his long-time Democratic Party to the GOP—because he is too conservative to be a Democrat. However, as a supporter of the failed Mississippi Beef Processors' corporate welfare (as was Gov. Barbour), Republicans didn't actually welcome Spell with open arms. And more than one Democrat was heard to say, "Don't let the screen door hit your butt on your way out."
7 – Frank Melton won the general election with headlines the next day proclaiming, "Landslide!" Indeed, he took 88.8 percent of the voters who turned out to vote—about 22.8 percent of the local electorate, or 26,759 votes total. University of Southern Mississippi political science professor Allan McBride said the low turnout was likely due to "horse-race reporting," which "stimulates the true believers, but, no, it certainly doesn't provide information about candidates and their positions." The JFP asked a cross-section of Jacksonians why the turnout was so low—and the answer ranged from "don't care" to "don't like either candidate."
8 – The Mississippi Business Journal named JFP editor/co-founder Donna Ladd as one of Mississippi's 50 Leading Business Women for 2005.
9 – The JFP hosted the first Chick Ball in the Red Room at Hal & Mal's with dozens of female artists and musicians banding together to raise $3,100 for the Center for Violence Prevention.
JFP copy chief, and head mama, Lynette Hanson published a heart-wrenching JFP Interview with Myrlie Evers-Williams: "Within the last week of Medgar's life, when we finally could say to each other that more than likely his death was near, we were holding each other and crying. He said to me, 'Promise me you will take care of my children.'"
13 – The trial of Edgar Ray Killen began in the Philadelphia courthouse. A team from the JFP—Donna Ladd, Natalie Irby, Thabi Moyo, and soon joined by photographer Kate Medley—covered the entire trial and blogged about it on the JFP's Neshoba Blog. A photo Medley took of Killen in his home ran as the cover of the June 23 issue. Her photos were bought by media outlets around the country. While covering the trial, the team quietly began to investigate the unprosecuted Klan murders of Henry Dee and Charles Moore near Meadville, Miss., in 1964—a case referred to by Rita Schwerner Bender on the courthouse lawn when she dressed down national media for only being interested in her husband's case over the years because two of the men were white.
Neither of the two U.S. senators from Mississippi—Thad Cochran and Trent Lott—would sign a Senate resolution apologizing for not passing federal anti-lynching laws through the decades.
14 – Mayor-elect Frank Melton announced that his deputy at the Mississippi Bureau of Narcotics, Shirlene Anderson, was his choice for police chief. "Don't let her size fool you. She's dangerous. She's tough," Melton said then.
15 – The French edition of Glamour magazine republished the multi-page feature about Angela Lewis (daughter of James Chaney) and Donna Ladd.
17 – JFP contributing editor Ayana Taylor attended the national convention of the Association of Alternative Newsweeklies while the JFP team covered the Killen trial. During the trial, the staff learned that the JFP had won two first-place writing awards (Taylor for short news; Donna Ladd for feature writing), and Jesse Yancy had taken second place for food writing. Only one newsweekly—the Los Angeles Weekly—won more first-place awards than the JFP. Also, while at the trial, the JFP learned that the Planet Weekly was ceasing publication as a weekly, leaving the JFP as the sole alternative newsweekly in Jackson.
17–18 – The JFP sponsored two stages at a scaled-down Jubilee! JAM on South Commerce Street, including a popular poetry and hip-hop Lounge in Hal & Mal's brew pub.
23 – The issue of the JFP with the dramatic close-up of Edgar Ray Killen shot by Kate Medley, published the day after the jury found him guilty of three counts of manslaughter, became the most popular issue of the paper to date, running out at most distribution spots before the weekend. As our team turned its attention to the Dee-Moore case, to be reported with the help of the Canadian Broadcasting Corp., the JFP editorial board called on Cochran and Lott to sign the anti-lynching resolution post haste.
Adam Lynch reported that Sen. Thad Cochran had quietly inserted an amendment to a military spending bill to open the Mississippi Barrier Islands, off the Gulf Coast, to oil drilling. In the same issue, the JFP demonstrated how Gov. Barbour and Star Wars' Jabba the Hut were, in fact, separated at birth.
JFP writer/researcher Natalie Irby took Jackson lawyer James McIntyre, who represented Edgar Ray Killen, to task for his closing arguments saying that the case was moving Mississippi "backward" and done only for "outsiders." She wrote: "If anything is going to bring us together as a state, it is going to be facing the truth. Today in the courtroom, Mr. McIntyre represented the worst Mississippi has to offer."
Previous Comments
ID

79230

Comment

Good overview, Donna, thanks. The (amazing) Irby op-ed on McIntyre, in particular, was something I'd forgotten about. Cheers, TH

Author

Tom Head

Date

2005-12-30T03:18:14-06:00
ID

79231

Comment

The Erik Fleming editorial from 3/17 is also pretty amazing. Fleming has become my favorite Mississippi politician, hands down--somebody who should be senator, or governor, but was probably born 50 years too early. Cheers, TH

Author

Tom Head

Date

2005-12-30T03:23:26-06:00
ID

79232

Comment

Casey's wonderful Mother's Day article can also be found here. (And if that wasn't the very first post I made to this site, it was one of the first five or six...) Cheers, TH

Author

Tom Head

Date

2005-12-30T03:25:38-06:00
ID

79233

Comment

Thanks for giving these links, Tom. Pat was supposed to have added links to the main stories mentioned yesterday. We'll get more in there today.

Author

DonnaLadd

Date

2005-12-30T12:29:51-06:00
ID

79234

Comment

OK, I got many of the main links in there. Whew!

Author

DonnaLadd

Date

2005-12-30T13:52:42-06:00
More like this story
More stories by this author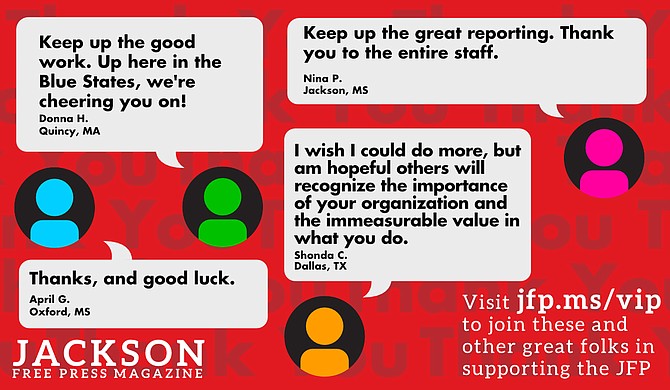 Thanks to all our new JFP VIPs!
COVID-19 has closed down the main sources of the JFP's revenue -- concerts, festivals, fundraisers, restaurants and bars. If everyone reading this article gives $5 or more, we should be able to continue publishing through the crisis. Please pay what you can to keep us reporting and publishing.