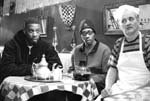 "I love it when a plan comes together" was the signature line of George Peppard in his role as Hannibal Smith on the 1980s TV show "The A Team." It's unfortunate that I can't get it out of my head, but it's apropos in more ways than one. I recently saw George Peppard again in "Breakfast at Tiffany's," as I seem to be on an inadvertent VHS tour of Audrey Hepburn's career. Because many of my neural pathways were developed in the 1980s, it's difficult for me to see Peppard in any setting and not think of Hannibal Smith. It's my own personal hell.
But the other reason that I've had that line swimming about in my head has been my involvement with the Crossroads Film Festival Special Project committee, which has been reborn this summer with an energy and drive to do something that I think is very important for Jackson's development as a "creative class" city—bring more art-house and independent films to town.
That's the mission this top-notch commando unit with specialized skills (…accused in 1972 of a crime they didn't commit…) took on when the committee convened this summer, determined to bring first-run indie films to Jackson.
Actually, the momentum came from Knol "B.A." Aust's effort to encourage local theaters to bring "Fahrenheit 911" to the Jackson area—his subsequent petition and "Fahrenheit 601" Web site drew hundreds of responses that were forwarded to local theater managers. His efforts (and, of course, the national financial success of the film in its first week) led to showings in local theaters, including a packed opening-night screening that was sponsored by the Jackson Free Press and the Crossroads Film Society; that showing was an unqualified success, with a full auditorium and a wonderful after-party at Que Sera Sera in Fondren, complete with martinis and prizes donated from locally owned businesses.
With that wind still in our sails, the committee met to set goals for a fall film series. We agreed on the need to bring significant independent features in their full 35mm glory, most before they're available on DVD. Spearheaded by Ed "Murdock" Inman, a veteran of film-series-past in Jackson (and our heavy equipment expert), negotiations were begun to bring some of the most popular and critically acclaimed indie films to a screen—any screen—in the Jackson metro. Which screen it would be, however, remained something of a mystery. At least for a while.
That mystery was solved by Crossroads co-founder Nina "Face" Parikh, who, working with Regal Cinemas, secured six Monday nights in a row at the UA Parkway Place Stadium 10 in Flowood. The result is the opportunity to see these key independent films shown in their 35mm glory—while still having access to the typical movie concessions we know and love.
The films themselves, I believe, are top-notch, starting with the acclaimed and cameo-packed "Coffee and Cigarettes." Filmed in black and white over a 17-year period, the film is a series of short stories told by love-'em-or'-hate-'em indie director Jim Jarmusch. The vignettes star talent as diverse as Roberto Benigni, Steve Buscemi, Cate Blanchett, Bill Murray and Iggy Pop. It's an interesting ride.
As has been this whole process. Herman Snell, Philip Scarborough, Jen Barker, Lorena Manriquez, Monte Kraus, Richard Weiss and Stuart Rockoff round out our Special Projects committee, along with Nina, Knol, Ed and myself. Please thank these people—as well as the others on the Crossroads board, both paying members and volunteers—if you see them when you're taking your seat to enjoy quality independent film here in the metro area.
The film series is both a community service and a membership drive. If you want to drop in on just one or two of the films and pay $6 each time, that's great—making these films available in a theater setting to as many people as possible is the reason we're bringing the films. If you'd like to join Crossroads Film Society for $35, and help this effort to continue bringing independent film to Jackson, you'll get admission to all six films, admission to the Crossroads Film Festival in the spring and other perks.
In either case, join us this Monday the 13th at 7:30 p.m., at UA Parkway Place Stadium 10 in Flowood. You can buy tickets or join Crossroads on-site anytime after the box office opens that day. And remember to join us again for a Que Sera Sera after-party in Fondren.
Oh, and you have another independent film option for Mondays—The Southern Circuit Film Series at Millsaps begins on Sept. 27 with "Resisting Paradise."
More than one indie film in Jackson on a single night? As Audrey Hepburn herself once said, "Opportunities don't often come along. So, when they do, you have to grab them."
I'll see you at the movies.
Todd Stauffer is publisher of the Jackson Free Press and a member of the Crossroads Film Festival Special Project Committee.
THE CROSSROADS FILM SERIES
All films at UA Parkway Place in Flowood.
Coffee & Cigarettes
(Jim Jarmusch humorous vignettes with Iggy Pop, Bill Murray, Steve Buscemi, Jack White) Sept. 13 - 7:30 p.m.
Super Size Me
(Documentary takes a tongue-in-cheek look at the legal, financial and physical costs of America's hunger for fast food) Sept. 20 - 7:30 p.m.
Saddest Music In The World
(Romantic musical starring Isabella Rossellini) Sept. 27 - 7:30 p.m.
Gypsy 83 (Two young misfits head for N.Y.C. to celebrate their idol, Stevie Nicks) Oct. 4 - 7:30 p.m
Shaolin Soccer
(Spoof of sports and kung fu movie clichés) Oct. 11 - 7:30 p.m.
The Clearing
(Robert Redford, Helen Mirren, Willem Dafoe. An executive is held captive by an employee, and his wife must deliver the ransom) Oct. 18 - 7:30 p.m.
More like this story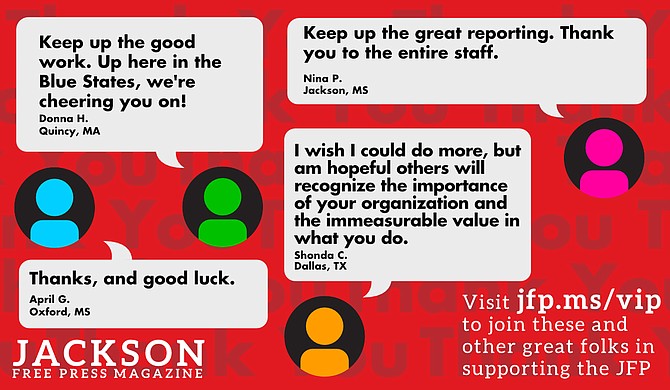 Thanks to all our new JFP VIPs!
COVID-19 has closed down the main sources of the JFP's revenue -- concerts, festivals, fundraisers, restaurants and bars. If everyone reading this article gives $5 or more, we should be able to continue publishing through the crisis. Please pay what you can to keep us reporting and publishing.