Well, they can't say the House hasn't gotten a chance to vote on tort reform. They have, in the first day of the 2004 Extraordinary Session called by Gov. Haley Barbour. And they voted against it.
Of course, it's not that simple. The votes against the bill were largely by proponents of "tort reform." Or, perhaps more to the point, proponents who believe that there is no "tort reform" without general liability caps on non-economic damages. As they pointed out over and over again, they have their own bill, and it has 60 sponsors, and it deserves to be heard.
It has caps.
The bill in front of the House on Wednesday, House Bill 2, was produced largely by Rep. Ed Blackmon, D-Canton, who is chairman of the Judiciary A committee that will likely handle any tort reform bill in the House. It was, mostly, a good bill. It represented a great deal of compromise, and quite a bit that qualifies as tort reform. It just didn't have caps on non-economic damages. So, it had to die.
Indeed, that may not have been the only reason. House Bill 2, apparently for the first time ever on the floor of the House, brought up the notion of insurance reform -- the idea being that non-economic damage caps on medical malpractice, which was passed in special session in 2002, hadn't actually brought down insurance rates. So, the bill included a provision to cap insurance rates at their 2001 level. It was Section 35 of the bill, which read:

All insurance companies writing medical malpractice insurance in the State of Mississippi shall roll back premium rates to the amount charged on July 1, 2001, unless such roll back shall result in an increase in premium rates. The Commissioner of Insurance shall enforce compliance with the provisions of this section. Any insurance company who (sic) violates the provisions of this section shall, upon conviction, be fined Fifty Thousand Dollars ($50,000.00) for each violation.
The provision, which was certainly a clear oversimplification of the sort of insurance oversight that is needed, is nevertheless one of the most important and one of the most overlooked parts of the tort reform discussion. A desire not to talk about insurance reform -- which has been a component in many states' battles against medical malpractice crisises, including California -- suggests a little too much focus on capping things and not enough focus on solving problems with malpractice insurance and tort cases.
In the most raucous and heated moments on the night, Rep. Jamie Franks Jr., D-Itawamba, introduced an amendment to the bill that would strike the words "medical malpractice" from the section quoted above. Read it again. That would mean that *all* insurance premiums in the state of Mississippi would be rolled back to July 1, 2001. Castigated as "silly" by Rep. James C. Simpson Jr. of Harrison, the amendment was a populist roil destined to fail. But hearing Franks boom, "It's foolish to think it's foolish!" and to talk about how fast and furious the rate increases have been (with insurance companies netting $38 billion in profits in 2003) was at least a breath of fresh air.
Later, in his wind-up for the bill, Blackmon fell back on similar language. After pointing out that the bill had major new tort reform proposals -- including venue, elimination of joint & several liability, and exemptions for medicare-focused physicians -- he seemed to throw down a gauntlet, calling this bill "a consumer-friendly bill."
Make no mistake -- it is tort reform, despite The Clarion-Ledger's latest round of asinine editorial assertions that tort reform requires caps. It's just not tort reform that does double-duty of turning corporate negligence into a budget line-item for industry.
Actually, Blackmon appeared to have screwed something up -- the bill left the Judiciary A committee with some specific language about fees in it. Because of that, the bill became automatically subject to a 3/5 vote instead of a simple majority. That and some amendment votes that rangled over the 3/5th issue seemed to kill the bill momentum.
The debate over tort reform in the House was contentious and frustrating for the proponents on each side, but we were also surprised to see what was discussed and how frankly some of it was put across. It's unfortunate that the House didn't pass the tort reform bill that it had in front of it last night; there were mistakes made and, by the end of the night, it seemed to simply have lost steam.
But, the show goes on; today, another bill has come out of committee and headed to the floor. We're on our way ... stay tuned. And keep the words "insurance reform" in mind. It will be interesting to see if a populist revolt has wind in its sails and if the words "insurance reform" keep coming up on the floor.
Previous Comments
ID

85062

Comment

UPDATE: The House passed House Bill 4 today, also written by Representative Blackmon, and largely similar to the bill that was killed yesterday. (Today's session was better attended and apparently included more reps friendly to the bill.) The bill does not include caps on non-economic damages, nor does it include any mention of rollbacks on insurance pricing, which may have helped its passage. It will now go to conference committee with the Senate version. It's probably in for a fight, though, as the Senate today removed language in its bill that exempt cases of maining and disfigurement from underneath from their non-economic damage cap for medical malpractice. It was a sight to see Senators stand up and support capping the "pain and suffering" award for people who lose limbs or have permanent damage to their face or appearance. It's certainly no exaggeration to say that the two houses approach reform from, ah, slightly different points of view. The conference committee on the bill -- where they will attempt to work a compromise that could be presented to each house -- should be interesting.

Author

Todd Stauffer

Date

2004-05-20T19:18:26-06:00
More like this story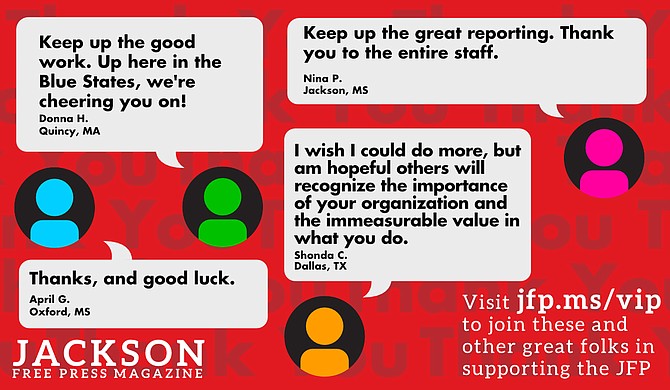 Thanks to all our new JFP VIPs!
COVID-19 has closed down the main sources of the JFP's revenue -- concerts, festivals, fundraisers, restaurants and bars. If everyone reading this article gives $5 or more, we should be able to continue publishing through the crisis. Please pay what you can to keep us reporting and publishing.