Recently passed by the Senate thanks to the strong leadership of Senator Thad Cochran and supported by President Bush, the Healthy Forest Restoration Act will be a major benefit in states like Mississippi where forests cover 60 percent of our state, account for 10 percent of all jobs and consistently compete with poultry as the state's number one agricultural product. This act will use sensible measures to ensure that wildfires like those which scorched California last year will not harm Mississippi's wildlife or human life.
Virtually every Mississippi county outside the Delta has an economy directly linked to our forests. Jobs throughout the career spectrum are impacted by our state's forest product industries. As estimated 129,443 of Mississippi's full or part-time jobs are rooted in our forests. In addition to wood products derived from forests, much of our state's natural beauty along with its sporting and tourism industries depend on healthy forests. Many Mississippians have personally invested in timber, planting trees on family farmland, turning fields that were once vulnerable to erosion and overuse into healthy forests which preserve and enhance soil as well as support wildlife.
The Healthy Forest Restoration Act is about preserving Mississippi's economy and way of life through sound real-world forest management that will sustain and preserve our vital forest resources. For generations we've known that to best protect lives and property from wild fires and grow our forests, we sometimes have to use fire itself, or the saw - employing controlled burns or responsible logging to eliminate overgrowth that can fuel destructive wildfires. When we fail to use common sense, well-established forest management practices like controlled burning and thinning, trouble begins.
There are a few people among us who oppose virtually all forest thinning. They argue floods, wildfires and other natural disasters are nature's way of purging itself from man's unnatural influence, and they follow the special interest talking points word-for-word until a fire or a flood threatens their own. In California, environmental special interests supplanted good forest management, stopping much-needed forest management and thinning initiatives. This resulted in an overgrown and highly flammable undergrowth mix that, when ignited, burned with uncontrollable fury destroying wildlife, air quality and human life, too. In 2002 more than 88,000 wildfires burned roughly seven million acres across the nation, causing the deaths of 23 firefighters. In 2003, almost 60,000 wildfires burned 3.8 million acres, causing the deaths of 28 firefighters. Of the nearly 7,000 structures that were burned, almost 5,000 were in California.
Thankfully, because our lives are still so tied to the forest, most Mississippians understand the need for best management practices, and we've been able to avoid disasters. Yet, that doesn't preclude the need to be vigilant and continue to solidify our common sense forest management practices. The Healthy Forest Restoration Act will not only support continued sound management practices by reducing dangerous undergrowth, it additionally seeks to increase public involvement in the forest management process, provide incentives to enhance degraded forest ecosystems on private lands, and encourage the use of biomass energy production from the dangerous undergrowth, insuring that all this material will be well used. The act further calls for the development of programs to combat insect infestations which endanger humans and forest growth.
Mississippi's forests, our economy and our state's identity are inseparable and forever linked. Our forests continue to be a respite for sportsmen, a home for wildlife and a valuable resource which has helped countless Mississippians earn a living, secure a retirement and even pay for an education. Perhaps no other state is so linked culturally and economically to our forests. The Healthy Forest Restoration Act is good stewardship, and it will help make sure Mississippi's forests continue to sustain both wildlife and human life well beyond our lifetime. 3/5/04
Sen. Lott welcomes any questions or comments about this column. Write to: U.S. Senator Trent Lott, 487 Russell Senate Office Building, Washington, D.C. 20510 (Attn: Press Office)
More like this story
More stories by this author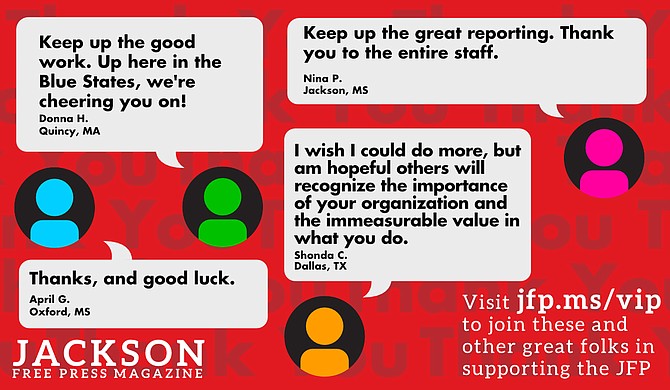 Thanks to all our new JFP VIPs!
COVID-19 has closed down the main sources of the JFP's revenue -- concerts, festivals, fundraisers, restaurants and bars. If everyone reading this article gives $5 or more, we should be able to continue publishing through the crisis. Please pay what you can to keep us reporting and publishing.