In his State of the Union speech President Bush outlined an agenda which includes the War on Terrorism, tax cuts, job security and improving worker training, using our nation's community colleges. Passing a good national energy policy, a bold highway bill and preserving our military's edge must also be legislative priorities for 2004, and the American people deserve action on all these issues regardless of the partisan to-and-fro that an election year usually brings.
Tax Cuts: The tax relief passed during President's Bush's first term is working. The economy is growing. Better jobs are being created to replace older, lower-paying, lower-skilled jobs. For instance, Mississippi is gaining more than 500 new jobs just with an announcement last week by Textron Fasteners, an automotive products supplier, that the company will locate a new plant in Greenville. This follows recent job growth announcements in Mississippi by global companies like Northrop Grumman, Rolls-Royce, and Corus-Bisteel.
It's a tried and true formula: when businesses and individuals are allowed to keep more of their money, businesses expand, jobs are created, people have money to spend and individuals throughout the economic spectrum benefit. This is why I'll fight to make the tax cuts we've enacted, not just a temporary fleeting relief, but a permanent reimbursement for you each year.
Jobs: Ford Motor Company once had a slogan: "Quality is Job 1." Well, in Mississippi today "Jobs are Job 1." Our new governor, Haley Barbour, has made it clear that bringing new jobs to the state is his top priority, and I'm working closely with our state's leadership to accomplish this goal.
In fact, Mississippi already has a head start in the quest for jobs. President Bush outlined an initiative that taps the resources of our nation's community colleges to teach skills and trades Americans need for new and better jobs. As you know, Mississippi already has one of the nation's most extensive community college networks, and we're using them to train and retrain workers. The President's initiative will ensure this continues and expands, and it's something on which Mississippi can especially capitalize, using it to compete for new jobs.
Energy and Highways: I'll work hard for a good energy bill as well as a highway bill this year. We must shed our country's dependance on foreign oil. Being beholden to politically fickle nations in the Middle East and South America is dangerous to our national security and to our economy. The current energy bill before Congress is unacceptable, laden with unnecessary spending and unrelated inserts. We must improve it. A good energy policy must be balanced, tapping America's own abundant domestic energy resources while at the same time striving for more energy efficiency.
A highway bill is equally important to sustain long-term job growth. Job creation depends on good roads, airports, bridges and railways. In Mississippi we have some major transportation goals including the construction of three new interstates - I-69 through the Delta, I-22 through Northeast Mississippi, Tupelo and onto Birmingham, I-85 from Meridian to Montgomery, airport upgrades and the relocation of various railroad lines to ensure safer, more efficient transport of people and goods.
Winning the War on Terror: Mississippians understand that energy policy, tax cuts, new jobs and new highways mean little if our economy, our personal safety and overall national security are held hostage by terrorists. I'll continue efforts to stop dangerous wartime base closure attempts which threaten local economies and our military's readiness. If we must close bases, overseas facilities in Western Europe left over from the Cold War should be first on the list instead of our valuable domestic bases which unlike those in Europe enjoy strong local support.
I also want to see our troops rotated as soon as possible, especially our National Guard and Reserve personnel. Thousands of Mississippi Guard and Reserve personnel have taken part in Operation Iraqi Freedom, and with employers and families waiting, they shouldn't be in Iraq a day longer than necessary.
Tax cuts, jobs, energy independence, new highways and protecting America - these aren't goals defined by the President, beltway insiders or election year focus groups. The American people defined these issues, and they demand and deserve substantive, bipartisan measures on these important needs regardless of election year politics. 1/23/04
Senator Lott welcomes any questions or comments about this column. Write to: U.S. Senator Trent Lott, 487 Russell Senate Office Building, Washington, D.C. 20510 (Attn: Press Office)
More stories by this author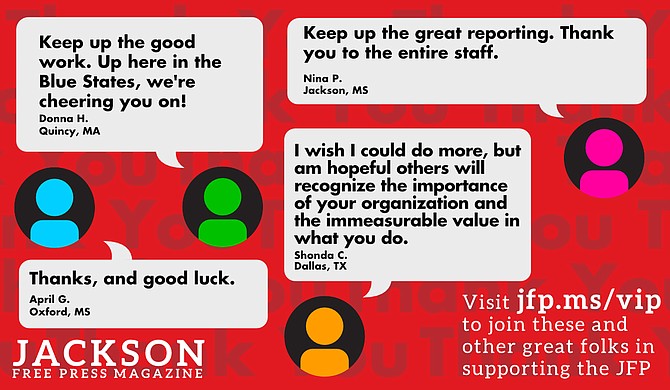 Thanks to all our new JFP VIPs!
COVID-19 has closed down the main sources of the JFP's revenue -- concerts, festivals, fundraisers, restaurants and bars. If everyone reading this article gives $5 or more, we should be able to continue publishing through the crisis. Please pay what you can to keep us reporting and publishing.