Early on Dr. Martin Luther King Jr. day, a group of anti-abortion Mississippians gathered to erect 2,000 crosses on the lawn of the Mississippi State Capitol as a "A Memorial to the Unborn." Pro-Life Mississippi joined with the Knights of Columbus Council, a Catholic men's group, to place the crosses after getting permission from Gov. Haley Barbour's office, Pat Carterette, executive director of Pro-Life Mississippi, told the JFP. Last year, Gov. Ronnie Musgrove's office approved the anti-abortion campaign, which was conceived by a national anti-abortion coalition, Silent No More, which has organized similar protests in cities throughout the United States.
This year, the crosses went up three days before the 31st anniversary of Roe v. Wade, the 1973 court decision that held that abortion is protected under the U.S. Constitution's 14th Amendment's right-to-privacy clause. Pro-Life Mississippi also held a press conference in the Capitol Jan. 22 to present two legislative measures. The "Health Care Right of Conscience" act would allow medical workers to opt out of assisting with abortion procedures. The other law would require that statistics of abortion complications be reported to the public. Terri Herring, president of Pro-Life Mississippi, said "women are still dying in these so-called safe, legal abortions."
Gov. Haley Barbour said in his Jan. 26 State of the State Address that he will support the "Right of Conscience" act. "If we're ever going to end the tragedy of abortion, we have to start by changing hearts and minds one at a time, and I think this is a good start."
Mississippi Right to Life says that the state's voters elected all 40 of their endorsed candidates for the state House and 18 of 23 for the Senate, as well as five of five statewide candidates. Opinion polls conducted by Mississippi State University have found that support for abortion rights is more widespread in the state than perhaps commonly thought: "n 2002, 56 percent (of polled Mississippians) were pro-life, and 41 percent pro-choice with 3 percent undecided," political science professor Stephen Shaffer reported. "Results then and in 2000 are split more than one would think in the Deep South."
Abortion-rights supporters fear that women could again be subject to dangerous "back-alley" alternatives, a phrase from the old days when women had to sneak in the back doors of clinics for the procedure.
About 9:30 p.m. on Friday, Jan. 23, a group of Jackson "concerned citizens," as they asked to be identified, dressed in dark clothing and placed wire hangers on many of the crosses on the Capitol lawn in an act of protest they called "guerilla theater." Attached to a few of the hangers were notes that read: "Don't send your daughters, mothers, sisters into back alleys!" One of the citizens told the JFP that this message was to serve as a lesson in history for younger people who might not be aware of the importance of Roe v. Wade.
Carterette said the next day that the crosses descrecrate the memory of unborn babies. "The idea of a back-alley abortion is a myth that the pro-choice people use to scare women, painting an image of a woman lying in an alley having an abortion," she said. Herring added: "The number of women who died (from botched abortions) prior to Roe v. Wade was approximately less than 10, which is minimal (compared) to the number of babies being aborted each day."
But one of the guerilla protesters said in a phone interview that "many people thought that the Holocaust and lynching in Mississippi were myths, but these things happened. Women resorted to drastic measures to terminate pregnancy before Roe v. Wade."
A 2003 Alan Guttmacher Institute study, "An Overview of Abortion in the United States," found, though, that in the 1930s, 2,700 women died due to illegal abortions. The number decreased in the 1960s to just under 200 due to the introduction of more effective antibiotics used to treat the infections that occurred after illegal abortions. The study also found that the risk of death associated with legal abortion today is approximately .6 percent per 100,000 abortions, and the risk of major complications is less than 1 percent.
Some citizens are asking whether government property should be a political podium for religious symbols. "Even though everyone has the right to protest, it is unconstitutional to use symbols of religion on government property because it might offend any other religion than the one displayed," said Nsombi Lambright, director of American Civil Liberties Union of Mississippi.
However, she added, "to place hangers on the crosses is just putting one offensive image on top of another."
Previous Comments
ID

64146

Comment

Ahhh.... Being the liberal, pagan, heathen I am -- if witnessed, I would have given the guerilla theater a standing ovation! It's nice to see guerilla tactics still alive in politics and protest today!

Author

kaust

Date

2004-01-29T17:25:51-06:00
ID

64147

Comment

It is rather Abbe Hoffmann, no? And don't take that as a sign of my age; I saw the movie. ;-D

Author

DonnaLadd

Date

2004-01-29T17:34:30-06:00
ID

64148

Comment

I kinda' like this act of guerilla theater, too. Though I support the right to choose completely, I've always thought Roe v. Wade was flawed in at least two ways. I'll probably get hate blog-mail from both sides on this one, but here goes. One, even science will never be able to define for us the exact moment when a network of cells becomes "human." Therefore, creating legislation based on a woman's right to choose BEFORE that fateful moment seems ridiculous. Two, Christians define conception as the moment life begins, despite the fact that embryos aren't viable until several months later--and even then it would be an iffy existence outside of a womb. Muslims believe that a fetus doesn't receive its soul until a couple of months after conception. And if I read the Torah correctly, the Jewish faith holds that souls aren't conferred until birth. And I'd bet there are still other beliefs out there. Unless, we're going to renig on our constitutional right to freedom of religion, then the government should get out of the business of religion-backing and practicing medicine, and stick to the facts. And the facts are that it's a woman's right to choose which faith, if any, to observe, and it's a woman's right to determine what happens to her body. That said, I don't believe it should be legal to terminate a fetus that would be viable at the proposed time of termination. IOW, anything after the fifth month should be illegal unless it's to save the life or reproductive health of the mother or if the fetus would not be viable even if carried full term. And what about men's right to choose what happens to their reproductive organs and material? Should they have a say?

Author

Nia

Date

2004-01-29T22:06:17-06:00
ID

64149

Comment

"And what about men's right to choose what happens to their reproductive organs and material? Should they have a say?" Are you talking about circumcision, Nia?

Author

kaust

Date

2004-01-30T10:01:23-06:00
ID

64150

Comment

I actually meant, Do men have the right to choose what happens to their reproductive organs and other, ummm...material? So I guess that includes circumcision, which is now being grouped with "genital mutilation." And I guess technically it is.

Author

Nia

Date

2004-01-30T10:35:49-06:00
ID

64151

Comment

Ahh.... Sorry... It's still early morning and not enough java.

Author

kaust

Date

2004-01-30T11:02:20-06:00
ID

64152

Comment

Kate's got some coffee with kick; it seems to really get her goin'. Maybe you could get some from her. :-) Get me some, too!

Author

Nia

Date

2004-01-30T11:46:30-06:00
More stories by this author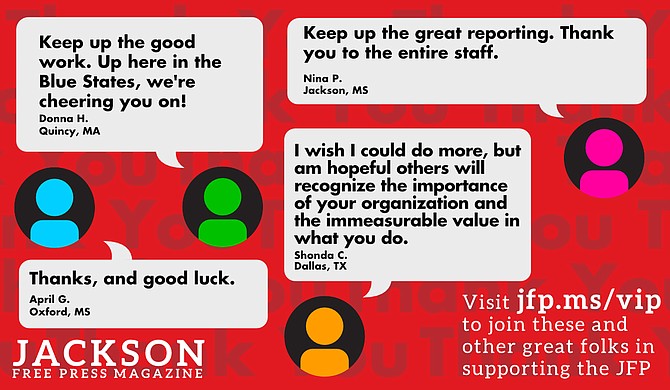 Thanks to all our new JFP VIPs!
COVID-19 has closed down the main sources of the JFP's revenue -- concerts, festivals, fundraisers, restaurants and bars. If everyone reading this article gives $5 or more, we should be able to continue publishing through the crisis. Please pay what you can to keep us reporting and publishing.