Somehow being a vegetarian also makes me a Father Confessor—people constantly tell me their diet-altering plans, even in polite conversation. Well, what with the New Year and Mad Cow, the din of discussion from those deciding to carve a little bovine muscle out of their diets is growing slightly louder. In response I say, "Hooray!" and offer some street-level suggestions to anyone trying to cut meat from their diets.
Before we start, I feel obliged to say that if you decide to alter your diet dramatically, you should probably consult your doctor. Of course, if you consult your doctor at lunch over a triple-patty AngusDelite (sans, of course, the Atkins-busting bun), she may offer you suggestions that differ from mine.
But, assuming you're on board with the idea, here's a look at a few ways to cut meat relatively painlessly:
• Use meat as a garnish. East Asian countries (China, Japan, Thailand, India) have a lower incidence of heart disease, which some experts attribute to the amount of soy in their diets and the relative lack of animal products. For instance, studies have shown that heart disease goes up among Japanese businessmen who adopt meat-centered American diets. One trick of the East is using meat as a garnish. (Think "beef with broccoli.") Use meat as one ingredient among many in dishes like stir-fries, pasta dishes, casseroles and salads.
• Plan a vegetable dish as your centerpiece for dinner. A lot of people plan meals by deciding how to prepare the meat first and thinking of other dishes later. But if you focus on a vegetable dish for the centerpiece—a pasta, a soufflé, pizza, pot pies—then you can make meat more of an afterthought or add-on in your planning. (Try VegWeb.com for recipe ideas.)
• Think ethnic. You'll find a number of ethnic-food solutions that rely on relatively little meat—Indian, Chinese, Thai, and even Italian and Mexican offer abundant ways to eat less flesh. Try them out and learn to cook some of them—everyone should know one good dish that has cauliflower in it. And don't worry about protein—you can get protein from dairy and beans, particularly black beans, garbanzos (chick peas) and even butter (lima) beans and black-eyed peas. Leafy greens, particularly when steamed and not overcooked, offer loads of calcium. (Vegetarians do have to supplement B12 and certain minerals, but that's partly to replace soil-bound elements that we wash from our veggies in modern times.)
• Try burger substitutes. Substitutes for beef and chicken have gotten a lot better in the past five years. You may have already tried a veggie burger at a fast food chain or local restaurant—one of my favorites in town is at Fenian's (the Tara burger), and Stamp's SuperBurger is well-known as a local favorite. In the stores, I tend to like Boca and GardenBurger brands, and I recommend you try "grilled" or "All-American" styles—avoid patties of pressed vegetables or with too many additives if you're at all wary of the veggie burger concept. You'll also find some great beef and sausage-like crumbles that you can use for spaghetti sauce, tacos, stroganoff and other such concoctions—even jambalaya.
• Use your favorite sauces. Boca makes a barbecue "riblets" meat substitute that we have in our household at least twice a month, and they offer some Buffalo-wing style "chik'n" nuggets. (Buffalo sauce is just a Tabasco or Louisiana-style hot sauce and butter, so you can make your own for the big game.) A company called Quorn makes the best "unchicken" patties we've had—I use light Italian dressing and my favorite Cajun salt to panfry the patties for about 10 minutes, then serve over white rice with something green on the side. They're great for fajitas or stir-fry, as well. For a delicious and easy stir-fry sauce, simply combine two parts orange juice and one part soy sauce, and then dash in a little brown sugar to sweeten it slightly. Stir fry your vegetables and substitutes, then stir in enough sauce to coat for about one minute before removing from heat and serving over rice or Asian noodles.
So...are you man (or woman) enough for a veggie Super Bowl party? When I think football, I think Tex-Mex. Try black-bean and Jack cheese nachos on blue corn tortilla chips—even Tostitos has an all-natural option these days—for a festive centerpiece (there are some good melting soy cheeses, but I'd opt for the real thing in this case). Get a fajita marinade and use it with tempeh (soybean-based strips), then sauté in a hot skillet. Fold into tortillas with guacamole, sour cream and a nice, spicy salsa.
Or, just serve the ultimate Texas-style Super Bowl food—Frito Pie. This is best done with a prize-winning chili recipe, although Hormel Vegetarian chili will substitute in a pinch. (Spice it up with jalapeno pepper sauce or a Tex-Mex hot sauce.) Layer the Fritos in the bottom of a casserole dish, pour in the chili, cover with cheddar cheese and garnish with onions and slices of jalapenos. Serve warmed from the oven with the cheese barely melted and the chips still crispy.
And leave the Mad Cow worries to the linemen on the field.
More like this story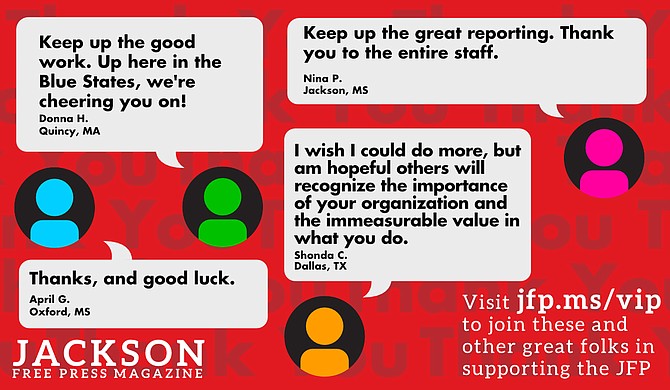 Thanks to all our new JFP VIPs!
COVID-19 has closed down the main sources of the JFP's revenue -- concerts, festivals, fundraisers, restaurants and bars. If everyone reading this article gives $5 or more, we should be able to continue publishing through the crisis. Please pay what you can to keep us reporting and publishing.