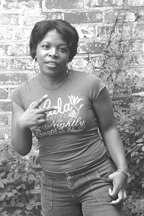 This has been one hell of a year in hip-hop. It may have been a little bit of a rollercoaster ride for some artists, but on the local side, this year has been less than quiet. A short while ago you may remember that original Wutanger Ol' Dirt Bastard died under seemingly mysterious circumstances from an apparent heart attack. Well, on Nov.15, a medical examiner ruled the death an accident—the apparent result of mixing cocaine and the prescription painkiller Tramadol.
The Slim Shady studio, where Eminem recorded his 1997 hit single "My Name Is" in, is currently on sale on eBay. The 700-square-foot studio is located in Ferndale in Detroit. The minimum bid is $215,000.
After getting his musical career handed to him by Nas, Jay-Z ended up claiming 2004 as his own. Recently, Def Jam and Roc-A-Fella reached an agreement to acquire the remaining independently owned portion of Roc-A-Fella Records for $10 million. In 1997, Island Def Jam already acquired a 50 percent stake in Roc-A-Fella Records for just $1.5 million. Roc-A-Fella later renegotiated their contract by extending it for $20 million. This brings the final selling price to around $30 million. Jay-Z will assume the presidential mantle of Def Jam records on Jan. 3. Platinum artist Camron has been subsequently dropped from Def Jam's roster. Why? Its no secret in industry circles that Jay and Camron have never been fond of each other.
Locally, I recently caught up with JFP photographer Jaro Vacek who told me about a video project entitled Crooked Lettaz Television that he is producing along with L.A. Dave Gary. They held a screening for the project at the Jackson Planetarium Dec. 12. The project is basically a series of live performances featuring Mississippi artists. Smoke D, Dave Mack, Rachel James, DJ Phinga Print, Skip Coon, Hustler Squad and P Boy Stone are all spotlighted. Vacek told me that the live performance phase is just one part of the package as artist features will also be included. Ultimately, the producers hope the project will be picked up for television broadcast.
Yayo has been in the studio as usual, placing his primary focus on getting his label, Mabry Music off the ground. The label is set to release a new album from artist Dave Mack entitled "13 Mack" soon. The album also features an appearance from Smoke D.
There have been rumors flying around the city that underground kingpin Illa Bob Caine was ready to pull a Jay Z and hang up his mic. He recently told me that he is close to finishing his album "Disco Slave Music," which also features guest appearances from Suede 1 and Verbal. When I asked him if this is going to be his farewell project, he didn't give a definitive yes. Nevertheless, he did intimate that he was definitely leaning in that direction. Illa Bob also let me know that he was going to forego traditional retail means and make his album available solely through the Internet on a site that he is currently in the process of designing.
Kamikaze has been a very, very busy man this year. Besides working the clubs after the success of his lead single "U Ain't Hard," Kamikaze has been focused on expanding the reach of his label, Our Glass Entertainment, by pushing his sophomore album "2 broke 2 Ball." He told me that he has sold over 5,000 units to date, primarily within the state, and is trying to garner more attention outside of Mississippi. This effort has been exemplified by the success of the video for "U Ain't Hard" in Florida on underground video shows. He hopes to premiere the video on BET's Uncut in early '05. He is also working with the Medicine Men's KLC on his next album. He is also preparing a "2 Broke 2 Ball" DVD, which should be in stores soon. Also look for his next single "Loser."
Exit Only and Melt Down are putting the finishing touches on their retitled project "Bad Company." The duo is about three to four songs away from being done with the recording phase of the project. Exit Only has also been all over mixtapes in Texas including being crowned the defacto King Of Mississippi on DJ Dollar's latest offering.
Previous Comments
ID

63680

Comment

I'm an journalism student at JSU who moved to Jackson about 4 years ago and wanted to add to your article by mentioning an artist you omitted entirely by the name of The One JP. I recently got turned on to his music through a friend via a song called "Lynch & Ellis" which talks about his neighborhood in the city of Jackson. Come to find out this guy has two full length albums out. I'm a BIG fan of southern hip hop and I just had to give props where they are do. So if anybody has any info on where I can get any of his music I'd appreciate it. a website or anything. I called BeBop and they don't have it.

Author

Black Man

Date

2004-12-29T10:46:51-06:00
ID

63681

Comment

Black Man, The One JP is a legend around these parts when it comes to hip hop. When you found out about him you utterly plugged into the source of what motivates the Mississippi hip hop scene. Any real hip hop fan in Mississippi will tell you that. He used to go by the name Pat da' Rat but later changed it. He's inspired damn near every artist you've heard about around Jackson. I've been jamming both his CD's since he dropped them and they are both damn good albums, TRUST ME. So you are definitely on the right track to owning some good music by a damn good rap artist. Here's a couple sites where you can hear him in other songs: www.theonejp.com and....www.cdbaby.com/onejp3....you can buy it from there too. As far as editors and individuals who refuse to give him his due respect in Mississippi, don't worry about them, they're falling off anyway. and it's well known that JFP has always been biased in terms of reporting valid information about any news, much less hip hop in Mississippi, that's nothing new. I'm a big hip hop fan myself and to come to this site time after time to see what's crackin with Mississippi hiphop and all I ever see is the same ol' write ups about the same ol' artists is disgusting to me. And who the hell is this IllaBob character you keep pumping up in your articles Alfonso? I went to BeBop the very first time I saw you write about him and NOBODY knows who he is. No music, No name search in their computers, No NOTHING. and you dare call him an underground kingpin? Even the bootleggers don't know about this guy. You editors really need to take a reality pill and write on some artists that are HOT and that we want to read about from Mississippi and quit pumping up your friends and relatives. And come to think about it alphonso, why isn't The One JP in your "year in hip hop" article? I'm SURE you've heard his music. Everybody in the state of Mississippi that listens to hip hop knows who he is. I'm concerned now. please clarify.

Author

Jack2Jack

Date

2004-12-30T09:15:38-06:00
More stories by this author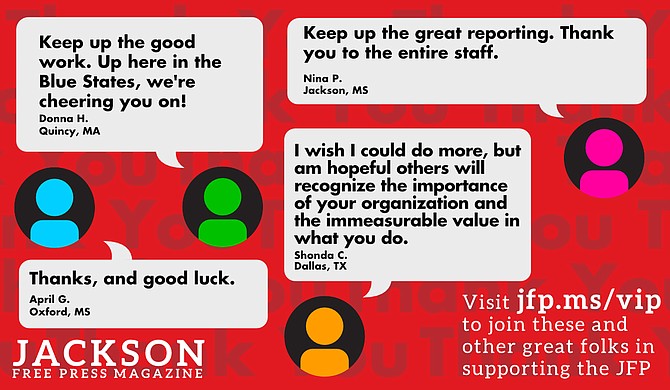 Thanks to all our new JFP VIPs!
COVID-19 has closed down the main sources of the JFP's revenue -- concerts, festivals, fundraisers, restaurants and bars. If everyone reading this article gives $5 or more, we should be able to continue publishing through the crisis. Please pay what you can to keep us reporting and publishing.