What step to take next will be a huge question for 2003. We could be going nowhere, or at least a relatively short distance—after all, we're in a recession, Mississippi's telecom industry is "retrenching," and the prospect of war may change local and national goverment priorities significantly.
Downtown Jackson is poised to change significantly in 2003, with the Union Station Depot nearly finished, Farish Street development continuing, High Street and State Street paved and work on the Jackson Metro Parkway—for some reason—going forward. The Jackson Telecommunications Center—a $17.5 million teleconference, meeting and training center intended to impress high-tech businesses into visiting or relocating in Jackson—should break ground in the spring.
What step to take next will be a huge question for 2003. We could be going nowhere, or at least a relatively short distance—after all, we're in a recession, Mississippi's telecom industry is "retrenching," and the prospect of war may change local and national goverment priorities significantly.
But assuming there is an opportunity to continue improving Jackson's downtown, one upcoming issue, put simply, will be a question of focus. The actual problem is one that people can agree on—we need more people downtown, spending money on something, if it's going to thrive. Jackson has tried churches, parking lots and municipal structures, and they don't create a bustling downtown district.
At issue, then, is who should be encouraged to spend that time in our downtown? In one corner, are visitors—tourists and businesspeople—the folks who ostensibly pop up when you build telecom centers, entertainment districts and convention centers. And in the other corner are residents—urban dwellers, workers and small business owners. Which constituency future development focuses on could have a dramatic effect on how downtown Jackson looks in 2003 and beyond—and if it thrives.
One volley from the public sector arsenal was fired recently with the proposal in November for a 370,000-square-foot, $70-million project hunkering down behind the Telecom Center. The potential convention center appears to be on a track that would make it fully government-funded and owned, with likely funding sources being a rise in the hotel/motel tax and/or sales tax (a "local option" approach could mean higher taxes in Jackson proper) and bonds.
While there's certainly an argument that Jackson has been too long without a convention center, this is a development that's firmly planted in the visitors corner. Local businesses might also feel a boost, of course, and the city might make money down the road from the rent, with ancillary businesses making money off the services associated with big shows. This decade is shaping up to be an ugly one for convention centers, however, with bookings well off from the mid-1990s. Of course, a Jackson Convention Center might not be complete until late in the decade—whether there's an upcoming surge in Deep South conventions in the distant future can't really be known.
More recently, Downtown Partners, an alliance of downtown businesses that pay in to improve the district and keep it clean, has offered city leaders some other downtown development scenarios to consider. The group presented a research "white paper" of sorts that offers an idealization of possible development growth for Jackson, focusing, in part, on encouraging more round-the-clock patronage than downtown currently enjoys.
John Lawrence, president of Downtown Partners, put together the report with his staff focusing, currently, on six sample "catalytic" projects that could help improve Jackson's appeal to both residents and visitors. Using photos of existing downtown developments in other regional cities, Lawrence's proposals include one mixed-use Town Center development (apartments and retail/entertainment space), three residential-only apartment developments, and two hotels—a "value-priced" Jackson Place Hotel and another look at a long-awaited renovation of the King Edward hotel. Unlike the telecom and convention centers, most of these proposals focus more on residents.
The proposals are also examples of public/private partnerships—sort of "Nissan Lite." Each sample project shows a breakdown for how private funds and bank loans would finance the bulk of the development, with the government kicking in sweetheart pricing for the land, tax abatements, and funding from what Downtown Partners says are existing state and federal programs. The basic reasoning: It costs 25 percent more to develop downtown land (vs. semi-urban and suburban development), but the developers can't always charge a 25-percent premium to consumers. That's one reason that mini-hotels are springing up on County Line Road instead of Amite Street.
Which approach—visitor or resident—is the correct one? In urban-planning circles, there's a move away from the notion that tourism and business travel are a panacea. The 1980s saw a strong "if you build it, they will come" mentality that encouraged government spending on huge municipal structures such as convention centers and stadiums. But tourism, sports and business travel can be boom and bust, as the recessions of the early 1990s and early 2000s have taught many towns.
Meanwhile, the resident-centric approach has a "chicken and egg" problem. Do people really want to live downtown? Certainly there's a vanguard of such people. But people generally trade their backyards for the excitement of an urban walking district—what urban planning types call "third places." Jackson's downtown offers some such places, but most of downtown is eerily quiet after 6 p.m. Will building apartments encourage the support services in downtown?
One worst-case scenario is government handing incentives to developers who then shape structures and neighborhoods that cater only to wealthy residents or that, worst of all, gate themselves off (figuratively or literally) and fail to participate much in downtown renewal. A "yuppification" of parts of downtown might benefit only the limited number of folks who can afford premium housing.
So, the question remains: for whom do we rebuild downtown, if anyone? Clearly, we need some sort of balance. The current public-sector focus is on corporate business and business travelers—the Telecommunications Center, a Convention Center, a Transportation Center. In fact, it's a lot about centers and hubs.
Other cities have shown that investment in downtown revitalization needs to be managed very cleverly—the ideal is mixed-used development that encourages round-the-clock, creative activity. Often, such developments have to be managed like a mall, with a management authority carefully balancing sports, fine arts, entertainment, shopping, dining and residential. This takes a comprehensive plan and brings on-board city leaders, local businesspeople, developers and financial institutions. It's public-private partnership that requires some trust among the various partners who take up that mantle—people must be able to trust businesses to work in the common interest, and businesses have to trust that downtown investment is a secure, worthwhile investment. And, throughout, an emphasis on diversity needs to result in all residents and visitors feeling welcome to work, play and live in downtown.
Which only leaves one burning question: Can Jackson pull it off?
Todd Stauffer is publisher of the Jackson Free Press.
Previous Comments
ID

76714

Comment

Great article. As a resident of Jackson and Belhaven, I must say it would incredible to have a thriving, semi-residential/commercial/retail downtown. Often, I find myself in need of materials offered only in Northern Jackson or Ridgeland which requires a cumbersome drive on I55. I would much rather ride a bike or walk to support the new businesses than drive miles to support commercial chains in another city. I think a mesh of both projects (convention center/Downtown Partners) would make Downtown Jackson a mecca for younger people searching for an escape from cabbage-patch housing and 30-minute interstate rides riddled with SUVs and speeding tractor-trailers!

Author

Knol Aust

Date

2003-01-13T15:42:04-06:00
More like this story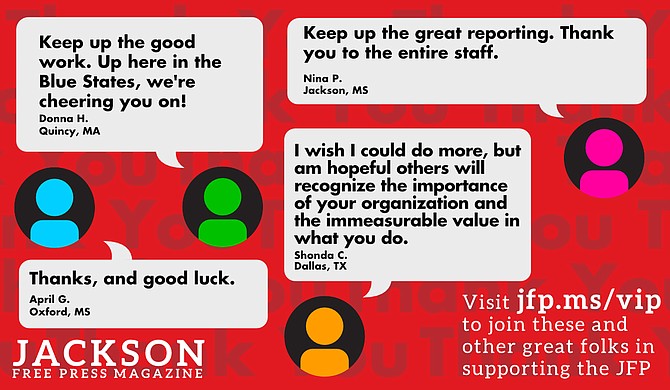 Thanks to all our new JFP VIPs!
COVID-19 has closed down the main sources of the JFP's revenue -- concerts, festivals, fundraisers, restaurants and bars. If everyone reading this article gives $5 or more, we should be able to continue publishing through the crisis. Please pay what you can to keep us reporting and publishing.